Rob Price
Gutbrain Records
rob + gutbrain.com = email
---
The 650th Soundtrack of the Week is a weird one: music by Ron Geesin and Roger Waters for a documentary film called The Body.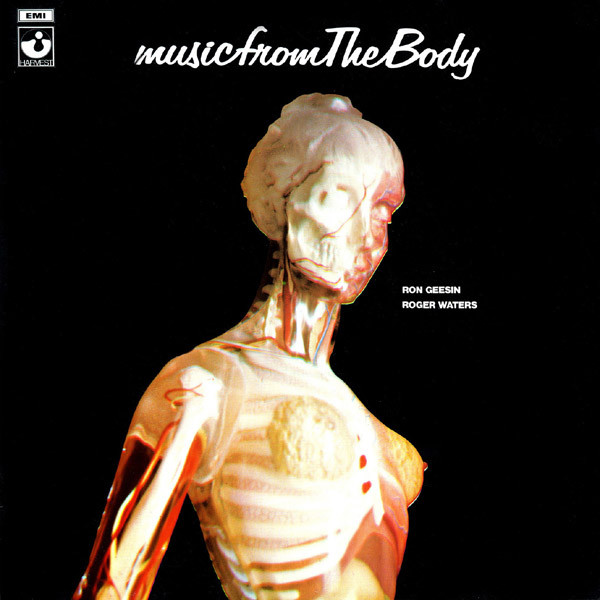 The first track, "Our Song", had me a bit worried, as its just sounds of hands clapping and belches and fart noises and stuff like that, with some random shreds of music here and there.
But much of it is sensitive acoustic guitar and singing stuff which is pretty nice. "Chain of Life", for example, is a good one, as is "Breathe".
"Sea Shell and Stone" is a delicate waltz which incorporates sounds of the beach.
There's also some modern classical type stuff like "Red Stuff Writhe", "Bridge Passage for Three Plastic Teeth" and "March Past of the Embryos".
Strange, sort of avant-rock instrumentals like "A Gentle Breeze Blew Through Life", "Lick Your Partners" and "Mrs. Throat Goes Walking" are also part of it.
"Body Transport" is another composition based on body sounds, as well as breathing and whispering.
And the record is pretty much all that kind of stuff. Quite a variety!
---
2020 November 27 • Friday
And here is my other favorite headline, LIMITED FARM BILL FAVORED, in the Preston Sturges movie The Great McGinty.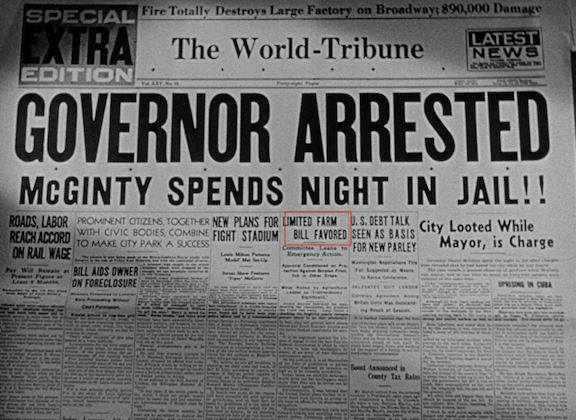 The Great McGinty (1940)
Also seen are those old standbys BILL AIDS OWNER ON FORECLOSURE and U.S. DEBT TALK SEEN AS BASIS FOR NEW PARLEY.
Perhaps NEW PLANS FOR FIGHT STADIUM is another one to start noticing.
---
2020 November 25 • Wednesday
It's been a while but once again here is my favorite headline, NEW TAX BILL MAY BE NEEDED, in the movie The Man Who Dared.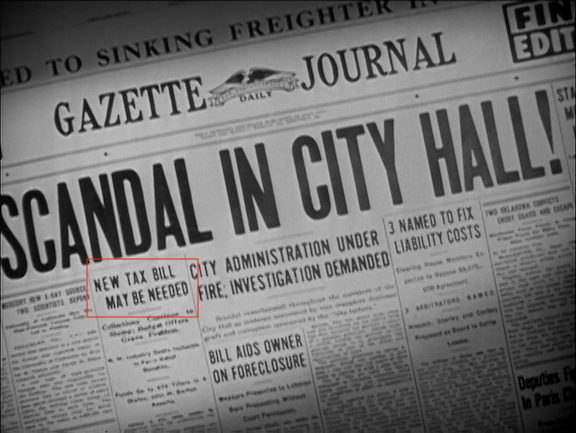 The Man Who Dared (1939)
BILL AIDS OWNER ON FORECLOSURE and 3 NAMED TO FIX LIABILITY COSTS are also old friends.
---
2020 November 23 • Monday
Soundtrack collecting can be a dangerous business. For example, while contemplating our 649th Soundtrack of the Week, Burt Bacharach's music for Arthur, we were reminded that there was a remake of this movie a while back. That was quite a blow. Fortunately, it's hard to be blue when you're listening to Burt Bacharach!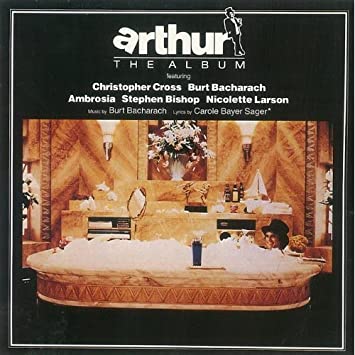 The record opens with the big hit song that you've almost certainly heard, "Arthur's Theme (Best That You Can Do)" as performed by Christopher Cross, who also co-wrote it along with Bacharach, Carole Bayer Sager and Peter Allen.
What is there to say other than that it's a pop masterpiece? There's also a really good saxophone solo on it by Ernest J,. Watts.
After that we hear Nicolette Larson signing "Fool Me Again" by Bacharach and Sager, a heartfelt early-'80s pop love song.
Things get more energetic with Ambrosia's "Lover Boy", written by Bacharach with bassist Joe Puerta and guitarist/vocalist David Pack. This is another solid '80s song with a bit of new wave to it. It can be tough and it can be gentle.
"It's Only Love" by Stephen Bishop, which Bishop co-wrote with Bacharach and Sager, ends the first album side. It's another powerful love song and Bacharach himself is one of the keyboard players on it. Really nice song.
While the first side is all about songs from the movies, Side Two presents some of the instrumental cues.
The first one, "Touch", is a slinky and groovy number that features both saxophone and electric guitar. (The latter could be Lee Ritenour.)
Then there's an instrumental version of the Stephen Bishop song "It's Only Love", with some very nice muted trumpet work.
"Money" is the cue that really says Arthur as strongly as the famous theme song does. You hear this piece of music several times in the movie, most famously as the drunken title character flows down Manhattan streets in his Rolls Royce.
There's an old-timey feel to "Moving Pictures", which Bacharach co-wrote with sax, flute and oboe player John Phillips; a touch of 1930s jazz or perhaps even silent movie music.
Finally we hear "Arthur's Theme (The Best That You Can Do)" again, in an instrumental version, all the better to admire the melody!
---
2020 November 20 • Friday
Attempts at analyzing or explaining the human sense of humor are famously destructive in addition to not being funny.
But Jimmy Carr and Lucy Greeves co-wrote a book that manages to hurdle both of those obstacles.
Only Joking: What's So Funny About Making People Laugh? is a fascinating survey of various perspectives on comedy: social, psychological, political, religious, historical, evolutionary, etc.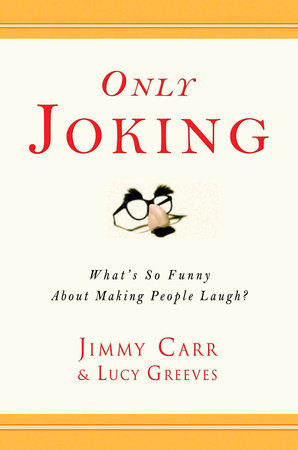 The two authors mostly write in one voice although there is an occasional digression of a personal note from one or the other of them specifically.
The authorial voice itself sounded like Jimmy Carr to me most of the time, but of course his is the only voice of the two that I know.
Everything in here was fairly interesting and much of it was new to me.
I had no idea, for instance, about the fuss thatwas kicked up about Jerry Springer — The Opera even though I had been aware of the production itself.
Carr and Greeves have been thorough and wide-ranging enough to make thoughtful comparisons of, for example, Lenny Bruce with Dario Fo and Franca Rame. And they're particularly good on comedy's frequent mean-spiritedness, it's wispily veiled (if not actually naked) aggression toward a looked down upon "other" about whom the audience and comic share the same feelings.
They persuasively draw a line between jokes that stop being jokes and start being a kind of harm or rabble rousing or political statement or just plain offensivity.
But best of all, the book is full of jokes. There are over 400 of them in there, most of them quite good, and with at least one on every page. That alone is reason enough to give this book a look.
---
2020 November 18 • Wednesday
Speaking of Ed "Big Daddy" Roth, there's a feature on him in the March 1963 Customs Illustrated magazine.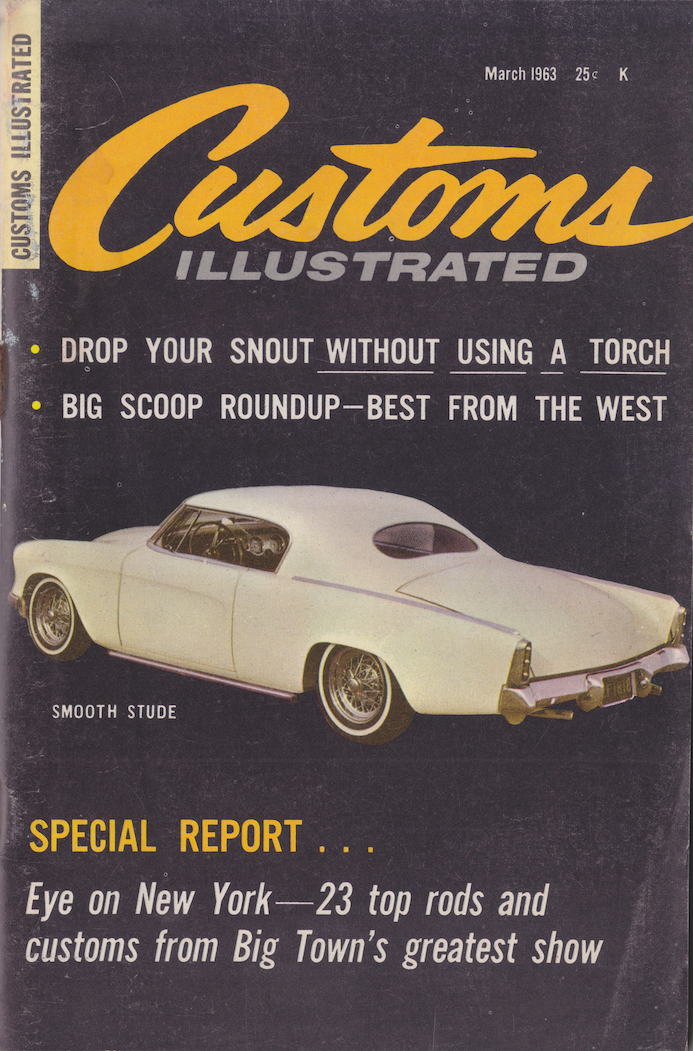 Roth's custom designs were even crazier than I realized. This vehicle, Roth's Rotar, is actually a kind of hovercraft with revolving rotors that elevate the car as much as six inches off the ground.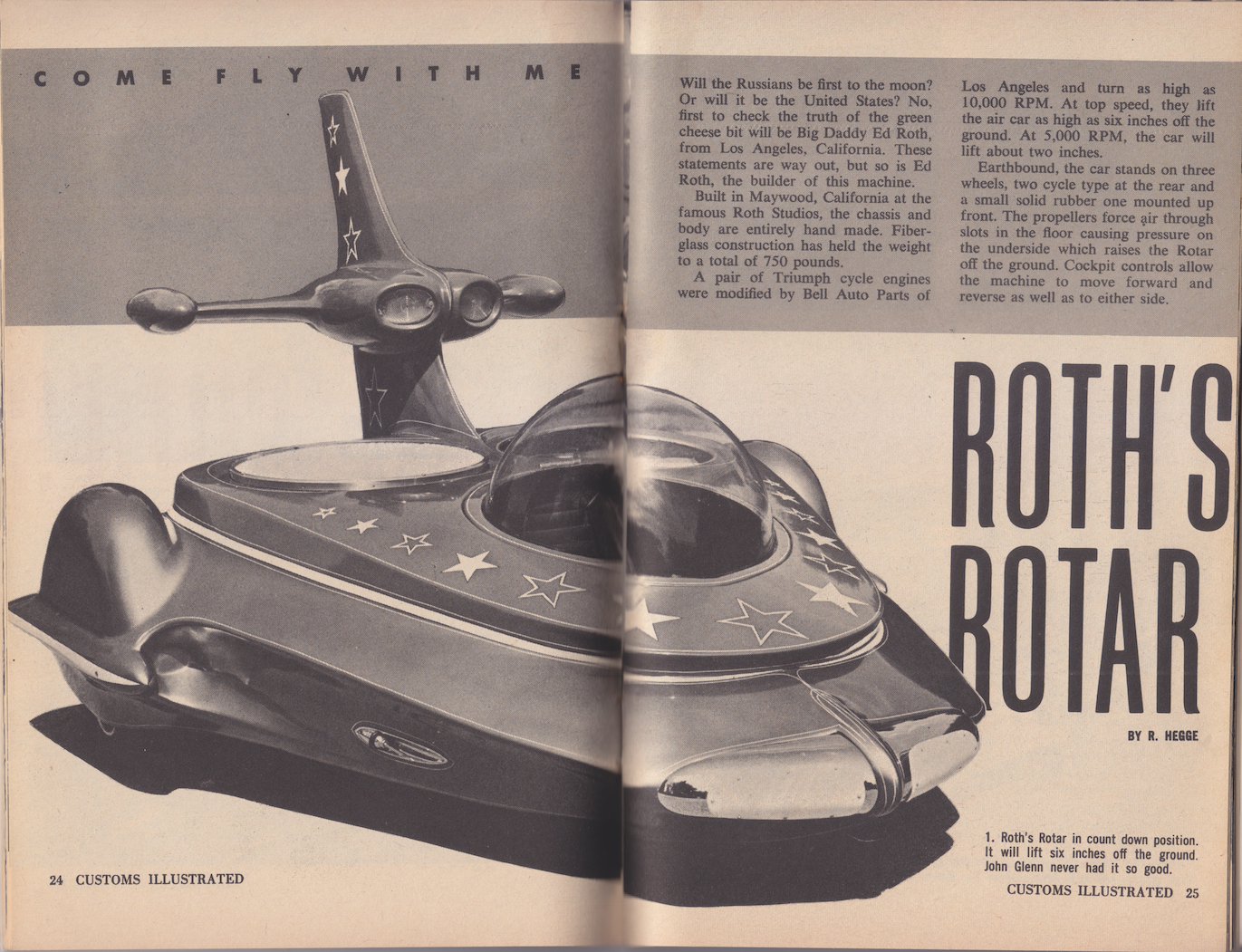 Roth is referred to as a "weirdo shirt king" because apparently he was making custome shirts at the same time he was making custom cars.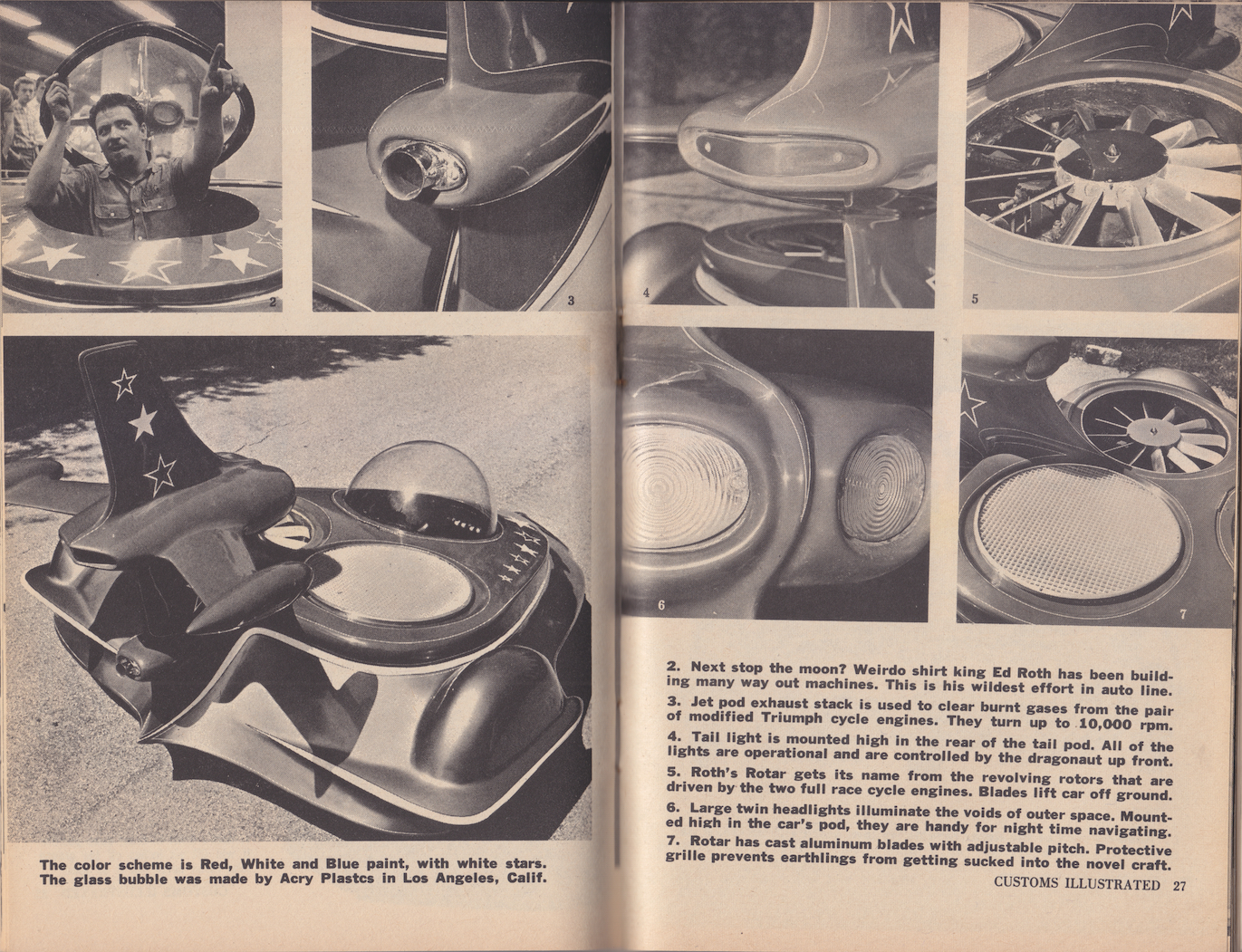 According to his bio, Roth also could make maps and was an "expert barber".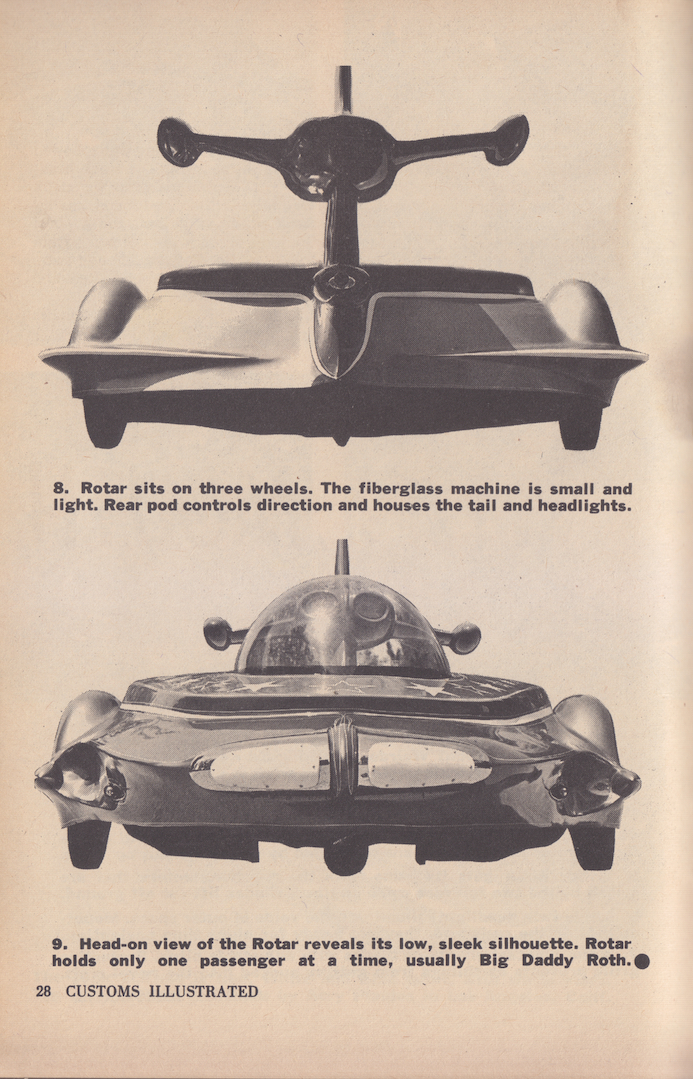 I don't know what I'd do with one but I want one all the same.
---
2020 November 16 • Monday
The 649th Soundtrack of the Week is the music from Tale of the Rat Fink, composed and performed by The Sadies.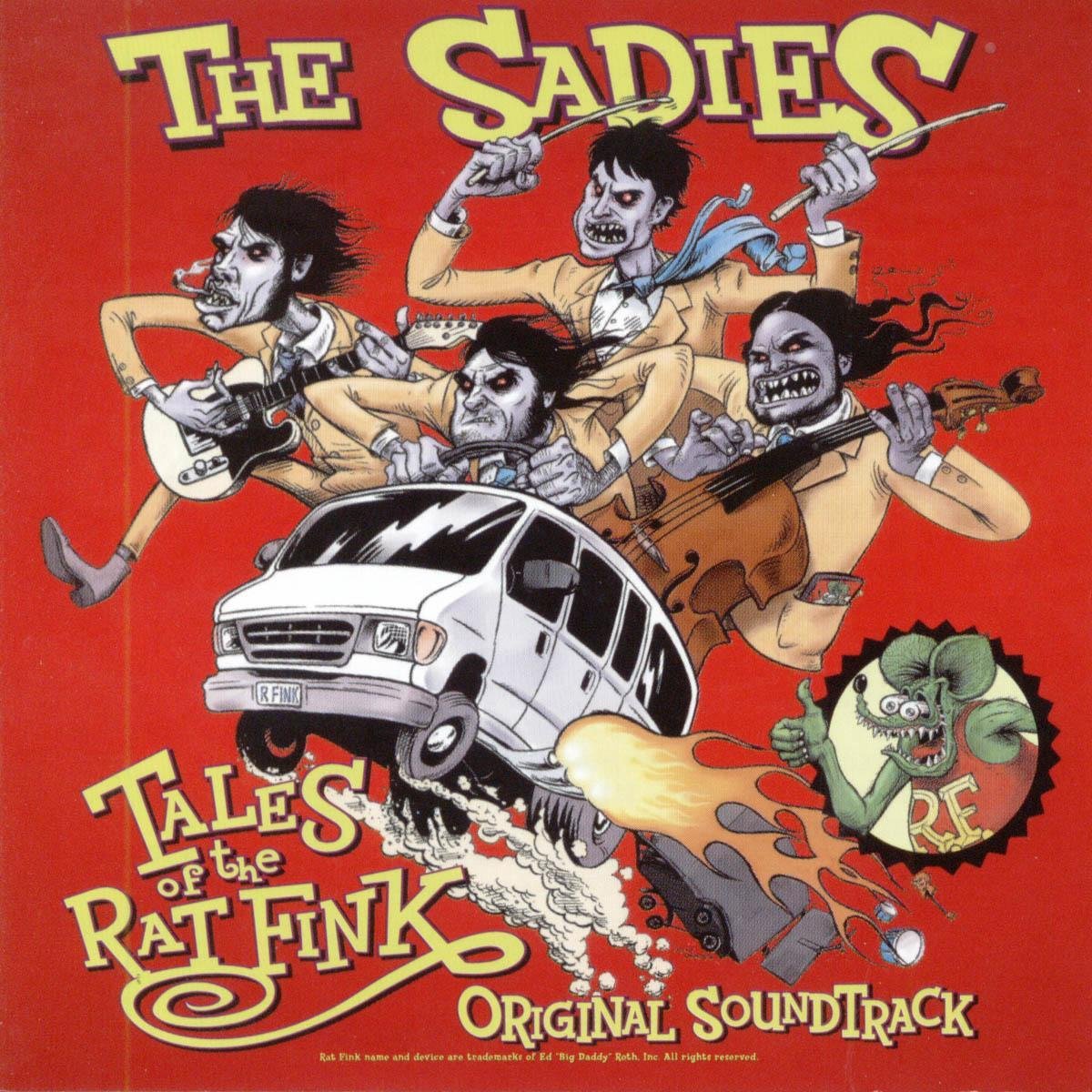 While this is a soundtrack to a documentary about Ed "Big Daddy" Roth— a documentary I'd like to see—the listening experience is more in line with some of the best instrumental rock and roll records you've ever heard.
I don't know who The Sadies are and I don't know anything about them, but they've crafted more than two dozen excellent numbers here, ranging from surf to rockabilly to high octane rocking derangement ("The Hi-Jinx", for example).
There's a wide range of feels and intensities as well as sounds—is that a baritone guitar on "The Bottom of the Hill"?
Many of the tunes are less than a minute, a reminder of the virtues of being concise. No meandering. A dense dish served fast.
They can come out blasting or swaying gently. I need to find out more about them!
---
2020 November 13 • Friday
Another bowling handbook? Apparently so. And I don't even bowl except for the sake of entertaining children.
Well, I will be better prepared next time. This is Your Bowling Handbook by Joe Wilman, bona fide bowling champion and 1946's "Bowler of the Year".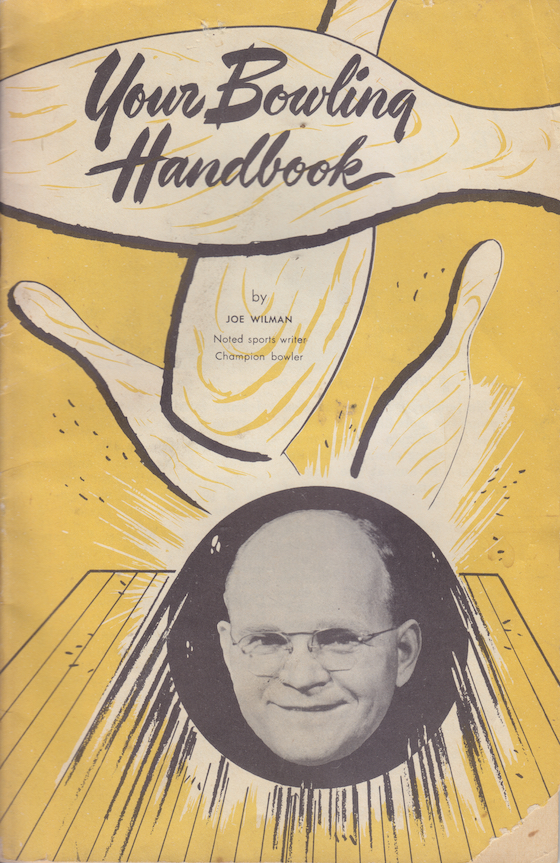 That's an amusing concept for the cover graphic.

This is closer to a pamphlet and than a book and is strictly nuts and bolts about bowling technique. No discussion of etiquette or peripheral activities here.

One thing I've learned from these bowling books is that I've been holding the ball wrong pretty much every time. At least, as far as I can remember.

Mr. Wilman has this interesting trick for checking your grip.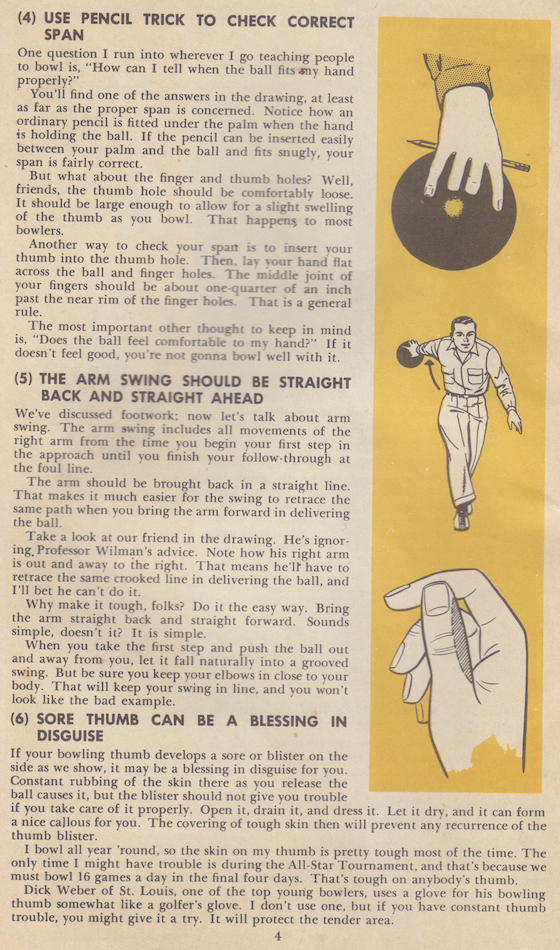 He's too blunt about lumping together all women bowlers and singling out what he perceives as "female faults" in their game.
He also points a finger at "husky he-man" bowlers who exaggerate their back swing for the sake of making a big noise and showing off, at risk to the pinboys at the back of the lanes (automatic pinsetting machines still being a very new development).
Each page has a yellow vertical illustration like the one above. They're impressive in their clarity and the ease with which they present different perspectives.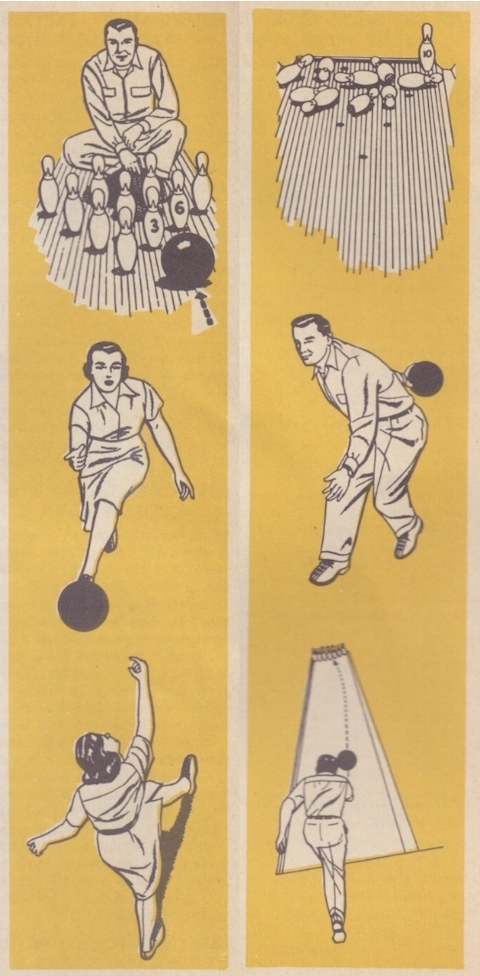 ---
2020 November 11 • Wednesday
Bowling isn't our thing but some of the bowling literature is cool.
Seagram's Bowling Guide is a good example.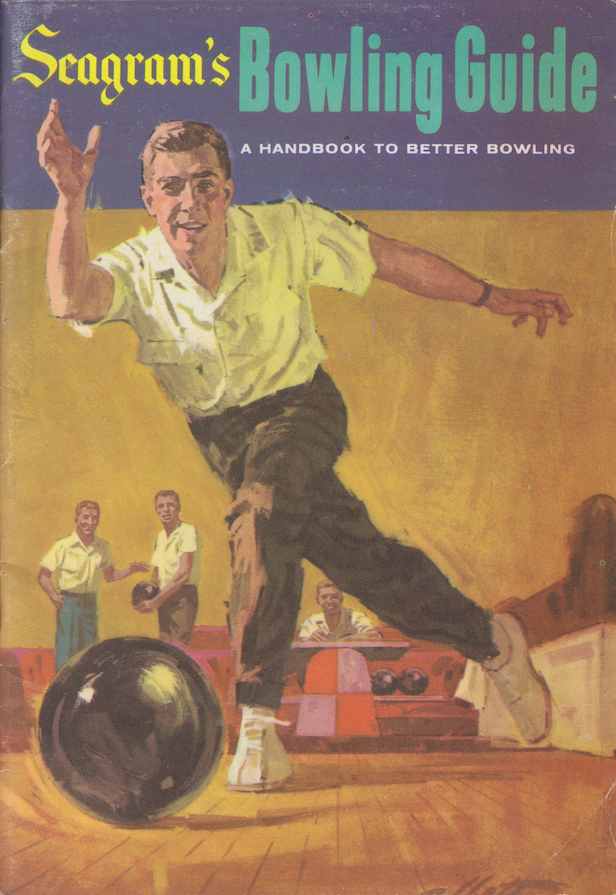 That's a great cover painting, for one thing. And the table of contents has a nice drawing with a dramatic perspective on the pins.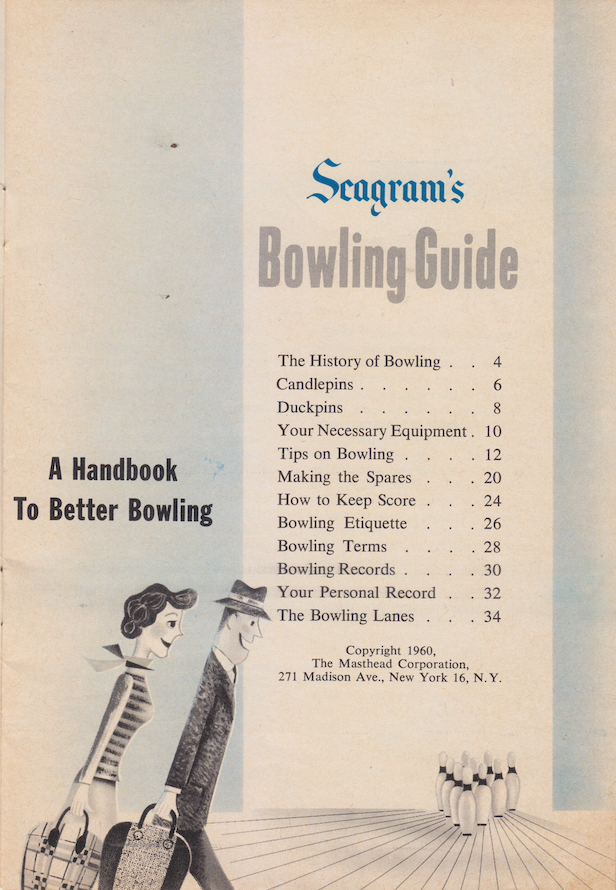 This guide to the basics has advice that could be well applied to many other pursuits.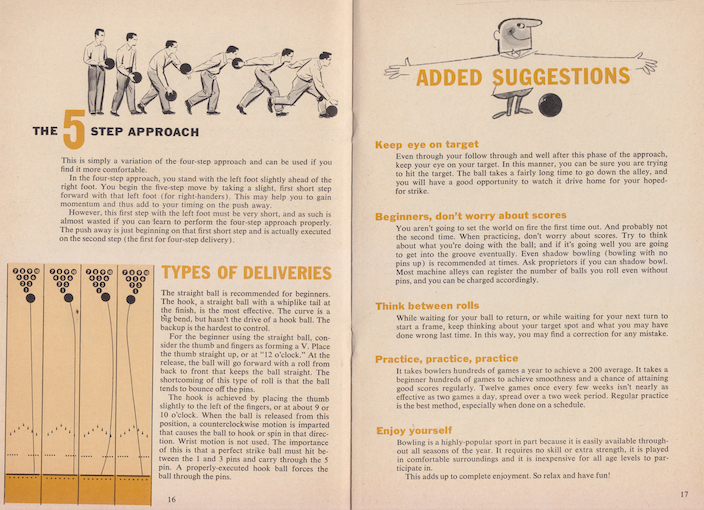 Likewise the section on etiquette.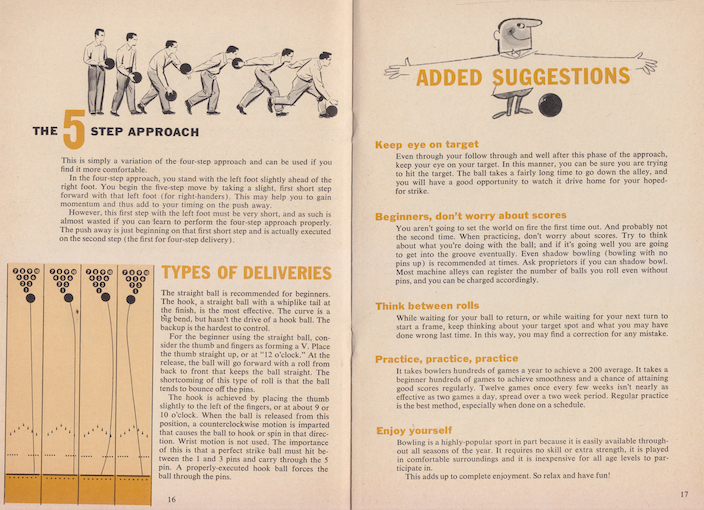 Since this is made by Seagram's, the center spread is a Seagram's ad for the bowling set.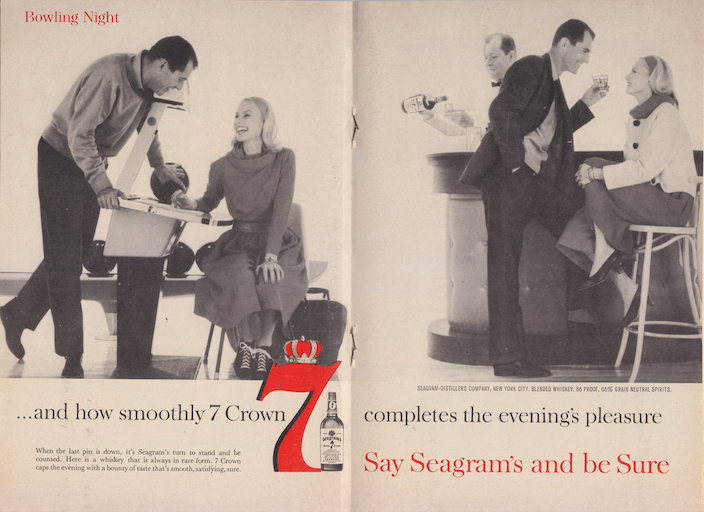 And I admired these very specific analyses (as well as the illustration).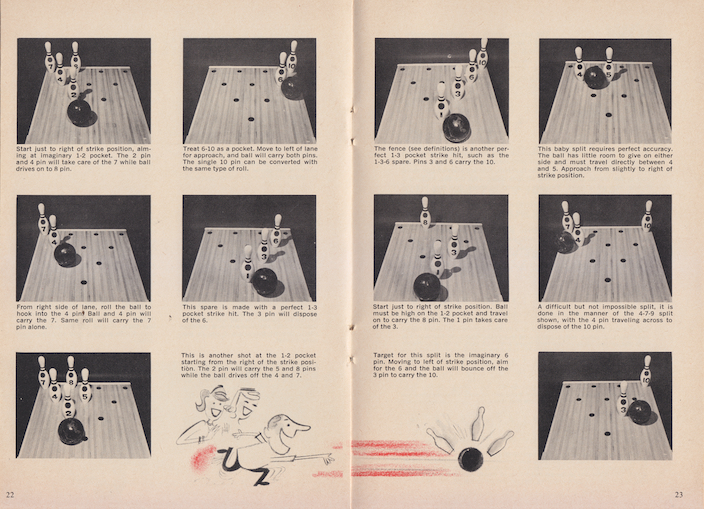 Finally there's a glossary of bowling terms, of which many were new to me.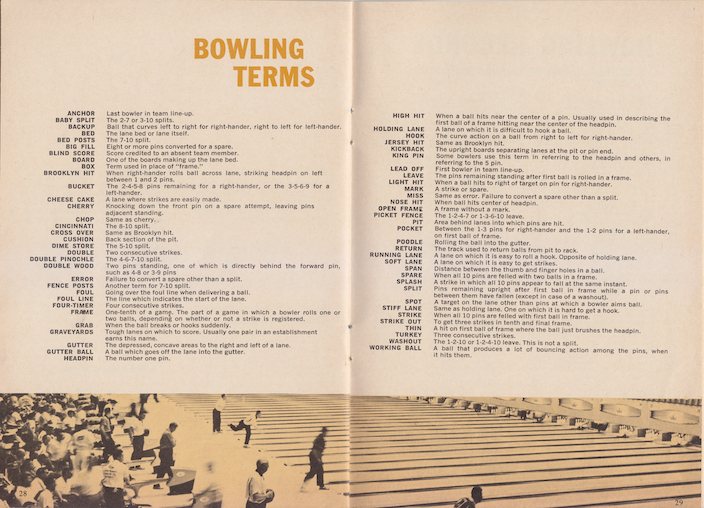 ---
2020 November 09 • Monday
Feature-length films hog all the action. Our 647th Soundtrack of the Week is for a short film that won a Golden Palm Grand Prix at Cannes in 1966. It's Skaterdater!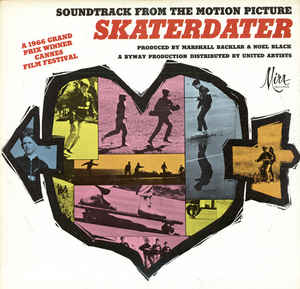 Who wrote this music? Mike Curb is credited as "Composer-Arranger" and Nick Venet as "Musical Supervisor" and the liner notes mention "their brilliant collaboration on the score" which "gained them praise in many highbrow circles where rock music is not normally thought of as an art form".
But every track has "(Stout-Dodd)" as its composer and word on the street is that the music is at least performed by an uncredited Davie Allan & The Arrows.
For what it's worth, Venet and Curb get the onscreen credit.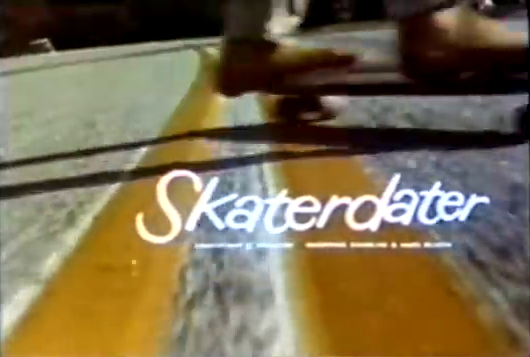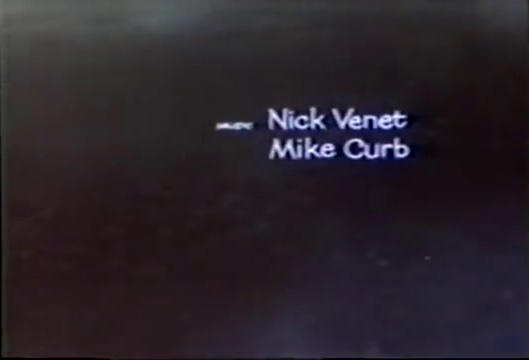 I'd love to know exactly everything about the music on this record because it's absolutely amazing, one of the best surf/instro albums I've ever heard.
The songs are all pretty short. There's one that's three minutes and two that are 2:35 but many of the others barely pass the two-minute mark and others are even shorter than that.
"The Fountain" is a dramatic and noble-sounding tune that could be nudged into a surf anthem.
"Skaterdater I" is an up-tempo and driving number with a bass intro that might remind you of "Church Key" and some "Wipeout"-worthy snare playing. The main melody is very reminiscent of another surf classic but exactly which one is escaping me right now. Definitely in Ventures territory here.
Then we get a killer surf ballad, the dreamy "Missy and the Statue", which shows just how expressive an electric guitar can be with the right amp and some reverb.
"Skaterdater II" reprises "Skaterdater I", as you might expect, but with a slightly different sound and the addition of organ, giving it a "Telstar" feel.
After this the band shifts gears a bit for the bouncy and jaunty "Skate Out" which gets a lot of drive out of the drummer playing the drums and a monomaniacal electric guitar part.
"Skaterdater Rock" is the same melody as the other "Skaterdater" cues—I guess this is the main theme— but this sick-sounding fuzz/distortion guitar certainly sounds like it must be Mr. Davie Allan. I'm not aware of anyone else who has ever sounded like this.
Side A wraps up with "Together I", a happy/sappy probable love theme in which flute takes the lead on the melody, eventually playing as a duet with the electric guitar. There's also an unexpected burst of circus clown music in there, presumably for a specific moment on screen.
The B side kicks off with "Statue", which has a relentlessly pounding drums and bass, long organ tones and regularly strummed guitar chords creating a gradually building dramatic environment for the lead guitar line.
"Skate Board Safari" is almost a really sunny and happy song but there's a minor chord in there and some surprising double picking that adds some clouds to the overall feel. Wonderful tune.
And then we have "Skaterdater III", the longest song here at three minutes, and still the same theme you've heard before but this time played more slowly, almost meditatively. It has a lovely hypontic quality to it here.
"Together II" has the flute again but also acoustic piano this time. It's followed by "Skaterdater IV", which has the strongest "Telstar" feel of any of them.
And then, all too quickly—though this is the soundtrack to a seventeen-minute film—we come to the last track, "Missy's Theme", which is actually a reprise of the "Together" theme.
Really fantastic stuff!
---
2020 November 06 • Friday
One of the weirdest movies we watched recently was Mr. No Legs, more or less a cops vs. drug dealers movie but with the hook that the main bad guy's number one enforcer has no legs but nonetheless manages to murder and terrorize people while in a wheelchair.
The recent blu-ray release was sourced from the only known surviving 35mm print, which happened to be French. So for that reason, while Mr. No Legs is also known as the much more dully titled Killers Die Hard, the version we saw had the even more boring title of L'Infernale Poursuite.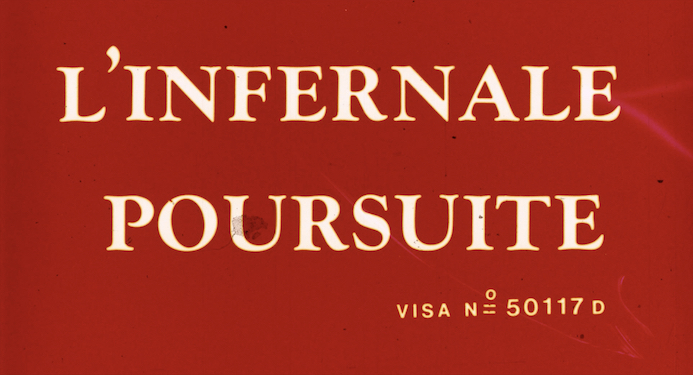 The French version was cut so deleted material was provided from other existing sources, which also yields yet another title, Gun Fighter.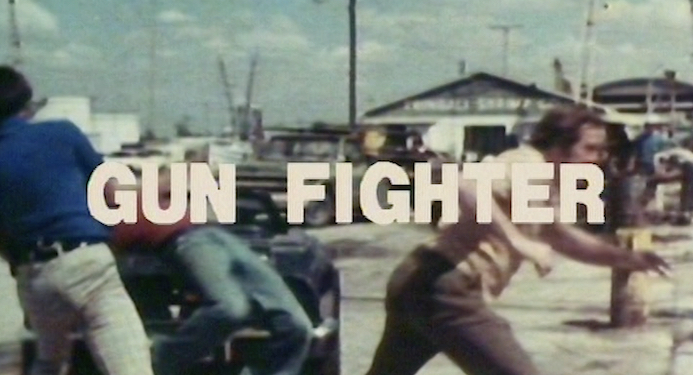 All of these alternate titles are terrible and could be given to thousands of other movies.
What about the movie itself? Well, it's actually pretty bad but not without its points of interest. Of course there's the wheelchair-bound enforcer hismelf, first seen using shotguns that are built into his wheelchair.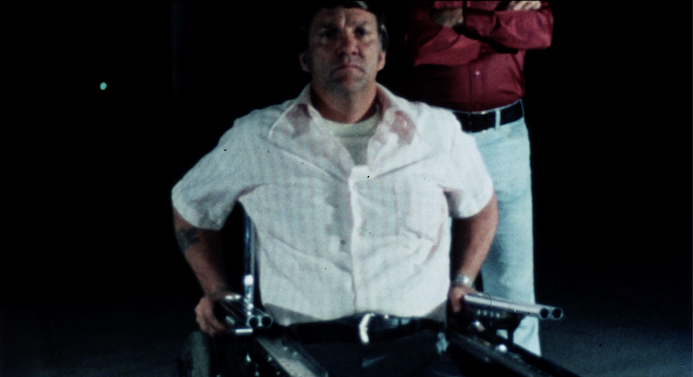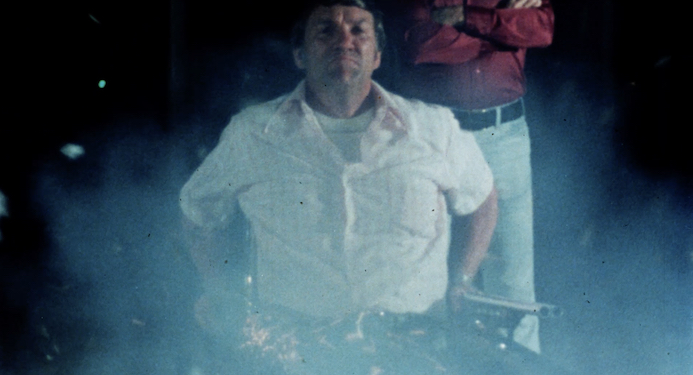 In another scene, a bunch of thugs try to kill him by a swimming pool and it's revealed that his wheelchair also has shuriken attached to the wheels.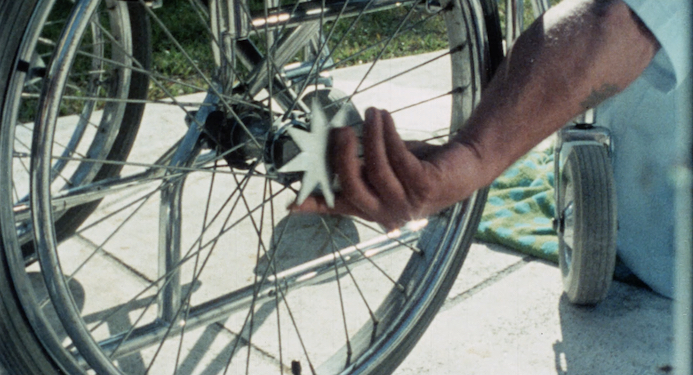 Those are single-use devices, of course, so after that it's up to his martial arts prowess.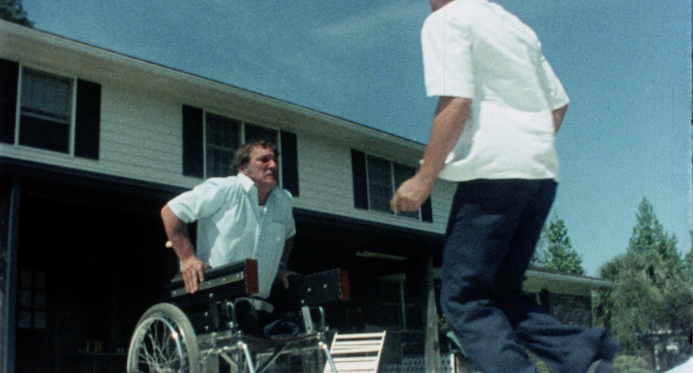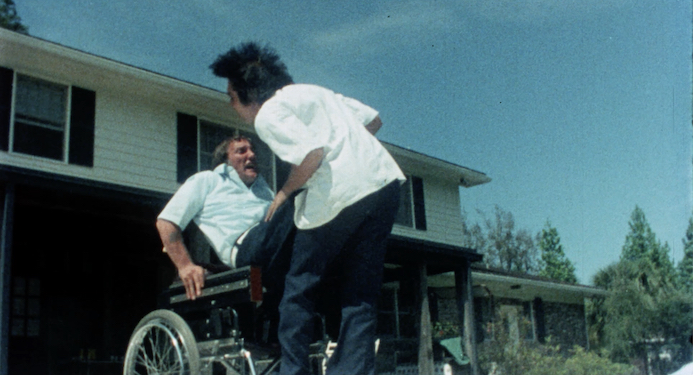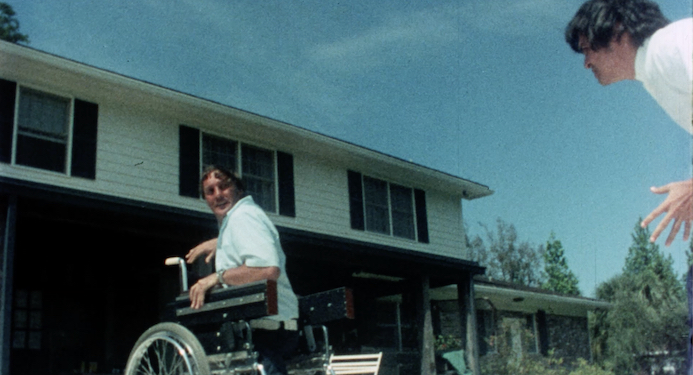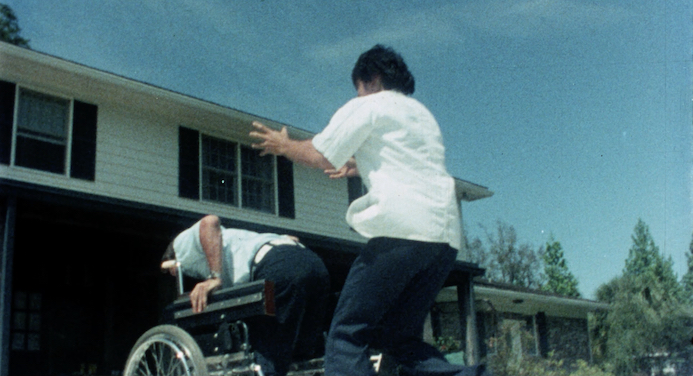 Incredibly, the fight does continue into the pool but Mr. No Legs prevails nonetheless.
And that mostly does it for him. For some reason, the movie doesn't center on him but on the rather generic crime story around him. Perhaps this explains all the other titles. The filmmakers themselves didn't know what their movie was really about.
There are lots of other details to admire. An early love scene looks like some kind of dream sequence from an entirely different movie.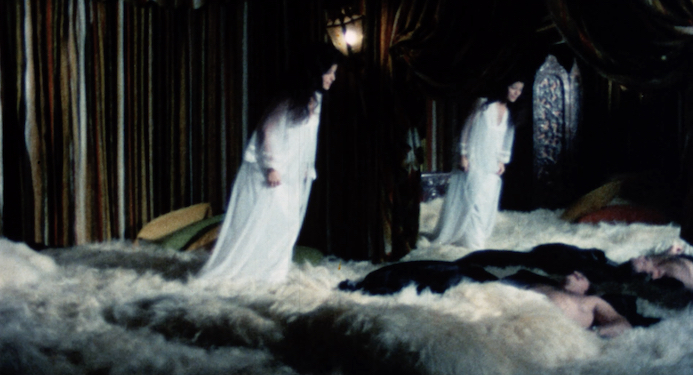 And I like this shot of the cop with the doorknob.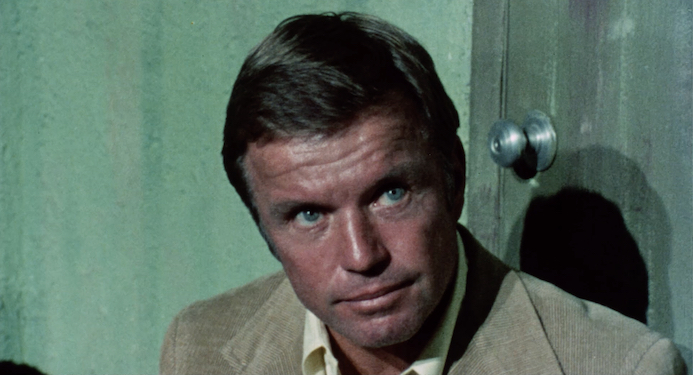 There's some great location use at this dive bar, where Mr. No Legs is hanging out with a person with dwarfism. Outside are two cops. I forget why they're there. Inside there's going to be a bar fight.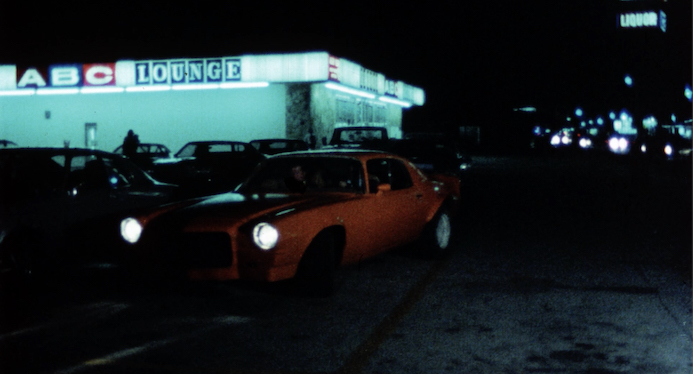 ABC Lounge is a good name. So is 7 Seas Bar, with "Beautiful Go Go Dancer Day & Nite".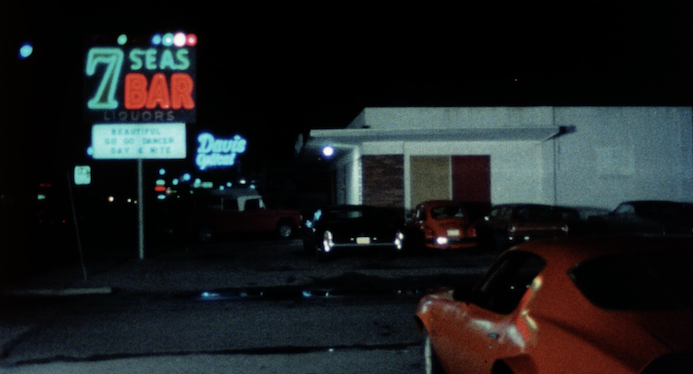 That's where this scene happens.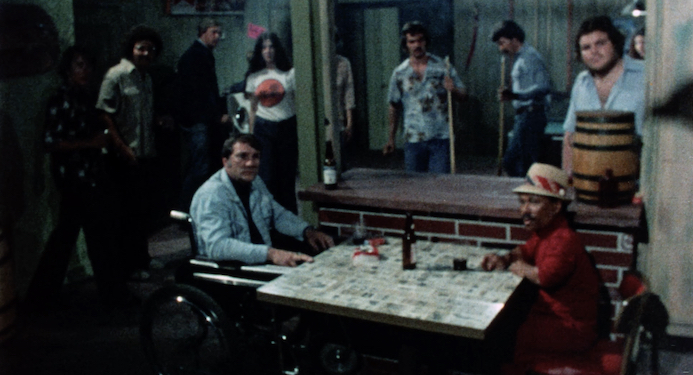 There's a guy wearing a Ravi Shankar t-shirt.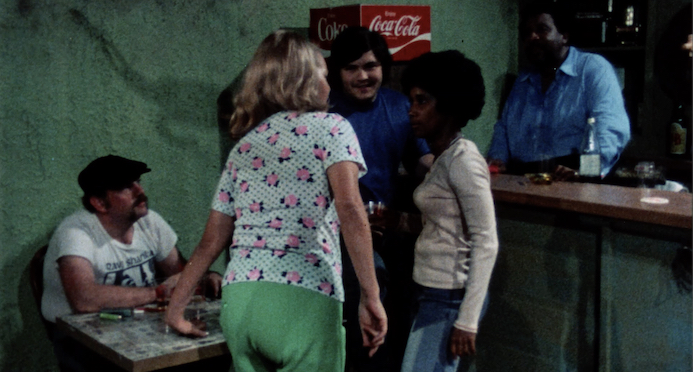 And then, what was the most startling thing for me in the whole movie, this sign behind the bartender that says "Sherry Flavored Sauerkraut 5¢ Extra".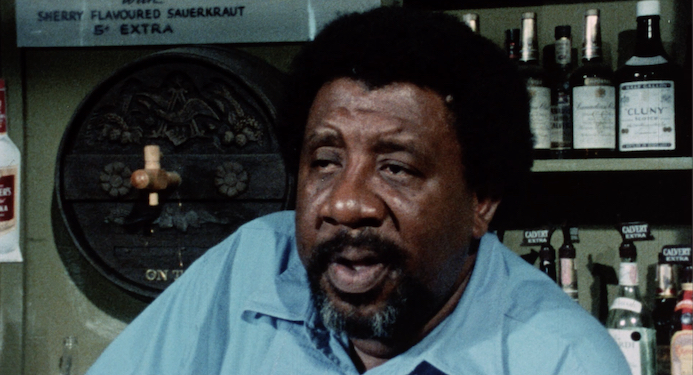 There wasn't much of a budget and most of what they had they must have spent on this epic car chase at the end of the movie. Cars jump onto other cars, smash through mobile homes, piles of boxes, piles of blocks of ice.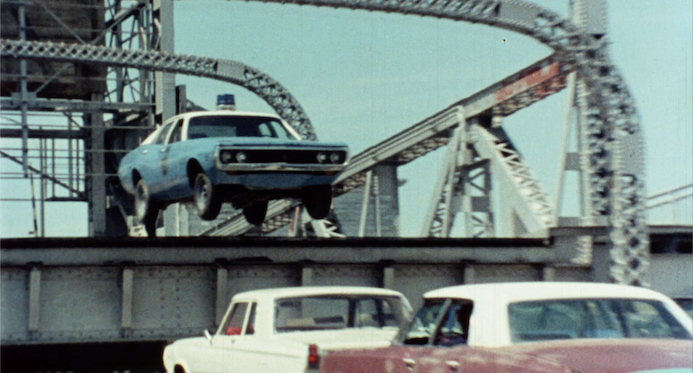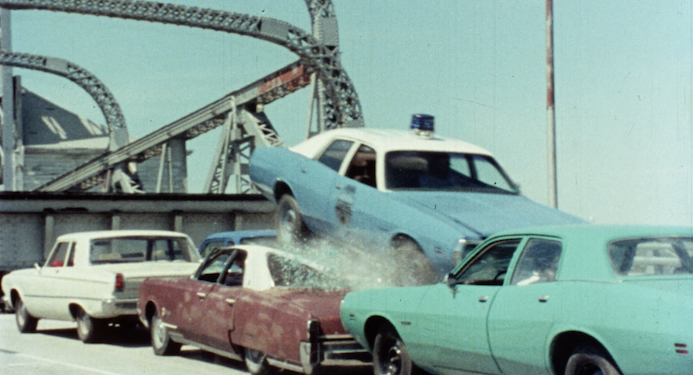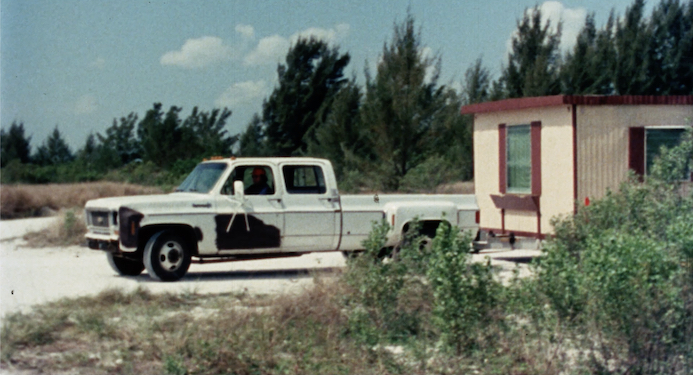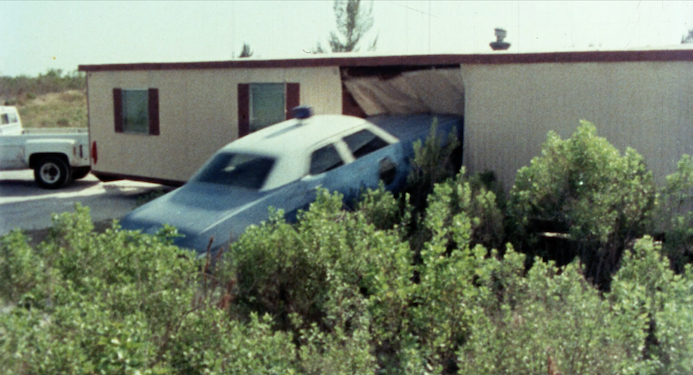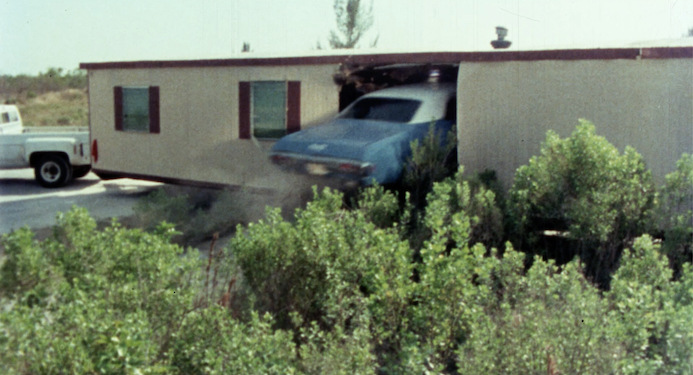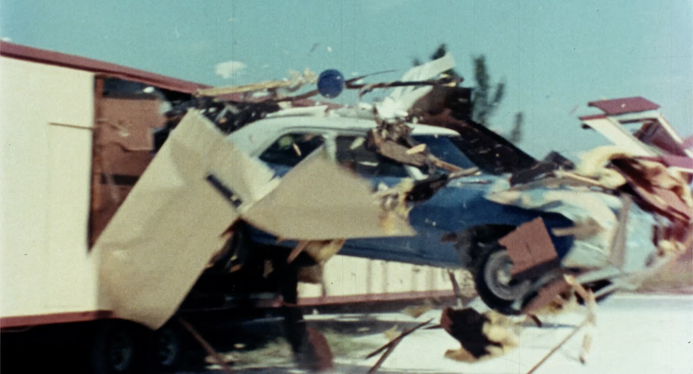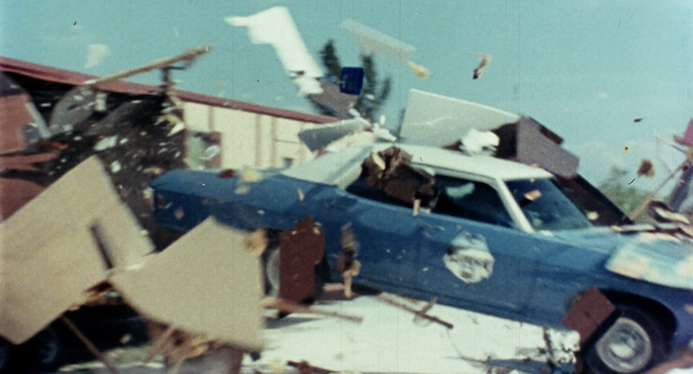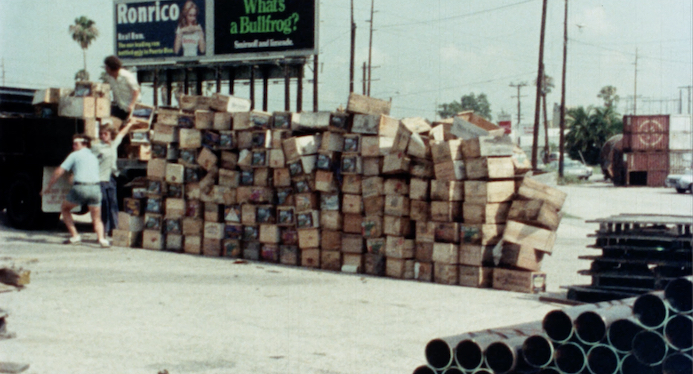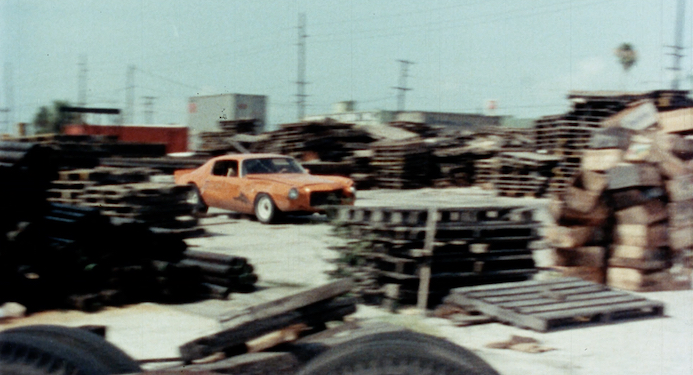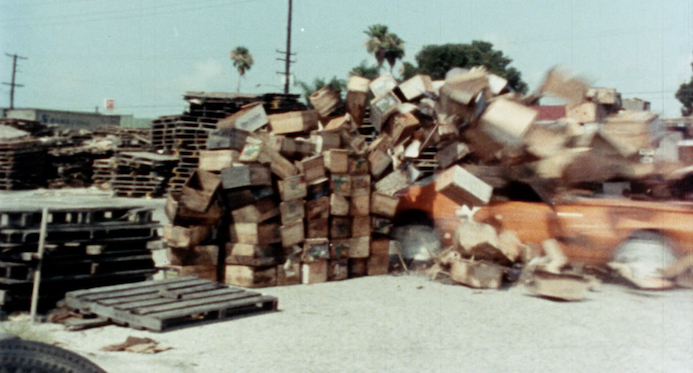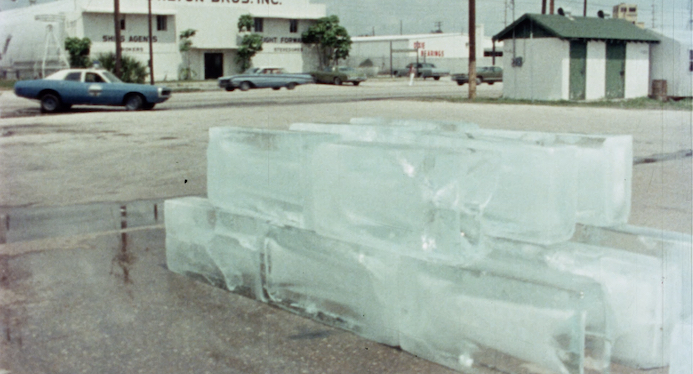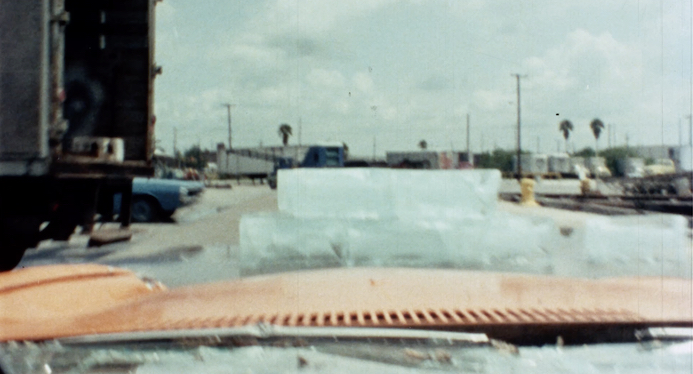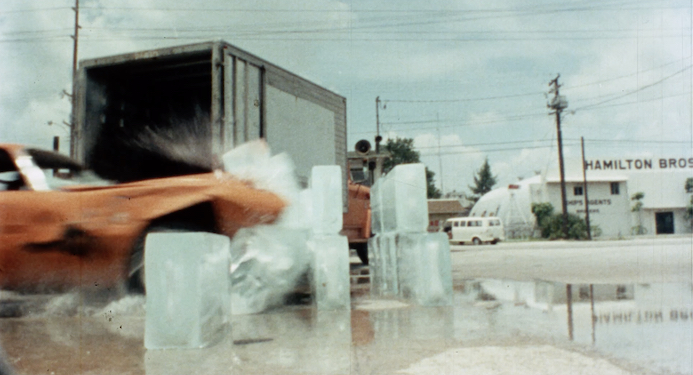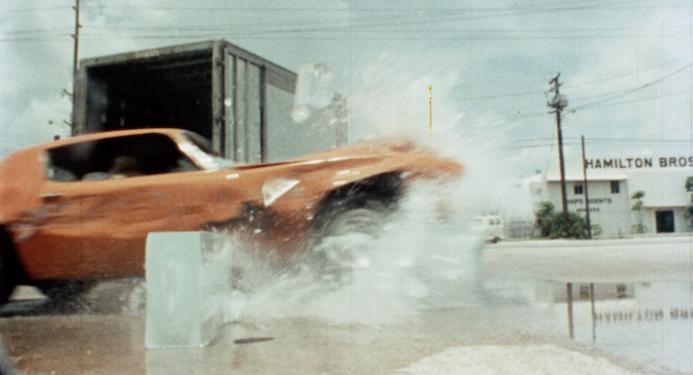 They even drive on railroad tracks.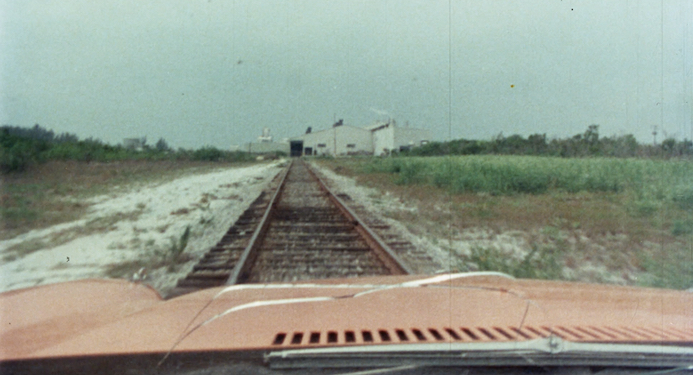 Presumably the police cars aren't real police cars because the flashing lights on top appear to be attached with duct tape.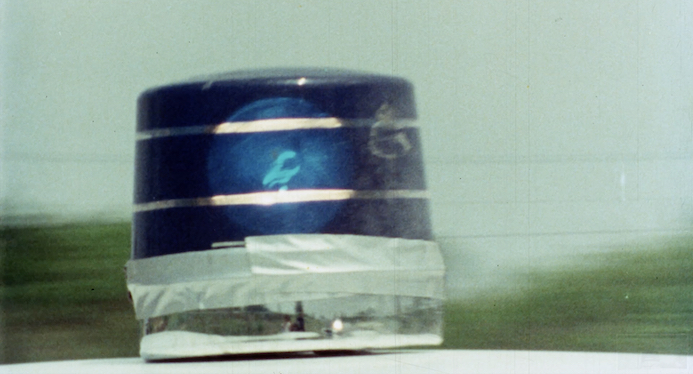 So, this was an actual movie and I actually watched it. It wasn't the astounding jaw-dropping exploitation movie that I expected but it was, in its way, a rare bird.
---
2020 November 04 • Wednesday
A funny thing happened to me on the way to reading Walter Tevis's The Man Who Fell to Earth. I noticed this paragraph:
"It just happens that this is 1988. And 1988 is an election year. The President is already campaigning for a second term, and he has it on good authority—did you know that Watergate changed nothing—nothing—the President uses us, in the CIA, to spy on the other party?—that the Republicans are going to turn this whole business into something like the Dreyfus case if we don't either bring adequate charges against you or turn you loose with profuse apologies all around."
So what's so remarkable about that? Well, it's the Watergate reference. You see, The Man Who Fell to Earth was originally published in 1963 and 1963 was still the copyright date on the edition I read. 1963 and then copyright renewed 1991, by Tevis's second wife. But Tevis died in 1984.
So that was kind of interesting. And so while in lockdown I re-read that edition of The Man Who Fell to Earth, a Del Rey Impact trade paperback, while simultaneously reading the true first edition, the Fawcett Gold Medal paperback original. paperback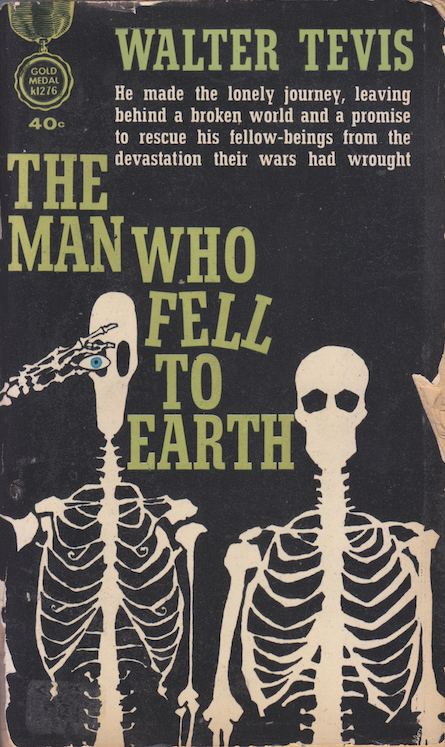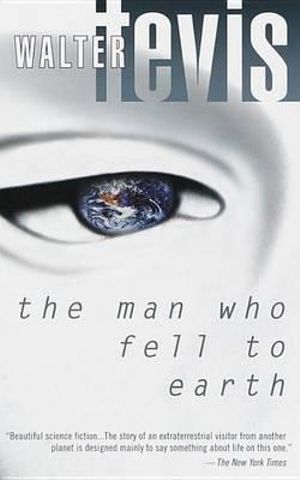 Here's how the above paragraph looked in the Fawcett Gold Medal edition back in 1963:
"It just happens that this is 1976. And 1976 is an election year. The President is already campaigning fo a second term, and he has it on good authority—did you know that the President uses us, in the CIA, to spy on the other party?—that the Republicans are going to turn this whole business into something like the Dreyfus case if we don't either bring adequate charges against you or turn you loose with profuse apologies all around."
So you can see the differences there. And there are differences on almost every page of the two editions.
You can see all of them here.
But here are some of the more significant changes, such as the paragraph presented above, which is found on page 127 of the Fawcett Gold Medal edition and page 188 of the Del Rey Impact edition.
On page 23 of FWM you get:
Oh Lordie, Pick A Bale Of Cotton! Oh Lordie... Next to him at the bar a girl, breastless beneath the red leather jacket of the "New Beats," was talking to a sad-eyed Negress about the "structure" of poetry[…]
While on page 29 of DRI this becomes:
Oh Lordie, Pick A Bale Of Cotton! Oh Lordie... Next to him at the bar a white girl was talking to a sad-eyed girl about the "structure" of poetry[…]
(On page 30 of DRI the disappeared red jacket shows up.)
Here's a paragraph from pages 36 and 48, respectively, of the FGM and DRI editions:
He had watched American, British, and Russian television for fifteen years. At one time his superiors had planned to make contact with the Russians, since they were more technically advanced than the Americans, more likely, by themselves, to reach Anthea first; but the more various American economy, as well as the freedom of movement possible within the country, had finally decided them in its favor. They had collected a huge library of monitored and recorded television broadcasts, and by the time, thirty years ago, when America had begun continuous television broadcasting, they had already deciphered most of the subtleties of the language from FM radio broadcasts.
He had watched American, British, and Russian television for fifteen years. His colleagues had collected a huge library of monitored and recorded television broadcasts, and by the time, forty years ago, when America had begun continuous television broadcasting, they had already deciphered most of the subtleties of the language from FM radio broadcasts.
And from pages 70 and 100, respectively:
Logarithms to the base twelve. And what else?
He stood up and took his cup to the stove for more coffee. While the brown pill was dissolving he tried to piece together Newton's conversation of the day before—that weird conversation on the log at lakeside—and to discover, if he could, whether or not he was reading too much into Newton's words, whether he was stupidly mistaking a crackpot genius for a man from Mars. You pays your money and you takes your choice....
Logarithms to the base twelve. And what else? And what else?
Pages 76 and 108:
The head gained a voice, saying, "...why it is that, as we approach the year of anniversary, that year emblazoned on the hearts of all free men, the year, my friends, the year of our Lord 1976, the two hundredth anniversary of the United States as a free and independent nation[…]
The head gained a voice, saying, "... of the United States as a free and independent nation[…]
Pages 115 and 163:
In one such speech his name had been mentioned. They would hardly risk brainwashing him. They were hardly going to have plenty of difficulty in keeping him from coming to trial, in explaining their motives for holding him.
In one such speech his name had been mentioned. The word "cover-up" was used several times.
This is an interesting cut here, pages 139 and 202:
What had they done to him? Had they only blinded him? For a moment he thought, in wonder, of Orwell's hero of 1984—only eight years from now, that would be—Winston Smith at the end of the torture, his mind and body destroyed, sitting in a bar and drinking free Victory gin, waiting for the government to put a bullet in his head.
What had they done to him? Had they only blinded him?
There are numerous small changes, the two editions being set in different years, thus altering amounts of money as well as ages of characters and other lengths of time. Instead of "LP albums" you get "quadraphonic albums" and instead of a "multi-directional speaker system" you get an "octaphonic speaker system".
Stuff like that, and lots of "house style" changes as well as some good old-fashioned typos.
---
2020 November 02 • Monday
Music by Ron Grainer, a couple of songs by The Mindbenders and a colossal hit pop song by Lulu can be heard on the 646th Soundtrack of the Week. It must be To Sir, With Love!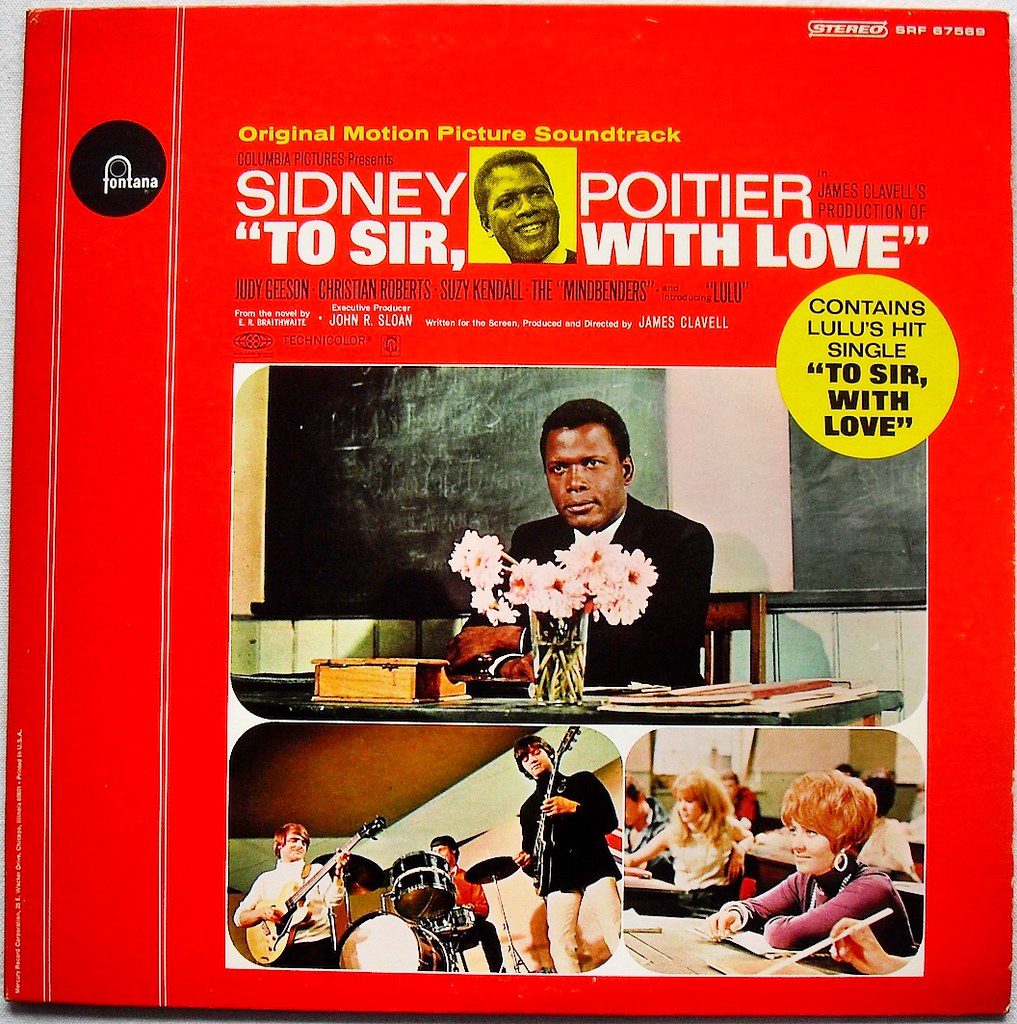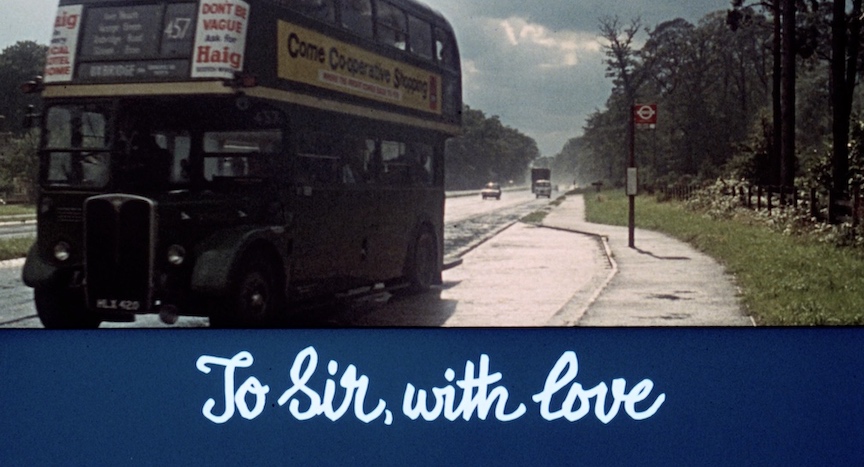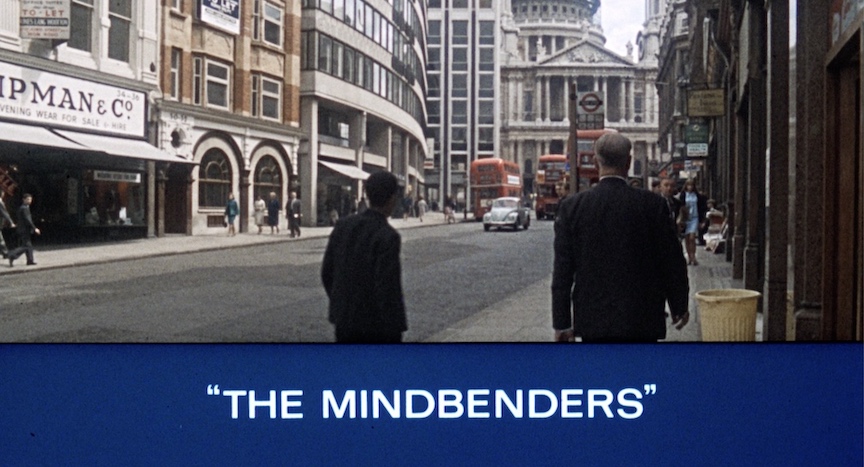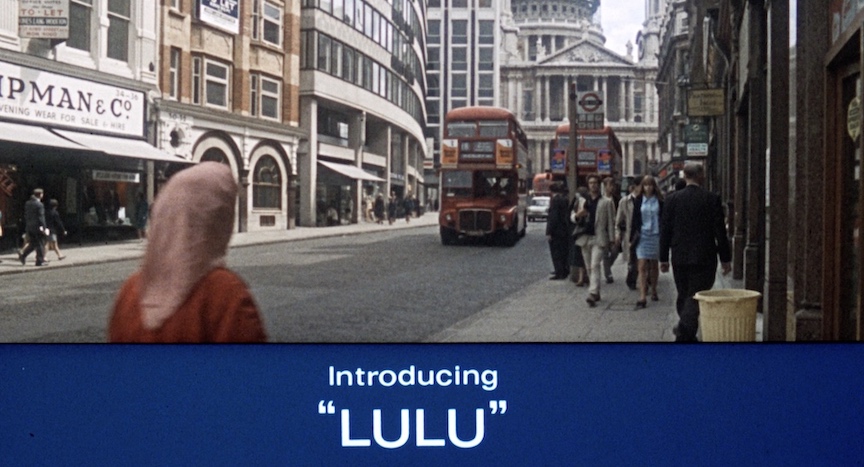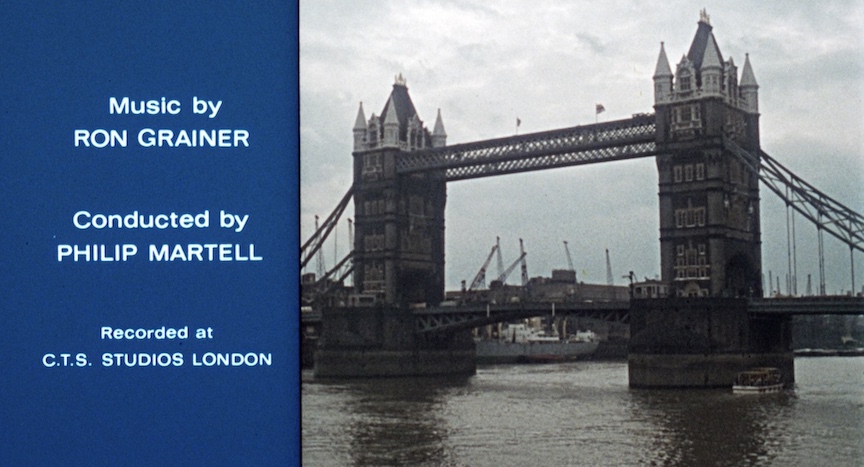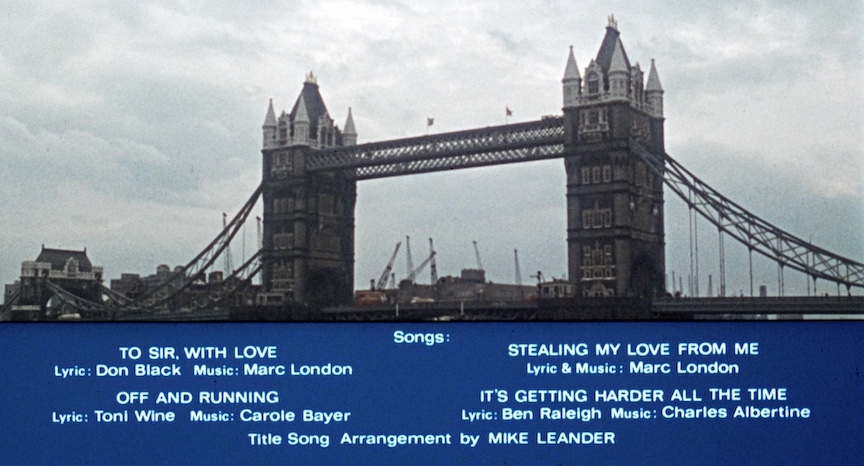 It starts with the title song by Lulu, who also stars in the movie. You must have heard it. If you haven't and you want to, that's easily accompished. I believe 10,000 Maniacs also covered it in the '90s. It's a great song!
After that we get another Lulu song, "Stealing My Love From Me" for a "School Break Dancing" scene. This is a much more up tempo raver and Lulu pushes her voice to give it an edge of desperation.
The third track is the first example of Ron Grainer's score. "Thackeray Meets Faculty, Then Alone" is a slow instrumental version of the title song with the melody played on what sounds like clavinet, with a sympathetic departure from that melody in the middle.
Then we get The Mindbenders with "Music from Lunch Break 'Off and Running'", which starts off as kind of a slinky 12/8 thing before shifting into a bright and peppy straightforward 4/4 power pop number.
"Thackeray Loses Temper, Gets an Idea" brings us back to Ron Grainer and a tense and ominously roiling music cue that hints at the title song melody in places.
The A side conclydes with a return to the title song for "Musem Outings Montage", though this time it has a different feel and different arrangement, including interesting use of timpani.
Side B opens with Ron Grainer's "A Classical Lesson", which is a "classical"-flavored rendition of the title song with piano, harpsichord, strings, saxophone and timpani.
This is followed by five more Grainer cues.
"Perhaps I Could Tidy Your Desk" features the clavinet (or electric harpsichord) and has some really nice writing for strings. It's very short, less than a minute.
Also less than a minute is "Potter's Loss of Temper in Gym", which is a dynamic and propulsive short cue that suggests tension, suspense and danger.
Then there's a third very short one, "Thackeray Reads a Letter About Job", with acoustic guitar playing harmonics, pizzicato strings and harpsichord stings creating a prickly sort of ambience before the strings come in to quote the main title melody again.
"Thackeray and Denham Box in Gym" breaks the one-minute mark but not the two-minute mark. It starts with timpani and other percussion and uses spaces as effectively as sounds. It almost has a spaghetti western showdown feel to it and I can imagine this working very well with the visual content. The strings burst in once in a while with a little bit here and a little bit there and occasionally suggest the main title song.
The last Ron Grainer composition is "The Funeral", with some beautiful blends of guitar and clavinet as well as lush writing for the strings.
We get another great shake from The Mindbenders after that, "End of Term Dance 'It's Getting Harder All the Time'", a really great "beat" song.
What's the last track on the record? Well it has to be the title song again, doesn't it? It does. All the music on here is great!
---