Soundtrack collecting can be a dangerous business. For example, while contemplating our 649th Soundtrack of the Week, Burt Bacharach's music for Arthur, we were reminded that there was a remake of this movie a while back. That was quite a blow. Fortunately, it's hard to be blue when you're listening to Burt Bacharach!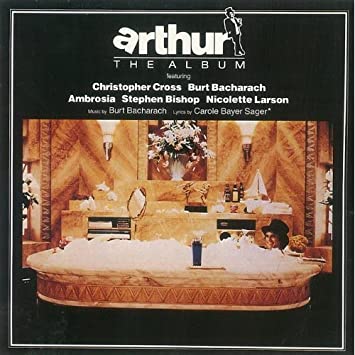 The record opens with the big hit song that you've almost certainly heard, "Arthur's Theme (Best That You Can Do)" as performed by Christopher Cross, who also co-wrote it along with Bacharach, Carole Bayer Sager and Peter Allen.
What is there to say other than that it's a pop masterpiece? There's also a really good saxophone solo on it by Ernest J,. Watts.
After that we hear Nicolette Larson signing "Fool Me Again" by Bacharach and Sager, a heartfelt early-'80s pop love song.
Things get more energetic with Ambrosia's "Lover Boy", written by Bacharach with bassist Joe Puerta and guitarist/vocalist David Pack. This is another solid '80s song with a bit of new wave to it. It can be tough and it can be gentle.
"It's Only Love" by Stephen Bishop, which Bishop co-wrote with Bacharach and Sager, ends the first album side. It's another powerful love song and Bacharach himself is one of the keyboard players on it. Really nice song.
While the first side is all about songs from the movies, Side Two presents some of the instrumental cues.
The first one, "Touch", is a slinky and groovy number that features both saxophone and electric guitar. (The latter could be Lee Ritenour.)
Then there's an instrumental version of the Stephen Bishop song "It's Only Love", with some very nice muted trumpet work.
"Money" is the cue that really says Arthur as strongly as the famous theme song does. You hear this piece of music several times in the movie, most famously as the drunken title character flows down Manhattan streets in his Rolls Royce.
There's an old-timey feel to "Moving Pictures", which Bacharach co-wrote with sax, flute and oboe player John Phillips; a touch of 1930s jazz or perhaps even silent movie music.
Finally we hear "Arthur's Theme (The Best That You Can Do)" again, in an instrumental version, all the better to admire the melody!
---