Franz Waxman's music for Career is the 267th Soundtrack of the Week.
I'd like to see this movie just for Carolyn Jones!
The "Main Title" reminded me a little of Waxman's music for The Philadelphia Story. It occurs to me that both might have been influenced by Gershwin's "Rhapsody in Blue".
There are other Gershwinesque jazz atmospheres here and there. "Cold Water Flat", for example, has echoes of "Summertime" in it.
"Sharon/Sharon Proposes" and "Hysterical Proposal/Across the Threshold" make great use of electric guitar lines as contrast for reeds and strings. modern jazz.
Waxman provides wonderul romantic and dramatic writing for "My Way of Life/Another Obstacle", "The Smell of Success/Sad News" and "Two Up on Me", all of which feature brilliant performances by various soloists from the orchestra.
Also included are Sammy Cahn/James Van Heusen's title song "(Love Is a) Career" and the uptempo Latin jazz "Night Club Dance No. 1" composed by Gus Levene.
---
Many people have been wondering when the NEW TAX BILL MAY BE NEEDED page will be updated. Okay, nobody has actually indicated this to me, but I'm assuming that a lot of people have been wondering about it. Why wouldn't they?
The last several vintage American movies that I've watched have not had my favorite headlines in them. It's been very disappointing. But now there is news!
Perhaps you remember that last October, somebody in Italy sent me an email about how NEW TAX BILL MAY BE NEEDED (and some other regulars) were spotted in the movie White Heat.
Well, the same person has just sent me another email, with a whopping six images from four movies! What's more, these new images show NEW TAX BILL MAY BE NEEDED in two different newspapers from the same movie! ("What on Earth is wrong with your tax bill?" our anonymous correspondent wrote in the email.)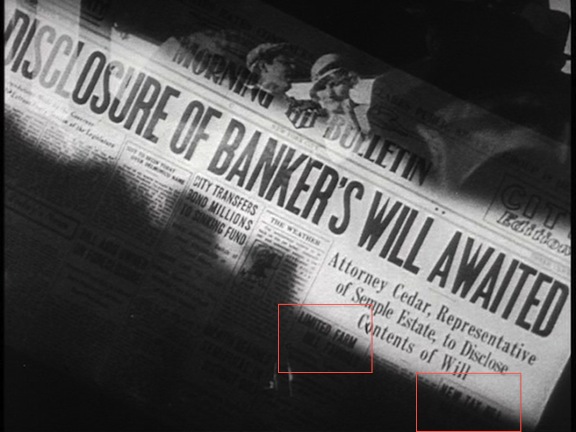 Mr. Deeds Goes to Town (1936)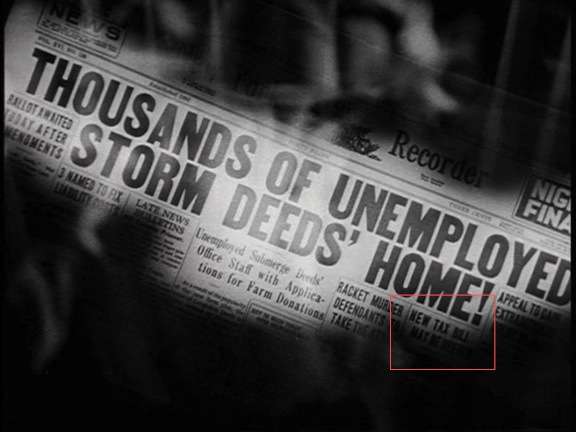 Mr. Deeds Goes to Town (1936)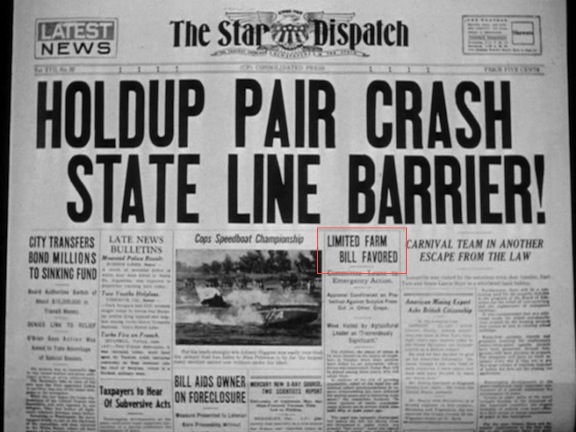 Gun Crazy (1950)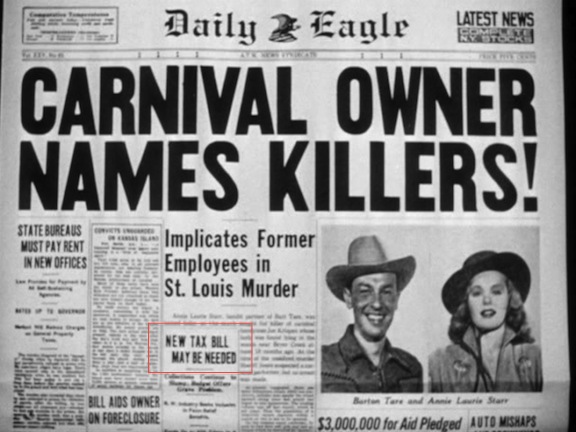 Gun Crazy (1950)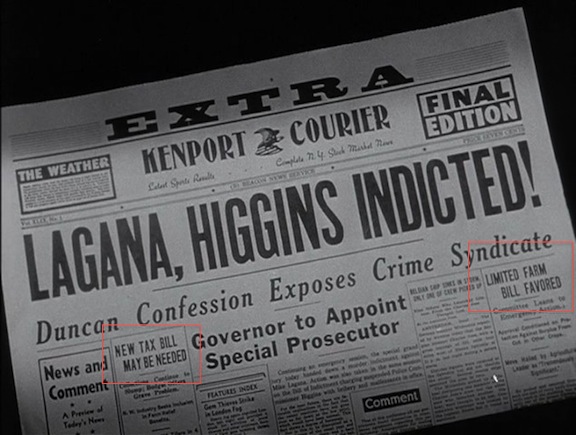 The Big Heat (1953)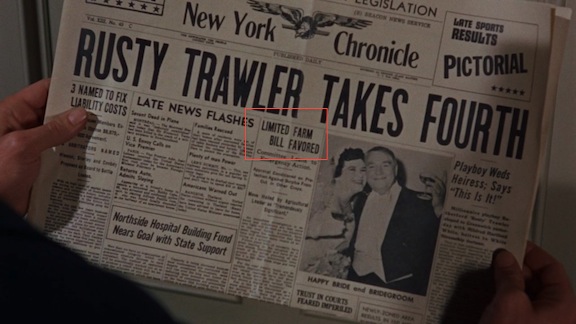 Breakfast at Tiffany's (1961)
Our friend has also placed them on a page here. I will go ahead and add these to our gallery. We're getting quite the collection!Raour bass player, he told me that he's been dropping espresso shots in his IPAs for years! I guess I'm just behind the times.
---
Here's something I noticed.
First listen to "Sleigh Ride", which Leroy Anderson got the idea for in 1946 and finished writing in 1948. The first recording of it was made by 1949 and was a big hit.
Now check out the movie The Streets of Laredo, also 1949, with a score by Victor Young. The whole movie is here but you can jump to 22:00 and listen to it for a minute or two.
Sounds a lot like "Sleigh Ride", doesn't it? The movie's release date was May 27, 1949. I wonder when the record came out. You hear it a few other times in the movie.
The score also refers to the famous song "The Streets of Laredo", which is why I was interested in watching the movie. I've been into this recording of it lately. That whole CD is great.
Strangely, in the one scene of The Streets of Laredo where somebody strums a guitar and sings a song, it's not that song but some other "Streets of Laredo" song. Was it written for the film so they wouldn't have to pay the publisher of the original?
---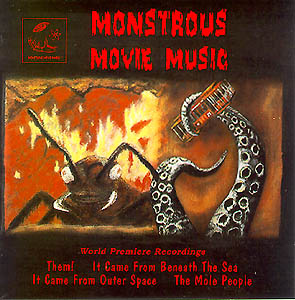 The 266th Soundtrack of the Week is this wonderful re-recording of music from The Mole People, Them!, It Came from Outer Space and, in honor of the recently deceased Ray Harryhausen, It Came from Beneath the Sea.
All the music has been brilliantly performed by the Radio Symphony Orchestra of Cracow. You can read a little about this CD here.
There are only three short tracks from The Mole People here, but they sound great. That's a movie I really like, too. Herman Stein is the primary composer.
Bronislau Caper's score for Them! is my favorite music from that composer so far. The instrumentation and arrangements are complex and inventive, creating intense and haunting atmospheres.
Herman Stein, Irving Gertz and Henry Mancini provide the cues for It Came from Outer Space. Some of it is familiar sounding but much of it is ethereal and haunting.
Finally there's Mischa Bakaleinikoff's powerful score for It Came from Beneath the Sea, famous for the effects sequence in which Ray Harryhausen's stop-motion giant radioactive octopus destroys the Golden Gate Bridge. These cues are models of lean, tough writing for hard-hitting action scenes, though cues like "Love by the Sea" demonstrate Bakaleinikoff's range.
Perhaps you remember how, in the 1958 movie Earth vs. the Spider, a giant tarantula goes on a rampage after being woken up by some kids rehearsing their rock and roll band. Well, it's worth noting that in the first scene of It Came from Beneath the Sea, the giant octopus attacks the submarine only after the people in the submarine change the music from laid-back Hawaiian stuff to modern jazz.
---
Before I went up north to play music and try some Ontario microbrew, I sampled a couple of very unusual beers from my two favorite breweries.
Founders in Grand Rapids, Michigan, nails every beer style they try and even comes up with some new ones once in a while. Recently they released Doom, an Imperial IPA aged in bourbon barrels.

It's a weird combination of flavors. The whole family liked it but it's something that I would only want to drink a few times a year.
Stone, my other favorite brewery, also put out a strange take on IPA. Collaborating with two other breweries, Aleman and Two Brothers, they created Dayman, a Coffee IPA.

I thought this was a terrible idea for a beer but actually I loved it! After drinking a bottle with my brother, I went back to the shop to buy more.
In Toronto, when I mentioned this to Jim Sexton, our bass player, he told me that he's been dropping espresso shots in his IPAs for years! I guess I'm just behind the times.
---
Thanks, everybody who came to the show at C'est What? in Toronto!
Almost five years had passed since I last visited Canada and I was pleased to observe that craft beer mania has spread to Toronto as well.
My first night in town found me at a brewpub called Indie Ale House. I liked their Zombie Apocalypse imperial stout.
C'est What? also brews their own and also has several other local microbrews. My favorite was a black IPA from Nickel Brook Brewery in Burlington, ON. That style is very popular these days but not easy to pull off as well as Nickel Brook has.
---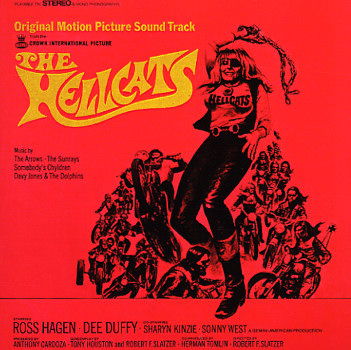 Has anybody ever had a sicker guitar sound than Davie Allan? It's the first thing you hear on the soundtrack album for The Hellcats, a biker movie from 1967 that was also fodder for an episode of Mystery Science Theatre 3000. You can watch it get the MST3K treatment here!
It's also the 265th Soundtrack of the Week.
The first track, "Hellcats" by The Arrows, is an extremely heavy instrumental rocker of dazzling illness. This is followed by another instrumental, "The Angry Mob", which is more normal and easy-going though enhanced in places with some of that crazy guitar sound.
Most of the music on the record is by a band called Davy Jones & The Dolphins. Apparently this is not the Davy Jones from The Monkees (nor is it a pre-Bowie David Jones).
"The Only Way To Fly", is a sunny pop song with some cool fuzz guitar. "Hellcats" is the vocal version of the instrumental first track, much friendlier than The Arrows' version.
"Mass Confusion" is an upbeat number that sounds rather cheerful about being confused. "Let's Live a Little" has a brisk but stalking bass line and the usual lyrics about tortured love. "Listen to the people telling us what to do / 'cause they don't understand the love that we have is true."
The last Dolphins number is "I Can't Take a Song", a soul-influenced song.
Another vocal take on "Hellcats" is provided by a band called The Sunrays, who have a horn section with them.
The remaining two songs are by a group called Somebody's Chyldren. "The Marionettes" is an interesting quasi-psychedelic song with piano making it atmospheric. "I'm Up" is another catchy pop/garage song with some impressively fluid guitar playing.
---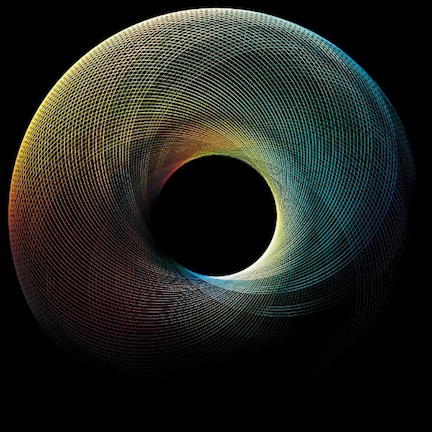 Here's another great trio record, Ben Thomas's Endless Mountain Region. I think it came out last year but I just got it. I met bassist/composer Thomas in my neighborhood recently and we traded CDs. I'm glad we did!
This is a live recording of a trio where Ben is joined by Tony Malaby on sax and Aaron Staebell on drums. The band is solid but loose, able to play as a unit while each player remains free to be individual. This is the ideal, isn't it?
You can read a review by a real music writer here and buy the CD here. You won't regret it!
---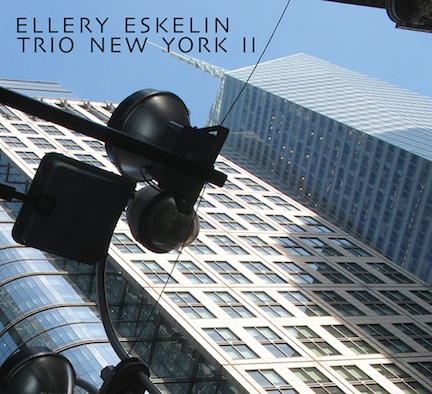 2013 is turning out to be a great year for new records. Ellery Eskelin's trio with Gary Versace and Gerald Cleaver has a new one out, and it's superb. This group, which plays standards but finds their way to the tunes through improvisation and doesn't use set lists, has logged a lot of hours performing since their first CD and this second album benefits from that.
It begins with an atmospheric take on "Midnight Sun", with Versace's Hammond creating textures alternatingly appropriate to cathedrals and space ships. Cleaver's playing is extremely minimal, while Eskelin is the model of inventive and tasteful improvisatory exploration of a tune.
When the trio find "Just One of Those Things", they really swing in a classic way, and this rhythmic foundation highlights the individual expressions of each player. Nobody is falling back on the expected here; each player sounds like he's trying to construct something with integrity and genuine feeling.
Monk's tunes provide plenty of opportunities for individuality and noncomformity, so it's no surprise to find that "We See" is performed here in a rolling, roiling, unpredictable manner. As with all the tunes on this record, though, the tune itself is always honored. These musicians aren't using these pieces as an excuse to blow or as a departure point for free playing. The impression is always that they are deeply respectful of the music and feel privileged to play it. As they improvise their way to the melody, it seems almost as if they're making an offering to something they love.
This is followed by "My Ideal" and "After You've Gone", two tunes I'm not familiar with. The high standards of the preceding tracks are maintained. There isn't a wasted second on this CD.
And then the record closes with "Flamingo". I actually love this piece but I wasn't expecting to be surprised by anybody's performance of it. As played by this trio, however, it's thrilling. Like "Midnight Sun", it begins with saxophone and organ alone. When Cleaver comes in, the group settles into a deep, relaxed groove, and Eskelin's playing and tone, perfectly supported by Versace, shine brilliantly.
This is not just a record worth buying, it's a record worth listening to on a real stereo, not compressed. You can get it here!
---