Rob Price
Gutbrain Records
rob + gutbrain.com = email
---
The new Godzilla movie opens today but the weather is much too nice to go to the movies. Instead we're looking at the latest Kickstarter project to arrive at Gutbrain headquarters. It's four books of artwork from a German predecessor of Weird Tales.

It was called Der Orchideengarten and I had never heard of it before.

They're beautiful books with extraordinary content.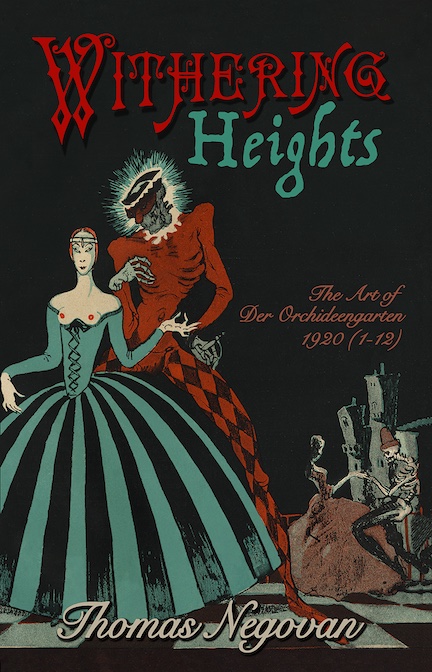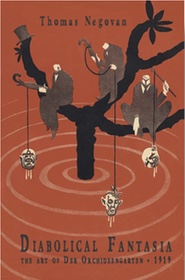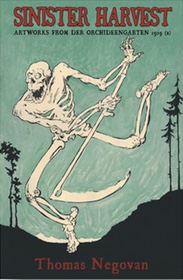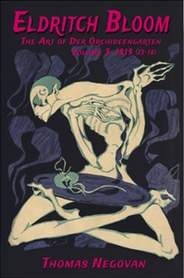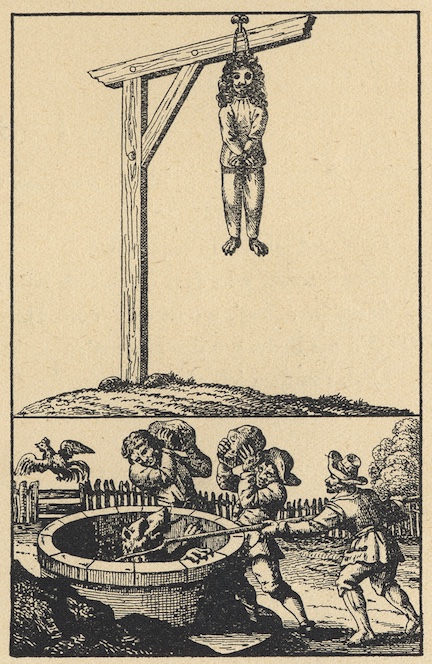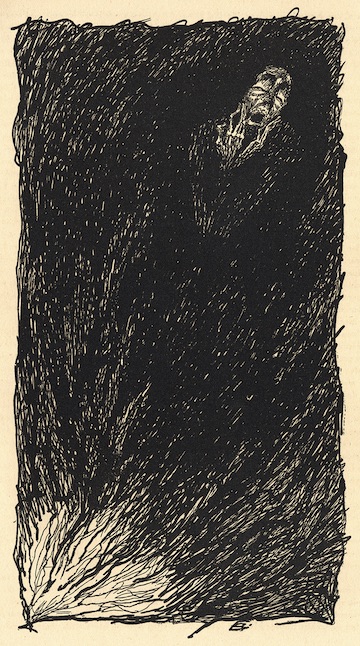 It's not for everyone but for the pulp horror crowd, this is a fascinating excavation!
---
2019 May 29 • Wednesday
How do you solve a problem that took years to create?
It's something I've asked myself many times and it happens to be the first words sung on this great new record, Turbulent Times by Kirk Douglas's band Hundred Watt Heart.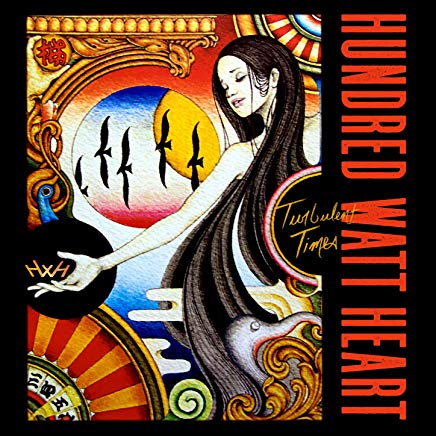 That's from the title track, which starts as a gentle solo acoustic thing and then explodes into full-on rock trio with electric fuzz guitar. My favorite songs are still the two that were released in advance of the record itself, the Led Zeppy "I Used To Be in the Circus" and "Uma". Both are loud and brimming with energy and always make me want to move. There are a lot of other moods on this record, though. It's a versatile band and the songs are really well crafted. Douglas's phrasing is particularly interesting and those who only know him as the guitarist in The Roots are going to be impressed by what a fantastic singer he is. So buy this record! It's extremely uplifting that music this good is being made by real people in the year 2019!
---
2019 May 27 • Monday
The 571st Soundtrack of the Week is a 2019 Record Store Day release: music from Disco Godfather by Juice People Unlimited.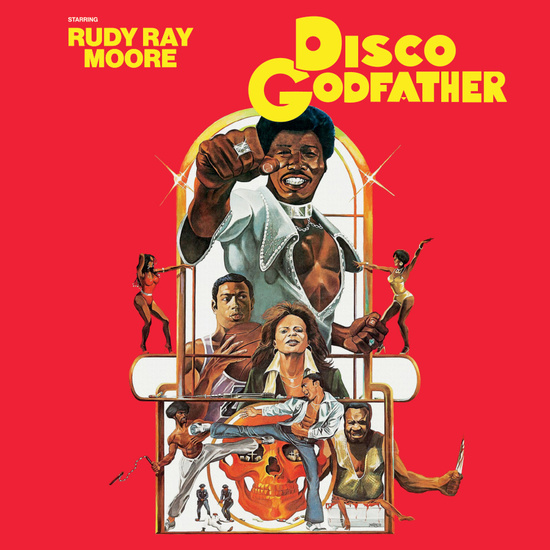 The musicians on this record include James Gadson on drums, David Shields on bass, Paul Jackson, Jr., and Walli Ali on guitars and Melvin Wabb on "Sound Percussion". (I'm not sure how that differs from "percussion".). Each album side has two tracks on it. Side A opens with "Disco Godfather", an over eleven-minute long song with a pretty deep and heavy disco funk groove with strings and typically aggrandizing lyrics, including a chorus chanting "He's the godfather of the disco" and "Let's dance / Come on and dance". "Shermanizing/One Way Ticket to Hell" has the chorus singing "Shermanizing" while there's a nice descending line. In the second half, the "Shermanizing" call is answered with a "One way ticket to hell" response. There are some cool keyboard sounds on here. According to the liner notes, "shermanizing" refers to "smoking cigarettes or joints dipped in liquid PCP". The first song on the second side is a love song, "I Never Wanted To Say Goodbye". It's sung by Marquee De Marco, who gives it a very passionate and soulful expression. Finally there's "Spaced Out", another deep and heavy funk disco tune with some cool chord changes and keyboard sounds and trippy lyrics with "Spaced out" as a chorus.
---
2019 May 24 • Friday
Brian Ashcroft dropped out of school in 1962, when he was fifteen years old, to play bass in a rock and roll band. Stars Fell on Stockton is his book about this experience, and about what it was like in the time and place of his youth.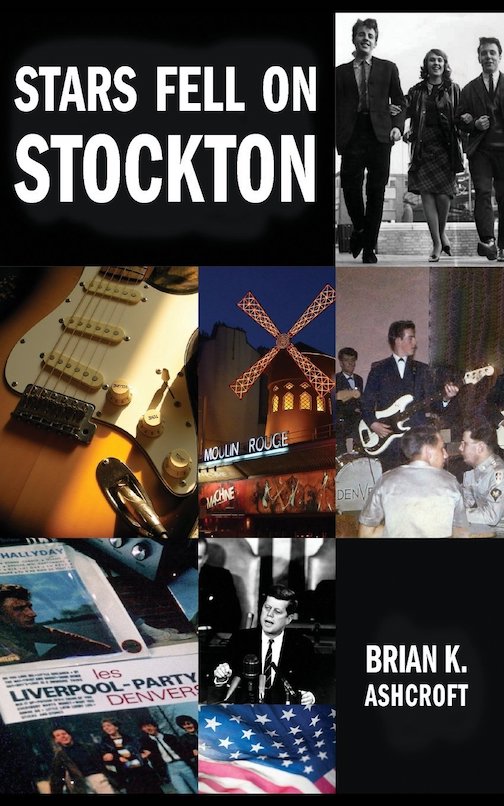 You should already know whether this book interests you.

I found it to be both endearing and fascinating, a window into a vanished world and a moving portrait of an individual whose life presents the reader with impressions of many other lives.

Ashcroft is a thorough storyteller. At the end of the book he reveals that he spent thirteen years writing it. You don't have to take his word for a lot of it. He's done a lot of research and there are numerous footnotes that identify his sources.

While Ashcroft was born in 1947, he begins his story in 1138, as far back as he can trace the roots of his hometown of Stockton-on-Tees in northeast England.

The early part of the book, in which he describes his life at home and school, is one of the most interesting, as he describes a world that I imagine is completely different from any that I ever knew.

Corporal punishment was a normal part of the environment, of course. And consider this description of part of his class's routine: "We were cramped for space and had few facilities on site. Lunch required a fifteen-minute orderly march down and across Norton Road, past the gasworks to a church hall, where the food would arrive in metal containers having been cooked — a euphemism — off site".

New developmentd in popular music were hugely important to Ashcroft and his peers, and listening to the radio and to records and attending concerts at local venues soon lead to acquiring instruments and playing them with other kids.

The Shadows loomed large at this time, and the legendary band in fact appears in Stockton at one point and turn out to be remarkably gracious and generous, particularly Mr. Hank Marvin himself. (Whew!)

While returning home from a local concert one evening, Ashcroft's trajectory is interrupted by a van which comes to an abrupt stop. Inside is Roy Smith of The Denvers. They've just fired the bass player and does Brian want the job?

And so it goes. With little musical training and experience, Ashcroft goes pro. His parents are remarkably sanguine about his dropping out of a promising school career for a very nebulous sort of lark, but Ashcroft reckons that they wisely reasoned that if he didn't get it out of his system now it could lead to disaster later.

The Denvers end up performing a series of residencies in US military bases in France and Germany, against a backdrop of roiling world events. The Cuban missile crisis, the assassination of JFK, the death of Marilyn Monroe, the assassination attempt on De Gaulle, etc.

Politics is hardly their primary interest, but they can't help but be aware of what's going on around them, and they have an unusual position from which to view these things.

And of course the arrival of The Beatles changes everything, including The Denvers' guitars and set list! And when they finally make a record, they're packaged as a Beatles-like band and the album is even called Liverpool-Party.

It's a cool book and Brian Ashcroft sounds like a cool guy. The first line is "I was thirteen when I started to go to dance halls in Billingham, Stockton and Middlesbrough".
---
2019 May 22 • Wednesday
A recent visit to the Jazz Record Center was rewarded by the discovery of this gem: Dom Frontiere and his El Dorado.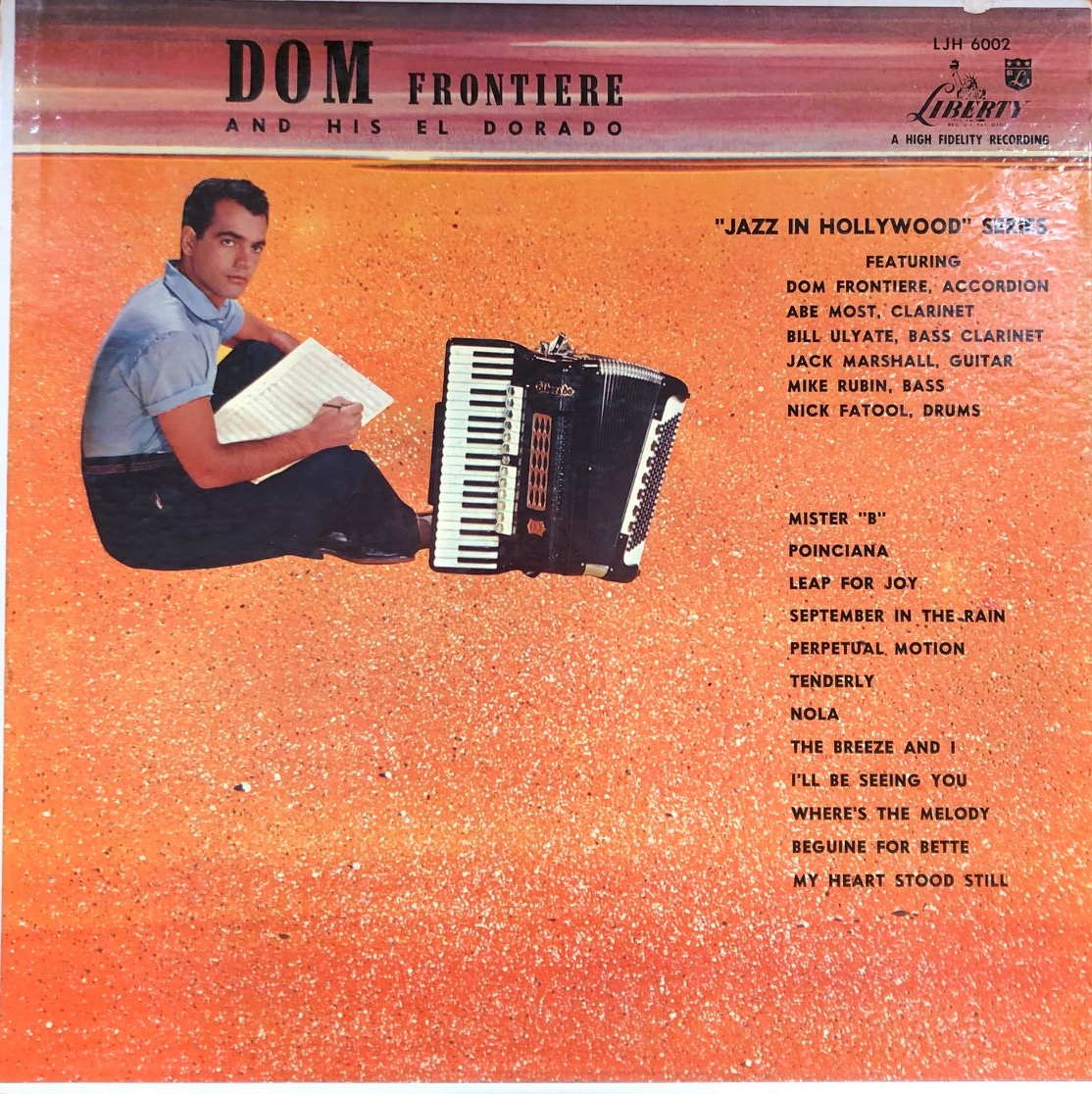 Dom Frontiere is Dominic Frontiere, who becomes an original and very talented soundtrack composer not too long after making this record. The El Dorado of the title refers to his instrument, the accordion. The liner notes explain: "It might be interesting to note that six different accordions were tested before a decision was made as to which produced the best sound. The instrument that won out was the custom-made Gretsch 'El Dorado,' the prototype which is now in full scale production". For this album Frontiere put together an unusual sextet: himself on accordion, Abe Most on clarinet, Bill Ulyate on bass clarinet, Jack Marshall on guitar, Mike Rubin on bass and Nick Fatool on drums. And it's a fantastic album! This is an energtic and inspired West Coast Jazz outing recorded in July and August, 1955, and blasts out of the gate with Frontiere's own "Mister 'B'", possibly a nod to J. S. Bach. (Another Frontiere original here that successfully blends ideas and conventions from the jazz and classical worlds is "Perpetual Motion". ) Two of my favorite standards, "Poinciana" and "The Breeze and I", get lovely presentation and development here. I wasn't especially anxious to hear "Tenderly" again but Frontiere's solo organ rendition is quite impressive. And another highlight is "Where's the Melody (A variation of 24th Caprice by Paganini)". It starts off dreamy and restrained and that explodes into speedy sprightliness. Every tune on here is fantastic and rewards the attention given to it, though. The preceding were just my favorites.
---
2019 May 20 • Monday
Music from the movie Fletch is the 570th Soundtrack of the Week. It's a mixture of score and songs, with most of the score and at least one of the songs by Harold Faltermeyer.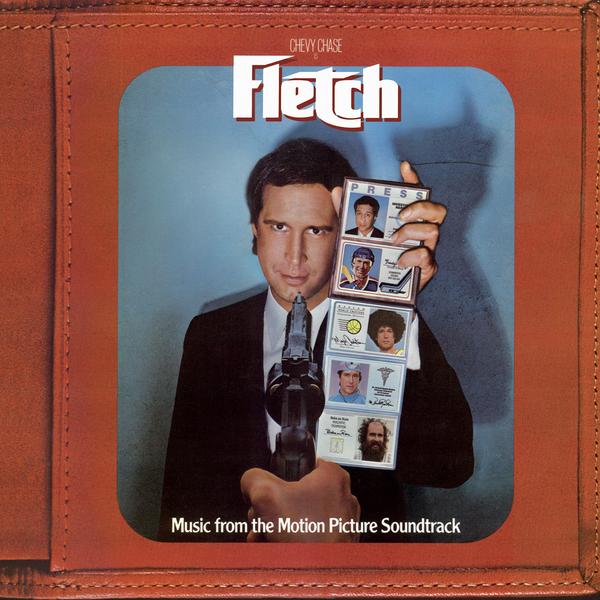 Not only did I see this movie but I also read some of the books it was based on. I have no memory of any of it. But it's fun to listen to the soundtrack album. It's all very '80s and upbeat. First up is Stephanie Mills's theme song, "Bit By Bit (Theme from Fletch)", which is a really good song. If it didn't address Fletch by name ("Have you heard the news / Coming through the grapevine / Fletch is running out of time"), it might have had a longer life on radio. Next is another great pop song, "Fletch, Get Outta Town" by Dan Hartman. It starts with a Miami Vice-like synth drums fake out but settles into its own pounding sound and groove. While they put Fletch in the title, they left him out of the lyrics, so the song works just fine on its own. "Get outta town / Get outta town / Go north to Alaska / Or south to Rio." Of course there's a love theme and it's delivered by John Farnharn's "Running for Love". There's that classic '80s saxophone in it. I wonder if it's David Sanborn. Another solid song. I'm guessing that the movie wasn't nearly as good as the music. "When you live like there's no tomorrow / You always run away / When you live with an open heart / You give up more than you take." After this comes another Dan Hartman song, "Name of the Game". It's surprisingly long at about six minutes, but a really good song. "That's the name of the game/ It's not about money / It's not about fame / You are what you are." Then we get to a cue from Harold Faltermeyer's score for the movie. "Fletch Theme" is very reminiscent of Eddie Murphy's theme music from Beverly Hills Cop and tha's probably not a coincidence. It's got enough of its own thing going on, though, and a really great groove as well. But then it's song time again with "A Letter to Both Sides" by The Fixx. This had a softer energy than the other songs here though it's still very pulsating and groovy. It's just harmonically a little sneakier and more sinuous. "Some don't have time to see man and his wrongs / Others just expect to lose / You don't have belief to take ahold of yourself / How can you expect to choose?" Or something. "Is It Over" by Kim Wilde comes next, another classically '80s-sounding track, a little more subdued than the others, with a bubbly arpeggiated background to the pulsating synths and swelling vocals. Phil Collins might have been a reference point and maybe Kate Bush, too. "Is it over / Is it over / Or is it just begun?" The last three tracks are from Faltermeyer's score. "Diggin' In" is a bright and peppy instrumental with echoes of "Fletch Theme" in it. "Exotic Skates" has a really cool groove that starts off in a way that sets up the listener to be surprised when the drums come in. A little later on this kind of electro-percussion stuff happens that might make you think that the macarena was inspired by this. And then finally there's an instrumental version of "Running for Love". Nice song and all but I don't know that we needed to hear it twice.
---
2019 May 17 • Friday
When I first met Reuben Radding, he was managing the now legendary East Village zine shop See Hear.
Shortly thereafter he hired me to work at the cash register.
Now, 25 years later, Reuben is one of the best street photographers in New York City, perhaps in the US, perhaps in the world.
And he's put out a zine!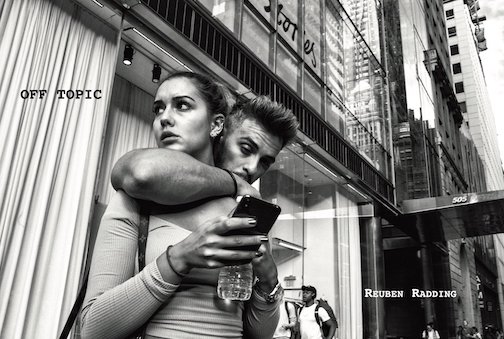 There's no text, just 24 brilliant black-and-white photographs that display Reuben's considerable range and depth.

It's hard to pick a favorite but it's definitely the man eating while surrounded by billboards for food. Runers up include the upset child by the stuffed animals, the Hollywood Walk of Fame and the woman in the chair on the sidewalk.

This is a limited edition so get it while you can!
---
2019 May 15 • Wednesday
There's a new Chris Moore record!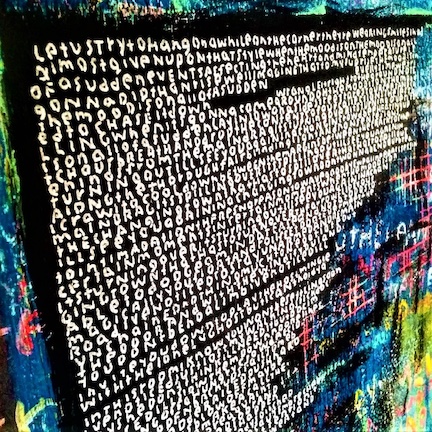 The cover art is by him, too. In addition to being an amazing drummer, guitarist, singer and songwriter he's also a brilliant artist. I have several pieces of his in my home.

Sunday Painter is an EP, so it's only five songs. But these five songs are fantastic.

It begins with the title track, a lush and lovely song that sounds intimate and vulnerable to me, as most of Moore's work is in some way. "Imagination won't run dry / Save your comments 'til I'm through / I've taken hits before / Same as you." It has a quality of uplifting melancholy. Life is a balance of the potential and the actual, what we dream and what we do. A song like this helps you to keep going. And if you need energy, the next song, "Boost", has it for you. It's a driving rocker that'll make you want to get out there and run. Chris's soaring and sometimes doubled vocals alternate with inspired electric guitar solos over some pleasantly surprising chord changes. "Threads" is another lush piece, with numerous layers, including flute and strings, a pop masterpiece in waltz time. Incredibly, with the exception of the flute on this track, Chris Moore and Gary Langol played all the instruments on this release.

"I've been climbing the walls all day / And I've yet to travel far", Chris sings on "Late Entry", which is maybe a Neil Youngish sort of song that creates a deep and relaxed groove that's nonetheless propulsive and haunting.

The last song, "Strung Along", begins with sombre electric guitar arpeggios and more lyrics about taking stock of one's place in life: "Some wear and tear / Yeah, we all got stories / About last night's battle / How it should have been glory". This one is stripped down and exposed, just guitar and voice. It's also really short, just about a minute and a half.

It's the perfect coda to this gem of an ablbum, though. Like everything Chris Moore does, this is heartfelt, powerful and always worth the wait.
---
2019 May 13 • Monday
The 569th Soundtrack of the Week is this CD of music by Krzysztof Komeda for three films by Leonard Buczowski: Smarkula (The Teenager), Przerwany Lot (Cancelled Flight) and Perly i Cutaty (Pearls and Ducats).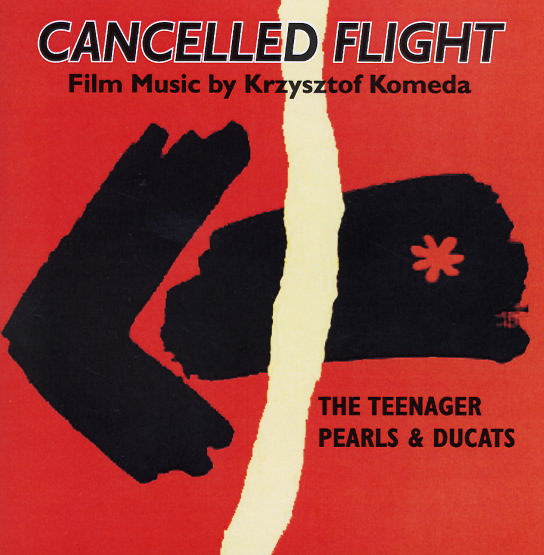 First up on the CD are 28 cues from Smarkula. The dominant voice is the flute, played brightly and airily and with a lot of energy. At times it might make you think of the flute playing in the episode of The Prisoner called "The Girl Who Was Death". While many of the cues are short and peppy and have a "library music for short educational films" quality to them, "Smarkula IV" is a fast walking jazz number with some strong saxophone playing. The next cue delivers more of a '50s rock sound in 6/8, again with the saxophone as the main voice. There's also a delicate love theme-sounding cue with a hearfelt melody that's whistled. These are the main ideas that Komeda works with in various arrangements and voicings. There are other instrumental rock cues, jazz cues and a waltz, also some solo piano music that's occasionally reminiscent of Nino Rota. The music from Przerwany Lot is much different, centered around a mysterious-sounding arpeggiated figure and using very few instruments, among them acoustic guitar and plucked violin. It sounds like the guitar is playing in unison with harpsichord in spots and there's very subtle use of horns. After six cues like this, the medium tempo and swinging straight-ahead jazz of "Przerwany Lot VII" is startling but agreeable. This is followed by what might be wedding music, an up-tempo polkaish number followed by a slower, more plaintive one. "Przerwany Lot X" has a doomy feel to it as dissonant guitar notes trade statements with snare drum. When other instruments come in they add to the feeling of dread. Much of the music from Perly i Dukaty is a swinging jazz waltz featuring some kind of electric keyboard instrument and a smooth fluctuation of meter or temperature. The next theme is expressed by electric guitar, double bass and trumpet against a background of eighth notes on piano. The next theme is a chirpy and seesawy piece for jazz combo and you hear it in a few different feels and moods. The next shift comes with the thirteenth cue, another jazz combo piece that's weirder and has less of a form. And that's pretty much the territory covered here!
---
2019 May 10 • Friday
There's a new Coin-Op book!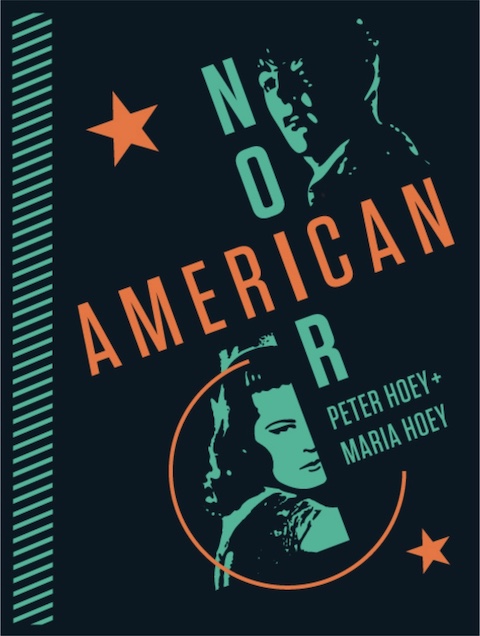 This is the latest addition to their accordion book series. It's kind of like a miniature folding screen contained between book covers. These are lovely pieces of art that you can keep on a book shelf and share with people as the mood strikes you.

The subject is classics of film noir. I've definitely seen almost all of these. I'm not 100% sure about The Narrow Margin and The Blue Dahlia, but it's more likely than not that I've seen them. The others I've seen at least once. I re-watched Kiss of Death just last week. (Nice wheelchair, Hoeys.)
Just as home video releases of movies contain deleted scenes, American Noir included a bonus in the packaging.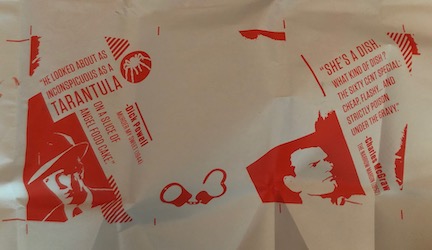 Suitable for framing! (Which is also the name of an episode of Columbo.)
---
2019 May 08 • Wednesday
Judith Merril's first novel, published in 1950, was called Shadow on the Hearth. It's brilliant in a number of different ways. In her autobiography, as she recalls the intense and loving relationship she had with Isaac Asimov, she reprints some of his adulatory review of this book and remarks that, "I should have been overwhelmed by his praise but I was only pleased that someone who understood precisely what I meant to do had access to a major newspaper".
Further research is required. This book is so unusual and so well done that I'm curious to know more about how it was received.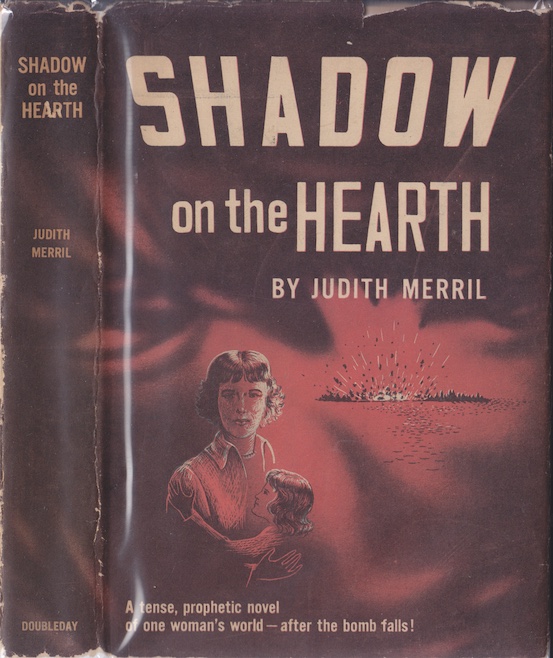 The story centers on Gladys Mitchell, a happily married woman in Westchester, NY, with one son in college, a 15-year-old daugher at home and another daughter aged 5. The enthusiast of mid-century suburban home drama will find much to relish here. But Merril is a master of the narrative time bomb. When we first meet Gladys, she's stressed out about her first invitation to an exclusive ladies' luncheon. In this particular part of the world, it's a make or break type of thing. Alas, her housekeeper calls in sick and the teenaged daughter, Barbie, needs clothes washed for the babysitting jobs she's lined up.

So Gladys has to forfeit the luncheon invitation, which destroys her social life. On the plus side, the time she spends in the basement with the laundry saves her actual life. Because atomic war happens that day and the United States is bombed by an unnamed enemy.

Manhattan is a primary target, of course, and that's where Gladys's husband, Jon, is. His fate is unknown to her. She's on her own with her children. Both kids are at school during the time of the attacks. They come home but it's a different world now, and Merril is superb at revealing this world to us through the eyes of her protagonist, a reasonable and reasonably satisfied person whose fear of war and militarism (having already endured World War 2) is now joined by the realization that many people, especially those in charge, enjoy this new reality of authoritarianism, paranoia, austerity and danger. Shadow on the Hearth stands in the middle of two other literary works. Elizabeth Sanxay Holding's The Blank Wall (1947) was about women fighting a war at home on their own as the men were overseas fighting in World War 2. James Tiptree, Jr.'s Houston, Houston, Do You Read? takes place in a future where there are no men, only women. In these books, women don't start wars or fight in them. Men do that and women and children suffer as a result. This is put most succinctly by Tiptree (pen name of Alice Sheldon), when a female astronaut points out that the only protection men ever gave women was protection from other men. Gladys Mitchell's husband is missing in action and her son, who doesn't live at home anymore anyway, gets drafted into the military now that there's a war on. She's actually managing just fine, though not at all happily, and her biggest problems are strange men who try to break into her house—for looting or perhaps worse— and the man who lives next door, who has apparently been lusting after Gladys for a long time, despite being married himself and recently becoming a father.

This guy is a big wheel in the post-atomic war world, a squad leader with power and pull. Merril very subtly paints a portrait of him as an establishment creep and more of a nuisance and a menace than anything else.

Every page of this book is deftly rendered and the pace is unerringly smooth and measured.

Incredibly, despite a brief trip to a hospital, which offers both the reader and the characters a view of how much worse things were than previously thought, the entire novel takes place inside the Mitchells' house.

(If Ozu were ever going to make a sci-fi movie, this would have been it. Though perhaps the material would have been better suited to Naruse. And is this even science-fiction anyway? I guess? It's the kind of question that isn't really worth asking.)

One of Merril's achievements is to question the post-WW2 world and anticipate the dilemmas and sorrows of the cold war to come.

Politicians are shown to be useless and conformists, those obedient to authority before morality, to be more dangerous than anybody else.

The most helpful people Gladys encounters are two men who are more or less considered enemies of the state, mostly for being against war in general and nuclear war in particular.

Merril makes a sharp point early on, one which should still resonate today, as many Americans are shocked—shocked!—by reports of interference with elections and acts of terrorism.

"l guess I should have read more about it before," Gladys said diffidently. "I … well, I just couldn't believe it. I never really believed any nation would use it this way."

"We did," he said harshly. "We used it in 1945. In Japan. Why wouldn't somebody else use it on us?"


Later, another character explain that he can't go to the hospital to be treated for radiation poisoning "Because I kept saying this was going to happen. Worse yet, I tried to prevent it. That makes me a public enemy". But most incredible is how a book about a small group of characters almost entirely housebound for five days can zip along like this.

Merril's writing is perfectly balanced, shifting between domestic drama and comedies of manners as well as neo-fascistic post-apocalyptic horror.

There are numerous small touches that enhance the book as a whole, such as a possible reference to Poe's "The Raven" ("Gladys sat bolt upright. Her wath said one-twenty. She ducked around swiftly, to the peeping window, but there was no one on the porch. Thud, rattle. Not a man knocking. No one banging at the door. Just the tree and a window, nothing more.") that's answered twenty pages later by Glady's robin-adorned tea kettle leading her to the discovery that all real birds appear to be dead ("three sparrows on their backs with toothpick legs pleading to the sky; another across the lawn; a few more farther away").

It's not clear how well this story ends for the people in it. There are some vicious sucker punches in it. And the ending, while entirely satisfactory, can hardly be called happy. And why should it? How could a story like this possibly have a happy ending?

But it does conclude solidly and with exactly the right amount of ambiguity. So far there hasn't been a nuclear exchange between hostile powers. Shadow on the Hearth is one of many reminders that nothing at all good could come of such a thing—and, by extension, presumably, any armed conflict.

The first line is "Veda was sick that day".
---
2019 May 06 • Monday
More than ten years of writing about soundtrack music on Mondays and it's only now that we stumble upon Patrick Cowley. Thanks to Dusty Groove in Chicago, where I found this CD. Cowley is apparently known for music he made in the San Francisco dance club scene in the 1970s. This isn't surprising, because this collection of music for he composed for gay porn films, is devastatingly groovy and deeply funky. It's called Muscle Up and it's the 568th Soundtrack of the Week.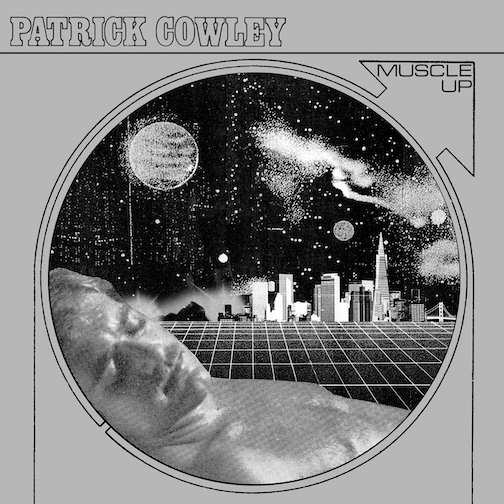 It starts slow, with a track called "Cat's Eye", almost all wind sounds and some spare, hypnotic drumming. Atmospheric synth and piano come in and create a lyrical but pensive atmosphere with occasional bursts of electronic weirdness. Sounds of birds and a low, throbbing bass groove create a rich ambient soundscape for the 13-minute long "The Jungle Dream". Eventually the bird calls, which are sometimes electronically manipulated, are joined by otherworldly human vocals. I wouldn't be surprised to learn that this influenced people like William Orbit and bands like Massive Attack. Long as this track is, and basically consisting of one groove and one idea, it's mesmerizing. "Deep Inside You" continued the low and slow nature of the music so far, with another in the pocket drum groove and very simple but richly textured bass synth part. Ethereal electronic voices float above and there's what sounds like a lead electric guitar part, though it could be a synthesizer. After this things start to get more dancey. "Somebody To Love Tonight" has a simple but irresistible groove with a hint of Stevie Wonder to it. The tempo has been picked up only a bit and the melodic line is laying back. The feel is of things picking up, though, unable to be held back much longer.

A harder edge comes in with "Pigfoot", which uses electric rhythm guitar to great effect on top of a Clyde Stubblefield-type beat. The synth soloing suggests both prog rock and minimalism.

"5oz of Funk" is the next piece and that seems like a low figure. The drums are hitting hard and rough and enhanced by cowbell and other percussion. It's another huge groove for various synth voices to play over. All of this music is fascinating and presumably less known than it deserves to be. Things calm down a bit with "Don't Ask", which leaves out drums and percussion entirely and lets guitar and synth create the groove. There's a bit of it that flirts with the "Hang 'Em High" melody but otherwise there's various soloing and bursts of music that suggest funk or prog or even church music. The next track, "Uhura", is completely different, with no groove at all to speak of but instead a sequence of different avant-garde electronic music ideas. This is another example of soundtrack music being at least as advanced as concert music or conceptual music or what have you. The didjeridoo, of all things, or at least an electronic approximation thereof, anchors the 11-minute "Timelink", another spacious and atmospheric piece. It's not quite as exciting as "The Jungle Dream", since it lacks that piece's irresistible pulse, but it is hypnotic and fascinating. This collection ends with "Mockingbird Dream 2", a swirly, New Agey sort of piece that has a surprising intensity to it. About halfway through it switches gears into a spacey sort of groove and wraps up with some lush synth pads. This CD was a wonderful surprise and an encouragement to keep taking chances on music unknown to me. There are some other Patrick Cowley soundtrack collections out there and I've got some of those, too, now.
---
2019 May 03 • Wednesday
We've fallen behind on our reading here. It's taken us 115 years to get around to this issue of The American Woman!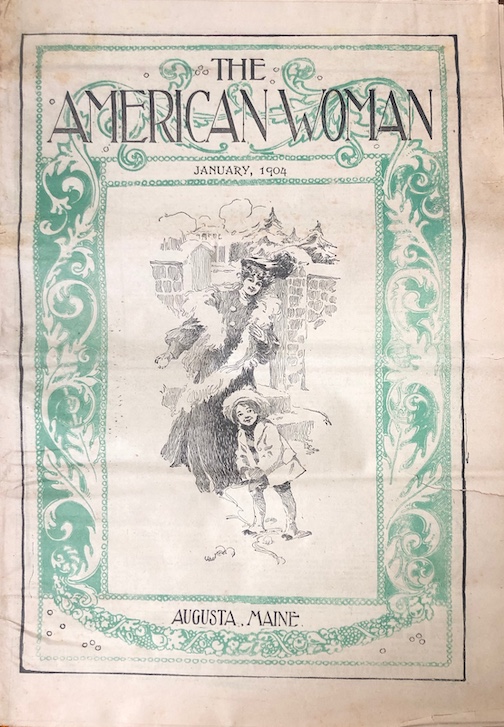 What was this? I have no idea, but I came across it on eBay, browsing old magazines and such. It cost $1.25, which seemed like the bargain of the year! Turning to the first page and seeing this wonderful illustration only reinforced this impression.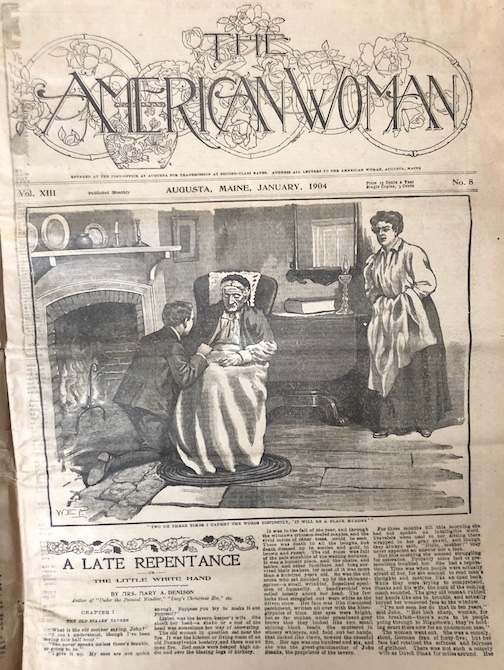 And another nice one: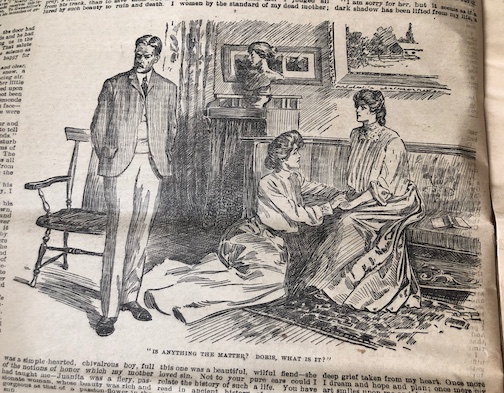 The contents are a mixture of fiction and non-fiction, advertisements and letters from readers. There's a piece on the importance of radium and Marie Curie's role in its discovery as well as an item on "Woman Doctors in Russia".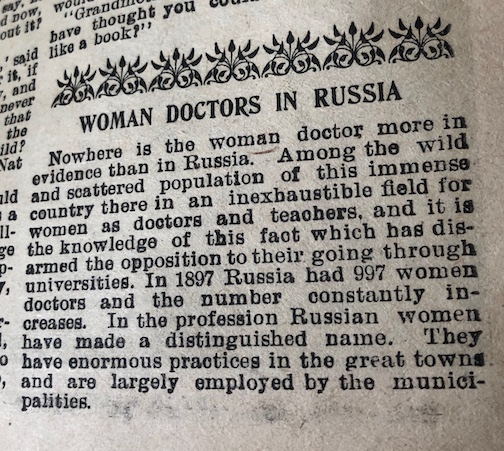 The centerfold is dedicated to needlework.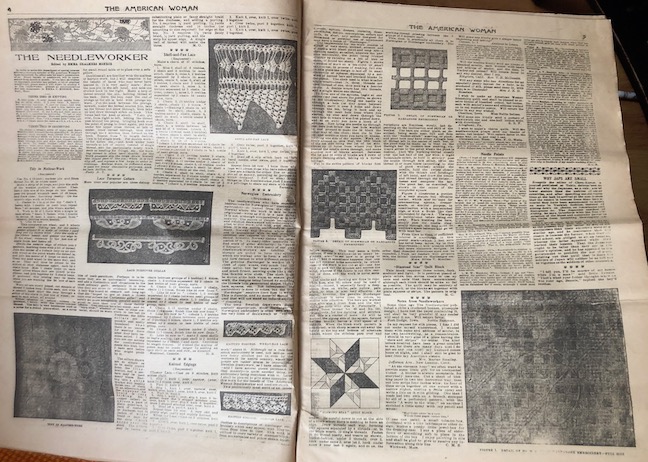 Home remedies are a big deal. There's a lot of talk about one woman's "simple remedy for deafness":

It is a simple thing, but has cured my little daughter, who was deaf for more than a year, and sometimes dumb three or four days at a time. The doctors were about to perform an operation on her ears, when by chance I learned o this, and decided to try it as a last resort before permitting the operation. To my surprise and that of the doctors, it cured her, and she has never had any trouble since—noe more than two years: Take four tablespoonfuls of fresh goose-oil and put into a bottle with a piece of gum camphor the size of a marble. Set the bottle in a warm place until the camphor dissolves, add five cents' worth of peppermint-oil, shake thoroughly, and put three drops of the mixture in each ear night and morning. Place a bit of cotton in the ear to keep the oil in and the air out.


This cure was submitted by Mrs. H. E. Church of Angus, Minnesota, who also notes that home-made goose-oil is better than the goose-oil carried by "any drug-store". Another reader, "G. B." in Shellbourne, Nevada, wrote in to ask for "the exact quantity of oil of peppermint" as "Five cents' worth may be more or less in different localities", which is a very good point.

G. B. was also concerned about a remedy for "catarrh" of the head. A few pages later, an ad for a catarrh reliever features these intriguing drawings: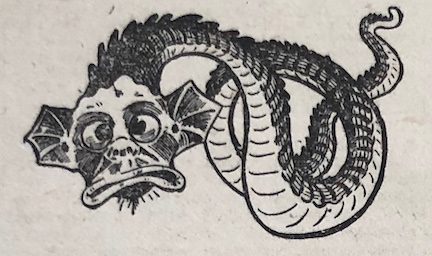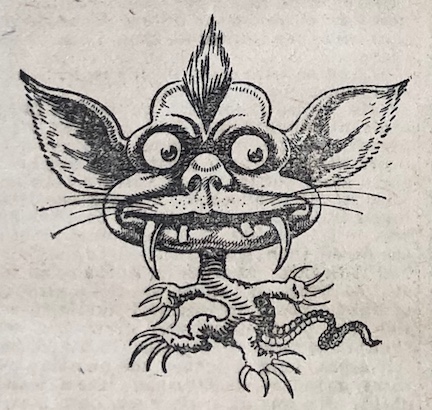 Other letter writers offered anti-bedbug advice ("paint or varnish mixed with a little corrosive sublimate and turpentine … a sure exterminator") and the suggestion "To freshen cucumber pickles pour boiling water over them; this makes them crisp and nice, beside freshening them much quicker".

The latter writer adds, "I wish some one would suggest a remedy for superfluous flesh other than going without breakfast; when I work hard all day I get weak, if I eat no breakfast".

It took a hundred years or so, but the advice these days seems to be to go without dinner.

Even in 1904, readers of The American Woman were being told that smoking causes cancer.

Other ads of notes: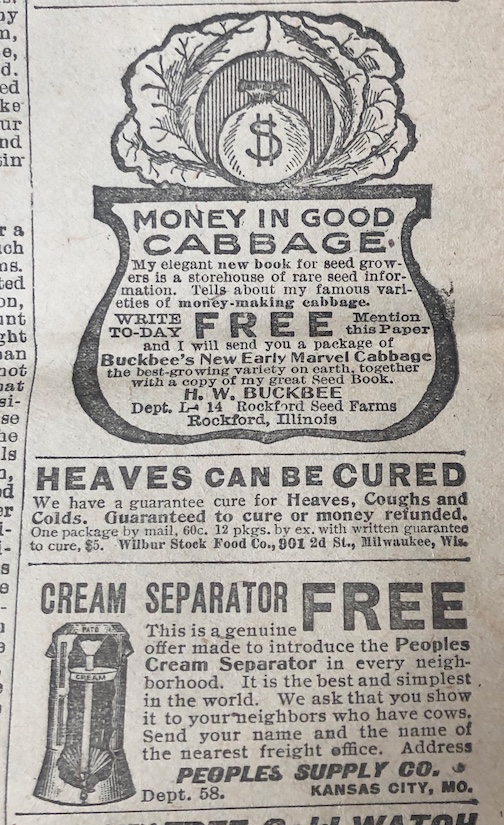 "We as that you show it to your neighbors who have cows."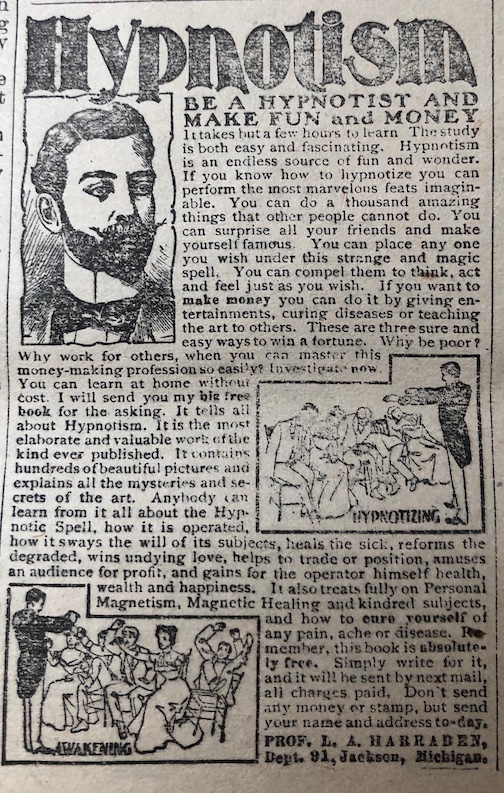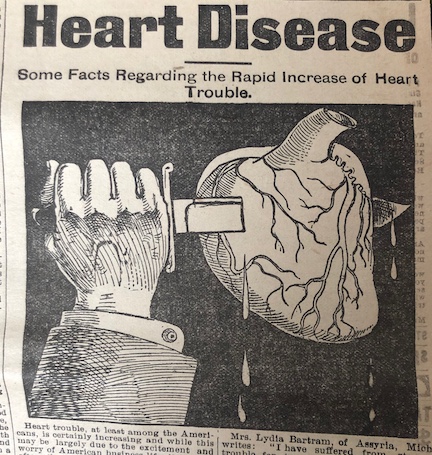 That's a startling image for heart disease.
And there's always a little room for odds and ends.

---
2019 May 01 • Wednesday
The big news around here is… Twinkle!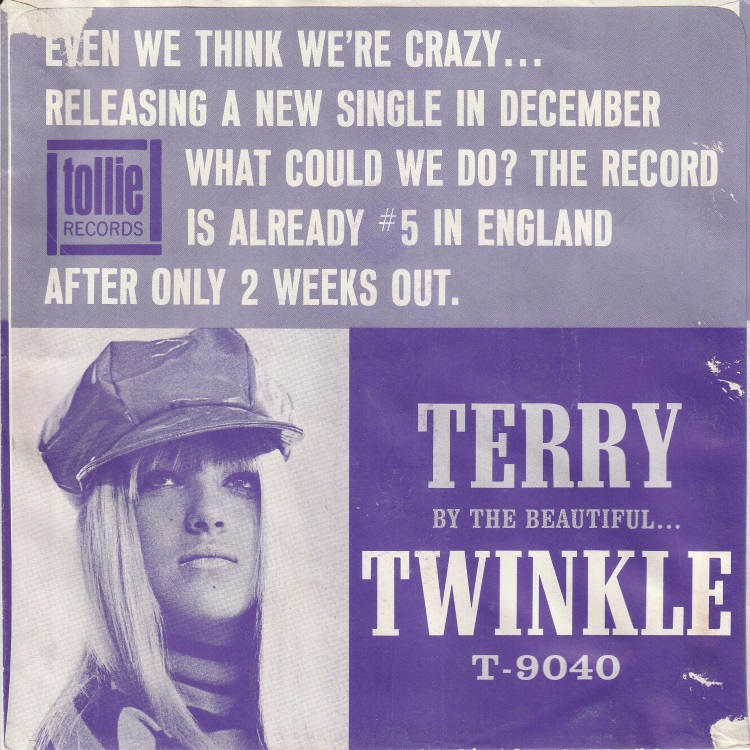 "Terry" was her first hit, written in her high school French class when she was sixteen years old, inspired by motorcyclists she saw out the window. Jimmy Page plays on it, apparently. The song is about the singer's boyfriend dying in a motorcycle crash and its popularity freaked some people out. A member of the House of Lords denounced it in Parliament and Melody Maker urged readers to "Drop the Death Disc"! It was all good publicity and years later the same Lord who had fulminated against it asked Twinkle out to lunch. She turned him down. This information comes from the liner notes to a recent two-CD set of Twinkle's complete recordings: Girl in a Million.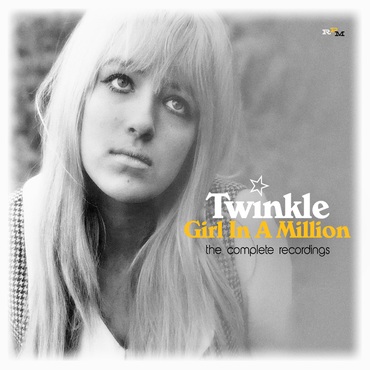 I listened to it several times and love a lot of these songs. One of them is actually a Serge Gainsbourg song with new English-language lyrics. A few of the songs are about a serious boyfriend Twinkle had, a factory worker who was orphaned and abused by foster parents. He ended up becoming a male model and dying in a plane crash. The liner notes are by Twinkle's older sister, a music journalist who used to take Twinkle out to shows with her. Since Twinkle had to be in school the next day, George Harrison used to do her math homework for her. While Twinkle's originals are really the highlights—The Smiths covered one of her songs, "Golden Lights", and an adoring postcard from Morrissey is reproduced in the CD booklet—there are some noteworthy covers as well, such as "The End of the World" and even a new wave synth version of "I'm a Believer".

This is a great new reissue and I might not ever have known about it if it hadn't been in the window at Dusty Groove in Chicago!
---