2019 May 15 • Wednesday
There's a new Chris Moore record!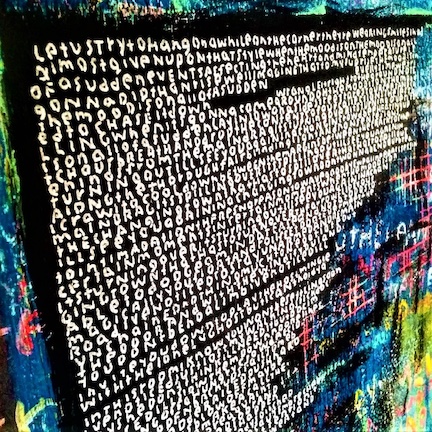 The cover art is by him, too. In addition to being an amazing drummer, guitarist, singer and songwriter he's also a brilliant artist. I have several pieces of his in my home.

Sunday Painter is an EP, so it's only five songs. But these five songs are fantastic.

It begins with the title track, a lush and lovely song that sounds intimate and vulnerable to me, as most of Moore's work is in some way. "Imagination won't run dry / Save your comments 'til I'm through / I've taken hits before / Same as you." It has a quality of uplifting melancholy. Life is a balance of the potential and the actual, what we dream and what we do. A song like this helps you to keep going. And if you need energy, the next song, "Boost", has it for you. It's a driving rocker that'll make you want to get out there and run. Chris's soaring and sometimes doubled vocals alternate with inspired electric guitar solos over some pleasantly surprising chord changes. "Threads" is another lush piece, with numerous layers, including flute and strings, a pop masterpiece in waltz time. Incredibly, with the exception of the flute on this track, Chris Moore and Gary Langol played all the instruments on this release.

"I've been climbing the walls all day / And I've yet to travel far", Chris sings on "Late Entry", which is maybe a Neil Youngish sort of song that creates a deep and relaxed groove that's nonetheless propulsive and haunting.

The last song, "Strung Along", begins with sombre electric guitar arpeggios and more lyrics about taking stock of one's place in life: "Some wear and tear / Yeah, we all got stories / About last night's battle / How it should have been glory". This one is stripped down and exposed, just guitar and voice. It's also really short, just about a minute and a half.

It's the perfect coda to this gem of an ablbum, though. Like everything Chris Moore does, this is heartfelt, powerful and always worth the wait.
---