2019 May 13 • Monday
The 569th Soundtrack of the Week is this CD of music by Krzysztof Komeda for three films by Leonard Buczowski: Smarkula (The Teenager), Przerwany Lot (Cancelled Flight) and Perly i Cutaty (Pearls and Ducats).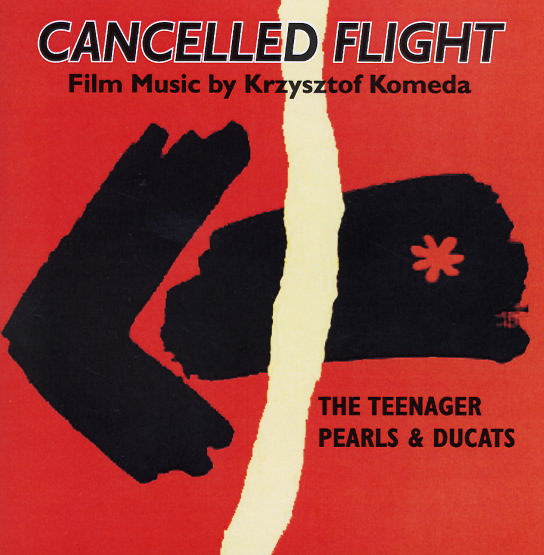 First up on the CD are 28 cues from Smarkula. The dominant voice is the flute, played brightly and airily and with a lot of energy. At times it might make you think of the flute playing in the episode of The Prisoner called "The Girl Who Was Death". While many of the cues are short and peppy and have a "library music for short educational films" quality to them, "Smarkula IV" is a fast walking jazz number with some strong saxophone playing. The next cue delivers more of a '50s rock sound in 6/8, again with the saxophone as the main voice. There's also a delicate love theme-sounding cue with a hearfelt melody that's whistled. These are the main ideas that Komeda works with in various arrangements and voicings. There are other instrumental rock cues, jazz cues and a waltz, also some solo piano music that's occasionally reminiscent of Nino Rota. The music from Przerwany Lot is much different, centered around a mysterious-sounding arpeggiated figure and using very few instruments, among them acoustic guitar and plucked violin. It sounds like the guitar is playing in unison with harpsichord in spots and there's very subtle use of horns. After six cues like this, the medium tempo and swinging straight-ahead jazz of "Przerwany Lot VII" is startling but agreeable. This is followed by what might be wedding music, an up-tempo polkaish number followed by a slower, more plaintive one. "Przerwany Lot X" has a doomy feel to it as dissonant guitar notes trade statements with snare drum. When other instruments come in they add to the feeling of dread. Much of the music from Perly i Dukaty is a swinging jazz waltz featuring some kind of electric keyboard instrument and a smooth fluctuation of meter or temperature. The next theme is expressed by electric guitar, double bass and trumpet against a background of eighth notes on piano. The next theme is a chirpy and seesawy piece for jazz combo and you hear it in a few different feels and moods. The next shift comes with the thirteenth cue, another jazz combo piece that's weirder and has less of a form. And that's pretty much the territory covered here!
---