2019 May 20 • Monday
Music from the movie Fletch is the 570th Soundtrack of the Week. It's a mixture of score and songs, with most of the score and at least one of the songs by Harold Faltermeyer.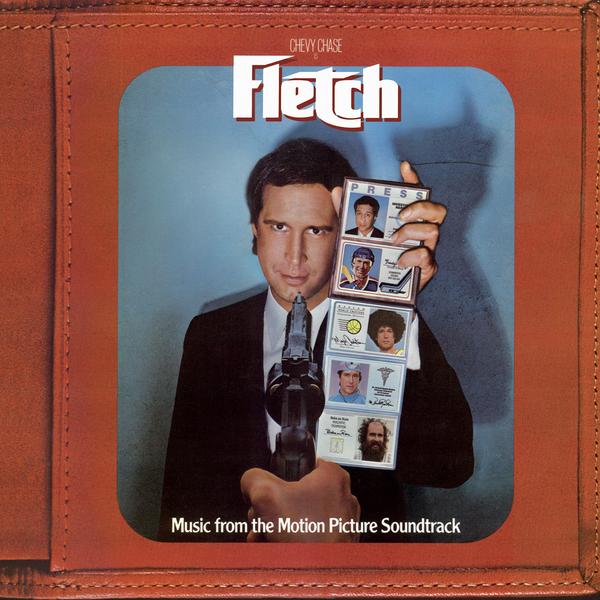 Not only did I see this movie but I also read some of the books it was based on. I have no memory of any of it. But it's fun to listen to the soundtrack album. It's all very '80s and upbeat. First up is Stephanie Mills's theme song, "Bit By Bit (Theme from Fletch)", which is a really good song. If it didn't address Fletch by name ("Have you heard the news / Coming through the grapevine / Fletch is running out of time"), it might have had a longer life on radio. Next is another great pop song, "Fletch, Get Outta Town" by Dan Hartman. It starts with a Miami Vice-like synth drums fake out but settles into its own pounding sound and groove. While they put Fletch in the title, they left him out of the lyrics, so the song works just fine on its own. "Get outta town / Get outta town / Go north to Alaska / Or south to Rio." Of course there's a love theme and it's delivered by John Farnharn's "Running for Love". There's that classic '80s saxophone in it. I wonder if it's David Sanborn. Another solid song. I'm guessing that the movie wasn't nearly as good as the music. "When you live like there's no tomorrow / You always run away / When you live with an open heart / You give up more than you take." After this comes another Dan Hartman song, "Name of the Game". It's surprisingly long at about six minutes, but a really good song. "That's the name of the game/ It's not about money / It's not about fame / You are what you are." Then we get to a cue from Harold Faltermeyer's score for the movie. "Fletch Theme" is very reminiscent of Eddie Murphy's theme music from Beverly Hills Cop and tha's probably not a coincidence. It's got enough of its own thing going on, though, and a really great groove as well. But then it's song time again with "A Letter to Both Sides" by The Fixx. This had a softer energy than the other songs here though it's still very pulsating and groovy. It's just harmonically a little sneakier and more sinuous. "Some don't have time to see man and his wrongs / Others just expect to lose / You don't have belief to take ahold of yourself / How can you expect to choose?" Or something. "Is It Over" by Kim Wilde comes next, another classically '80s-sounding track, a little more subdued than the others, with a bubbly arpeggiated background to the pulsating synths and swelling vocals. Phil Collins might have been a reference point and maybe Kate Bush, too. "Is it over / Is it over / Or is it just begun?" The last three tracks are from Faltermeyer's score. "Diggin' In" is a bright and peppy instrumental with echoes of "Fletch Theme" in it. "Exotic Skates" has a really cool groove that starts off in a way that sets up the listener to be surprised when the drums come in. A little later on this kind of electro-percussion stuff happens that might make you think that the macarena was inspired by this. And then finally there's an instrumental version of "Running for Love". Nice song and all but I don't know that we needed to hear it twice.
---