2019 May 06 • Monday
More than ten years of writing about soundtrack music on Mondays and it's only now that we stumble upon Patrick Cowley. Thanks to Dusty Groove in Chicago, where I found this CD. Cowley is apparently known for music he made in the San Francisco dance club scene in the 1970s. This isn't surprising, because this collection of music for he composed for gay porn films, is devastatingly groovy and deeply funky. It's called Muscle Up and it's the 568th Soundtrack of the Week.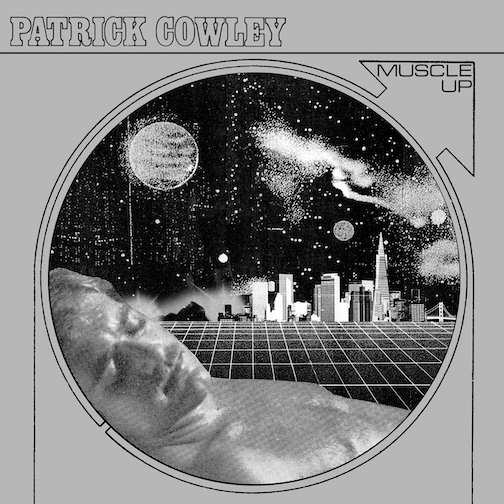 It starts slow, with a track called "Cat's Eye", almost all wind sounds and some spare, hypnotic drumming. Atmospheric synth and piano come in and create a lyrical but pensive atmosphere with occasional bursts of electronic weirdness. Sounds of birds and a low, throbbing bass groove create a rich ambient soundscape for the 13-minute long "The Jungle Dream". Eventually the bird calls, which are sometimes electronically manipulated, are joined by otherworldly human vocals. I wouldn't be surprised to learn that this influenced people like William Orbit and bands like Massive Attack. Long as this track is, and basically consisting of one groove and one idea, it's mesmerizing. "Deep Inside You" continued the low and slow nature of the music so far, with another in the pocket drum groove and very simple but richly textured bass synth part. Ethereal electronic voices float above and there's what sounds like a lead electric guitar part, though it could be a synthesizer. After this things start to get more dancey. "Somebody To Love Tonight" has a simple but irresistible groove with a hint of Stevie Wonder to it. The tempo has been picked up only a bit and the melodic line is laying back. The feel is of things picking up, though, unable to be held back much longer.

A harder edge comes in with "Pigfoot", which uses electric rhythm guitar to great effect on top of a Clyde Stubblefield-type beat. The synth soloing suggests both prog rock and minimalism.

"5oz of Funk" is the next piece and that seems like a low figure. The drums are hitting hard and rough and enhanced by cowbell and other percussion. It's another huge groove for various synth voices to play over. All of this music is fascinating and presumably less known than it deserves to be. Things calm down a bit with "Don't Ask", which leaves out drums and percussion entirely and lets guitar and synth create the groove. There's a bit of it that flirts with the "Hang 'Em High" melody but otherwise there's various soloing and bursts of music that suggest funk or prog or even church music. The next track, "Uhura", is completely different, with no groove at all to speak of but instead a sequence of different avant-garde electronic music ideas. This is another example of soundtrack music being at least as advanced as concert music or conceptual music or what have you. The didjeridoo, of all things, or at least an electronic approximation thereof, anchors the 11-minute "Timelink", another spacious and atmospheric piece. It's not quite as exciting as "The Jungle Dream", since it lacks that piece's irresistible pulse, but it is hypnotic and fascinating. This collection ends with "Mockingbird Dream 2", a swirly, New Agey sort of piece that has a surprising intensity to it. About halfway through it switches gears into a spacey sort of groove and wraps up with some lush synth pads. This CD was a wonderful surprise and an encouragement to keep taking chances on music unknown to me. There are some other Patrick Cowley soundtrack collections out there and I've got some of those, too, now.
---