Rob Price
Gutbrain Records
rob + gutbrain.com = email
---
Kenyon Hopkins's score for The Hustler is the 228th Soundtracks of the Week.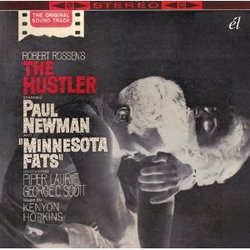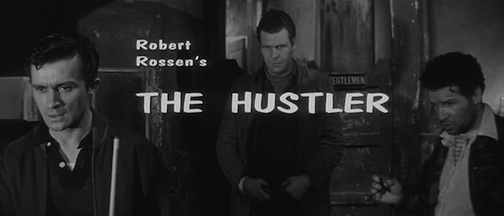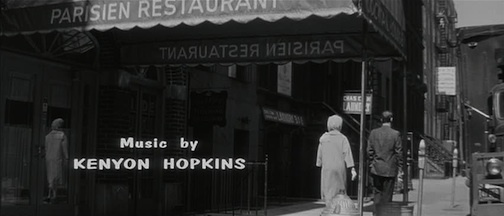 "Main Title (Stop & Go)" has interesting shifts in rhythm and tempo creating a foundation for tasteful alto sax soloing and hand percussion statements. This is followed by "Minnesota Fats", which begins with urgent-sounding brushes on snare. Blends of horns add tension while occasional swinging solo statements take it away.
An unsettled, somewhat "down" mood is followed by a slower, bluesier part in "The Loser". "Sarah's Theme" is a lyrical and romantic piece that has nice interplay between piano and alto.
After that comes "4 Flights Up", a textural, moody piece. The rhythm section comes in only at the very end to conclude it on a gently swinging note. The mood is continued in "Fast Buck" before getting into a more lilting kind of swing feel. The bass and hand percussion are particularly good.
"Small-Time Charlie" is a meditative cue with lots of space. "Bert's Theme" is an upbeat, carefree jazz tune with a hint of "Night Train" rhythm.
Several of the other cues recall "Small-Time Charlie" in one way or another. These include "Contract with Depravity" (except when it swings at the end), "All Thumbs", "Lipstick on a Mirror" and "End Title".
"Dining Out" is a feature for the guitar and sounds a bit like an improvisation on a slow version of the main title. "Derby Time" is after-hours solo piano playing, slow and relaxed. "The Winner" is a subdued jazz/swing piece.
---
There are still some real record stores in San Diego. Nickelodeon Records (across the street from Bine & Vine) was my favorite.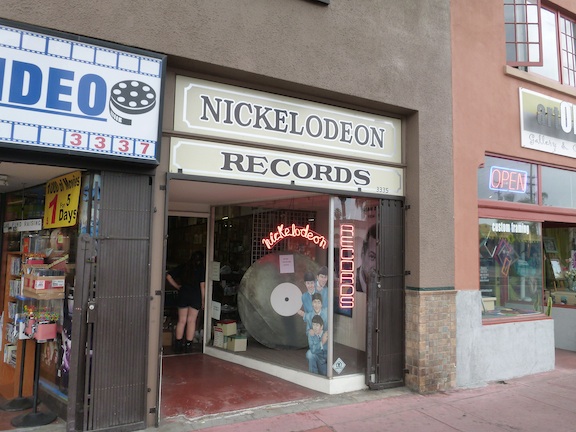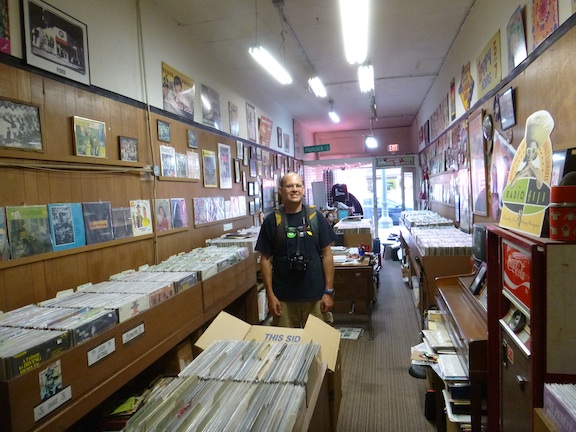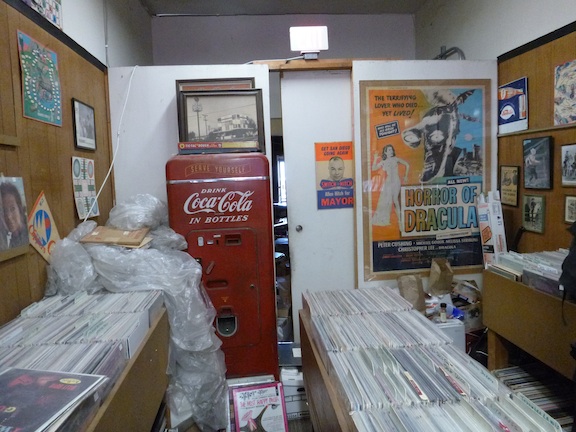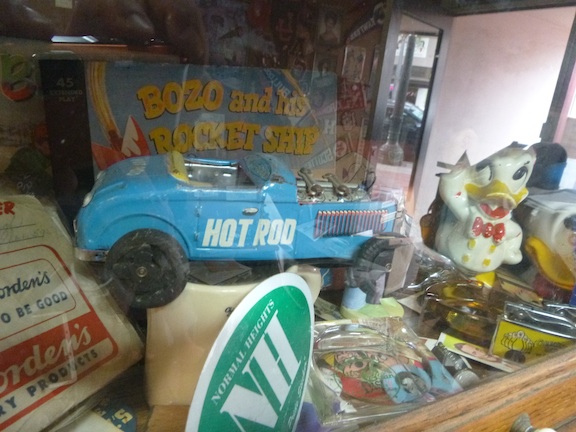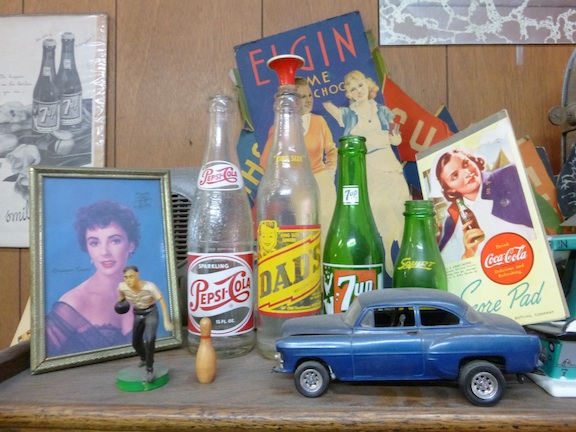 Also worthy of note is their business card, which is more useful than most.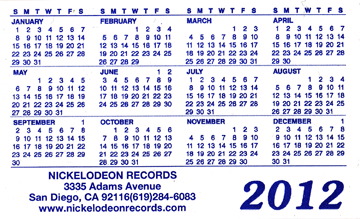 ---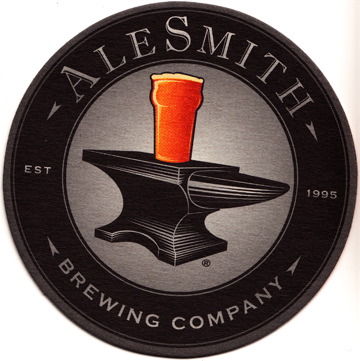 What about the beer part of our San Diego trip? My plane landed, I met my brother at our hotel, and then we went to Ritual Tavern for dinner. Great food, friendly people working there and a small but excellent tap list. I had AleSmith's Speedway Stout, one of my favorites. You can find it in bottles around here but I can't remember the last time I had it on tap.
After that we walked down to the Toronado San Diego, which is just a couple of blocks away. Of course I had to have Pliny the Elder. I think I had it every day I was in San Diego. That's one that hardly ever shows up in New York City. I think I've had it on tap here maybe once in my life.
It was at the Toronado that I had the best beer of the trip, one of the best beers I've had in years: System of a Stout from Beachwood BBQ & Brewing. It's presumably the world's first Imperial Armenian Coffee Stout, a double stout brewed with Armenian coffee, Armenian brandy, cardamom and molasses. Absolutely amazing. We drank it on Friday and had to go back on Saturday for more.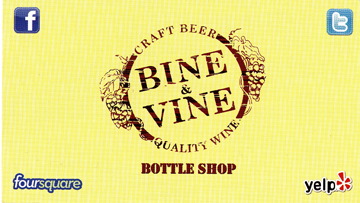 Thursday we went to the wonderul bottle shop Bine & Vine and arranged to have a case of beer shipped back to us. (Why only one? I don't know. I may have to call them up and ask them to send more.)
Just a couple of blocks from them is the Blind Lady Ale House, where we stopped in for a couple of beers. I was impressed by their collection of cans and bottles.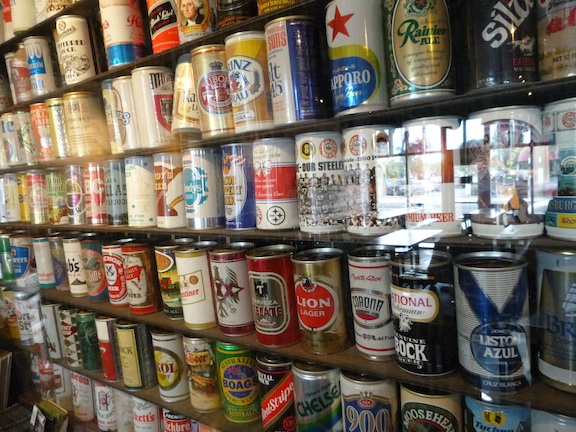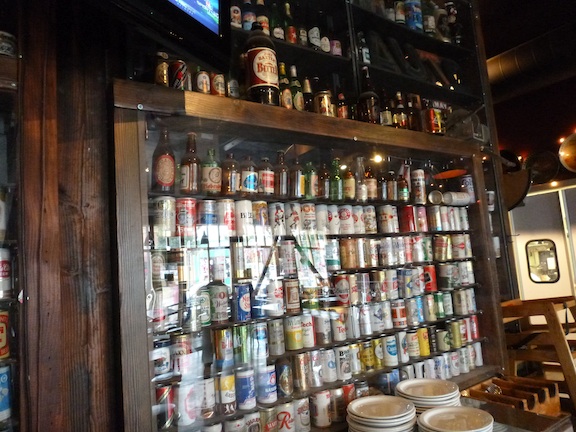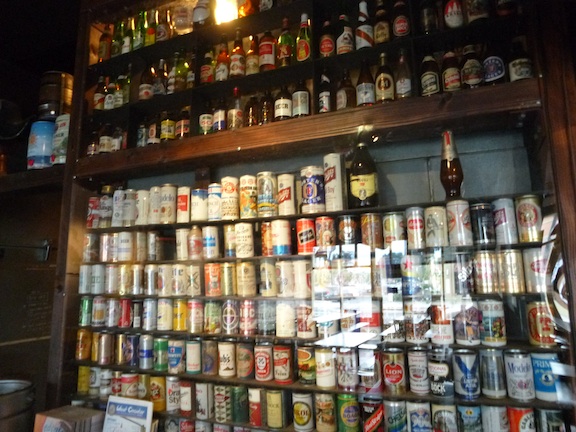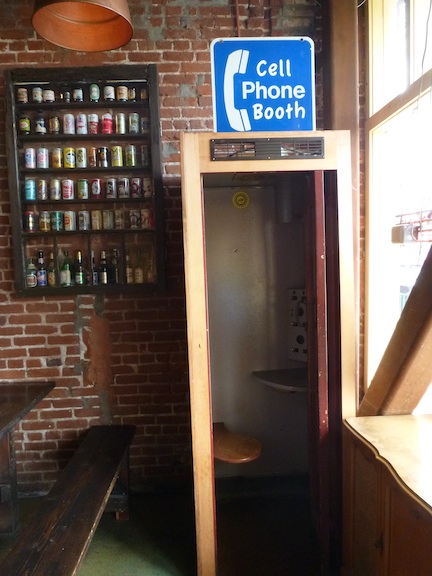 The same owners have a new place called Tiger! Tiger! which is also really good, and just a few blocks from Ritual Tavern. The food at Tiger! Tiger! was really good and I assume that the food at Blind Lady is good too, though we didn't sample it on this trip.
You might think that that was enough but we also zipped over to Escondido on Thursday night to check out Stone Brewery and Bistro.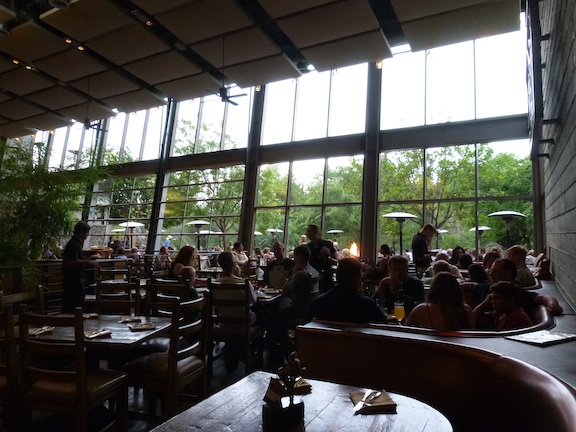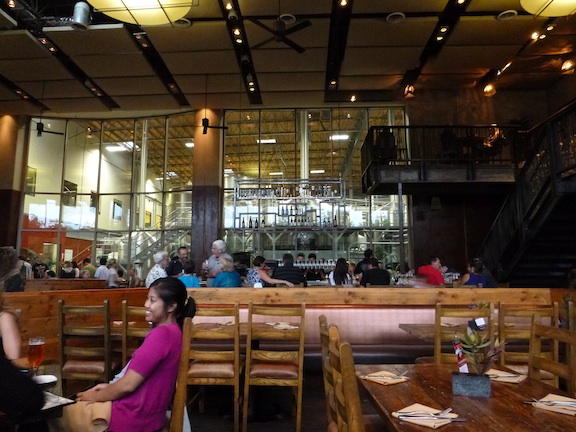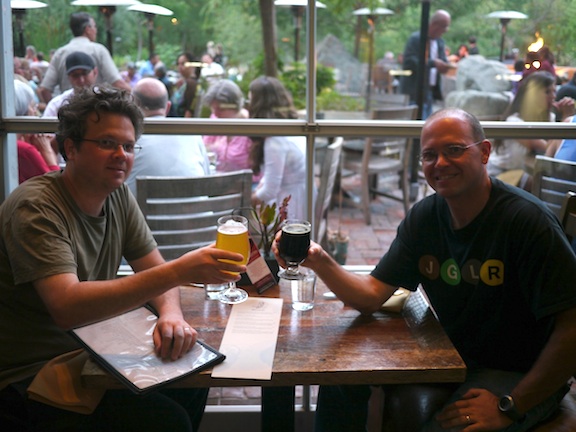 We had been warned that we would either love or hate the food but that wasn't the case. Ed and I both though the food was fine but didn't have strong feelings about it. We had some great beers there and it's a beautiful space.
I didn't go to the Tin Can Ale House—I don't think it's a craft beer place—but I liked the painting they have on the front.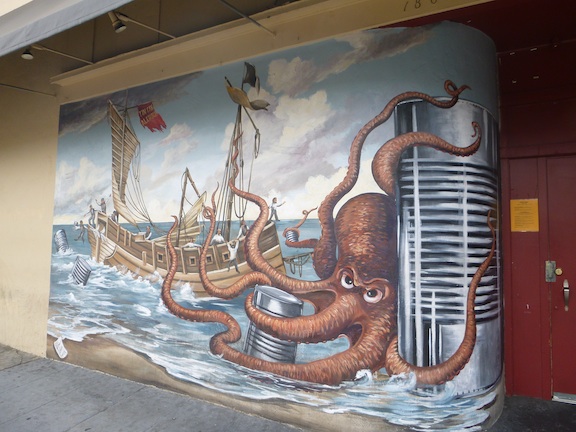 Friday we went to Hamilton's Tavern, where Ed enjoyed the grilled cheese he got and we had more good beer. Saturday we went to Pizza Port Ocean Beach, where we were disappointed not to find Shark Attack on tap. We had some decent pizza—this is California—and some good beers but nothing really amazing.
On this trip I tasted twenty-five beers that I had never had before. System of a Stout was my favorite, and the other beer that really stood out was Societe Brewing Co.'s The Dandy, an IPA from a San Diego brewery I'd never heard of.
Now it's time to visit that case from Bine & Vine….
---
Whatever number you might get if you averaged the quality of the Soundtracks of the Week, this 227th one will make it higher. It's Duke Ellington's score for Anatomy of a Murder.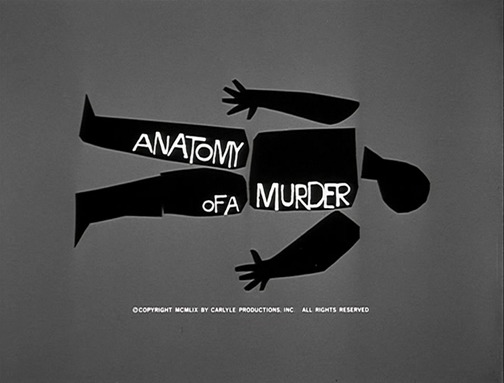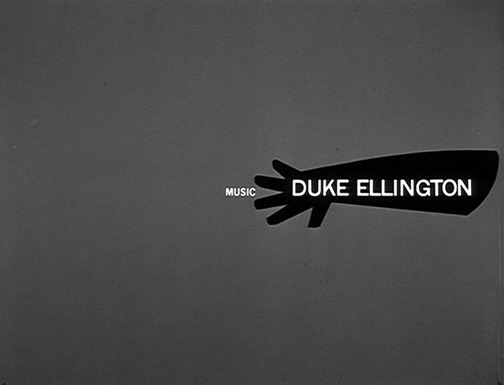 This movie is a template for countless legal thrillers that came after, from The Verdict to The Accused and A Civil Action (not to mention John Grisham movies). This time James Stewart is the underdog lawyer fighting a tough case. (The casting something of a spoiler.)
His character in the movie is into jazz and plays the piano. In one scene he visits a roadhouse and plays piano with Ellington himself.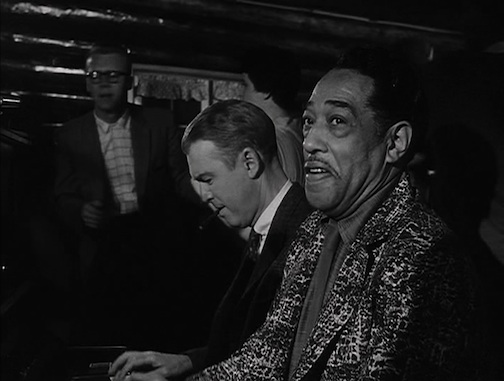 "Main Title and Anatomy of a Murder" spends the first 50 seconds or so building to a ferocious groove. No doubt director Otto Preminger wanted Ellington to top Elmer Bernstein's theme for Preminger's Man with the Golden Arm. Ellington's main title begins with music that's reminiscent of Bernstein but gives it the Ellington treatment: driving but unhurried with colorful and unexpected flourishes creating space for soloists.
"Flirtibird" is an intensely seductive and sultry piece in which the inimitable Johnny Hodges shines. The first minutes of "Way Early Subtone" is a reprise of "Flirtibird" and then goes into a slinky, swaying blues section.
Fast walking bass starts "Hero to Zero", which features tenor sax player Paul Gonsalves. About halfway through it gets meditative and somewhat atmospheric before picking up with some romance and tension. "Low Key Lightly" is a slow piece and a feature for Duke Ellington on piano and Ray Nance on violin.
"Happy Anatomy" is a bright, uptempo piece with energetic horn arrangements and some drum fills from James Johnson, as well as trumpet and sax solos. It's not a surprise that a piece called "Midnight Indigo" is slow and quiet. It features tenor, piano and what might be glockenspiel.
"Almost Cried" is a restatement of "Flirtibird". The glockenspiel (or whatever it is) returns for "Sunswept Sunday", an optimistic-sounding cue with a pastoral feel.
"Grace Valse" is a relaxed 3/4 tune that features the piano and glockenspiel (or whatever). After that comes another take of "Happy Anatomy", this time by the quintet that has a scene in the movie.
Things get slow and quiet with a late-night feel in "Upper and Outest". Gonsalves is featured again on that.
The rest of the CD is made up of single versions, movie stings, rehearsals etc. You can hear Ellington, Preminger and some of the actors talking.
---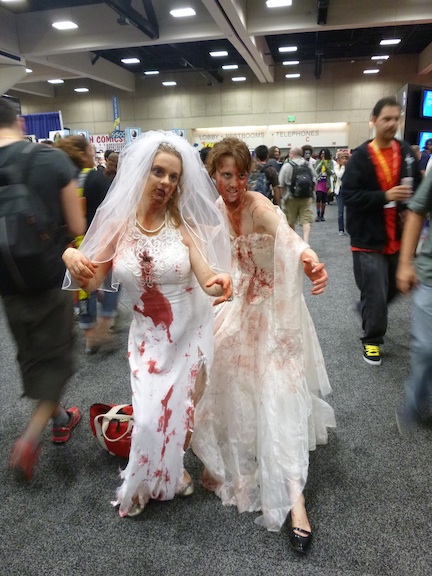 Those are two happy convention-goers. Here are some more.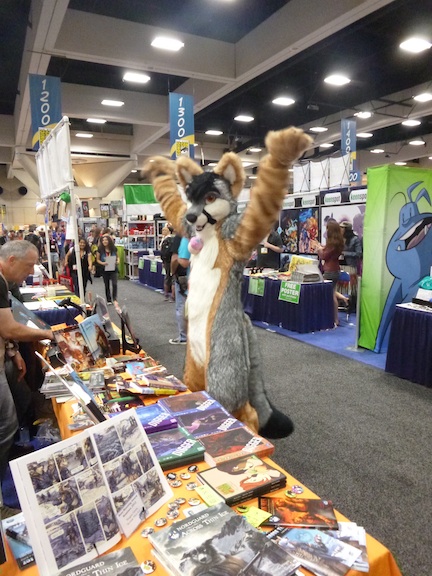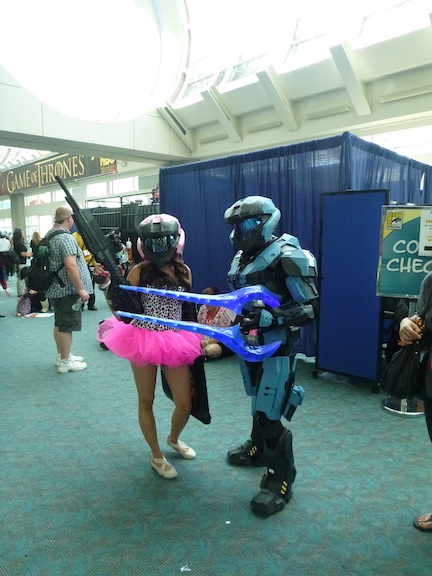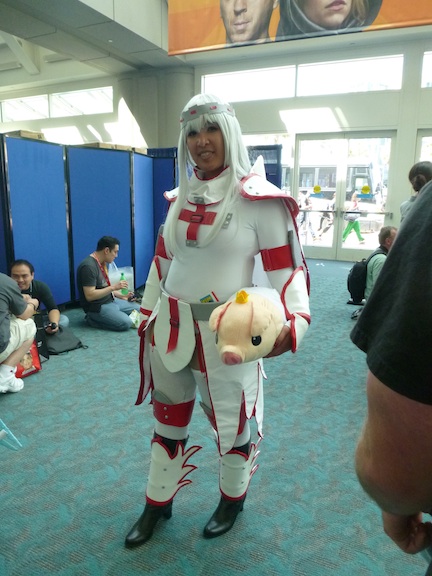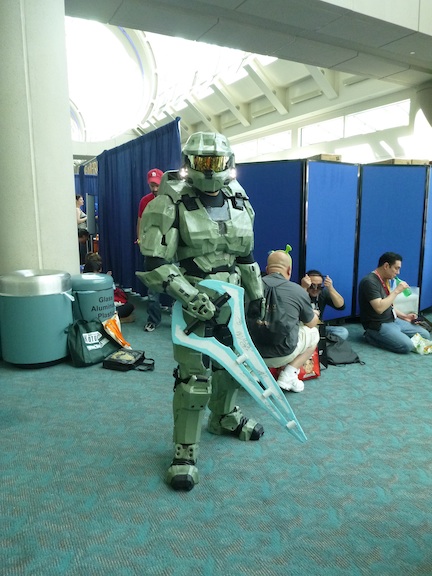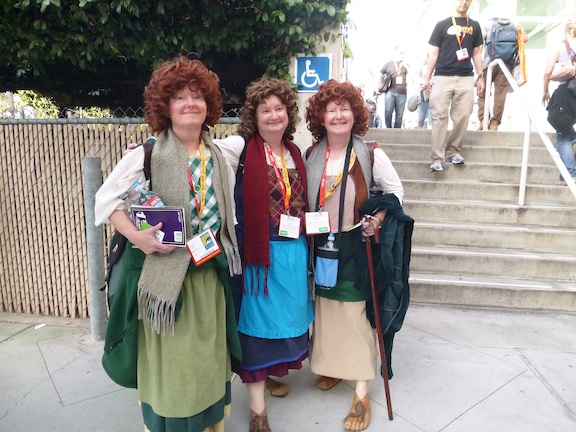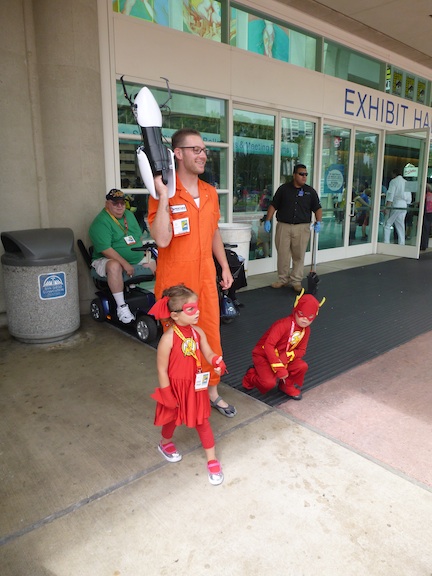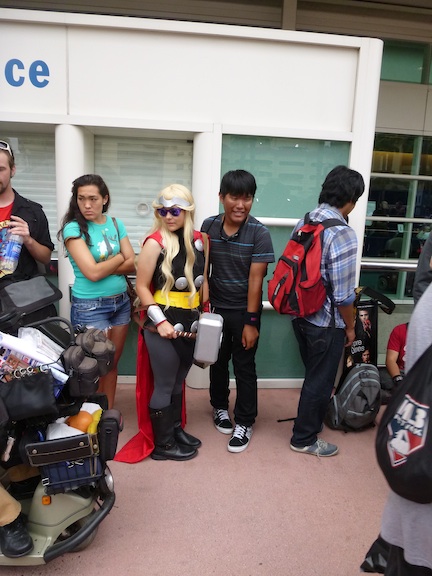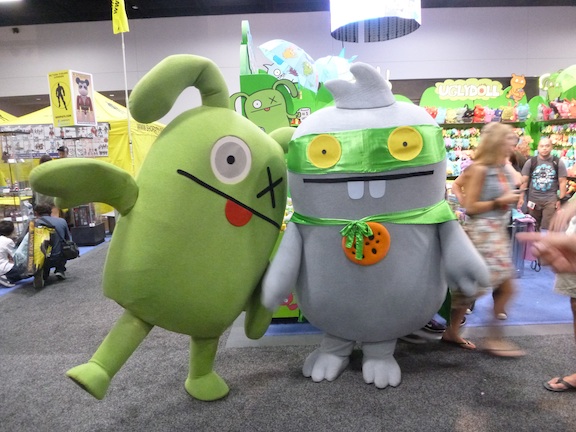 The Gutbrain Award for Best Costume goes to the Silver Surfer and son!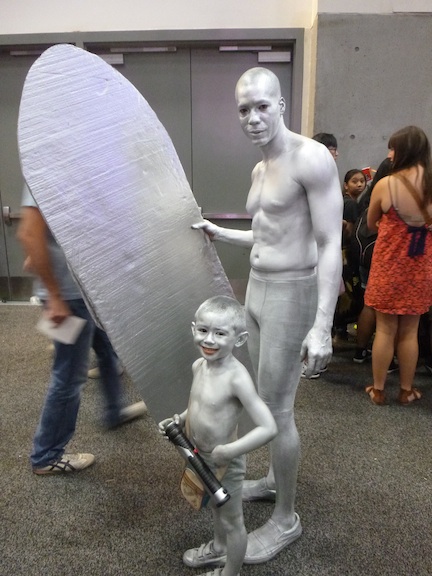 The runners-up are these charming young women dressed as the fourth and fifth regenerations of Doctor Who…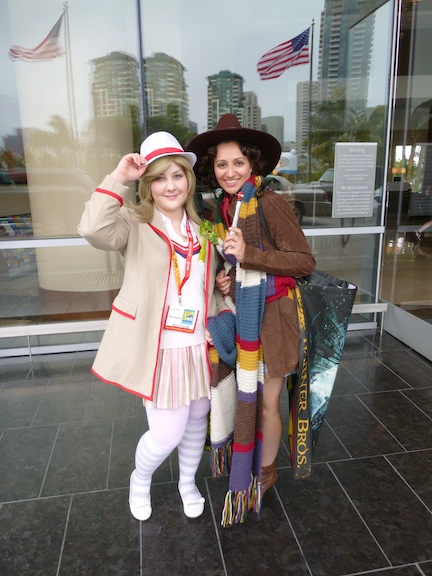 and this guy in this insane costume that he had a lot trouble walking in!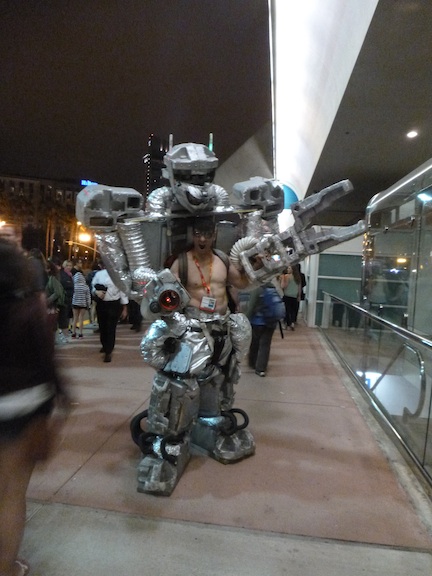 Also spotted at Comic-con was a Lego Gandalf.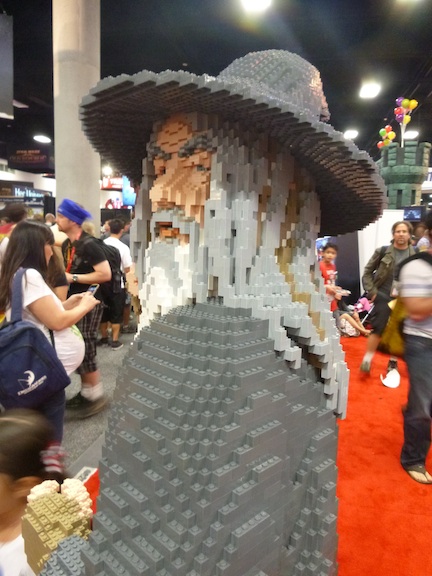 And a Comic-con exclusive Godzilla toy. (I bought one.)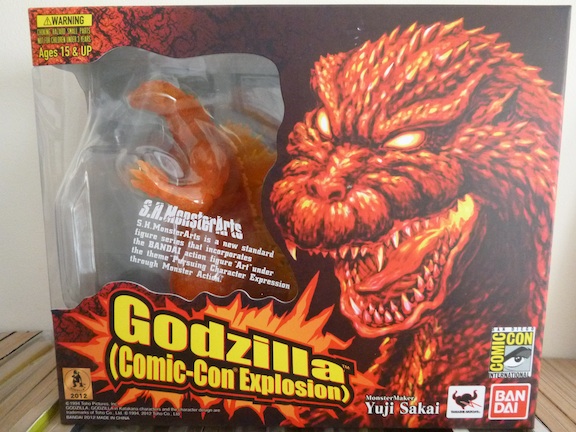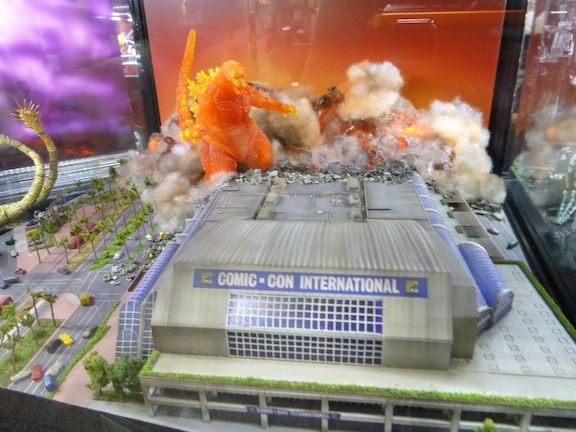 I was tempted by this Star Trek robe but decided I probably wouldn't actually wear it.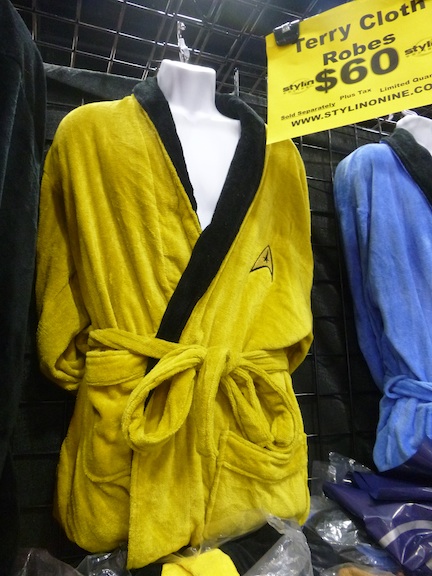 Oh, yeah, and KITT was there.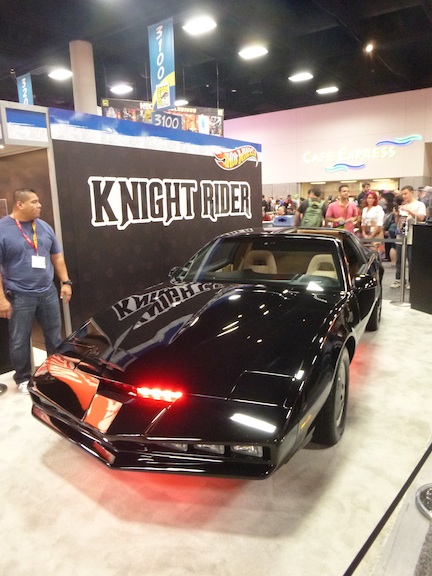 Lou Ferrigno was there too but I didn't get a good photo of him.
---

That's where my brother and I were last week. We were also here: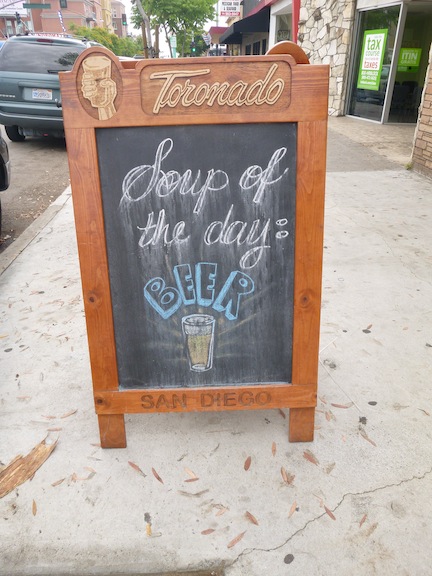 And various other places in the San Diego area. This was the view from our hotel balcony.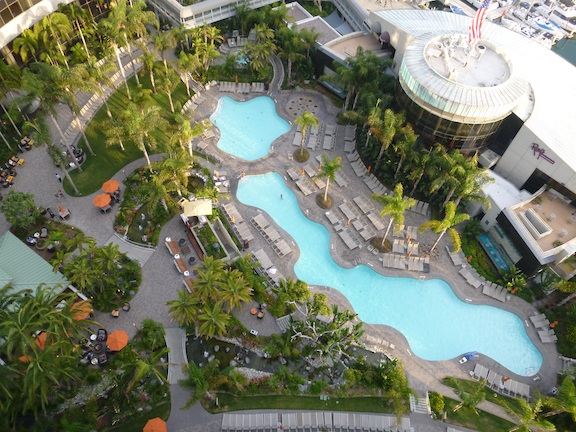 Comic-con was great. Some people say you should see the Grand Canyon before you die. I feel that way about the San Diego Comic-con, now that I've seen it for myself.
The organization of such a huge event was very impressive. My brother and I had a very easy time getting our badges and enjoying the convention. Even better was what a positive experience it was. Everybody seemed happy and pleasant. The only friction I noticed was caused by excitable Jesus freaks who were picketing the convention center.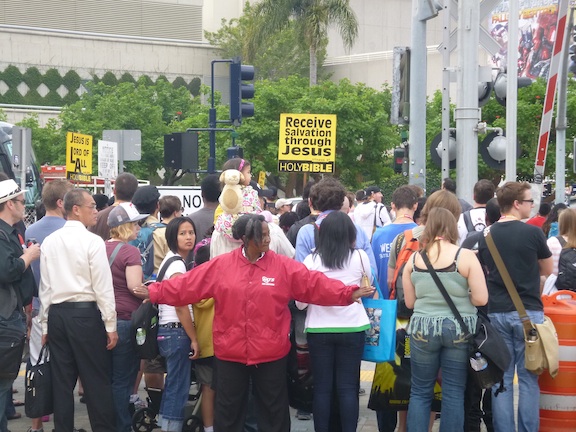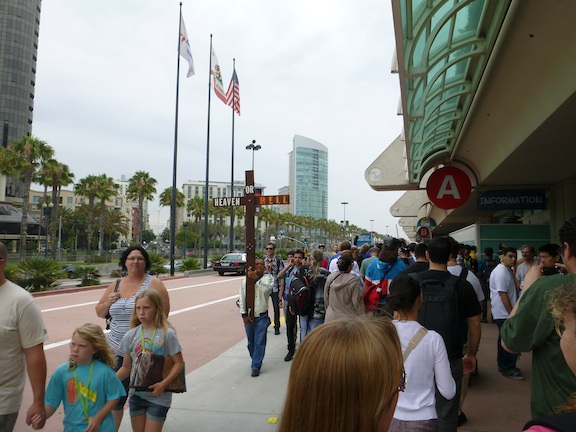 Actually, most of the ones just standing or walking around with the signs weren't so bad. But I saw one street preacher type who was screaming about how homosexuality is a sin and all that kind of stuff. Some people were getting noticably upset by that.
Then there were people who had a different kind of response.
It's hard to see in this photo but the woman in the middle has a small white sign that says SAY YES TO NECROPHILIA :).
To be continued.
---
Basil Poledouris's music for RoboCop is the 226th Soundtrack of the Week.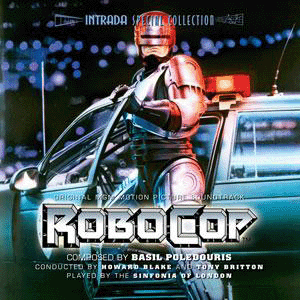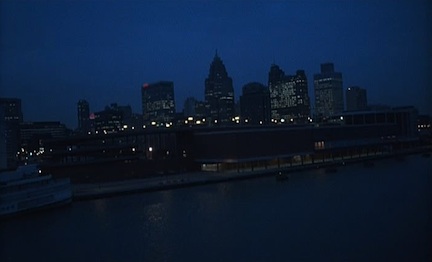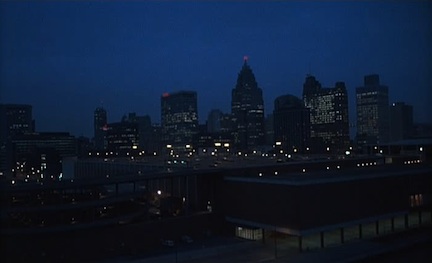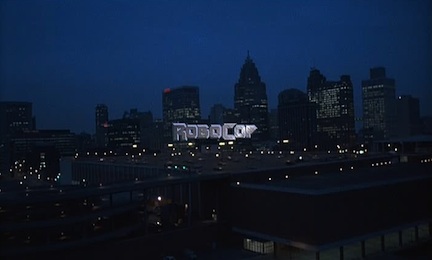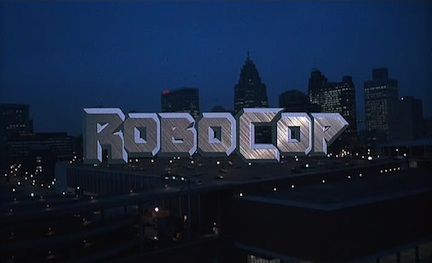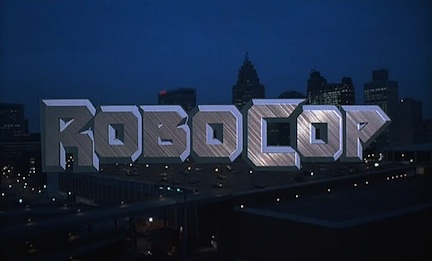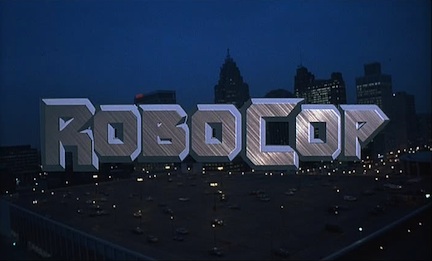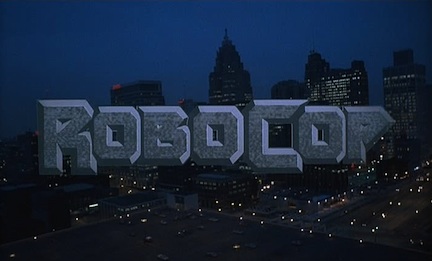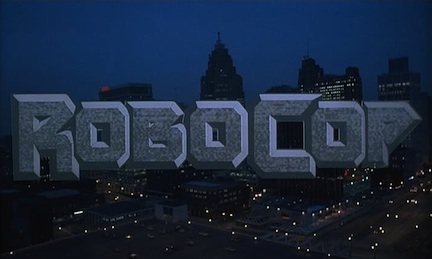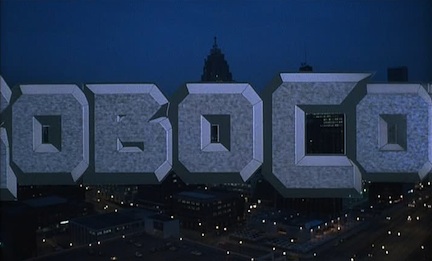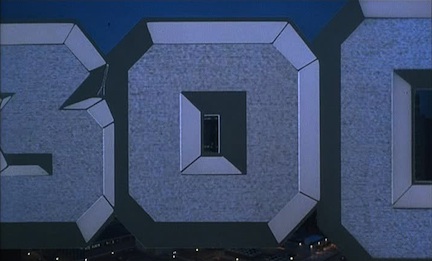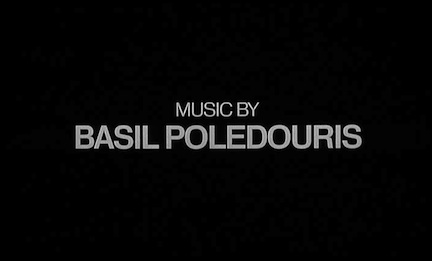 The "Main Title" is only 45 seconds and begins as drama before becoming uncannily apt TV music. Perhaps this is background for a news broadcast. It goes into "Have a Heart", a short (33 seconds), stirring, emotional cue. I believe this is music for a TV commercial for heart replacement surgery.
"O.C.P. Monitors" has pulsing horns and driving strings.
We start to get longer cues with "Van Chase" (4:56). It starts as exciting dramatic music before becoming pensive and atmospheric.
"Murphy Dies in O.R." is tense and mournful with interesting synth sounds and powerful horn playing.
The synth gets more of a work-out in "Robo Live", starting weird before becoming tuneful.
"Drive Montage" builds gradually to RoboCop's theme music.
The music for "Murphy's Dream" is wistful and appropriately dreamy.
"Rock Shop" is an explosion of action usic, while "Robo & Ed 209 Fight" has pounding rhythms and a stretched out RoboCop theme.
The same theme slows down for "Force Shoots Robo".
"Big Is Better" is a cheesy tune. while "Care Package" is a calm, reflective, melancholy piece.
"Looking for Me" is music for the big showdown, with lots of drama, as you'd expect.
Finally "Across the Board (End Credits) is the longest track at 7 and a half minutes. It's like a suite of the movie's main themes.
---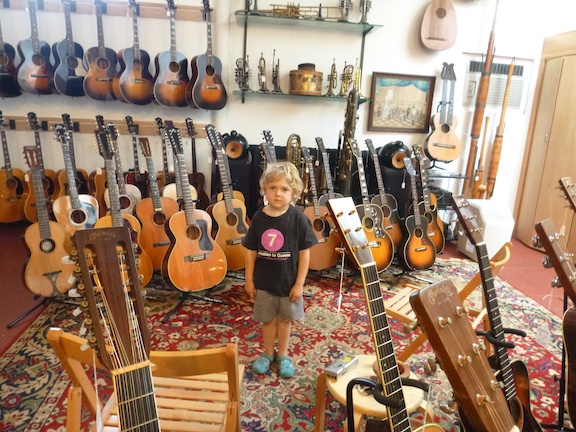 ---
The 225th Soundtrack of the Week is the score for Dragonslayer, by the great Alex North.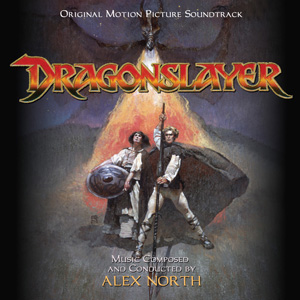 The score has several moods, of dread, mystery, excitement and tension. These are punctuated by occasional comicw moments and sections of romantic, sweepign beauty.
The use of orchestral color is startling—it reminds you of how much an orchestra can do.
The "Main Title" features horns and percussion playing ominous low tones and some unnerving high-pitched statements before the strings come in with smooth lines.
"No Sorcerors—No Dragons" is spooky and suspenseful at first before becoming sweet.
Strings start out doing most of the work in "Ulrich's Death and Mourning/The Amulet", playing some interesting, modern-sounding harmonies. Winds come in, then chimes and maybe a synthesizer of some sort. It wnds with a building of tension.
"Forest Romp" is an uptempo, playful piece that features the snare. It actually reminded me a bit of the theme music for My Favorite Martian.
More menace comes with "Maiden's Sacrifice", which has great sanre work and notable harpsichord playing.
"Visions and Reflections/Hodge's Death" is a mostly beautiful dramatic section that has some elements of comedy and romance.
"The Lair/Landslide" is mostly dread and action. The rest of the score continues the various moods already described.
---
Whatever else happens in 2012, the year won't have been all bad. A new Eddie Campbell book was published!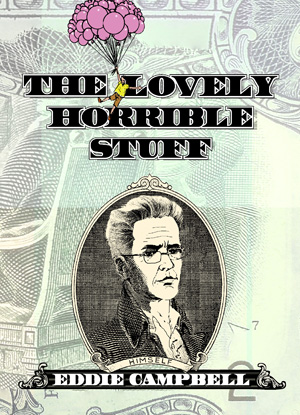 Eddie Campbell is my favorite person working in comics today, which means he's my favorite writer who also draws pictures to go with the text and my favorite artist who also writes text to go with the pictures.
"Pictures" and "text" don't really describe the medium well, though. You can forget everything you've read about comics or graphic novels in mainstream media—if you even remember any of it—and just pick up one of these books yourself.
Campbell's autobiographical work has always been my favorite. Until recently he used the character of Alec McGarry to represent himself. If you're at all interested in anything you've read so far, Alec: The Years Have Pants would be the book in which to immerse yourself.
With The Fate of the Artist (also the title of Campbell's invaluable blog), Eddie abandoned the pseudonym and introduced mixed media. The blend of homage to the golden age of newspaper comic strips with photography was startling and invigorating.
Photography is more present in The Lovely Horrible Stuff, which concerns itself with money matters: about half of the book is devoted to the Campbell family's money while the other half investigates the stone money of the people of Yap, a small island in the Pacific.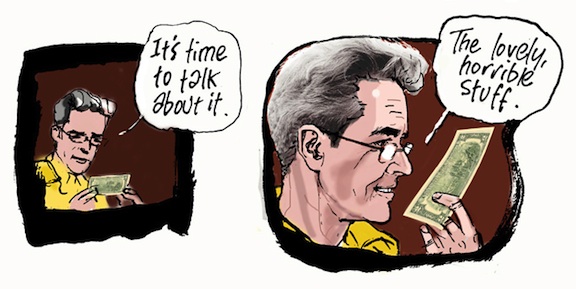 Part of the basic appeal of the autobiographical comic is the comfort it provides. You find that another person shares your worries or opinions, or has worries or opinions that surpass your own in their complications. This is true of all of Campbell's autobiographical work, but The Lovely Horrible Stuff could attract a larger readership. Who doesn't worry about money?
The writing and the artwork are as strong as always. The photographs are blended with Campbell's lines more than in The Fate of the Artist.
It begins and ends with Campbell's personal travails and suggests, to this reader, that money will drive us crazy and there isn't much we can do about it.
---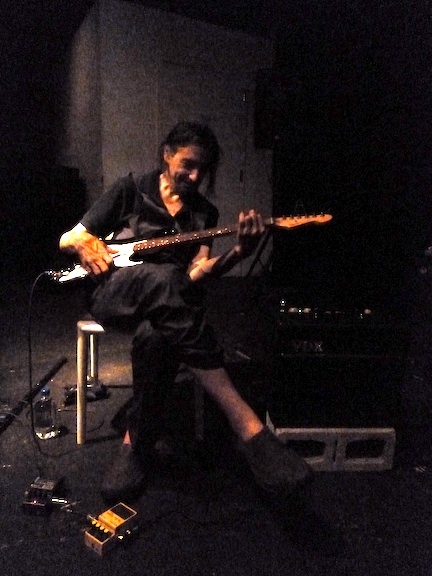 Loren Connors at The Stone
2012-07-01
---
Huang Zhan and Lui Tsung-tak's score for Tsui Hark's wonderful fantasy film Green Snake is the 224th Soundtrack of the Week.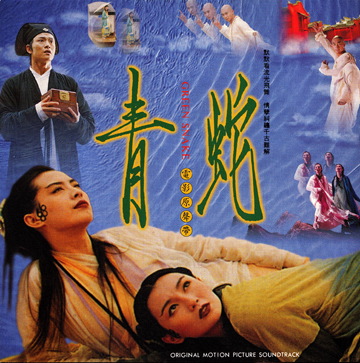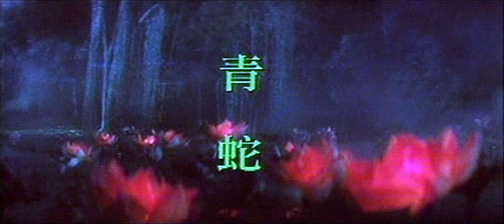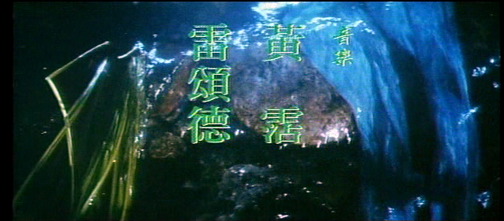 I saw this at the Music Palace in Chinatown when it first came out, and later on video several times. (I can remember when there were four movie theatres in Chinatown. They're all gone. The Music Palace was the last to go.) It's kind of like Blade Runner retold as a Chinese myth. It's about giant snakes who want to be human. One of them, played by Joey Wang, falls in love with a human and wants to settle down. The other, played by Maggie Cheung, is more of a mischievous, fun-loving type. They're pursued by a Buddhist priest whose mission is to make sure that creatures like them don't cross over into the human world except by reincarnation. (That's how I remember the plot, anyway).
It's a great movie, slightly marred at the very end by some special effects that can't keep up with Tsui Hark's demands.
I bought the CD at the record store right next to the Music Palace. Hey, what do you know, that place is gone now too! For the moment, though, it's hanging in there as P-Tune Music on Christie Street. I still buy DVDs there regularly.
The Green Snake soundtrack CD includes reproductions of the lobby cards from the movie.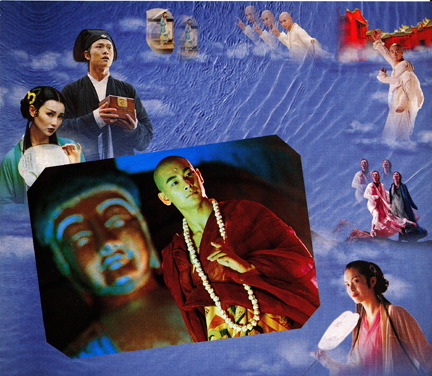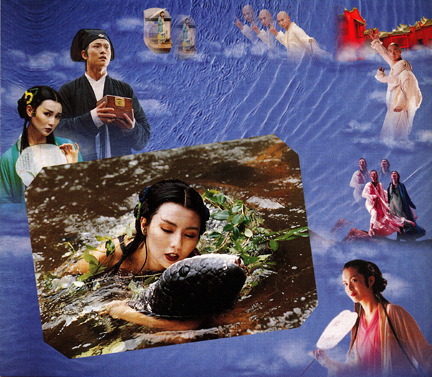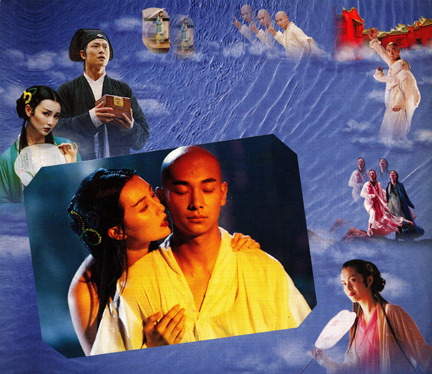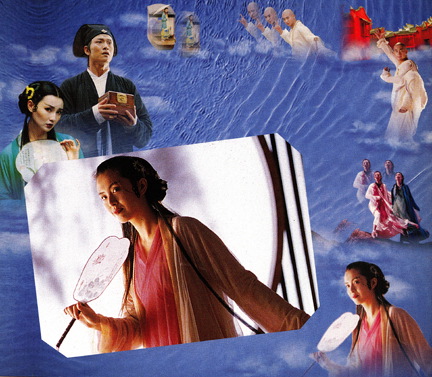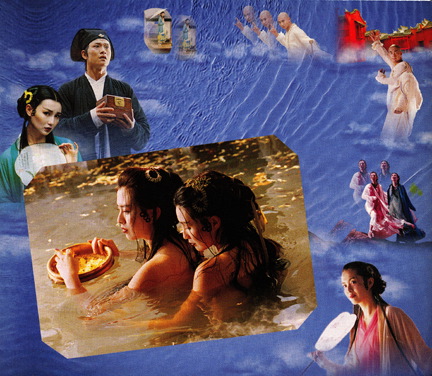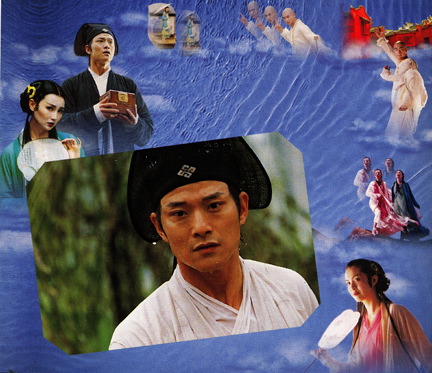 This is what the back looks like, in case you want to make your own set.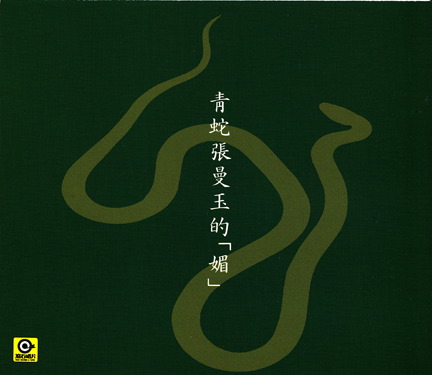 And now the music. Most of it sounds like synth, vocals and percussion, with the synth sometimes apparently emulating traditional Chinese instruments.
The first track is a lush, atmospheric track with a beautiful melody of understated longing. There's a B section that picks up the pace with a rolling kind of groove.
AFter that comes a powerfully romantic number that sounds like the first track's restrained longing has broken loose. I think this accompanies the scenes of Joey Wang falling in love, experiencing human emotions for the first time.
The third track introduces danger with ominous low tones, high string lines and nervous percussion. Then come prayer drums and chanting as the monk pursues a non-human, if I remember the movie right.
Track 4 is a 3/4 piece that starts out carefree but then runs into menace as serious and threatening tones come crashing in. The use of percussion here is impressive, as it is throughout the record.
The fifth track was always my favorite. When Maggie Cheung becomes human the first thing she does is seduce a female South Asian dancer. This is the lovely and catchy song for that scene, which uses sitar, tambura and tabla. I've put this one on mix tapes.
Then there's a textural track of droning voices and percussion, with some other instruments coming in. This is followed by a short cue for the "humanity" theme, creating a mood that's lovely and sad, expressing the beauty and hardship of human life.
Track 8 is slow, sensual, lush and funky, with deeply melodic wordless vocals and a Chinese violin solo.
After this comes music for danger and action. Then a gentle piece featuring flute and harp at first, and then the ensemble with another lush atmosphere. This continues in the next track but with the addition of a violin and an unexpected minor chord.
Track 12 is the dance remix of Maggie's big dance and seduction scene. It's basically the same track with big electro-percussion added. I wonder if this was released as a single.
Most of the rest of the tracks are different takes on one or another of the themes already heard. Track 17 features some unusual "water" music, perhaps using a rain stick. Track 18 has some breaks that sound like gamelan music.
There you have it. One of my favorite scores for one of my favorite movies.
---