Rob Price
Gutbrain Records
rob + gutbrain.com = email
---
The 154th Soundtrack of the Week is two scores on one CD, Bird of Paradise by Daniele Amfitheatrof and Lydia Bailey by Hugo Friedhofer.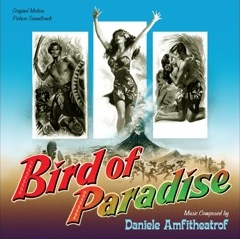 Bird of Paradise opens with "Tenga Returns", which starts with a blast of Les Baxterish exotica with worldess chorus, percussion, soaring strings and blaring brass. It's a masterpiece. Most of the seven minutes or so are more laidback and etheral, with some wonderful harp playing, but it's impossible to forget that introduction.
"Apau" begins very playfully but crashes into seriously ominous music, an atmosphere that made me think of angry volcano gods. "The Sacred Pool" begins with another light-hearted atmosphere but reverts to the main theme introduced in "Tenga Returns".
"It's a Beautiful Dream" conjures up another dreamy sort of atmosphere, with shimmering strings and pulsating percussion. Flutes float above it while the brass sections add some menace.
"Fire Walking" has a very peaceful beginning with chimes and flute playing against a delicate background Musical moods of tension, suspense and anger eventually surface.
"Prophecy" begins with a percussion part that recalls Masaru Sato's soundtrack for Yojimbo. It's the kind of thing I can listen to for hours. Other instruments come in gradually, making short statements. Eventually the wordless choir joins them. The main theme comes in at the end.
"The Parting" begins with buoyant writing that makes a nod or two to the main theme. Darker tones come crashing in, as they so often do, only to be replaced by a lush and romantic reprise of the main theme.
The first track of Lydia Bailey is called "Miabeau" and goes through several different moods in about five minutes. It begins with the sweeping strings of the Golden Age of Hollywood sound, but something about one of the figures reminded me of Elmer Bernstein's music for Johnny Staccato. Then there's the exotica mood, with log drum (I think) and some tense phrases that reminded me of Bernard Herrmann's music.
"Man Hunt" begins with another Herrmannesque statement and continues in a pensive but occasionally romantic mood. Other parts of it reminded me of John Barry's score for The Chase. About two minutes into this cue (which is slightly over five minutes) comes a terrifically propulsive percussion part, followed by dark stings by the horns. It builds to a climax then relaxes.
"Suspense" sounds mostly like action writing. It's also about five minutes long and very exciting, with what sounds like a love theme giving way to a bit of a march near the end.
"The Pastorale" is almost seven minutes long and begins with an eerie atmosphere, the sounds of fog and shadows. There's more superlative percussion playing, then another suspenseful theme introduced by solo flute before the orchestra picks it up. Then more rocking percussion.
"Refugees" begins with some phrases that reminded me of a cue from the television series The Prisoner. Similar figure, same instrument, I guess. Then there's a string drone with horn punctuation followed by some romantic writing. The string playing is very strong throughout.
"The Ouanga" is classic Golden Age of Hollywood scoring and sounded very familiar even though I've never seen this movie. It's easy to imagine a jungle scene at night for this. "Haiti" begins quietly then creates a sense of urgent movement. Eventually there's what sounds like a pastiche of "classical" music.
Thanks to Varese Sarabande's Soundtrack Club for making these obscure titles available!
---
In 1902, the eruption of Mount Pelée on the island of Martinique buried the entire city of Saint Pierre, killing 30,000 people. Only one man survived: a prisoner in solitary confinement.
—P. D. Smith, Times Literary Supplement, February 4, 2011
---
People sometimes ask me if I still play. Are they kidding? I play with Dexter for hours every day! What they mean, though, is if I still play the guitar in public.
The answer is that I do, but only when somebody asks me to play with them. So, a big thanks to Chris Cawthray, one of the only people who asks me to play with him!
The last time we got together it was with Lucio Menegon on bass. After playing a few gigs, we recorded three of Chris's tunes at Lucio's studio. Mark Johnstone added organ and electric piano and I think it sounds great!
Chris has released these tracks as an EP. Go to his site for info.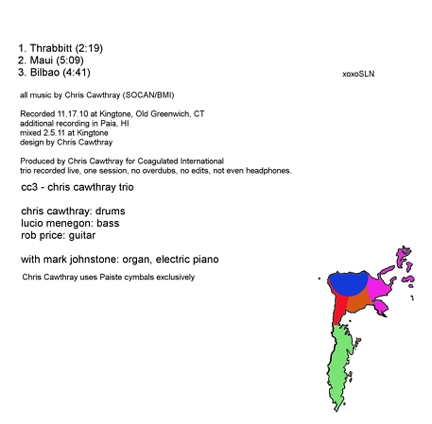 ---
Maria Schneider died eighteen days ago. She's famous for Last Tango in Paris but she was also in Jeune fille libre le soir, also known as The Babysitter, whose Francis Lai score is the 153rd Soundtrack of the Week.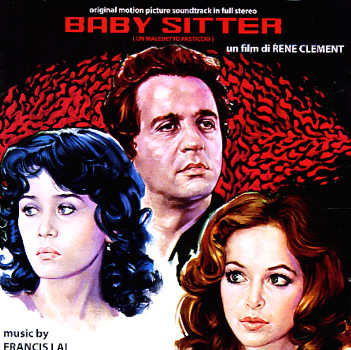 The first track, "La Baby Sitter", is a relatively long piece for string orchestra and is a bit like some of Morricone's work. The mood is sad but pretty.
"Generique" begins with a slightly out of tune piano playing a melody that's a bit similar to Henry Mancini's theme for Charade. The orchestra comes in with some menacing hits, but then electronic keyboard and acoustic guitar lighten the tone.
"L'enfant" again reminds me of Morricone. The guitar plays his kind of circling figure while the piano attacks once in a while in a Battle of Algiers sort of way. After about a minute of this, though, the feel changes to something that sounds more like a cross between pop music and television background music from early-'80s crime dramas.
"Theme d'Ann" is sort of a prog jazz piece, like Goblin meets Return to Forever. Eventually the Goblin part of it takes over and disco enters the mix. I'm a bit embarassed to like it, but that's how it goes.
"Agression" returns to the "Generique" melody and adds some different sounds, including a fairly ill synthesizer.
If you guessed the "La Baby Sitter (Piano Solo)" is a solo piano take on "La Baby Sitter", then you were right!
"L'enfant et la peur" is a piece for organ and woodwinds with some subtle and creative backing from electric and acoustic instruments. It goes back and forth between suspenseful and sunny.
Then there's "La Baby Sitter (Reprise)", which begins with an assertive solo piano part before the melody comes in, this time sounding like it's expressed by electronically processed wordless female vocals.
"La Baby Sitter (Vocal Version)" is the song version of the main theme, with lyrics in French sung by, I think, Francoise Welch. It's very nice and features the Fender Rhodes.
---
Charles Burns's new Tintin-inspired work, X'ed Out, has a parallel or alternate life as Johnny 23.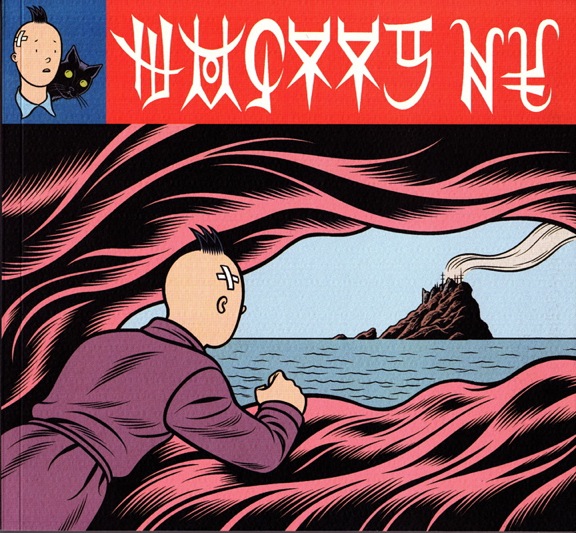 The cover recalls the Tintin adventure The Black Island, much as the X'ed Out cover was a riff on The Shooting Star.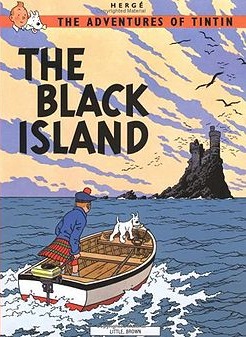 Inside the book you'll find material that's in X'ed Out as well as material that is, as far as I know, unique to Johnny 23.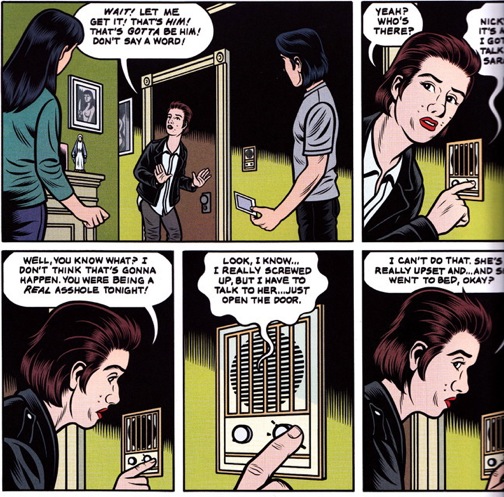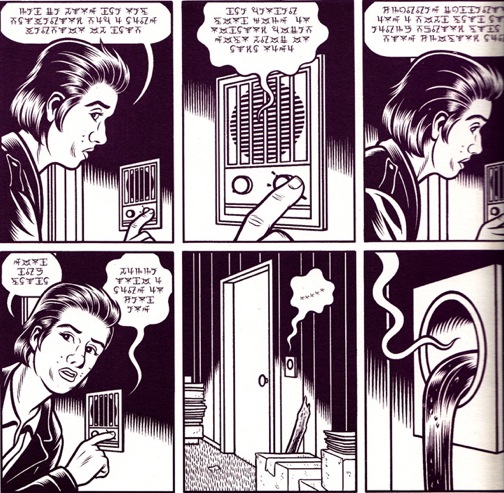 Sometimes the panels are in reverse order, as in the bottom three of the color page and the top three of the black-and-white page. (Johnny 23 is in black and white, X'ed Out in color.)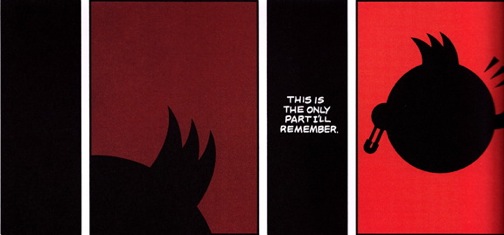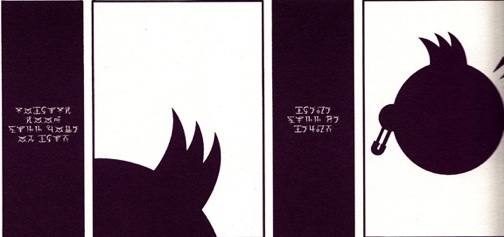 The code is pretty easy. After translating the first few pages (and finding a few typos), I was intrigued to discover that the text of the two books is pretty different. So what's the deal with this?
I picked up the Johnny 23 book at Desert Island in Williamsburg. Desert Island produces a free comics newspaper called Smoke Signals, in which Johnny 23 has also appeared.
---
Here's a great new CD you should get if you like free improv. It's available at the Downtown Music Gallery.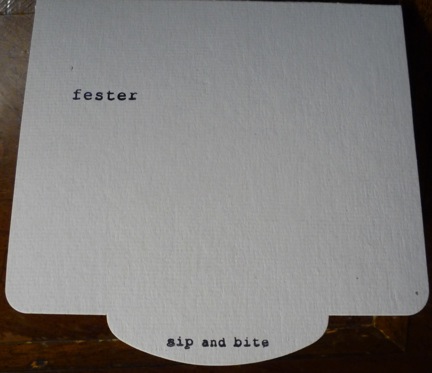 Fester: Sip and Bite is a the first release by David Grollman (snare drum) and Sean Ali (bass). They've played together a lot and their interplay and invention are really exciting. I'm glad they have a CD out!
They did a great job with the packaging, too. On the back is a photo of some maggots and it's covered with real wire screen. That's not a photo of a piece of screen, that's the real thing!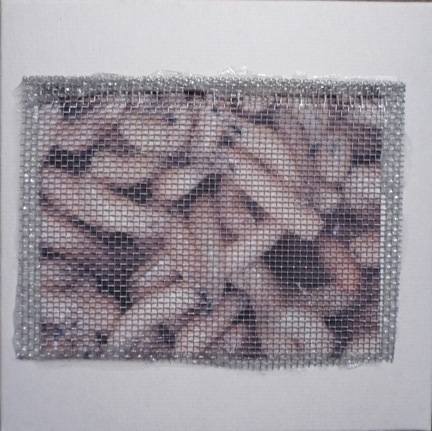 Inside is a beautiful book—complete with book mark!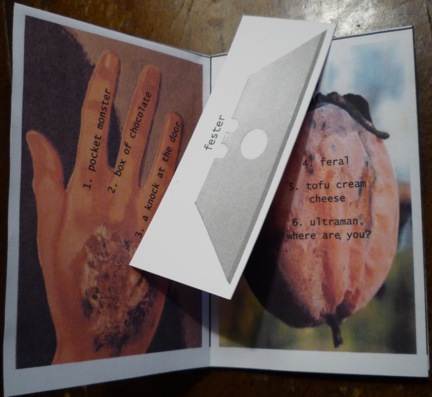 People always want to know who mastered something before they buy it, right? Hmm, I don't know, let's check.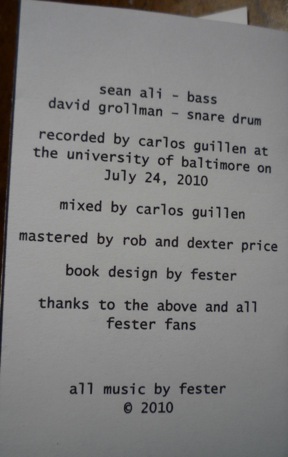 Oh, how about that? Buy one and I'll ask Dexter to autograph it for you!
---
The 152nd Soundtrack of the Week is a Russ Meyer triple feature: Faster, Pussycat! Kill! Kill!, Lorna and Vixen. The material on this CD seems to have come right from the movies, with dialogue and sound effects. Perhaps isolated music tracks no longer exist.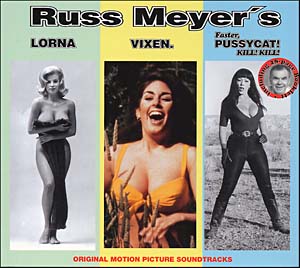 R.I.P., Tura Satana, who passed away ten days ago.
The CD begins with her most famous movie, Faster, Pussycat! Kill! Kill!, scored by Igo Kantor, Bert Shefter and Paul Sawtell. "Intro/ Run Pussy Cat" begins with a walking bass line and jazzy drumming and a narrator intoning about violence and sex. Then it goes right into the druggy rock theme song. This is for a go-go dancing scene and you can hear men yelling lustily at the dancers. Then you hear the women's motorcycles and the rhythm switches while a saxophone takes a solo. The rest of the track is Elmer Bernstein-influenced action jazz.
"The Race / The Killing" begins with some dialogue accompanied by an instrumental pop tune on the radio. More action jazz comes in, sounding similar to Bernstein's The Man with the Golden Arm.
"Mobile" is a cheery sort of tune for orchestra that could fit easily into a Disney movie. "The Break" finds us back in Man with the Golden Arm territory before a segue into an instrumental take on the main title song. It ends with a sultry sax break.
"Mysterioso Minor" sounds like horror or science fiction music at first. It's an orchestral piece with the strings sounding like they're accompanied by theremin. About halfway through it goes into some strip-club music, accompanied by dialogue from the film.
"The Snatch" begins as tense drama played by orchestra and ends in the same eerie way that "Mysterioso Minor" began.
The last track, "Show Down / Run Pussy Cat" begins with some classic Tura Satana lines. "Your old man's been blasted out of his wheels and your king-sized brother's been twisted like a pretzel. You're all that's left, lover. And you ain't gonna be around for long." Then there's some orchestral "fight" music, accompanied by screaming and the sounds of people pummeling each other. And then of course there's a reprise of the title song. "She's running fast and free / Child of the night."
Lorna has music by James Griffith and Hal Hopper. The first track, "The Escaped Prisoner", is a jazz workout for bass and drums, joined by dreamy harp. Then it goes into a bluesy swing with saxophone.
"Looking for a Woman" is a slow blues for bass and drums duo with a sax solo at the end.
"Lorna" is a ballad sung by Bob Grabeau. "Lorna, is it love you're missing? / Lorna, is the one you're kissing / The one you can call a true love?"
"Wham Bam Thank You Man" is "Lorna" played by solo electric guitar. Some dialogue and dreamy harp and percussion enter, then the music switches to uptempo modern jazz.
"Watching Lorna Swimming" begins with a drum solo before going into a version of "Lorna" with the flute playing the melody and the drummer interrupting with various statements. At times the flute stops for the drummer to solo, then the flute comes back in. Then saxophone takes over the theme.
The last track, "Together Again", again features "Lorna" played on the flute. Then an uptempo version of "Lorna" for jazz combo ends the Lorna material.
Igor Kantor wrote the music for Vixen. It begine with "The Bush Pilots", a bombastic, patriotic-sounding orchestral piece accompanied by the sounds of airplanes flying by.
"Vixen & The Constable" is a radical change of pace: light-headed, easy-listening music accompanied by the sounds of laughter, splashing water, heavy breathing and some suggestive dialogue.
"French Girl in Manhattan" combines ethereal wordless female vocals with echoey brass. Then electric bass and drums come in with something that sounds like electric harpsichord. Then it goes into a kind of psychedelic rock version of the same tune. I guess it's in 6/8. It's a pretty impressive miniature suite of music.
"Back on Solid Ground" ends the CD and begins with bongo-playing, electric bass, snare and other instruments creating an unsettling atmosphere that sounds like it's going to explode into action. Instead it settles into another of the dreamy, pretty, tranquilizing tunes before leaving you with a few seconds of upbeat music at the end.
This is an excellent disc. I've had it a long time. I bought it at Kim's Video when it was on the second floor of the building on the corner of 2nd Avenue and St. Mark's Place.
Check out Dexter Romweber's song "Tura Satana" from the Flat Duo Jets album White Trees.
---
Christian Marclay's "The Clock" will be at the Paula Cooper Gallery for another eight days. I highly recommend it!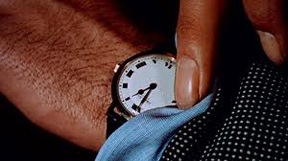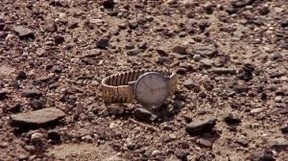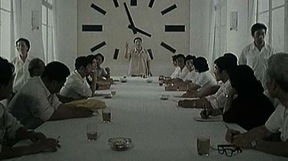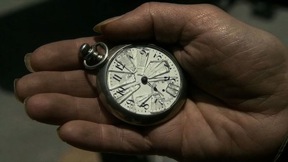 It's a twenty-four hour video work composed of clips from movies in which we see clocks or other timepieces or sometimes just characters involved with time in some way. Whenever the time is seen or heard on screen it matches the actual time it happens to be for the audience watching.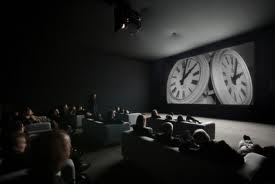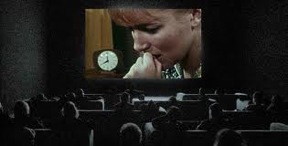 I really loved it. It was captivating, beautiful, hypnotic, suspenseful, exciting and, best of all, fun. All the shots I found online emphasize the presence of clocks on the screen but it's not just a parade of timepieces. There are people, dialogue, music and movement of various other things.
Before "The Clock" I only knew Marclay as a turntable manipulator who was part of the downtown NYC music scene in the 1980s and '90s. His experiences with music and improvising appear to have informed his artful editing of the different movie scenes.
Sounds from one scene will often intrude on another before the actual cut. One memorable call and response moment had Karl Malden yelling for Baby Doll (from the movie of the same name) while Vincent Price in The Fly sits on a bench, seeming almost to hear Malden when in fact he's just barely failing to hear his fly-sized scientist friend who's about to be killed by a spider.
Another one has a bomb exploding in Hitchock's Sabotage and then a badly damaged Inspector Clouseau remarking that the explosion has caused his watch to stop.
In addition to the time theme, Marclay's video catches other currents that come his way: binoculars, elevators, telephones and other elements come and go like recurring musical themes or motifs.
But what I liked best about it was how it creates a whole world populated by thousands of movies. It gives the sense that all of these different realities are one smoothly flowing reality and at the same time suggested to me that its real subject is the power of the film medium.
For that reason it really is best viewed in a proper screening room such as the Paula Cooper Gallery has, but I can't help hoping that "The Clock" gets its own twenty-four hour home on the internet, its own channel that you can tune into whenever you want to check the time and get transported.
---
The New York Times obituary for John Barry had a few errors. At the bottom of the online version you can read how the piece originally got Max Steiner's name wrong—how did that happen?—as well as the alternate title by which Beat Girl was known in the United States. That second one is a bit more obscure, but don't they have fact checkers?
When I read the version in the paper—and I hadn't intended to, but my mother clipped it and sent it to me—I noticed another error that has yet to be corrected.
The obituary states: "In 1957 he formed the John Barry Seven, a rock 'n' roll band styled after the popular guitar-based instrumental group the Ventures."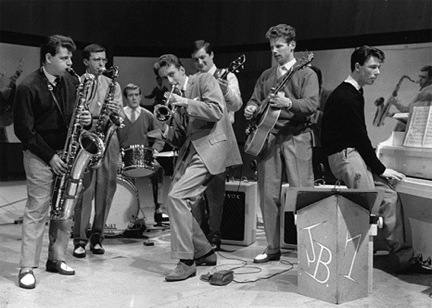 That's a ridiculous statement. The Ventures didn't exist in 1957.
The John Barry Seven, like many bands, covered "Walk Don't Run" after The Ventures had a hit with it, but The Ventures' recording of "Walk Don't Run" didn't come out until 1960. It was on their first album and their third single. (The first two singles came out in 1959 and 1961 and probably weren't noticed by John Barry.)
The John Barry Seven never sounded anything like The Ventures, despite the prominence of the guitar in the band. The John Barry Seven sound, especially in its early days, depended more heavily on the horns. It would be more accurate to say that John Barry was attempting to cross-pollinate rock and roll (especially Duane Eddy) with the sound of Stan Kenton's band.
---
The 151st Soundtrack of the Week is The Quiller Memorandum by John Barry (November 3, 1933–January 30, 2011).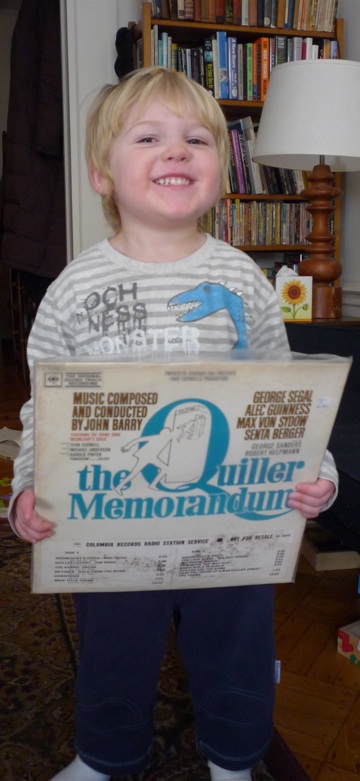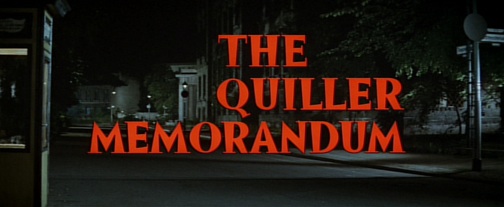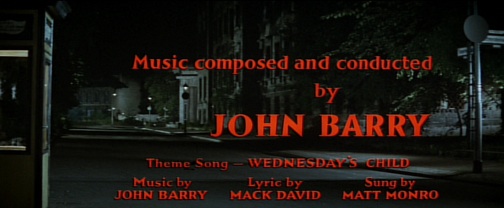 Much of The Quiller Memorandum was shot on location in West Berlin. Check it out: Jay Jay Johnson, Julian "Cannonball" Adderly, Art Farmer, Ron Carter, Mel Lewis and Joe Zawinul were playing!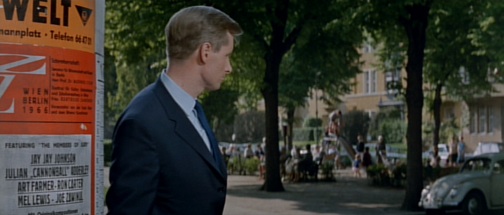 The first track on Side 1 of the soundtrack LP is the main theme, called "Wednesday's Child". It's a waltz played on the barrel organ, accompanied by orchestra. It's a suitably atmospheric theme and, like the movie and much of the music, recalls The Ipcress File, which came out a year earlier.
"Quiller Caught—The Fight" could fit easily into a Bond movie (Thunderball or Goldfinger) or The Ipcress File. It's great suspenseful music and benefits from subtle use of the cymbalom.
"The Barrel Organ" is "Wednesday's Child" for solo barrel organ, no orchestra this time. This is followed by "Oktober—Walk from the River", more classic Barry espionage suspense music that includes the "Wednesday's Child" theme as well as more great cymbalom playing.
"Downtown" was a huge hit for Petulah Clark in the mid-sixties—and Vic Flick played guitar on her original recording. An instrumental, polka-ish version of "Downtown", source music in the movie, comes next on the Quiller Memorandum album.
After that it's the "Main Title Theme", a quieter take of "Wednesday's Child".
Side 2 begins with the vocal version of "Wednesday's Child". Mack David wrote the lyrics and Matt Monro, who sang "From Russia With Love" takes the vocal. In the movie, this is playing on a radio. You hear the end of it and an announcer identifies both the song and the singer.
"The Love Scene—The Old House" begins as a tender atmosphere spun out of the "Wednesday's Child" theme, but then the cymbalom calmly takes the listener into suspenseful music similar to "Oktober—Walk from the River".
"Autobahn March" is a big Teutonic march. "He Knows the Way Out" is more quiet and pensive music featuring the cymbalom—or is it a harpsichord this time? "Wednesday's Child" is played slowly by flutes at first, then the orchestra comes in.
"Night Walk in Berlin" is the dramatic climax and has arrangements for the orchestra that would, like "The Fight", fit easily into the soundtrack of Thunderball or Goldfinger.
"Quiller and the Bomb" starts quietly and hypnotically, sounding similar to some of Barry's music for underwater scenes. "Wednesday's Child" appears in a couple of different guises.
The harpsichord is used effectively on "Have You Heard of a Man Called Jones?—End Theme" for the somewhat ambiguous ending. The End Theme is, of course, "Wednesday's Child", but it has a more lonesome and melancholy quality.
RIP, JB.
---
Much of John Barry's early work, from the John Barry Seven through Beat Girl and the first several James Bond movies, was enhanced by the participation of guitarist Vic Flick.
When the instrumental rock fanzine Pipeline printed an interview with guitarist Vic Flick for its Autumn 2001 issue, readers were left wanting to know more.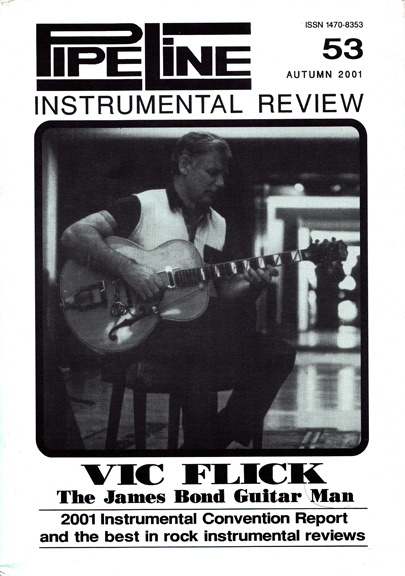 Asked about the "conflicting accounts of how much of ["The James Bond Theme"] was Monty Norman and how much was John Barry", Flick replies that he can't comment as he's just given sworn statements in a court case. (The interviewer wants specifically to know whether it was Flick's idea to drop the main melody an octave.)
In response to several other questions Flick notes that he could tell story after story about sessions and musicians of interest, but "this column isn't big enough".
Now we have this.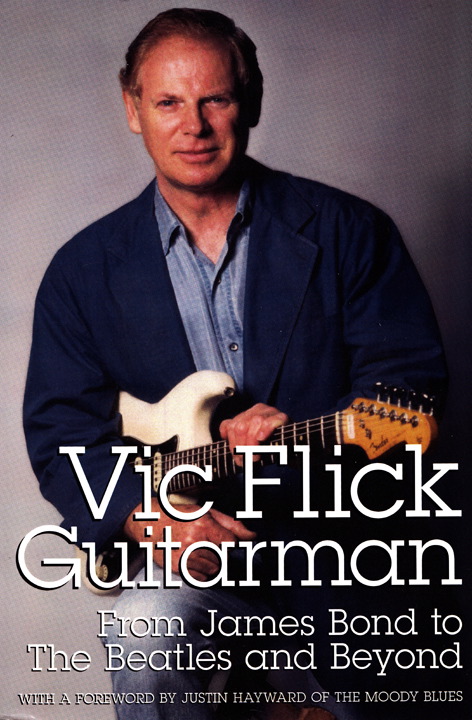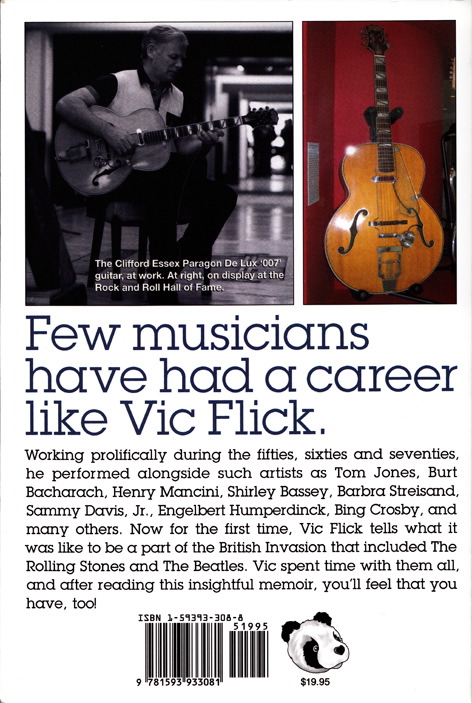 On the matter of who wrote "The James Bond Theme", Vic concludes his discussion with these lines.
Being directly involved with the piece of music, I was always under the impression that Mr Norman's writings were turned into something commercial by John Barry to which I added the guitar sound and the interpretation. Together we made the recordings successful and distinctive. Mr Norman has made many hundreds of thousands of pounds. John Barry has made millions from the spin off. I made about seven pounds ten shillings — and he should send me a letter from his attorney?
Vic has kind words for almost all of his fellow musicians as well as for the composer and arranger Angela Morley—he worked with her when she was Angela Morley and when she was Wally Stott.
He misses a chance to record with Frank Sinatra because Sinatra doesn't like stairs. (You'll have to read the book to find out what that means.)
About Henry Mancini he says, "A more pleasant person no one could wish to work for". Of the stars he encounters he is amused by Spike Milligan and most impressed by Robert Mitchum and Bing Crosby. He was very impressed by Joe Meek.
Vic Flick's book could have benefited from the work of a proofreader and copy editor, but it benefits from the casual, conversational, sometimes rough and rude voice of its author. Somebody should have made an index for it, however.
Here's Vic Flick's website.
---
John Barry died two days ago. He was one of my favorite composers. It's sad to think there won't be any new work from him. Let's hope somebody finds the tapes for the complete Moonraker sessions.
The Soundtrack of the Week for Monday, January 31st, should have been something by John Barry, but I had already uploaded John Williams's Black Sunday before I got the news.
Now I've started to read this book.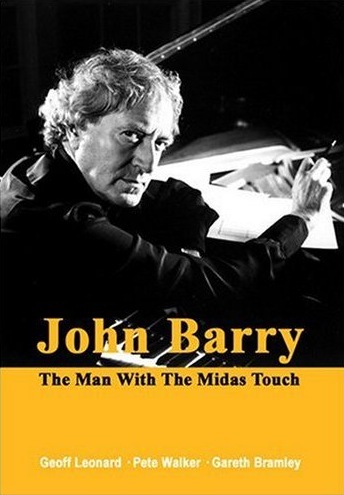 You can buy a copy here.
---