2011 February 21 • Monday
Maria Schneider died eighteen days ago. She's famous for Last Tango in Paris but she was also in Jeune fille libre le soir, also known as The Babysitter, whose Francis Lai score is the 153rd Soundtrack of the Week.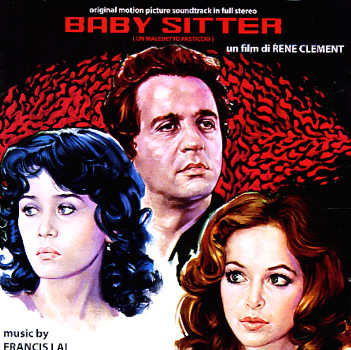 The first track, "La Baby Sitter", is a relatively long piece for string orchestra and is a bit like some of Morricone's work. The mood is sad but pretty.
"Generique" begins with a slightly out of tune piano playing a melody that's a bit similar to Henry Mancini's theme for Charade. The orchestra comes in with some menacing hits, but then electronic keyboard and acoustic guitar lighten the tone.
"L'enfant" again reminds me of Morricone. The guitar plays his kind of circling figure while the piano attacks once in a while in a Battle of Algiers sort of way. After about a minute of this, though, the feel changes to something that sounds more like a cross between pop music and television background music from early-'80s crime dramas.
"Theme d'Ann" is sort of a prog jazz piece, like Goblin meets Return to Forever. Eventually the Goblin part of it takes over and disco enters the mix. I'm a bit embarassed to like it, but that's how it goes.
"Agression" returns to the "Generique" melody and adds some different sounds, including a fairly ill synthesizer.
If you guessed the "La Baby Sitter (Piano Solo)" is a solo piano take on "La Baby Sitter", then you were right!
"L'enfant et la peur" is a piece for organ and woodwinds with some subtle and creative backing from electric and acoustic instruments. It goes back and forth between suspenseful and sunny.
Then there's "La Baby Sitter (Reprise)", which begins with an assertive solo piano part before the melody comes in, this time sounding like it's expressed by electronically processed wordless female vocals.
"La Baby Sitter (Vocal Version)" is the song version of the main theme, with lyrics in French sung by, I think, Francoise Welch. It's very nice and features the Fender Rhodes.
---