2011 February 28 • Monday
The 154th Soundtrack of the Week is two scores on one CD, Bird of Paradise by Daniele Amfitheatrof and Lydia Bailey by Hugo Friedhofer.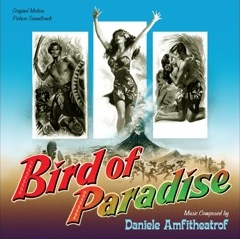 Bird of Paradise opens with "Tenga Returns", which starts with a blast of Les Baxterish exotica with worldess chorus, percussion, soaring strings and blaring brass. It's a masterpiece. Most of the seven minutes or so are more laidback and etheral, with some wonderful harp playing, but it's impossible to forget that introduction.
"Apau" begins very playfully but crashes into seriously ominous music, an atmosphere that made me think of angry volcano gods. "The Sacred Pool" begins with another light-hearted atmosphere but reverts to the main theme introduced in "Tenga Returns".
"It's a Beautiful Dream" conjures up another dreamy sort of atmosphere, with shimmering strings and pulsating percussion. Flutes float above it while the brass sections add some menace.
"Fire Walking" has a very peaceful beginning with chimes and flute playing against a delicate background Musical moods of tension, suspense and anger eventually surface.
"Prophecy" begins with a percussion part that recalls Masaru Sato's soundtrack for Yojimbo. It's the kind of thing I can listen to for hours. Other instruments come in gradually, making short statements. Eventually the wordless choir joins them. The main theme comes in at the end.
"The Parting" begins with buoyant writing that makes a nod or two to the main theme. Darker tones come crashing in, as they so often do, only to be replaced by a lush and romantic reprise of the main theme.