Rob Price
Gutbrain Records
rob + gutbrain.com = email
---
Yesterday was a real twenty-first century Thanksgiving. I put the turkey in the oven and prepared a Tibetan spicy fried potato dish while watching an MST3K Turkey Day marathon on my iPad!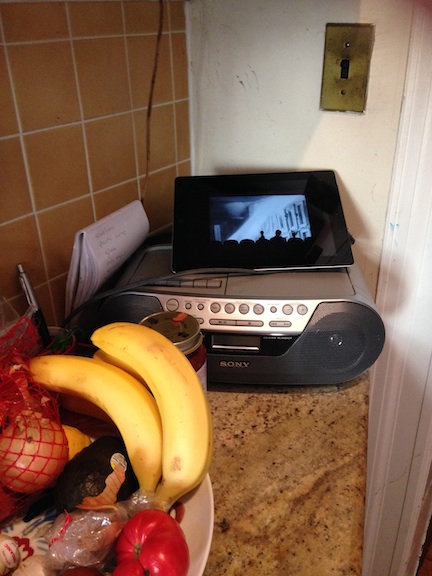 Times have changed!
---
We're still not done with 2013 amazing CD releases. Bear Family just put out this incredible box set of recordings from the Big D Jamboree!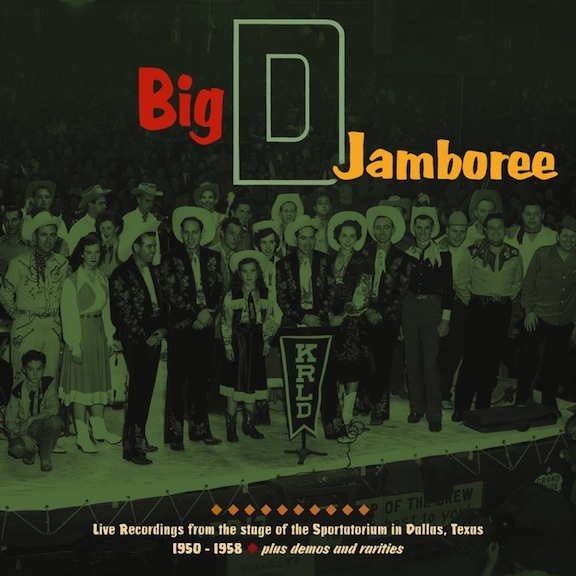 This is truly amazing. If you're interested in the roots of rock and roll and you also love country and rockabilly, this will blow your mind.
I already had about four CDs that compiled recordings from the Big D Jamboree, but leave it to Bear Family to put out every scrap they could find, along with an 168-page hardcover book.
I've only just scratched the surface of this stuff. The Charline Arthur and Gene Vincent performances are just as good as I remember them, but there's so much new material it will take me a while just to get through it, let alone absorb it!
Look here for more info.
---
The late 1960s found movie studios the world over trying to cash in on the success of the James Bond franchise. They were also desperate to make movies that appealed to teenagers. Sometimes they tried to kill two birds with one stone by producing an international secret agent thriller crossed with phony, Hollywood-style "psychedelic" happenings.
Hammerhead is one such example of this hybrid movie. It's score by David Whitaker is our 294th Soundtrack of the Week.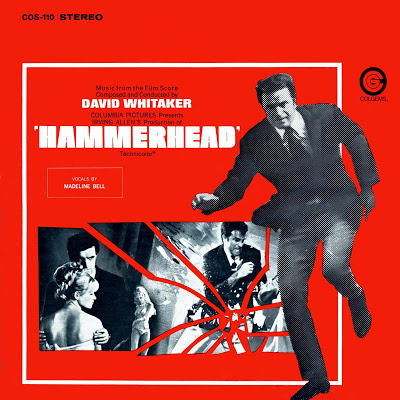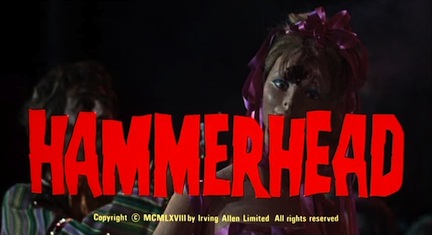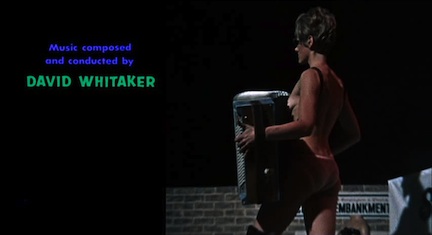 The music is quite good. It drove me to seek out and watch the movie, which is quite bad.
It starts promising, with a visually arresting "Chelsea Happening", also the name of the first track. Some eerie and dissonant writing for horns and strings moves into a strange mixture of grooves, part Morricone, part Vegas. It suggest the awkward mixture of tones in the movie. Tense and exciting or goofy and silly? Both? Bad call. But as music it works.
"Hammerhead's Apartment" is a lounge sort of tune, a relatively upbeat one, that shows some Mancini influence. This leads into the hard-driving "Garage Fight", with pounding percussion and very aggressive horn writing alternating with some soothing string passages and a jaunty theme for piccolo.
It's Vegas-style easy listening time again for "Hood Arrives in Portugal. Once again the arrangement and lyricism recalls Mancini. Mancini again as well as Lalo Schifrin and John Barry come to mind for the next track, "Hood Explodes the Yacht 'Triton'". It's an urgently swinging piece for the first three minutes or so before it settles down into what sounds like a space age bachelor pad spaghetti western type thing, as if Dean Martin played the part of Cheyenne in Once Upon a Time in the West.
"Cliff Climb and Approach to Villa" is a great action jazz cue, with notable use of piano, bongos and timpani. "Villa Fight" takes the same kind of concept up a notch, with some Elmer Bernstein-like blaring horns and subtle use of walking electric guitar.
No James Bond knock-off is complete without a title song and that's what comes next. The lyrics are by John Worsley and the Shirley Bassey-like vocals come from Madeline Bell. "The coolest calm is Hammerhead / Sweet words of charm is Hammerhead / Smooth and gentle his smile / And she who lingers a while / Will taste the touch of his lips at night / He will bite you!" The arrangement has some John Barryish touches and some nice organ comping.
"Sir Richard Departs" opens with some acoustic guitar playing, to which flutes, percussion and various other instruments are added, creating several different moods. The pattern repeats itself. It's a nice piece.
A bizarre Vegas-style samba (or something) is the best description I can come up with for "The Hearse Chase". Again the organ comping adds great texture.
"Arrival of Delegates" is the best dramatic underscore on the record, reminiscent of both Barry's Bond music and Laurie Johnson's Avengers scores, particularly in the use of flutes.
It's more or less that Vegas sound again for "Belem and Motor Cycle Sequence", but it also has an urgency and a triumphant sound to it, as well as some pleasantly Mancini-like passages.
Lastly there's the "Hammerhead Concerto" featuring pianist Martin Goldstein. It does a nice job of bringing some of the themes into a piano concerto context as well as coming up with some new ideas.
All in all a late-'60s spy movie soundtrack that's better than most, even though the movie isn't!
---
Great 2013 CD releases, re-issue category, part two: Ace Records new disc of Long-Lost Honkers and Twangers.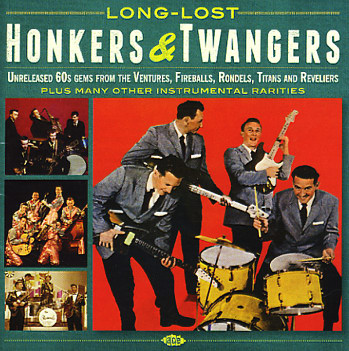 The main event here is the unreleased stuff by The Ventures, including an early demo version of "Walk Don't Run". It's more syncopated than the release that charted. It's incredible that it's taken so long to find its way onto a commercial recording!
Ventures fans will be fascinated to hear a few other unreleased rough home demo recordings, such as "Run Don't Walk". '
Also of note is "Car Hop" by The Exports, which manages to tag Link Wray, The Ventures and The Sandals (and probably other bands) all in one tune.
Another interesting tune is the instrumental rock version of the Scottish folk song "Loch Lomond", done here as "Loch Lomond Rock" complete with bagpipes. One interesting fact about The Ramrods is that their drummer was a woman, Clair Litke, who also sang and wrote songs. She first recorded as a drumer and vocalist in 1958. According to the liner notes, "We confidently assert that she was not only the first female rock drummer, but also that this was the debut of bagpipes in a rock context"!
Overall what you have here are driving instrumentals with dynamic guitar playing. Fans of the genre will be delighted by this CD.
---
Here's yet another release to add to the long list of great CDs that came out in 2013: Bear Family's collection of Margie Singleton recordings, titled Pledging My Love and part of their Juke Box Pearls series.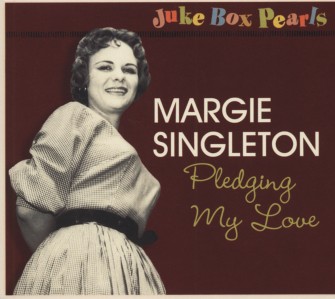 Who is Margie Singleton? It's not your fault if you don't know. According to the liner notes, "Half a century later, Margie's affecting singing and songwriting has [sic] been all but forgotten. In 'Finding Her Voice: Women In Country Music,' the definitive reference work on female contributions to country fom the pre-commercial age to the present century, she appears but once, and even then she's mentioned simply as one of [George] Jones's early singing partners. The 'Encyclopedia Of Country Music' doesn't contain so much as a brief entry on her. And this isn't strictly a case of selective historical memory. Even in her heyday, her musical abilities and sensibilities were unjustly underappreciated".
It's our loss, because these recordings are amazingly good. Fans of Patsy Cline, Johnny Cash, Wanda Jackson, Lesley Gore and Roy Orbison will be very happy with this CD. For me the hook was Singleton's vocal version of the classic instrumental "Telstar", here recreated with lyrics and strings as "Magic Star".
"Her Image Keeps Getting in the Way" is similar to the classic "Stand By Me" and the lyrics for "I Don't Have To Look Pretty (To Stay Home and Cry)" delighted the erudite and discerning singer/songwriter Alice Bierhorst the first time this record was played in our house.
Also of note is Singleton's wonderful interpretation of Leroy Van Dyke's great song "Walk On By" (Apparently she sang background vocals on the original.)
Margie Singleton has a beautiful voice. The songs and the arrangements are similar to other classics of the era. You might have thought that Bear Family would have run out of great stuff to release by now but that is happily not the case!
---
L'Apocalypse des animaux by Vangelis is the 293rd Soundtrack of the Week.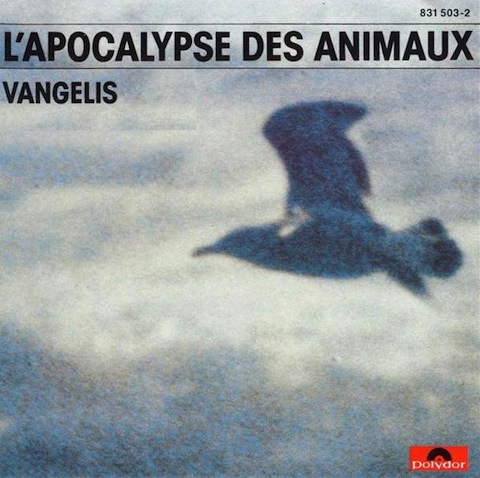 If you only know Vangelis because of the theme from Chariots of Fire, then this beautiful, gentle and lyrical work may take you by surprise.
The main title theme has steel drum-like sounds creating a killer groove, which leads into some lush synth textures.
This is followed by the heart-breakingly lovely "La petite fille de la mer", a delicate and gorgeous piece of music that makes you feel like you're inside a music box.
"Le single bleu" is a spacious and calm track, like a sonic reflecting pool, performed only by electric piano and trumpet.
A gentle sort of sorrow is the main feeling of "La mort du loup", with some very restrained guitar and synth accompaniment for an electric piano melody.
Electric piano and drums and some other keyboard instrument pick up the pace a bit with the jazzy and dramatic but somewhat childlike "L'ours musicien".
"Creation du monde" is a long (more than ten minutes) piece with sedately movie blocks of sound on synthesizers gradually shifting from one to another as smoothly as clouds.
Finally there's the resolute "La mer recommenée", which is mostly synth textures with some percussion support at the end. It somehow conveys the impression of dreaminess and solidity at the same time.
This record is really great, one of my favorites. If you're in the right kind of mood, it's devastating.
---
Donald Westlake wrote a series of novels about a professional thief named Parker. Westlake used the name Richard Stark for these books and for a spin-off series about another professional thief named Grofield, who often works with Parker. (There's also at least one "Richard Stark" short story that has nothing to do with Parker or Grofield or heists.)
The definitive series of Parker novels were written in the 1960s and early '70s. Westlake revived the character in the '90s for another series of novels but too much time had passed. Parker after his twenty year absence was more greatly reduced than Sherlock Holmes after Reichenback Falls. I wasn't pleased with the new Parker books.
That's one stumbling block for Parker fans. The other is the film adaptations. The first one, Point Blank, is an excellent movie. It follows the book pretty closely but strikes me as more of a ghost story than a crime film, with Parker ("Walker" in the movie) as a vengeful spirit. Lee Marvin in the lead is great, though he is too lithe to be Parker, who is invariably described as large and hulking.
The other Parker movies usually miss the boat entirely. I haven't been able to bring myself even to watch Payback or Parker. Over the years, however, there was one film that seemed promising, a 1967 French adaptation of The Score, in which Parker and his crew rob an entire town.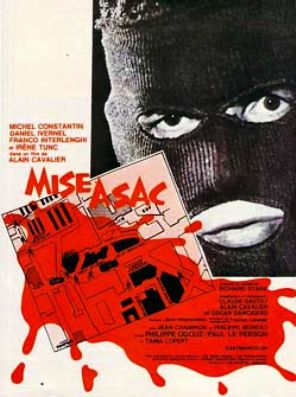 I searched for this movie for years and got no closer than a press kit that I bought on eBay (and now can't find). A good friend of mine alerted me that Mise a sac (Pillaged) was playing at MoMA last weekend and I put it on the calendar with extreme prejudice.
I was very excited to see it. It did not live up to expectations. It followed the book closely but departed from it in ways that decreased suspense and softened up the toughness. Even worse is how it makes the plot much more conventional than it is in the book.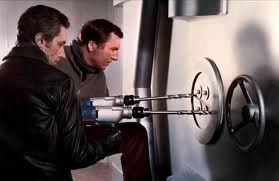 Parker is "Georges" this time and played by Michel Constantin, who is suitably not what I would call handsome. But once again the actor doesn't have the right physique for the role (much as Johnny Depp just wasn't tall enough to be Hunter S. Thompson, despite his fine performance in Fear and Loathing in Las Vegas).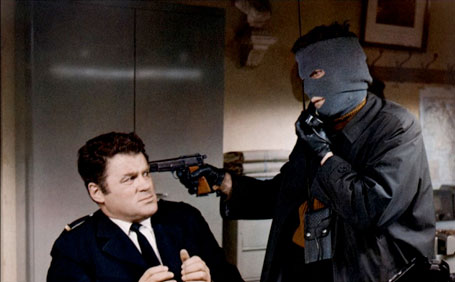 The movie appears to have been made on a low budget. It's indifferently photographed and has very little in the way of a score. I remember some solo keyboard playing at the beginning and the end. Using a lack of music or sound in heist movies has paid off in films like Rififi and Le Cercle rouge but in Mise a sac it felt lazy or cheap more than an artistic choice.
Oh, well. But now I know!
---
Who was Glenn Ford? I always call him Gloomy Glenn Ford since, with the exception of the classic 3:10 to Yuma (which should never have been re-made), he seems always to play a saturnine sort of character.
The Big Heat, The Courtship of Eddie's Father, Plunder of the Sun, Gilda—he never has a happy or light-hearted role. (His desperado in 3:10 to Yuma isn't happy or light-hearted either, though he does seem to be enjoying himself a lot more than the usual Glenn Ford character.)
And so I turned to this biography of the actor, Glenn Ford: A Life, written by the subject's son, Peter Ford, the only child of Glenn Ford and the great dancer Eleanor Powell.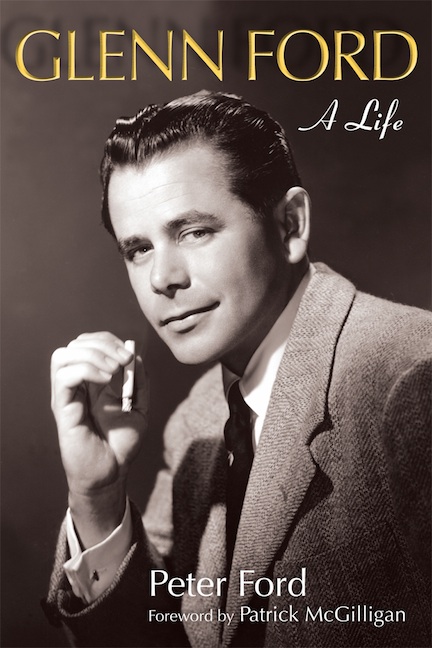 The author traces his father's birth and upbringing in Canada to Glenn's move to California and struggle to become an actor. Glenn Ford became a huge star in the middle of the century, even though he not, I think, as well remembered as many of his peers.
Peter Ford's own story is runs through the book, for the personal connection he has with his subject, of course, but also because of their professional association. Glenn was a distant father during Peter's childhood, often literally as well as emotionally, but Glenn frequently got the adult Peter gigs as an actor or dialogue director on films Glenn was doing.
As a child, however, Peter got very little from his dad.
To commemorate my fifth birthday my parents took me to Beverly Ponyland, a small but well-known local amusement park that boasted horse rides around an enclosed ring. These sorts of family occasions were not spontaneous but arranged photo opportunities to create publicity for the various movie magazines of the time. Often, a press crew from Photoplay, Movie Stars Parade, Modern Screen, or some other fan magazine would come by our home, and we would gather together, make statements to the reporters about how much fun it was to be the Ford family, then pose by the swimming pool or other places in the yard, happily smiling as the photogs snapped our pictures. As soon as the press people departed, we'd return to our real lives. As a youngster I never had the pleasure of being with either of my parents on a celebratory occasion without it being documented by the press.
Most weekends at home were spent either doing chores to "toughen me up" per Dad's instructions or photo layouts for photographers and film crews; I had little time to be with friends or to see a movie. Dad and I had graced the cover of Movie Stars Parade in January 1949, and now I smile to look at it, because I'm holding a fishing rod while seated next to him. I actually never did go fishing with my father until I was twenty-three—there were no camping trips, no sitting by the campfire, nor any other ordinary father-son bonding adventures. Once again, for my fifth birthday, we were back in Movie Stars Parade (the May issue) in an article titled "Spree for Two." It was a sweet story about a father and son having the time of their lives, documented by thirteen photos of the happy day—no friends or birthday cake, but I guess it must have been swell.
The picture that emerges of Glenn Ford is of a hard-working and talented actor who was a consummate professional and very generous to his friends and co-workers. At home he seems to be a little boy, unruly and aggressive when he's not the center of attention or the first priority in everybody's lives. In his later years, as he works less and finds himself alone more, this tendency leads to some very bad choices and leaves him vulnerable to manipulative and parasitic oportunists.
The book itself is a breeze to read, well written and an enjoyable look into the world of Hollywood royalty with its attendant excesses, excitements and memorable anecdotes.
---
The 292nd Soundtrack of the Week is a Jean-Pierre Melville double feature, a CD that pairs Georges Delerue's music for L'aine des ferchaux (Magnet of Doom) with Michel Colombier's score for Un flic (A Cop).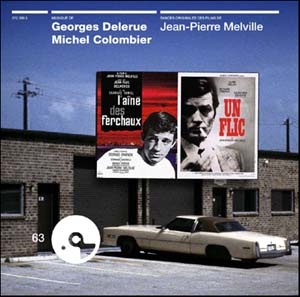 L'aine des ferchaux is by my reckoning the least of Melville's films. Perhaps shooting in the United States was unexpectedly difficult and too disruptive of his work habits. Delerue's score is excellent, however, beginning with the wide open spaces of "Les Appalaches", which signals the novel location of the story.
Jean-Paul Belmondo is a boxer, and the excitement and danger of his profession are clearly heard in "Sur le ring (générique)".
"Maudet et Ferchaux" is a classic Delerue piece, with its swirling motif anchoring some beautiful lyrical writing. (There's a touch of John Barry in here, it seems to me.)
"Vers le sud" is some classic Americana with harmonica and banjo and the Western atmospher of "Les Appalaches" is heard again in "A la Dimitri".
Action and danger return in the brash and jazzy "Manhattan deux hommes". "La route" introduces some tension before returning to the beautiful theme heard earlier in "Maudet et Ferchaux".
"Slow du désespoir" is an achingly lonely, bluesy piece for small jazz ensemble featuring the trumpet.
The "Maudet et Ferchaux" theme returns again in "Lina" this time with an accordion feature. Dramatic underscore and harmonica Americana make up "L'affrontement" while "Un bar à la Nouvelle-Orleans" is a surprisingly gentle and swinging piece with lovely piano playing that echoes the "Maudet et Ferchaux" theme again.
That theme returns again in "Poursuite américaine" but not before some dynamic and menacing action music.
Finally there's a return to the Americana harmonica for "Fin de route/Arrivée à la Nouvelle-Orleans".
Un Flic begins with a moody and beautiful song, "C'est ainsi que les choses arrivent", sung by Isabelle Aubret. It perfectly fits the sepulchral and funereal atmosphere of the movie, Melville's last. (You can actually see the whole film on YouTube!) .
This is followed by "Pré hold-up", which begins as a jazzy sax/bass/drums trio before moving back into melancholy atmosphere for small ensemble. The next track, "Chausse d/antin", does the same thing in reverse.
"Quatre hommes en voiture" is a slow, late-night blues that's subverted by timpani and electric piano in the middle. Piano and percussion dominate the suspenseful "Pour un autre terrain vague".
Your foot should be tapping through "Night-club, trois heures du matin", which has bass and drums backing up electric and acoustic piano in a deep, funky, mid-tempo blues/jazz number.
After all that "Un monsieur distingué" sounds like it should be from a different movie. It's a relatively romantic-sounding cue with piano and oboe as the lead voices, supported by strings.
"Chez Luce" introduces some dissonance, tension and menace into the picture here, but the danger is disarmed by the next track, "Edouard au piano", a solo piano piece that is gentle and the most optimistic piece of music here.
Sadness returns with a vengeance for the final track, the weepy, strings-driven "L'ambiguïté et dérision".
---
Here's another great new book you'll find in comic book stores, Palookaville #21 by Seth.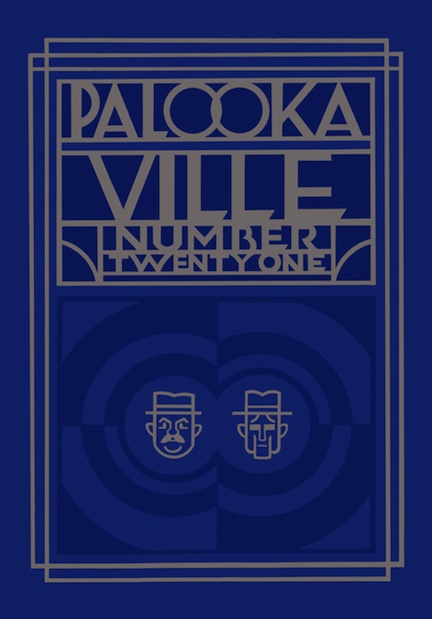 It has three parts. The first part continues the "Clyde Fans" story that Seth has been telling for about fifteen years. He's been dishing it out in small, sporadic doses. When it wraps up I'll have to sit down and read the entire story to get a handle on it.
The third part is an autobiographical section about Seth's childhood. It's very well done and great reading as well as looking. Seth's art really blooms here.
My favorite part is the middle section, in which Seth presents selections from a Rubbert Stamp Diary he's been keeping.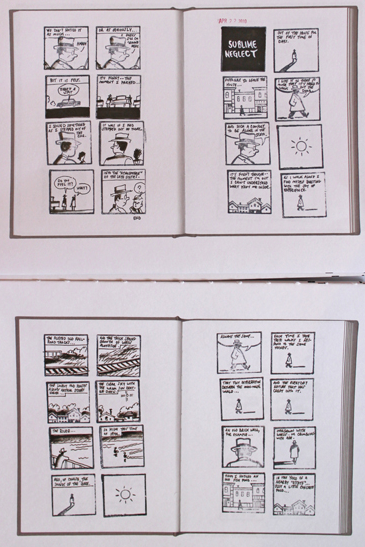 The problem with keeping a comics or cartoon diary is time. Drawing takes a lot of time. Seth found an ingenious solution to this problem by making rubber stamps for panels that he would draw a lot. One stamp is just an empty panel in which he can draw whatever he wants. Other stamps will have him walking or standing, viewed from various angles and distances. He also has some stamps of backgrounds or scenery. To these stamped images he adds whatever additional drawing he wants.
This was an experiment that succeeded brilliantly. I would love to see other comics creators follow his example.
---
This new book by Peter Bagge, a biography of Margaret Sanger done in Bagge's signature comics style, is excellent.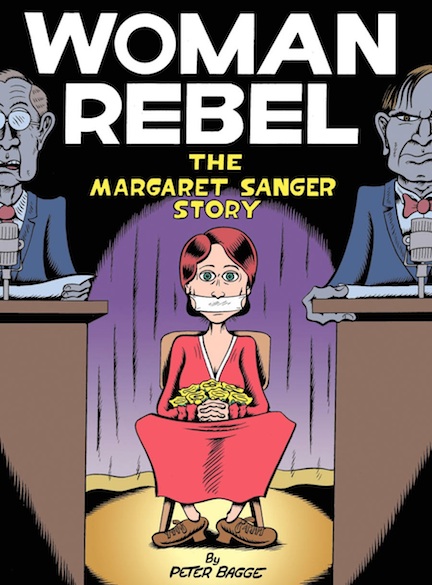 I didn't know much about Margaret Sanger before reading this. Bagge wanted to do it partly as a corrective to endless attempts to smear Sanger. Since her name is linked to the creation of Planned Parenthood and thus to abortion—which she herself opposed—anti-abortion activists tirelessly vandalize her Wikipedia entry.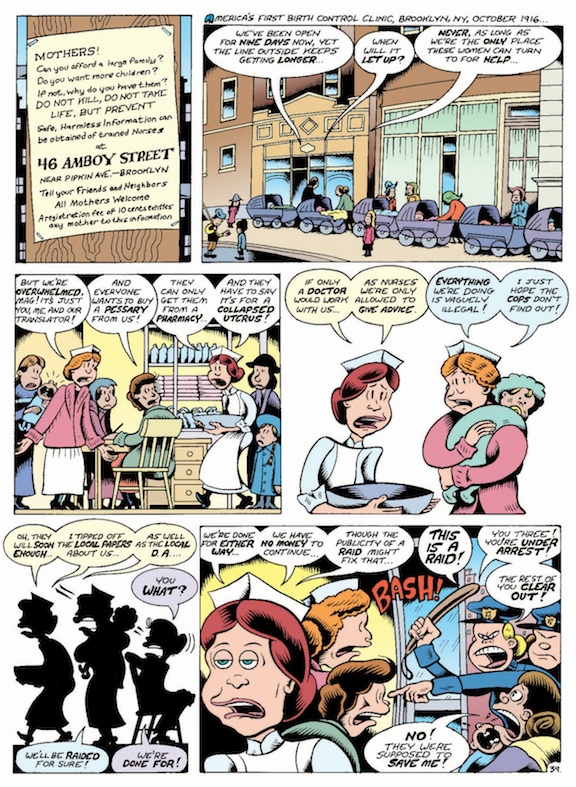 Sanger had a very eventful life and it zips by in a series of short scenes and vignettes. Generally two pages serve to present an episode or notable phase of her life. At the end of the book are an Afterword by Bagge as well as annotations of the text.
---
The 291st Soundtrack of the Week is Henry Mancini's Condorman!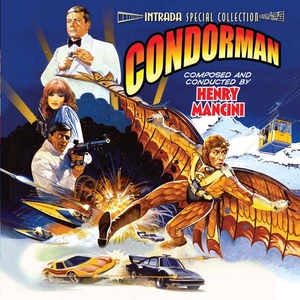 I desperately wanted to see this when it came out. I think I was nine years old. I never did see it and I would still like to!
I guess it's about a guy who can fly by flapping the wings of his Condorman costume. What I've seen on YouTube suggests that The Greatest American Hero and Armor of God 2: Operation Condor both borrowed from this movie.
It starts with heroic main title music for the opening credits sequence, which occasionally has a chorus belting out "Condorman"!
Other cues of note include "First Fight", which recalls the frantic chase music from the beginning of The Pink Panther, the quintessentially Mancini moods (romantic, intriguing, exotic) of "It Was Nothing", the piano tear-jerker with worldess chorus that is "Free Single Woman" and the rousing action/adventure scoring for "I'll Bring the Dip (Natalia's Rescue).
There are also some extras like source music for belly dancing, some insanely bright and cheery polka-type stuff, and the self-explanatory "Accordion Dance", "Russian Party Dance" and "Son of Russian Party Dance".
---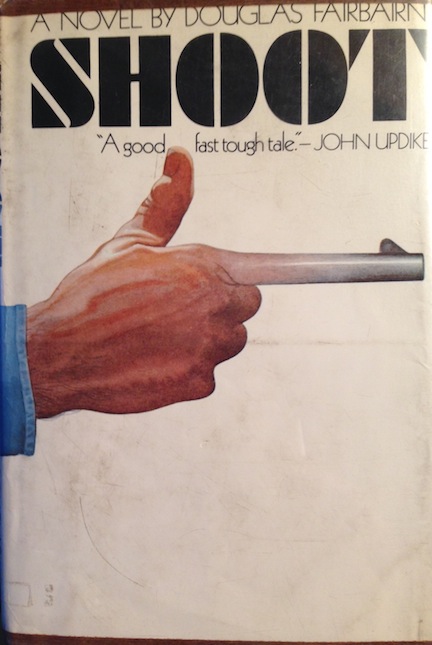 My friend James recommended this book to me. It's great.
It's as if Donald Westlake had written a Richard Stark stand-alone novel with a satirical edge, taking the Phil Ochs lyrics "I am a masculine American man / I kill, therefore I am" as a starting point.
The first line is great. Here it is along with the whole first paragraph.
This is what happened. Myself and four friends were hunting along the Sturrup River one weekend in the deer season. Around six o'clock on Sunday afternoon, just as we were starting to think about going back up to our lodge on Glass Hill and packing up and heading on home, we came to the riverbank at a point where the river is about fifty yards wide. When we got there we noticed that there was another party of hunters standing over on the opposite bank. There were either six or seven of them. They looked more or less the same as us—were dressed in camouflage the same as us and seemed to be about the same age as us. They didn't wave or anything when they saw us, so we didn't either. They just stood there looking across the river at us, and for a couple of minutes we just stood there looking back at them. Then, all of a sudden, without any warning, and I swear to God without the slightest provocation from us, one of them raised his rifle and fired at us, hitting Pete Rinaldi in the head. Pete fell down, clutching at his head, and at that point Zeke Springer, who was a superb marksman, raised his rifle and fired back once at them, hitting one of them in the face. We could see him throw his hands up to his face and spin around and fall down.
This escalates, as you might expect, but there are no further casualties on either side. The rest of the book is a build up to the next weekend, when these guys—all World War 2 veterans—go back, but in force, ready to resume this private war. In between there are brilliant portraits of the characters and their world, a dozen miniature dramas with dialogue that should appeal to admirers of George Higgins.
The structure of the book is simple but with just a couple of choice moves you might not expect. It's a very elegant, neat package for a story with a lot of messy and violent stuff in it.
---