2013 November 11 • Monday
The 292nd Soundtrack of the Week is a Jean-Pierre Melville double feature, a CD that pairs Georges Delerue's music for L'aine des ferchaux (Magnet of Doom) with Michel Colombier's score for Un flic (A Cop).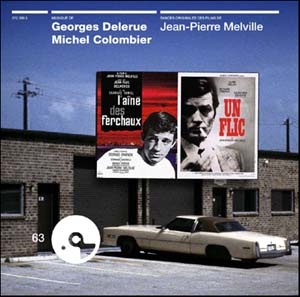 L'aine des ferchaux is by my reckoning the least of Melville's films. Perhaps shooting in the United States was unexpectedly difficult and too disruptive of his work habits. Delerue's score is excellent, however, beginning with the wide open spaces of "Les Appalaches", which signals the novel location of the story.
Jean-Paul Belmondo is a boxer, and the excitement and danger of his profession are clearly heard in "Sur le ring (générique)".
"Maudet et Ferchaux" is a classic Delerue piece, with its swirling motif anchoring some beautiful lyrical writing. (There's a touch of John Barry in here, it seems to me.)
"Vers le sud" is some classic Americana with harmonica and banjo and the Western atmospher of "Les Appalaches" is heard again in "A la Dimitri".
Action and danger return in the brash and jazzy "Manhattan deux hommes". "La route" introduces some tension before returning to the beautiful theme heard earlier in "Maudet et Ferchaux".
"Slow du désespoir" is an achingly lonely, bluesy piece for small jazz ensemble featuring the trumpet.
The "Maudet et Ferchaux" theme returns again in "Lina" this time with an accordion feature. Dramatic underscore and harmonica Americana make up "L'affrontement" while "Un bar à la Nouvelle-Orleans" is a surprisingly gentle and swinging piece with lovely piano playing that echoes the "Maudet et Ferchaux" theme again.
That theme returns again in "Poursuite américaine" but not before some dynamic and menacing action music.
Finally there's a return to the Americana harmonica for "Fin de route/Arrivée à la Nouvelle-Orleans".
Un Flic begins with a moody and beautiful song, "C'est ainsi que les choses arrivent", sung by Isabelle Aubret. It perfectly fits the sepulchral and funereal atmosphere of the movie, Melville's last. (You can actually see the whole film on YouTube!) .
This is followed by "Pré hold-up", which begins as a jazzy sax/bass/drums trio before moving back into melancholy atmosphere for small ensemble. The next track, "Chausse d/antin", does the same thing in reverse.
"Quatre hommes en voiture" is a slow, late-night blues that's subverted by timpani and electric piano in the middle. Piano and percussion dominate the suspenseful "Pour un autre terrain vague".
Your foot should be tapping through "Night-club, trois heures du matin", which has bass and drums backing up electric and acoustic piano in a deep, funky, mid-tempo blues/jazz number.
After all that "Un monsieur distingué" sounds like it should be from a different movie. It's a relatively romantic-sounding cue with piano and oboe as the lead voices, supported by strings.
"Chez Luce" introduces some dissonance, tension and menace into the picture here, but the danger is disarmed by the next track, "Edouard au piano", a solo piano piece that is gentle and the most optimistic piece of music here.
Sadness returns with a vengeance for the final track, the weepy, strings-driven "L'ambiguïté et dérision".
---