2013 November 20 • Wednesday
Here's yet another release to add to the long list of great CDs that came out in 2013: Bear Family's collection of Margie Singleton recordings, titled Pledging My Love and part of their Juke Box Pearls series.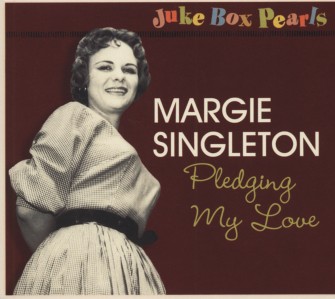 Who is Margie Singleton? It's not your fault if you don't know. According to the liner notes, "Half a century later, Margie's affecting singing and songwriting has [sic] been all but forgotten. In 'Finding Her Voice: Women In Country Music,' the definitive reference work on female contributions to country fom the pre-commercial age to the present century, she appears but once, and even then she's mentioned simply as one of [George] Jones's early singing partners. The 'Encyclopedia Of Country Music' doesn't contain so much as a brief entry on her. And this isn't strictly a case of selective historical memory. Even in her heyday, her musical abilities and sensibilities were unjustly underappreciated".
It's our loss, because these recordings are amazingly good. Fans of Patsy Cline, Johnny Cash, Wanda Jackson, Lesley Gore and Roy Orbison will be very happy with this CD. For me the hook was Singleton's vocal version of the classic instrumental "Telstar", here recreated with lyrics and strings as "Magic Star".
"Her Image Keeps Getting in the Way" is similar to the classic "Stand By Me" and the lyrics for "I Don't Have To Look Pretty (To Stay Home and Cry)" delighted the erudite and discerning singer/songwriter Alice Bierhorst the first time this record was played in our house.
Also of note is Singleton's wonderful interpretation of Leroy Van Dyke's great song "Walk On By" (Apparently she sang background vocals on the original.)
Margie Singleton has a beautiful voice. The songs and the arrangements are similar to other classics of the era. You might have thought that Bear Family would have run out of great stuff to release by now but that is happily not the case!
---