2013 November 22 • Friday
Great 2013 CD releases, re-issue category, part two: Ace Records new disc of Long-Lost Honkers and Twangers.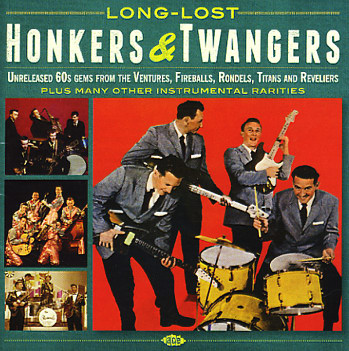 The main event here is the unreleased stuff by The Ventures, including an early demo version of "Walk Don't Run". It's more syncopated than the release that charted. It's incredible that it's taken so long to find its way onto a commercial recording!
Ventures fans will be fascinated to hear a few other unreleased rough home demo recordings, such as "Run Don't Walk". '
Also of note is "Car Hop" by The Exports, which manages to tag Link Wray, The Ventures and The Sandals (and probably other bands) all in one tune.
Another interesting tune is the instrumental rock version of the Scottish folk song "Loch Lomond", done here as "Loch Lomond Rock" complete with bagpipes. One interesting fact about The Ramrods is that their drummer was a woman, Clair Litke, who also sang and wrote songs. She first recorded as a drumer and vocalist in 1958. According to the liner notes, "We confidently assert that she was not only the first female rock drummer, but also that this was the debut of bagpipes in a rock context"!
Overall what you have here are driving instrumentals with dynamic guitar playing. Fans of the genre will be delighted by this CD.
---