Rob Price
Gutbrain Records
rob + gutbrain.com = email
---
Your required reading for Autumn 2013 is this Melvins Tour Diary, in which they record their Guinness Record-setting tour of 50 states and the District of Columbia in 51 days (a.k.a. 51 states in 51 days).
I'll be attending their New York show next week! This is the Freak Puke line-up, with Trevor Dunn on upright bass. I loved that record and I can't wait to see them live!
---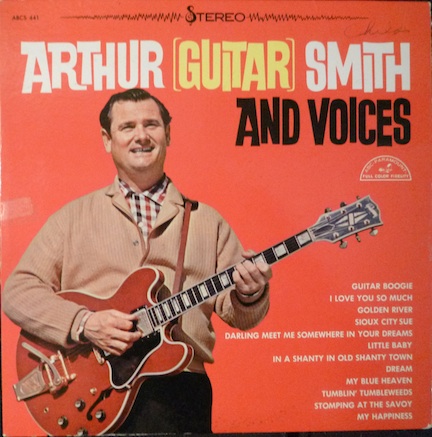 That's another record I got in Seattle, but I didn't buy it. It was a birthday present from my good friend and guitar-playing colleague Lucio Menegon!
He noted that Smith has a guitar very similar to my own Gibson. His looks nicer, though, and I recently found out that my guitar has something of a checkered past: forged serial number, intentionally defaced label, probably a replaced neck at some point. Very interesting! (This info comes courtesy of Peter, the guitar expert at Retrofret. I asked him to use his forensic eye on my ES-335 and he was kind of enough to do so.)
But Arthur (Guitar) Smith is very cool. I wish I could get my guitars to stay in tune as well as his (and Hank Marvin's, for that matter) does. The best tunes on the record are Smith's original, especially "Darling Meet Me Somewhere in Your Dreams". That's a curious title. Usually you would meet your darling in your own dreams, I think, and the addition of "somewhere" gives it a quality of extra desperation.
Thanks, Lucio!
---
Masaru Sato's score for The H-Man is the 236th Soundtrack of the Week.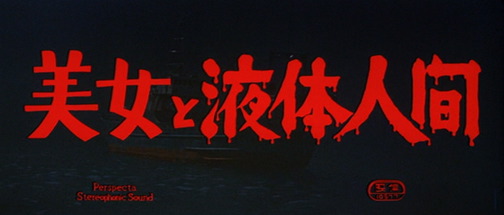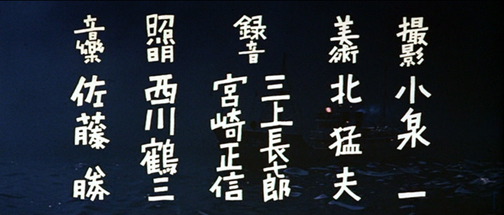 This is part of the recent three-CD, three-score release in the Toho sci-fi complete soundtrack series. (The other two are The Secret of Telegian and The Human Vapor.)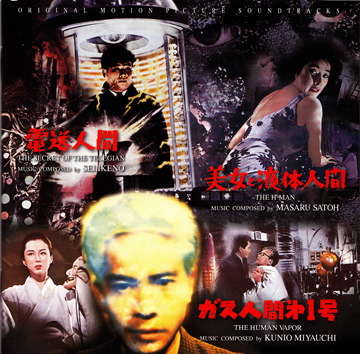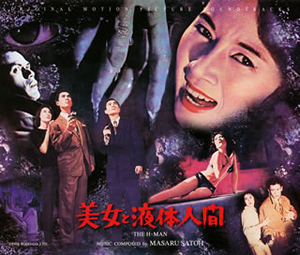 The main title is an ominous and suspenseful piece that begins with urgent horn blasts before going into a section with strings playing over a weird, high-pitched drone. Then it gets driving and somewhat military-sounding.
The next cue is the first of several to make use of the vibraslap.
The fourth track is classic, groovy Sato. Jazzy with wood blocks but also driving and heavily percussive.
After that comes the vocal number for the nightclub singer. It's a slinky, bluesy love song in English. " When the lights are low / and the muted violins / are playing soft and slow / the magic begins."
This is followed by some rowdier nightclub music. The singer returns for another song, heard on the tenth track. "So deep is my love / my love is like the sea / ever changing, ever free / yet in captivity."
There's more nightclub music, including a fast jam for jazz combo and another piece that features accordion. The rest of the music tends toward short cues of tension, suspense, romance and excitement. Some of them are perhaps alternate takes or unused pieces.
---
Whenever there's a big election coming up, I feel it's my duty to get informed. So this year I read Brian Garfield's Line of Succession.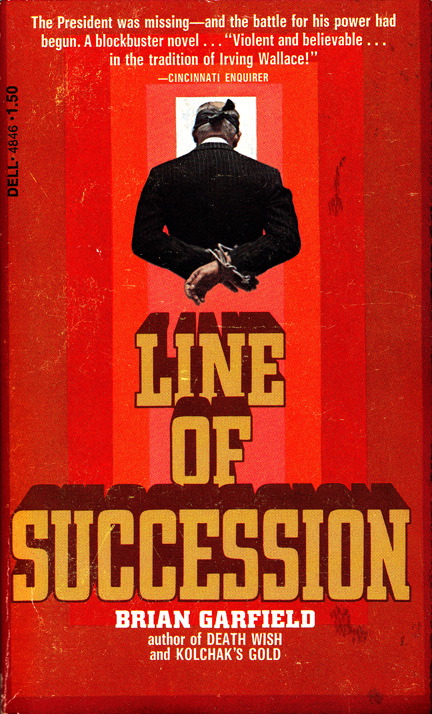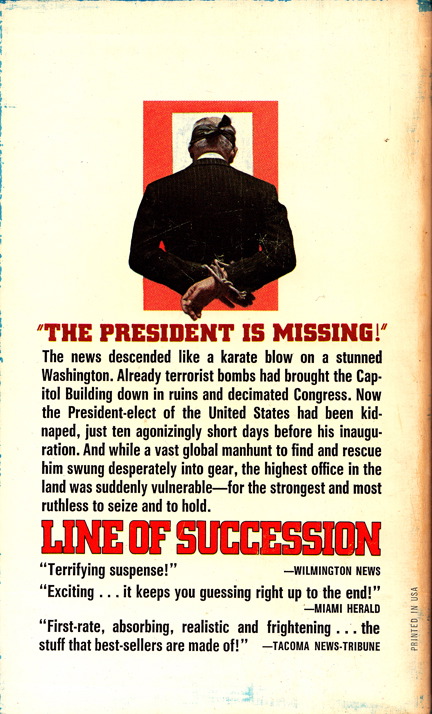 It takes a little while to get to the first line. The book begins with a quote.

"The terms of the President and Vice-President shall end at noon on the 20th day of January, and the terms of the Senators and Representatives at noon on the 3rd day of January...; and the terms of their successors shall then begin.

"The Congress shall assemble at least once in every year, and such meeting shall begin at noon on the 3rd day of January...."

Article XX
Constitution of the United States
Then there's "BOOK ONE: FIVE BOMBS".
The first chapter is headed SUNDAY, JANUARY 2 and begins "10:45 P.M. EST". After that you get the first actual sentence of the novel: "The girl's body was found by a man in a raincoat".
Since the book is about devastating acts of terrorism in the United States, I was curious to see how the author would make the government respond. In a phone conversation with President-elect Clifford Fairlie, sitting President Howard Brewster makes clear how he intends to respond to the bombing of Congress. It's very important to Brewster that Fairlie agrees to "step out and back me up. We need to have a pretty good show of solidarity on this thing".
"We've just had an emergency meeting of the National Security Council together with various interested parties—the Speaker, some others. I'm declaring a state of national emergency, Cliff."

After a moment Fairlie said, "I thought you'd captured the bombers. ... You're declaring a national emergency mainly to hunt down a handful of co-conspirators?"

"Well, we don't know how many they are, but that's beside the point, Cliff. The thing is, we've been rocked by this. Washington's out of kilter. Now God knows how many other groups of vicious animals we've got out there in the woodwork—suppose they decide to jump on the bandwagon and whip up this big revolution they're always talking about? ... We've got to forestall that, Cliff, we've got to demonstrate that this government's still vigorous enough to react speedily and deficient. We've got to defuse the savages, we've got to show a little muscle."

"Mr. President," Fairlie said slowly, "I'm beginning to get the feeling you're talking about a wholesale nationwide roundup of suspicious characters. Is that what you mean when you talk about a national emergency? Emergency powers? ... I think a roundup at this point would have a terrible effect on the country. It could only be interpreted as the overreaction of a government in panic."

"Not at all. It would demonstrate our self-respect. To ourselves and to the rest of the world. That's damned important right now. How can any society expect to hold together without self-respect? It's a matter of showing muscle, Cliff, and that's something we've been too reluctant to do."
They decide not to do this. And they also decide to hunt the leader, the man who pulled the strings, but with due process. "I don't want him butchered. We've got to get the case packaged airtight and nail the son of a bitch and pin him up against it by the numbers. Arrest, trial, conviction, execution ... We can't ignore our own rules." Ah, fiction!
The President-elect is then kidnapped and held hostage for the release of the capture bombers of Congress. President Brewster wants to refuse to negotiate and to proceed with his roundup and arrest everybody who's suspected of maybe thinking bad thoughts about the government. This time he asks the Vice-President-elect. Dexter Ethridge, for support.
Ethridge sat stubbornly upright, his silence disagreeing. He squeezed his eyes with thumb and forefinger and when he opened them it seemed to take him a long time to bring them into focus. "I think we have to face the fact that whatever we do isn't going to please everybody. The theoretical arguments pretty well cancel each other out—look, I can give you a strong case against taking a tough stand. You can't simply refuse to turn the seven bombers loose, you'll have to follow up with a police operation against all the radical cells. You'll end up with a permanently enlarged security operation, and that means a permanent curtailment of citizens' rights. It's the only way to keep the lid on, and it seems to me that's exactly what the militants want of us—a tough repression that will feed their anti-Establishment arguments."
[…]
"Dex, are you going to make a public fight of this? A public break with me?"
Ethridge didn't answer directly. "Mr. President, the most important thing—more important than this entire tragedy—is to establish a long-term system of politics that will rebuild the self-confidence and security of the people. If the society hasn't got enormous discontents to fuel the militant extremists, then the whole terrorist movement will wither away for lack of nourishment."
Another point of interest is that Garfield slips in the names of some friends and colleagues during the procedure of electing the Speaker of the House. "There being no further nominations, the Clerk will appoint tellers. The Clerk appoints the gentleman from Ohio, Mr. Block, the gentleman from Illinois, Mr. Westlake, the gentlewoman from California, Mrs. Ludlum, and the gentlewoman from Vermont, Mrs. Morrison." I recognized Lawrence Block, Donald Westlake and Robert Ludlum but what would Toni Morrison be doing there? A little research revealed that the Morrison mentioned must be Henry Morrison, who was Robert Ludlum's agent. Garfield and these other people used to play poker together.
Later the "resident White House intellectual" remarks that one of the villains is "Balkan and obscure. That's all rather Eric Ambler".
---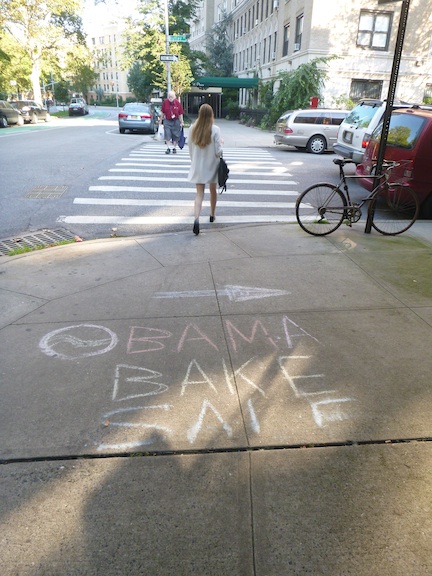 ---
The 235th Soundtrack of the Week is Sei Ikeno's music for The Secret of Telegian.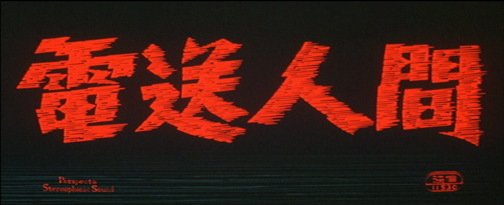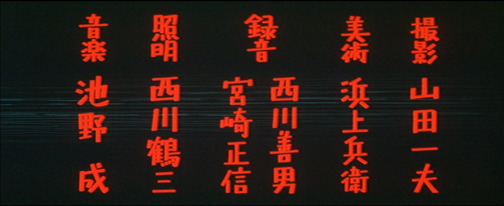 This is a colorful and enjoyable but sinister Toho sci-fi movie that's somewhat similar to the "Positive-Negative Man" episode of The Avengers. It's one of three Toho sci-fi scores presented in a recent three-disc CD release. (The others are The H-Man and The Human Vapor.) Like all the releases in this series, it's beautifully packaged and appears to be an exhaustively complete collection of the music for the film.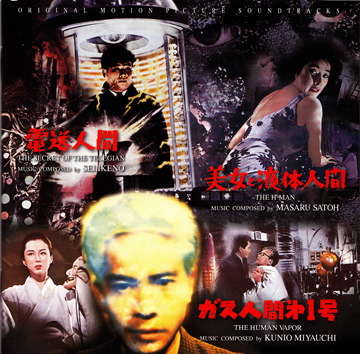 The main title cue is unsettling modern orchestral music with percussion crashing against powerful horns and keening stings. This is followed by three very short pieces that create a tense atmosphere.
The fifth track features electric guitar and has a moody, somewhat bluesy feel to it. Some moments are reminiscent of the more pensive parts of John Barry's Goldfinger score.
Then there's a short, bittersweet cue that features flute, harp and vibes. Tis is followed by a 10-second blast of menace.
There are usually nightclub scenes in these movies and The Secret of Telegian is no exception. The music for this scene is groovy exotica that starts out like Perez Prado on tranquilizers but picks up the tempo after a minute or so.
Then there's a solo electric guitar piece that's in a stylistic neutral zone: some classical, some jazz, some blues, some pop.
After this comes a cue that would have fit right into The Prisoner. It starts out as perky marching band music before going into New Orleans swing.
Most of the rest of the tracks revisit the main title music. Some appear to be alternate takes. A jazz combo with a ghostly quality is heard on "Radio Music (M23)".
---
Here's another record I got in Seattle. I found this one at Jive Time.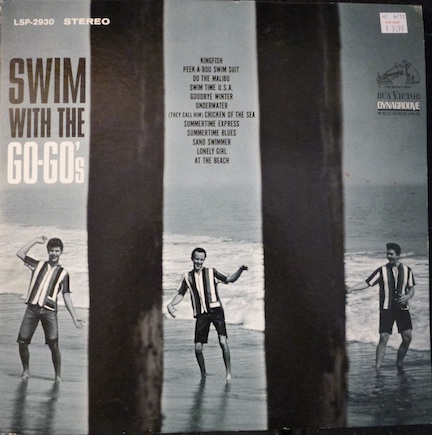 Who knew there was another band called The Go-Go's? The liner notes tell us that they are "three talented young men (all under 21)". When Alice saw the cover she remarked that I have a shirt very similar to that one. It's true, I do. I bought it at the Stockholm airport and I wore it at the Steelton, PA, gig with Chris Cawthray last weekend.
Their stuff is pretty similar to the vocal numbers cut by The Astronauts, and one of the things that attracted me to the record was that Competition Coupe and Surfin' with the Astronauts were both mentioned on the back cover as "Other RCA Victor albums you will enjoy".
There's not much to say about it. The emphasis is on the vocals, there's not much in the way of guitar playing—though there is the occasional solo—and everything is done competently. It's a bit too safe, I guess, and lacking in a strong identity of its own.
Some of the lyrics are pretty bad, such as in "At the Beach": "The girls are pretty / But they sure act dumb / If it weren't for the girls / We'd have a lot of fun / At the beach". (Give them credit for the subjunctive, though.)
---
This was the best record I bought in Seattle, Everybody's Surfin' by Ricky Vale and his Surfers. I picked it up at Golden Oldies, same place where I found the Rock, Pretty Baby soundtrack.
I almost didn't buy it since it looked like some kind of cheapo, fly by night rip off and the names of the tunes were not exactly inspiring. But it's great!
The guitars, apparently played by Mark Pastner and Benjie Lipman, have the right, reverby sound but the music is more lounge and exotica than surf, played by a small combo that features organ and saxophone. The organ, saxophone and guitar solos are all really good and the general feeling is late night and pleasantly blurry.
The first track on Side 1 is "Ghost Surfin' Parts 1 & 2", an aptly haunted-sounding tune in 3/4 or 6/8 or something.
This is followed by "Surfin' Surcotash Parts 1 & 2", which is like "Tequila" but more laid back, almost tranquilized. The best thing about this record is the band's thick sound, helped immeasurably by the organ and the atmospheric quality of the recording itself.
"Soul Full of Surfin' Parts 1 & 2" might be even more haunting and atmospheric that "Ghost Surfin'". It definitely has even more of a late night, too many drinks, broken-heart sort of feel. It's a slow, minimalist blues with a flute solo, of all things, and not much guitar on this one.
Side 2 kicks off with "White Cap Surfin'", another one that's a bit like "Tequila" and more uptempo than "Surfin' Surcotash". There's another flute solo on this one.
"Guitar Surfin' Parts 1 & 2" is a pretty standard boogie number, the weakest tune on the record though still not bad.
The last song, "Safari Harry Parts 1 & 2", finds the Ricky Vale band in territory that's somewhere in between Booker T and the MG's and early '60s Henry Mancini.
It's a cool record, worth it just for "Ghost Surfin'"!
---
Victor Young's music for Johnny Guitar—aptly described as a "haunting score" by Martin Scorsese—is the 234th Soundtrack of the Week.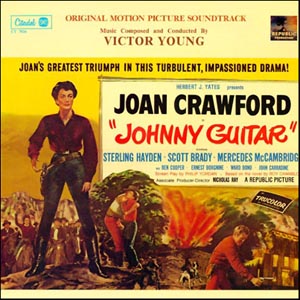 This is such a great movie, probably Nicholas Ray's best, maybe even Joan Crawford's best. Mercedes McCambridge and Sterling Harden are both also excellent.
I'm not sure what's up with the CD I have of the soundtrack. There are no track names and it sounds a little rough. This didn't interfere with my enjoyment of the music.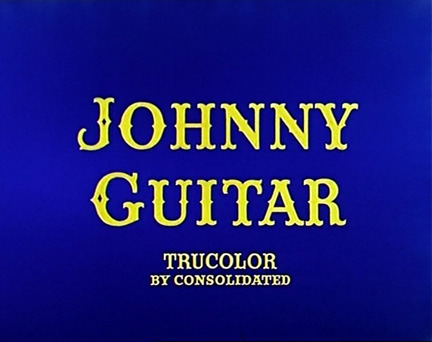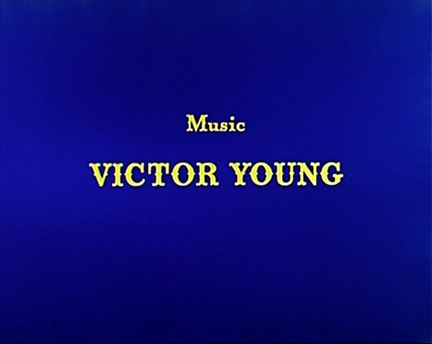 Young's "Johnny Guitar" theme dominates the soundtrack and is introduced in the first track, a dramatic orchestral piece. The second track features the theme as sung by the great Peggy Lee, who also wrote the words. "Play the guitar / Play it again / My Johnny / Maybe you're cold / But you're so warm / Inside / I was always a fool / For my Johnny / For the man they call / Johnny Guitar."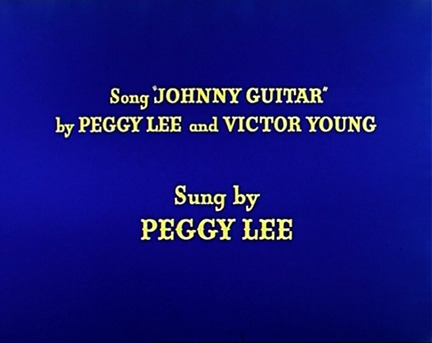 The third track begins with a big ominous sound that would be appropriate for the appearance of Godzilla. It touches on the "Johnny Guitar" melody and then has some powerful music for drama, suspense and action, relaxing at the end.
The fourth track is a sprightly solo guitar piece that Johnny plays for his rival The Dancin' Kid. Track five begins light and ends heavy. Track six is mostly moody and pensive with sold orchestral textures and the "Johnny Guitar" theme at the end, this time with the guitar playing the riff.
Stirring, uplifting music begins the seventh track, which ends on a threatening note. The next track continues directly, with a cello solo and more variations on the "Johnny Guitar" theme. Track nine is tender and lyrical.
Tension begins to build with track ten, which has strong string playing. The next track continues to build in intensity and ends with the "Johnny Guitar" theme.
After this comes more danger music coming down like a hammer in track twelve. The horns play a two-note figure that sounds like somebody crying "Johnny! Johnny!". There's some plaintive music from cello and guitar before another explosion of sounds for danger.
Track thirteen is for one of Joan Crawford's big scenes, as she sits at the piano in her saloon, playing the "Johnny Guitar" theme. After this come several explosive tracks for the violent climax of the movie.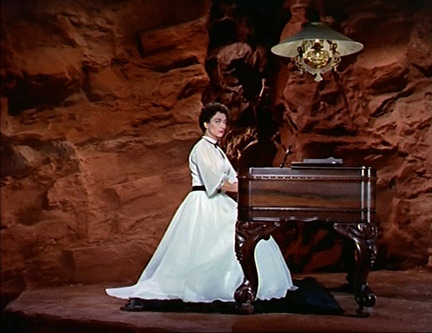 The record concludes with Peggy Lee reprising the song. "Whether you go / Whether you stay / I love you / What if you're cruel / You can be kind / I know / There was never a man / Like my Johnny / Like the one they call / Johnny Guitar."
---
You can add my name to the list of iPad fans. I received one for my birthday and made it indispensable right away by buying my first app, Eddie Campbell's Dapper John: In the Days of the Ace Rock 'n' Roll Club.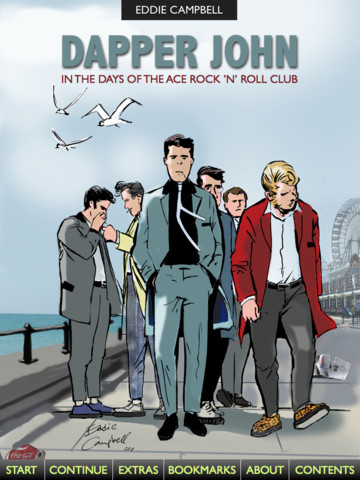 This is a reprint of material Campbell created in the late 1970s and published in the 1980s, initially as photocopied pamphlets. The stories themselves, inspired by the work of Damon Runyan, concern the behavior, attitudes and movements of a teddy-boy nostalgia scene in a seaside town.
The app is valuble not just for illuminating the formation of the concept of Alec, but also for supplementary material that maps Campbell's artistic and professional world as it was at that time. This adds detail and texture to the picture of the British comics/small press scene presented in Campbell's masterpiece, How To Be an Artist (a triumph not just of comics, or of autobiographical comics, but of literature and memoir).
I suppose this is technically an ebook, and the first such I've ever read. I don't expect to make a habit of it but I will admit that comics fare well on the iPad. I've seen people on the subway reading manga on their iPads and had to concede that it looked good. Dapper John is quite handsome—dapper, even—in this new gizmo.
---
Newsflash!
Alice's new record, All Shall Be Revealed, is here!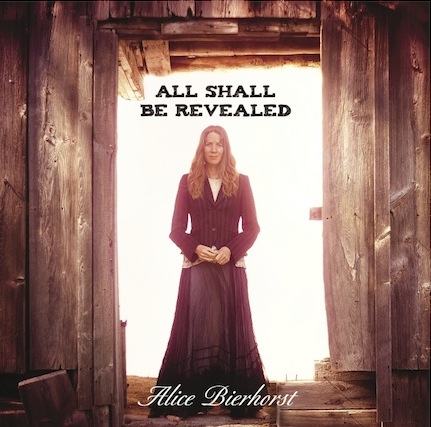 It's one of her best and some of the songs have quickly become all-time favorites of mine, such as "Who", "Bright at the End of the Day", "Golden Hours" and the title track. Visit her site and order a copy!
---
Seattle has a lot of good record stores. The 233rd Soundtrack of the Week is brought to you by Golden Oldies in the Wallingford neighborhood, conveniently located near Bottleworks! It's the music from Rock, Pretty Baby, which is mostly by Henry Mancini!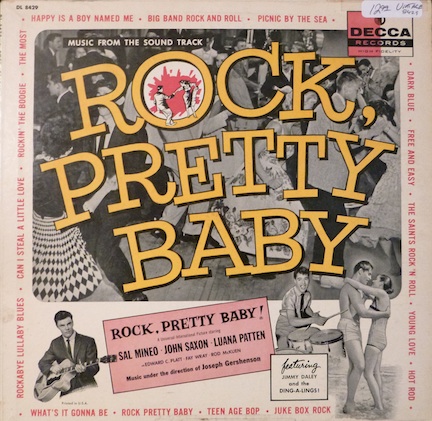 The first track is the title song, written by Sonny Burke and sung by Alan Copland, very much in the vein of "Rock Around the Clock".
After that comes "Dark Blue" by Henry Mancini, which is similar to "Spook!" from his Peter Gunn music (and even more similar to Shelly Manne's arrangement of Mancini's "Slow and Easy", also from Peter Gunn), though with a rock and roll instead of a jazz feel.
"Free and Easy" is very recognizably Mancini in mood, melody and harmonic movement. This could have been used as is in Peter Gunn or Mr. Lucky or Breakfast at Tiffany's or The Pink Panther with no problem.
After this comes another vocal number, "What's It Gonna Be", music by Mancini and lyrics by Bill Carey. The vocals are by a Four Freshmen-like group called The Ding-A-Lings.
"Rockin' the Boogie" is frenetic and rockin' with powerful saxophones and impressive guitar playing that sounds almost Ribot-like in places. This is similar to the rock and roll radio music Mancini came up with for Touch of Evil.
Bobby Troup is credited with the next piece, "Rockabye Lullaby Blues", a vocal number performed by The Ding-A-Lings and Hal Dickinson.
Mancini then returns with "Teenage Bop" and "The Most", both aggressive rock and roll numbers in the Touch of Evil. Again the guitar playing is pretty impressive. Since the movie is about a hot-shot teen rock and roll guitarist, perhaps this music is performed in the film. (John Saxon plays the guitarist and Sal Mineo is the drummer in the group. I'd like to see this movie.)
Side Two begins with another Ding-A-Lings song, "Can I Steal a Little Love", written by Phil Tuminello. This one has more of a swinging rhythm than the others but I'm not becoming a fan of The Ding-A-Lings. They make me think of SCTV's Neat Guys, which I guess was the point of The Neat Guys.
"Juke Box Rock" is another Mancini composition, probably source music in the movie. Great saxophone playing and nice use of vibes.
After that comes "The Saints Rock 'n Roll", credited to Bill Haley and Milt Gabler. Did The Comets do this one? It's "When the Saints Come Marching In" with some rock/bop guitar and sax playing.
Rod McKuen is in this movie and he co-wrote the next song, "Picnic by the Sea", with Bobby Troup. He and The Ding-A-Lings share vocal duties. This is a laid-back, easy listening kind of vocal number. McKuen handles the singing of the lyrics while The Ding-A-Lings provide background crooning.
Mancini's "Young Love" begins with accordion and adds hand percussion, bass and guitar. It's a classic Mancini tune, somewhat similar of his "Slow Hot Wind".
Then Rod McKuen returns to sing "Happy Is a Boy Named Me", which he also wrote, a gently swaying love song.
Then it's Mancini again with "Hot Rod" and "Big Band Rock and Roll" to close out the record, more stuff in the vein of Touch of Evil.
---