2012 September 03 • Monday
Seattle has a lot of good record stores. The 233rd Soundtrack of the Week is brought to you by Golden Oldies in the Wallingford neighborhood, conveniently located near Bottleworks! It's the music from Rock, Pretty Baby, which is mostly by Henry Mancini!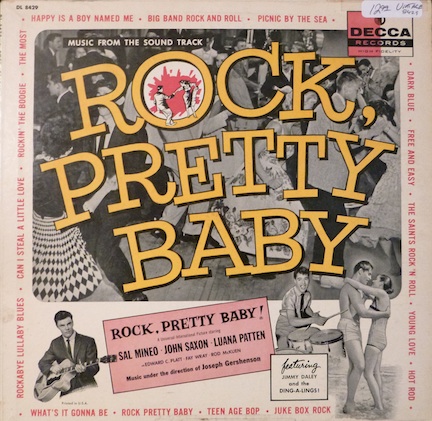 The first track is the title song, written by Sonny Burke and sung by Alan Copland, very much in the vein of "Rock Around the Clock".
After that comes "Dark Blue" by Henry Mancini, which is similar to "Spook!" from his Peter Gunn music (and even more similar to Shelly Manne's arrangement of Mancini's "Slow and Easy", also from Peter Gunn), though with a rock and roll instead of a jazz feel.
"Free and Easy" is very recognizably Mancini in mood, melody and harmonic movement. This could have been used as is in Peter Gunn or Mr. Lucky or Breakfast at Tiffany's or The Pink Panther with no problem.
After this comes another vocal number, "What's It Gonna Be", music by Mancini and lyrics by Bill Carey. The vocals are by a Four Freshmen-like group called The Ding-A-Lings.
"Rockin' the Boogie" is frenetic and rockin' with powerful saxophones and impressive guitar playing that sounds almost Ribot-like in places. This is similar to the rock and roll radio music Mancini came up with for Touch of Evil.
Bobby Troup is credited with the next piece, "Rockabye Lullaby Blues", a vocal number performed by The Ding-A-Lings and Hal Dickinson.
Mancini then returns with "Teenage Bop" and "The Most", both aggressive rock and roll numbers in the Touch of Evil. Again the guitar playing is pretty impressive. Since the movie is about a hot-shot teen rock and roll guitarist, perhaps this music is performed in the film. (John Saxon plays the guitarist and Sal Mineo is the drummer in the group. I'd like to see this movie.)
Side Two begins with another Ding-A-Lings song, "Can I Steal a Little Love", written by Phil Tuminello. This one has more of a swinging rhythm than the others but I'm not becoming a fan of The Ding-A-Lings. They make me think of SCTV's Neat Guys, which I guess was the point of The Neat Guys.
"Juke Box Rock" is another Mancini composition, probably source music in the movie. Great saxophone playing and nice use of vibes.
After that comes "The Saints Rock 'n Roll", credited to Bill Haley and Milt Gabler. Did The Comets do this one? It's "When the Saints Come Marching In" with some rock/bop guitar and sax playing.
Rod McKuen is in this movie and he co-wrote the next song, "Picnic by the Sea", with Bobby Troup. He and The Ding-A-Lings share vocal duties. This is a laid-back, easy listening kind of vocal number. McKuen handles the singing of the lyrics while The Ding-A-Lings provide background crooning.
Mancini's "Young Love" begins with accordion and adds hand percussion, bass and guitar. It's a classic Mancini tune, somewhat similar of his "Slow Hot Wind".
Then Rod McKuen returns to sing "Happy Is a Boy Named Me", which he also wrote, a gently swaying love song.
Then it's Mancini again with "Hot Rod" and "Big Band Rock and Roll" to close out the record, more stuff in the vein of Touch of Evil.
---