2012 September 26 • Wednesday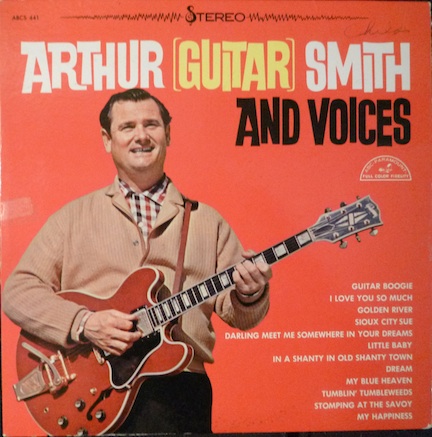 That's another record I got in Seattle, but I didn't buy it. It was a birthday present from my good friend and guitar-playing colleague Lucio Menegon!
He noted that Smith has a guitar very similar to my own Gibson. His looks nicer, though, and I recently found out that my guitar has something of a checkered past: forged serial number, intentionally defaced label, probably a replaced neck at some point. Very interesting! (This info comes courtesy of Peter, the guitar expert at Retrofret. I asked him to use his forensic eye on my ES-335 and he was kind of enough to do so.)
But Arthur (Guitar) Smith is very cool. I wish I could get my guitars to stay in tune as well as his (and Hank Marvin's, for that matter) does. The best tunes on the record are Smith's original, especially "Darling Meet Me Somewhere in Your Dreams". That's a curious title. Usually you would meet your darling in your own dreams, I think, and the addition of "somewhere" gives it a quality of extra desperation.
Thanks, Lucio!
---