2012 September 14 • Friday
Here's another record I got in Seattle. I found this one at Jive Time.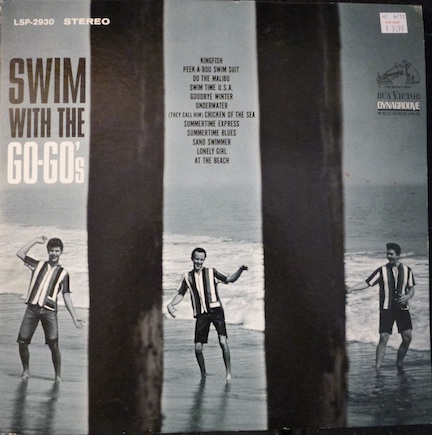 Who knew there was another band called The Go-Go's? The liner notes tell us that they are "three talented young men (all under 21)". When Alice saw the cover she remarked that I have a shirt very similar to that one. It's true, I do. I bought it at the Stockholm airport and I wore it at the Steelton, PA, gig with Chris Cawthray last weekend.
Their stuff is pretty similar to the vocal numbers cut by The Astronauts, and one of the things that attracted me to the record was that Competition Coupe and Surfin' with the Astronauts were both mentioned on the back cover as "Other RCA Victor albums you will enjoy".
There's not much to say about it. The emphasis is on the vocals, there's not much in the way of guitar playing—though there is the occasional solo—and everything is done competently. It's a bit too safe, I guess, and lacking in a strong identity of its own.
Some of the lyrics are pretty bad, such as in "At the Beach": "The girls are pretty / But they sure act dumb / If it weren't for the girls / We'd have a lot of fun / At the beach". (Give them credit for the subjunctive, though.)
---