Some citadels, true, have proved stormable. You can become rich without having any talent (via the scratchcard and the rollover jackpot). You can become famous without having any talent (by abasing yourself on some TV nerdothon: a clear improvement on the older method of simply killing a celebrity and inheriting the aura). But you cannot become talented without having any talent. Therefore, talent must go.
—Martin Amis, The War Against Cliché: Essays and Reviews 1971–2000, 2001
---
Looking for the Lost: Journeys Through a Vanishing Japan, Alan Booth's second book about taking long walks in Japan, is more than a worthy successor. Booth is older, more experienced, married a second time and a father to a young daughter. Instead of the almost gonzo endurance test that was The Roads to Sata, Looking for the Lost documents three long walks with specific targets.
"Tsugaru", the first part of the book, finds Booth walking in Aomori prefecture, retracing the steps of the famous Japanese author and Tsugaru native Dazai Osamu, who had traveled there in May of 1944, "seven years after his fourth attempted suicide and four years before his fifth and successful one".
Twice married and once a father, twice ambitious for Japan's most prestigious literary prize and twice thwarted in this ambition by the literary establishment, a university dropout, bedridden on and off with bouts of T.B. and drug addiction, once locked up for a month in a mental hospital and five times hauled in by the police on suspicion of being a political subversive, Dazai had spent twenty-three days in Tsugaru on that late spring trip during the Second World War, boozing with friends, visiting relatives, staying in the family house which, fourteen years earlier, he had been forbidden ever to enter again and, in the end, seeking out an emotional reunion with his nursemaid whom he thought he loved.
Sent on this trip by a Tokyo publisher, Dazai came back with a book, Tsugaru, apparently considered one of his best. Booth finds that Dazai's territory has changed a lot, noting new developments while offering his assessment of Dazai as both writer and human being. Once again Booth is a brilliant observer and commentator. At one ryokan he is called Sensei, "a polite term of address used by pupils to their teachers, publishers to their authors, electors to their parliamentary representatives, bar hostesses to their best-heeled customers, people wishing to be facetious to those they particularly despise, and by the general public to anyone who appears, or professes, to know something they do not".
Aomori prefecture is so "well supplied with fanciful stories," Booth tells us, that "among the other things you can see there if you have time is the grave of Jesus Christ". It was also the origin of a particular folk music revival, "the Tsugaru shamisen boom" that peaked in the 1970s. (Takeshi Terauchi recorded some of those Tsugaru folk tunes with his surf band.)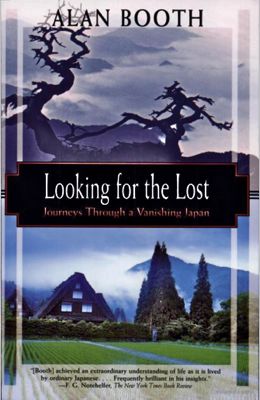 The second part of the book is "Saigo's Last March" and begins with a quote from the Billie Holiday song "Strange Fruit": "Southern trees bear strange fruit / Blood on the leaves and blood at the root". Saigo Takamori was a major military and government figure in nineteenth century Japan who died fighting a civil war on the island of Kyushu. His last act was to lead a band of rebels on a sixteen-day scramble to reach Kagoshima, their home city. They traveled on foot, fighting off the imperial brigade the whole way.
Booth attempts to follow in Saigo's footsteps literally and is confounded several times by the overgrown old roads, usually thriving with wasps and adders, sometimes completely lost or impassable. His modern map is frequently useless, as are directions given by locals. He tries to match Saigo's speed also but falls two days behind.
Part three, "Looking for the Lost", begins with the Gion temple bell tolling "into the heart of every man a warning that all is vanity and evanescence". The historical background is the clash between the Genji and Heike clans, which results in the destruction of the Heike. The few surviving members of the Heike scattered and Booth's walk this time is to find where they might have gone.
Numerous small villages claim descendants of the Heike among them, too many for the claims all to be true. "That no village claims to have been founded by descendants of the victorious Genji is hardly a surprise. There is far greater resonance in defeat than in victory, as artists have known since Aeschylus wrote The Persians and Euripides The Trojan Women".
As in The Roads to Sata, the people Booth meets provide many of the most memorable passages. Consider the learned and dedicated landscape gardener named Mr. Hatta.
I found Mr. Hatta cleaning his teeth.
"What's so special about the garden at Ryoanji?" I asked him, naming the famous rock and sand garden in Kyoto's most brochured and pamphleted Zen temple.
"The spaces between the rocks," he replied, with his mouth full of toothpaste.
The spaces between the rocks, so to speak, are what Booth also appreciates on his travels. He doesn't take you to see sights but to receive impressions of people and places.
The story of the Heike, as Booth puts it, "is that of the speckled decline of late summer into autumn". That turns out to be Booth's story also. At the end of the book he has a strange feeling in his stomach. It turns out to be colon cancer. Looking for the Lost was published posthumously. After reading The Roads to Sata and Looking for the Lost (in which Booth shares his memories of how he got interested in Japan and ended up living there) you'll feel that you've lost a friend. Booth's last work has at its center "what Japanese artists have called since the Heian period mono no aware, 'the sadness of things'".
---
The 123rd Soundtrack of the Week is Akira Ifukube's The Three Treasures, an Ark Square exclusive (though you can get it from Screen Archives Entertainment also).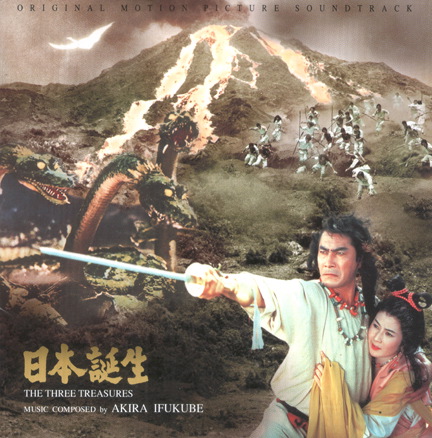 This movie, whose Japanese title translates as The Birth of Japan, is apparently an all-star, big-budget fantasy epic, complete with monsters. It was marketed as Toho's thousandth film production, though it might not have been exactly number 1,000.
Whatever number Toho film it was, Ifukube made it a birthday party to remember, creating one of his most glorious, haunting, powerful and atmospheric scores, ranging from full orchestra to solo voice, from his trademark pounding percussion to wobbly Japanese harp cues.
This double CD contains unused and alternate cues; the whole thing sounds stunningly beautiful. My copy, which came from Ark Square, was accompanied by this great card.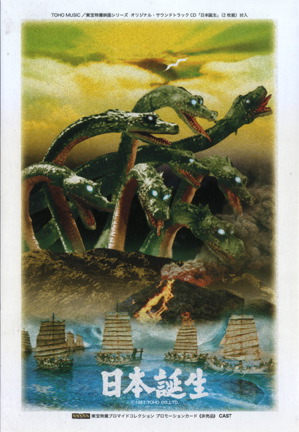 Screen Archives has some mp3 samples here.
---
She glowed with pride. The world was cracking up. I finished the two apples from her orchard that she had peeled for me as I drank my tea. And it didn't surprise me to discover on my way out that the canary in the tiny cage that hung outside the stinking lavatory had a broken wing.
—Alan Booth, Looking for the Lost, 1995
---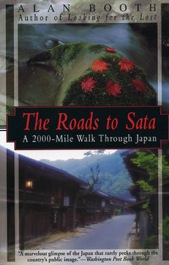 The Roads to Sata: A 2000-Mile Walk Through Japan is Alan Booth's account of walking from Cape Soya to Cape Sata, from the northernmost point to the southernmost point of Japan. And walk he does, recording numerous refusals of rides offered. (In a later book Booth described this as his "Protestant Walk Ethic".)
Despite blisters on his feet, pouring rain, the arrival of a car come just to take him to the inn he booked and, most memorably, a police officer who insists that Booth accepts a ride to be safe from foxes, whose "spirits can bewitch you", Booth travels on foot only, with the exception of a couple of unavoidable ferry trips and one very remarkable visit to a naval base, where he is obliged to tour the facilities by automobile.
At the time of this journey Booth had lived in Japan for a quarter of his life, was married to a Japanese woman, fluent in the language and knowledgable about Japanese history and culture, freely quoting poems and singing folk songs. Of equal or even greater importance is that Booth was a great writer, deft, succinct, witty and perceptive.
On the Shimokita peninsula he observes that "The sea on the morning of my thirty-second day was an eye-murdering blue. The white specks of the fishing boats out in the straits were like blisters popped up in the scorch of the sun".
On the next day, hungover, Booth records that "It was the hottest day since Cape Soya. The air trembled like tightropes over the road, and by half closing my eyes and shading them with both hands, I could just make out the shivering peak of Mount Hakkoda to the southwest, a bump of pale mauve jutting up into the burning blue sky, and the sky was a steam iron threatening to flatten it".
Booth's story is brimming with the kind of details that bring such tales to life. A recording of The Ventures playing "Jinglebell Rock" drowns out children playing a taiko drum; the worst typhoon of the year immediately follows a local's assurance that "it's not going to rain today"; there's a filthy highway tunnel whose "circle of rusty daylight at the end of it looked like the bottom of a stopped-up lavatory bowl".
When encountering children Booth is "jeered at by boys, greeted sensibly by girls" and thus regrets "again and again that not a single one of the election posters I had been passing bore a woman's face".
He tells us that "Some months before, the Mona Lisa had been exhibited at a Tokyo gallery and had attracted such throngs of art lovers that the time each was allowed to spend in front of it had to be carefully rationed. The gallery owners decided eventually that the optimum time for viewing the Mona Lisa was seven seconds, and this was felt by most art lovers to be satisfactory".
The Roads to Sata is amusing, exciting, often profound and ultimately poignant. I highly recommend it and Booth's other book about walking in Japan, Looking for the Lost: Journeys Through a Vanishing Japan.
---
The 122nd Soundtrack of the Week is Ma Période Française, a sampling of early soundtrack work by Maurice Jarre.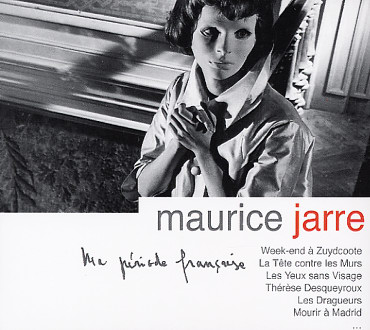 First up is the theme for La Tête contre les Murs (Head Against the Wall), the first feature-length film by the great Georges Franju.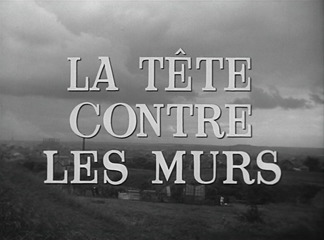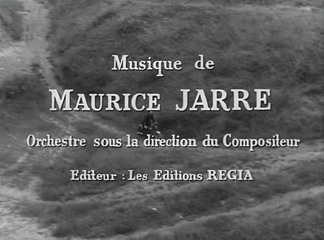 It begins with a tense and aggravated percussion assault, then slides into a swinging jazz mood, combining elements of New Orleans hot jazz, ragtime and boogie woogie. The "Theme de Stephanie" from the same movie is a pretty 6/8 tune for the accordion. "Enterrement a l'aslie" is an ominous number—it sounds like it's in 15/8, which I guess is possible—with Jarre ingeniously combining banjo, prepared piano and percussino in a way that suggests a gamelan orchestra.
Next up is a selection of cues from Les Yeux sans Visage (Eyes Without a Face).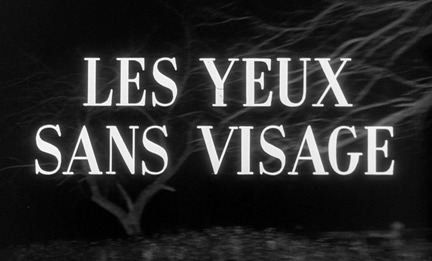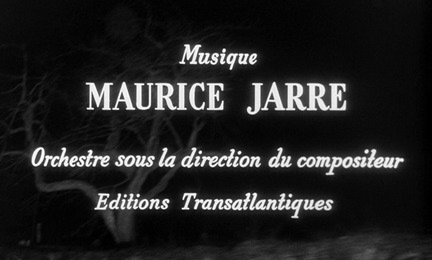 The main title is an unsettling waltz with a carnival of doom sort of feel. (Perfect for the movie!) The "Theme Romantique" is true to its title, another piece in 3/4 with a longing melody played on various instruments (flute, oboe, some kind of keyboard that's not quite a harpsichord). "Des Phares dans le Nuit" is a "tension" piece with angular, staccato figures. "Inquietude" elaborates on the "Theme Romantique" at a slightly brisker pace. "Valse Poursuite" similarly extends the main title music and "Final" returns one more time to the "Theme Romantique".
The main title music for Therese Desqueyroux is a Chopin-like piano piece with beautiful string accompaniment. "Non-Lieu" is a solo piano dance piece that reminded me of some of Satie's airier compositions. "Therese Desqueyroux" displays Jarre's talent for romantic, sweeping yet restrained writing. I think you can hear some foreshadowing of his music for Lawrence of Arabia in this one.
For the movie Les Dragueurs comes "Le Femme Ideale", a 3/4 piece somewhat similr to the "Theme Romantique" from Les Yeux sans Visage. "La Ballade des Dragueurs" sounds like calliope music.
"Surboum Chez Ghislaine" is a swinging piece that suggests that Jarre listened to some Afro-Cuban big band music like Machito & His Afro-Cubans.
The main title from L'Oisea de Paradis likewise suggests (as does some of the music from La Tète contre les Murs) that Jarre was acquainted with Balinese music, both in its instrumentation (heavy percussion) and its hypnotic swing.
The main title from L'Univers d'Utillo is another mostly melancholy, accordion-driven piece in waltz time. Why not? They all sound great. It turns into another Balinese-sounding swing/dirge.
The main title from Le Soleil dans l'Oeil features double bass and some splashy drum playing before presenting a very light jazz shuffle.
The theme from Mort, Ou Est Ta Victoire? is a relative of the Les Yeux sans Visage music. The main title from Recours en Grace sounds like something from Hollywood's Golden Age before becoming a very Jarre-like waltz.
The theme to Les Animaux begins with a pounding percussion ensemble before introducing a melody played first on organ, then on harp, then on strings. The pounding percussion comes in and out, creating an excitingly disorienting effect. "Pavane des Flamands" is wonderfully spooky yet romantic at the same time. Like most of the pieces on this CD, the use of a small group of instruments with wildly different timbres is very successful. "La Fete", also from Les Animaux, is mostly chipper but with definite suggestions of menace. "Surf des Loutres" begins with ethereal electronic keyboard melodies before swinging into a classic '60s "beat" scene.
The main title from Mourir a Madrid is a moving Spanish guitar duet, a longer cue than most on this record, and really nice.
Week-end a Zuydcoote's main theme starts out sending very "normal", but then drums pound in and the undead carnival takes over once more. "Sergent Maillat" from the same movie suggests what that carnival might sound like under martial law. "Final", from the same movie and the last piece on the CD, is a surprisingly straightforward piece of music, mostly martial-sounding but with suggestions of romance and wanderlust.
---
My mother's most recent book, The Motherless State: Women's Political Leadership and American Democracy, was voted this year's best "History and Politics" book by the American Political Science Association!
Congratulations!
---

R.I.P., Harvey Pekar, October 8, 1939 – July 12, 2010.
American Splendor didn't seem like an ironic title when I was reading it as a teenager in Belmont, Massachusetts, in the 1980s. It was a portal to an adult world of work, sex, love, aggression, greed, friendship, music (and record collecting), literature, history, introspection, donuts, car repairs, rummage sales, groceries, philosophy, coffee, boxing matches, ice cream cones, politics, jury duty, muggings and any number of similarly exotic things. Splendor seemed like the right word.
One of my favorite stories was "Hypothetical Quandary", written by Pekar and illustrated by Robert Crumb. Pekar walks around the streets of Cleveland on an early Sunday morning and buys a loaf of rye bread. His thoughts are of his ambitions and his doubts. He wonders how important it is to him to be able to support himself as a writer. But it's all hypothetical. Here's how it ends.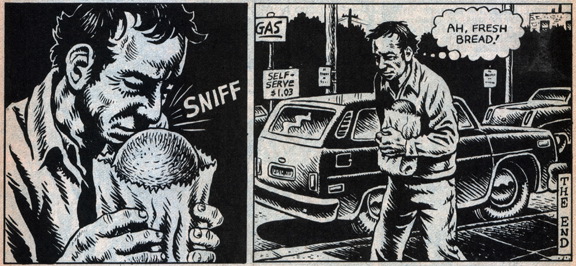 Epiphanies of the unglamorous have been the point of most "serious" American short story writing for the last few decades. "Ah, fresh bread!" is an epiphany and "Hypothetical Quandary" is a short story, but the epiphany and the story are on a higher level. Pekar's writing has not a single unnecessary word and Crumb's artwork here is sublime. I wouldn't trade "Hypothetical Quandary" for the complete works of Raymond Carver.
Harvey and his family went to Tokyo as part of the American Splendor publicity tour. They were on the cover of this magazine.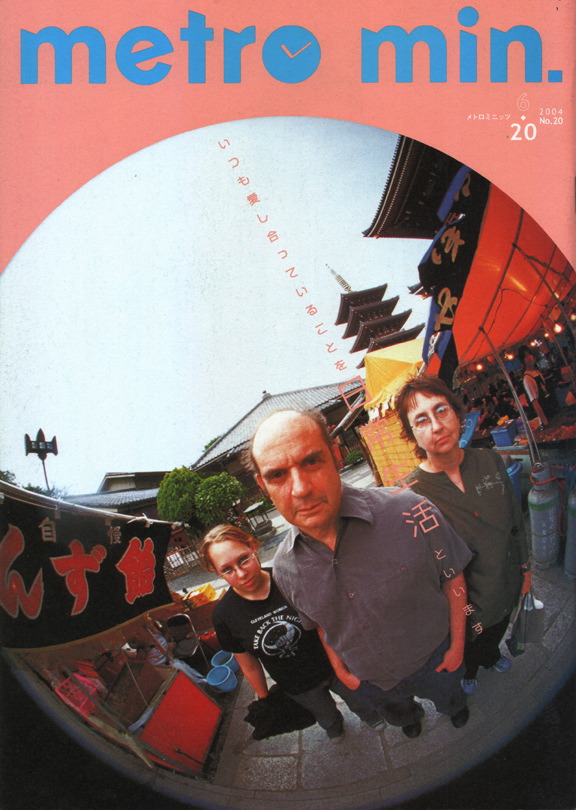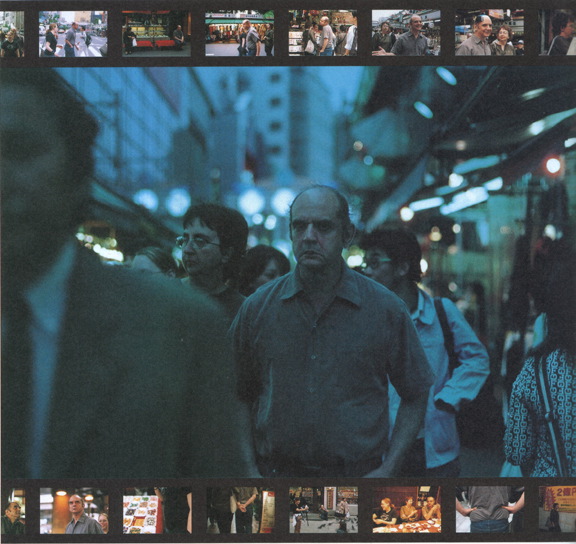 In the magazine is a Japanese Harvey Pekar comic by Daisuke Shibata.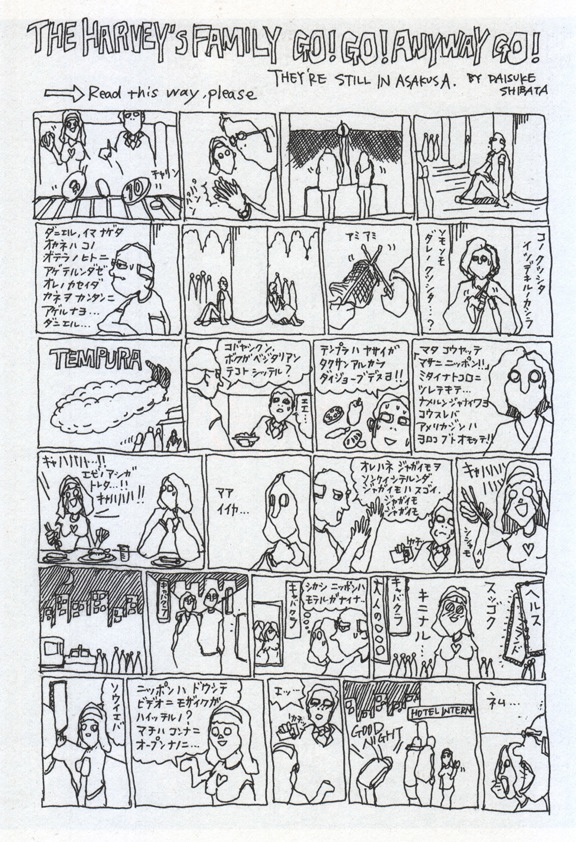 Since Harvey didn't write it, I don't know if it counts as an American Splendor comic. Shibata laid out the panels from left to right, as opposed to Japanese comics, which set them from right to left. Thus the arrow telling his Japanese readers (in English) how to read the comic. Is this the only Harvey Pekar comic that was written in a language other than English?
The first dozen or so issues of American Splendor are among my favorite reading of all time. I've re-read them several times over the years and found them to be just as good, if not better, than they were the last time I checked in with them. The writing is great and Harvey's artist collaborators bring life to the pages and the pages to life.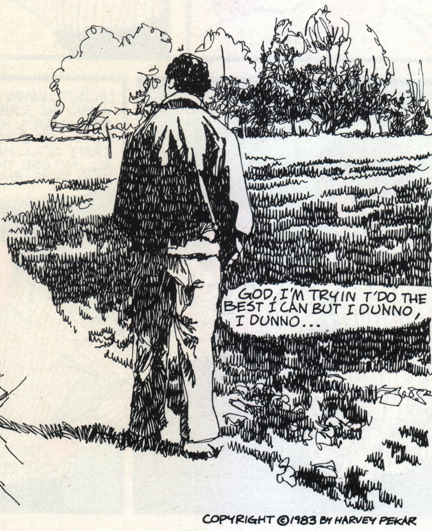 ---
The 121st Soundtrack of the Week is The Prisoner: The Complete Chappell Recorded Music Library Cues a 3-CD set whose sales will benefit Kirkwood Hospice in West Yorkshire.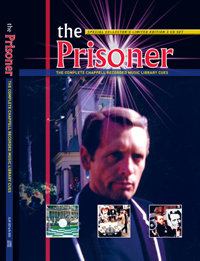 You can read a bit about this set here. The packaging and liner notes are excellent and the set is sure to please "the connoisseur of Prisoner music" for whom it is intended. The 3 CDs are numbered 1, 2 and 6.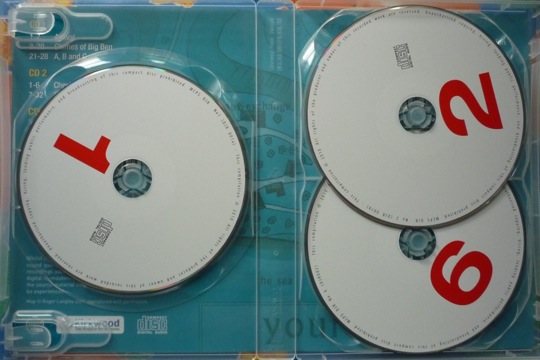 But what about the music? Not to be confused with music composed or adapted especially for the series, these CDs contain library music that was licensed for use in The Prisoner. Some of it has been available before, on this or that compilation, but now you can hear all of it. These are my favorites, episode by episode (keeping in mind that some cues were used in more than one episode).
The first library cue in the first episode, "Arrival", is the eerie "Experiments in Space Part 2: Malus" by Robert Farnon. The insanely cheery and syrupy music that drives No. 6 crazy in his new home is Tony Tamburello's "Party Dress".
The tense music for No. 6's escape by boat ("Zero Minus Sixty" by Robert Farnon) in "Chimes of Big Ben" works so well, it's hard to believe it wasn't composed for the show. From the same episode, Clive Richardson's "Radiolocation" is a portrait of suspense for vibes, double-bass, strings and horns. "Chimes of Big Ben" contains my favorite of these cues, "Foret Tropicale/Tropical Forest" by Paul Bonneau, a beautiful surf/exotica cue. I've heard this being played in the background while WFMU DJs talk.
My favorite episode of The Prisoner, "A, B and C", also contains some of my favorite music. Camille Sauvage's "Attente/Waiting" is a swinging tune for jazz combo, a bit West Coast but with an unusual electric guitar sound and some cool organ playing. "Bienvenue Mister Jones/Welcome Mr Jones" by Jack Arel & Pierre Detour is a masterpiece of horn-driven '60s rock, used in the fantastic "This is a dreamy party!" scene.
A highlight from "Checkmate" is Robert Farnon's "Drumdramatics No. 3: Section 2. - Double drumbeat, crescendo", a solo timpani feature. This is followed by the otherworldy "Harp Interludes Part 2: Section 9 - intense dramatic", a beautiful and eerie harp solo also written by Robert Farnon.
"The Girl Who Was Death" also had some wonderful library tracks. I get Johnny Hawkesworth's "Cue for Murder No. 1 - Harpsichord bass bongo - slow" stuck in my head all the time. It's one of the most Prisonerish of the pieces here. Hawkesworth follows this with "Dramatic Harpsichord Links No. 2 Slow ominous", another 30-second masterpiece. Jack Arel & Jean Claude Petit's "Psychedelic Portrait" is a great backbeat-driven tune with heavy piano, horns, bongo and electric guitar. It's for the scene in the record shop and was, I think, on a Jack Arel CD I bought many years ago. There's some "out" horn soloing at the end. (Maybe that's where Iggy got the idea for "L.A. Blues".) Johnny Hawkesworth's woozy "Psychedelia", featuring the sitar and percussion ensemble (including, I think, the inside of a piano), is the perfect accompaniment for "The Girl Who Was Death"'s hallucinatory car chase scene. "Fond Des Mers" by Paul Bonneau is a gorgeous and otherwordly musical setting for the title character's twisted declaration of love. The last piece of music in the episode is Nino Nardani's "Catch That Man", a very strange tune with an up-tempo jazz groove, honking horns and chimes and other percussion run through delays.
"Dance of the Dead" has "Universal Sideral/Sidereal Universe" by Paul Bonneau, a sci-fi sounding cue with strange, sliding electronic pitches, probably some kind of analog synthesizer. Johnny Hawkesworth's "Cue For Murder No. 2 - Harpsichord gathering speed" is a highlight, as is "Harpsichord For Drama No. 1: Section 4 - Very fast, bass, drums" by Hawkesworth & Ron Grainer (composer of the Prisoner theme as well as the theme for Doctor Who).
There's only one cue from "Free For All" but it's a great one: Jack Arel & Jean Claude Petit's "Hemisphere Sud/Southern Hemisphere", a bit of tropical easy listening. "The Schizoid Man" also has only one track, the pensive "Complainte/Lament" by Camille Sauvage. Joe Veneux's breezy, sunny and wistul "Ocean" is likewise the only library track from "Many Happy Returns".
The three cues from "It's Your Funeral" are ersatz Japanese music. Nino Nardini gives us "Osaka" and Edward Charles offers "Kabuki". The other one is Sidney Torch's "Chappell's Changing Scenes No. 3: Section 5 - Death; crash by gong".
"Do Not Forsake Me Oh My Darling" is the worst epsiode of the series, so bad that it damages the program as a whole. Patrick McGoohan was off making Ice Station Zebra and for some reason, an episode was made more or less without him. It's a dismal collection of clichés and I find it practically unwatchable. Some of the music is okay, though, such as the straight West Coast-style "Uptown Jazz" by Malcolm Lockyer. Johnny Hawkesworth's "Hipster" is a nice, groovy dance track and Mel Young's "The Dark Room" is a smoky, bluesy tuen for organ combo.
The only cue from "Once Upon a Time" is the Spanish guitar and castanets number "Almeria" by Paul Bonneau.
From "The General", Robert Farnon's "Drumdramatics No. 2: Section 4 - Dream vibrato, rising and falling" is adequately explained by its title. Eric Peters's "Electronic Mind" and "Electronic Screams", used for the Speed Learn sounds, are both great. Sidney Torch's "Off Beat Moods Part 1: Section 3 - Dramatic Sustained" is 28 seconds of quintessential Prisoner music, perfect for the show.
"Fall Out" begins with a great solo timpani piece, Robert Farnon's "Drumdramatics No. 1: Section 1 - Rolling tympani with beat". Farnon's "Drumnastics No. 3: Section d - Reverse space waves" is also strange and wonderful. "September Ballad" by Gary Bellington is another one that will be in my head my whole life, it seems. It's the stirring accompaniment for No. 6's return to London.
At the end of the final CD come some bonus tracks, cues "often associated in error with The Prisoner". Of these I liked Camille Sauvage's "Attente Trans Europe Express" though I didn't associate it with The Prisoner. While listening to this set I wrote in my notes, "What the hell is this? I don't remember it but it's awesome". Johnny Hawkesworth's melancholy "Harpsichord Links 4" could have fit nicely into a number of episodes.
Two additional bonus tracks are included, Charles Williams's "House of Mystery", which "is featured extensively" in Dennis Potter's The Singing Detective (the original BBC series). Apparently it's a Chappell Library track that had been hard to find but was discovered while preparing this CD of music from The Prisoner. The last is a "bootleg Beatles" recording of "All You Need Is Love", of which the original recording was so memorably featured in "Fall Out".
---
Spotted in Harvard Square a couple of weeks ago, sidewalk book sale with honor system.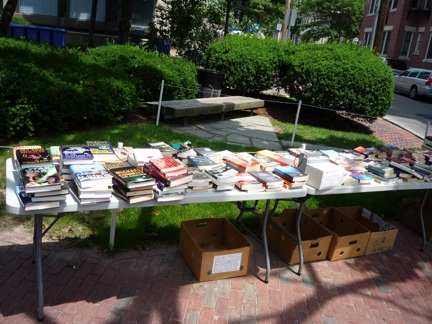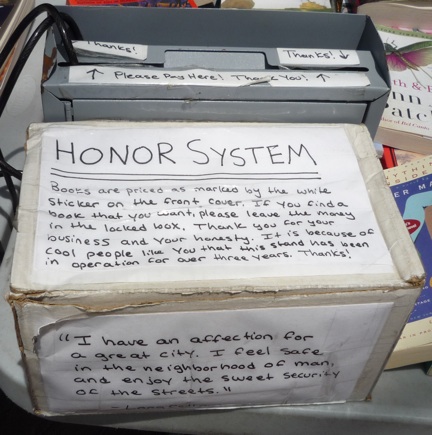 ---
In 1989 I bought a Russian film encyclopedia from a book store in Moscow. It contained information (in Russian) about a large number of movies you weren't likely to read about in any English-language source.
I was most captivated by a still from a Romanian movie called, in Russian, Ukraly Bombu. At the time, I supposed this translated as They Stole the Bomb and used the image for the cover of the very first Gutbrain CD, Game of Death: "Reprisal".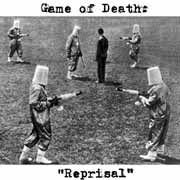 More than twenty years after first seeing that still, I've finally seen the movie. It's an excellent, absurdist film about the desire for and fear of nuclear weapons. It has excellent camerawork and set and costume design. It also has no spoken words, just music, sound effects and occasional utterances and things such as sneezes.
The title, S-a furat o bombă, is translated into several languages on screen, and into English as A Bomb Was Stolen.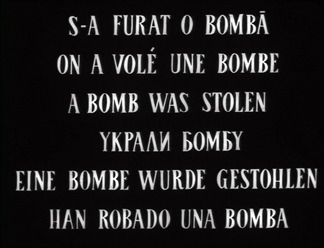 It begins with our hero, a nice young man, picking a flower in a field. All hell breaks loose and he's surrounded by the weirdos that you saw on the Game of Death cover.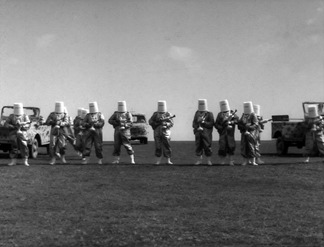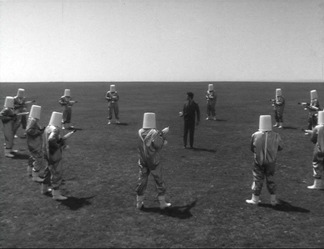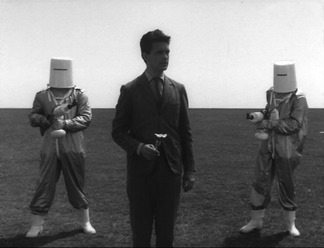 It turns out he's stumbled onto the test site for a new bomb. The test is watched on a television that's watched through binoculars.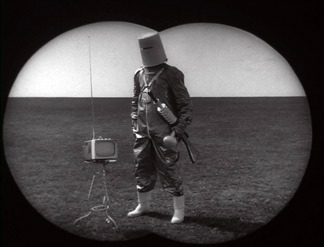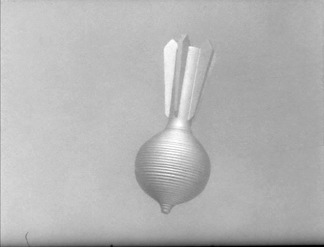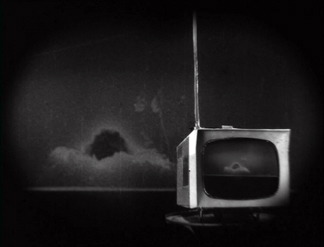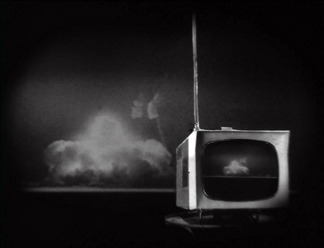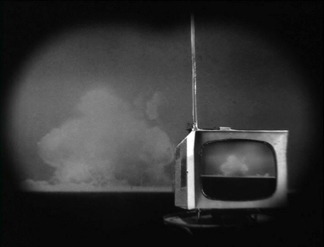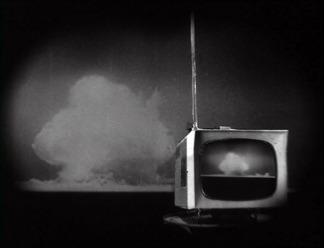 Then gangsters steal the bomb.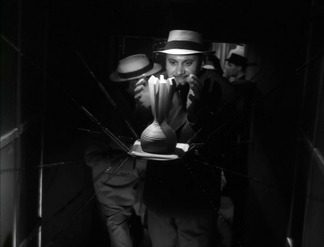 But it ends up with our hero, who unknowingly carries it around in a bag.
There's an interesting scene with a sort of psychiatrist, who has a brain in a bubbling tank that's attached to a typewriter.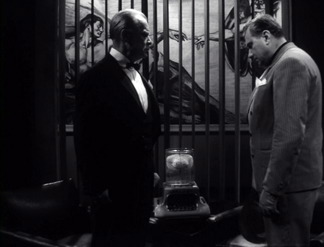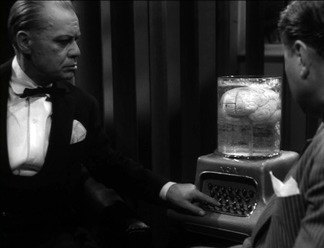 Our hero goes to the cinema, where a monster movie is playing.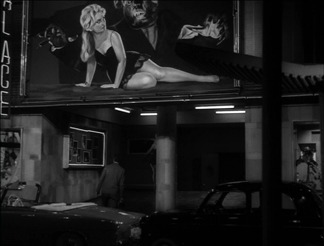 He gets the whole story by looking at the lobby cards.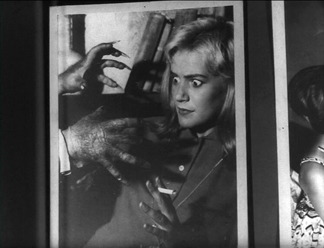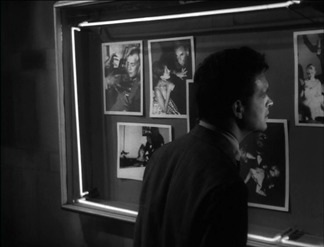 He's in love with a woman who works on the local bus. Whenever he sees her, he imagines that she has angel wings on her back. In this scene, there's a Godzilla poster in the background.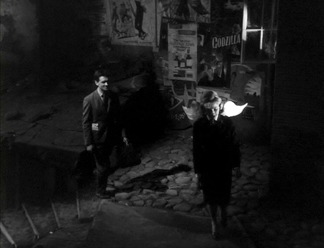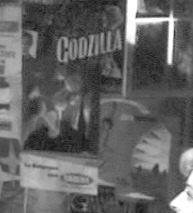 You see the same poster in the background again here.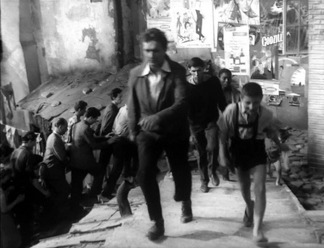 There's some very impressive set design.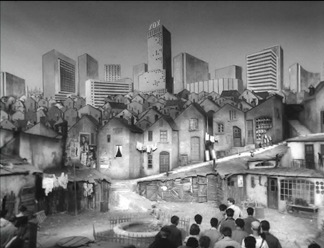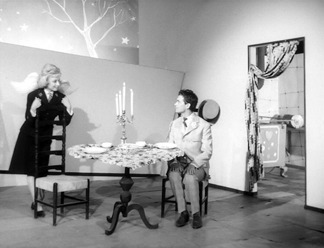 But these guys are my favorite.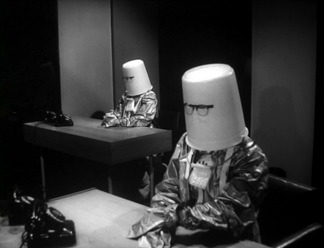 The music, composed by Dumitru Capolanu and conducted by Paul Popescu, is great throughout, at times suggesting what a combination of Toru Takemitsu, Sun Ra and Lee Perry might be like. At other times it's frantic jazz and early rock and roll.
---
You leave the house with your family before dawn. The four of you—mom, dad, teenage son and teenage daughter—pile into the sedan and drive off, pulling a trailer behind you. You're off to the mountains for a fishing and camping vacation.
You're about halfway there when the sky flashes with what seems like lightning. There's no storm, though. You turn around and see mushroom clouds forming above what used to be the city of Los Angeles.
World War 3 just started. Now you're in the jungle. Everybody around you will attack and kill you for food, water, gasoline, tools, anything to survive. If civilization isn't over, it's definitely on hold.
Even worse than the human animals fighting for survival are the marauding gangs of teenage punks, out for kicks. You've got to find a place to hide, somewhere to keep your family safe. It's a nightmare but you're not asleep.
Of course it would sound like jazz.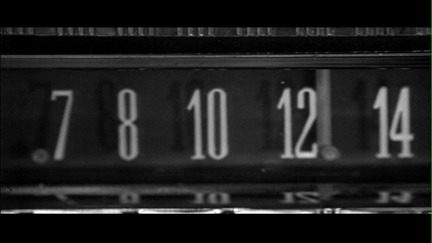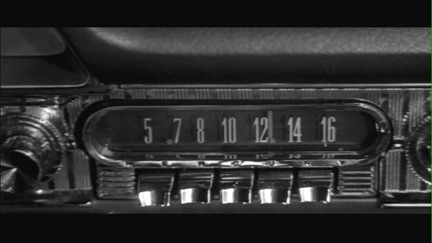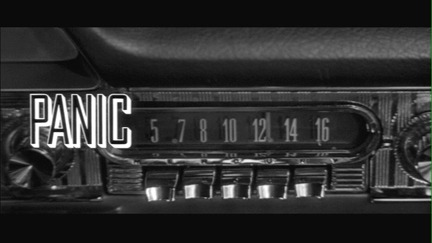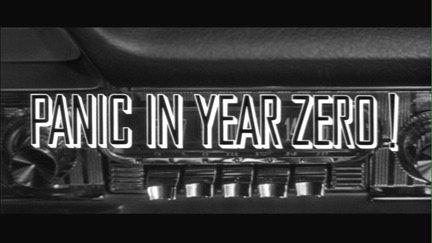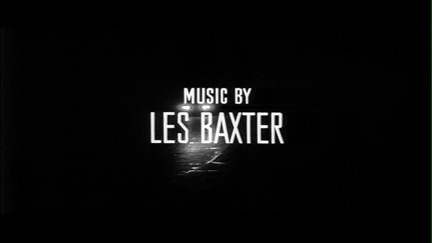 .
Les Baxter's music for Panic in Year Zero!, a movie directed by and starring Ray Milland and also starring Frankie Avalon, is the 120th Soundtrack of the Week.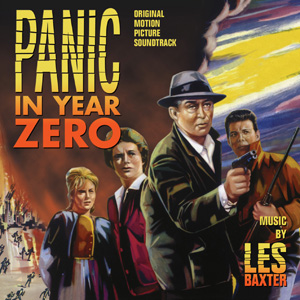 It starts with Baxter's post-bop, hard jazz score playing over a black screen. Then we see the car's radio, the source of the music. It's great, aggressive music, in the vein of Elmer Bernstein's celebrated The Man With the Golden Arm score.
In addition to the driving horns, there are various other moods and textures, stalking bass, melancholy guitar, locomotive snare. The most frequently used motif is a kind of "wheels rolling" driving music. The family spends a lot of the movie driving places and Milland frequently cuts to close-up shots of the car's spinning wheels as they make an unsettling whining noise on the road.
Things like fall out and radiation are discussed but don't appear to affect anything. Panic in Year Zero! is remarkably effective considering its modest budget, which apparently didn't allow much for special effects. It's surprisingly harsh and bleak. Baxter's music is great.
As the family has to fight for their survival against inhuman young punks in what could be considered a nuclear wasteland, I wonder if a young Wes Craven saw this movie and came away from it with the idea for The Hills Have Eyes, another "nuclear" family story.
---
Evidence for the powerful impact of television on film attendance, at least in 1963, came from Pacific's Bart Pirosh, who said the biggest box office weekend he ever had in his three decades in the business was the weekend after the assassination of President John F. Kennedy. "The people came just in droves," he recalled, "because they couldn't see regular television programs." Similarly, a Georgia owner said that the week after the assassination was the biggest he ever had. "They lined up out here for two and three hours. Face it, they were cut off from their crap on the tube. The next big surge was during the moonshots. The moonshots were the best thing that's happened to drive-ins since Elvis."
Kerry Segrave, Drive-In Theaters: A History from Their Inception in 1933, 1992
---