2010 July 19 • Monday
The 122nd Soundtrack of the Week is Ma Période Française, a sampling of early soundtrack work by Maurice Jarre.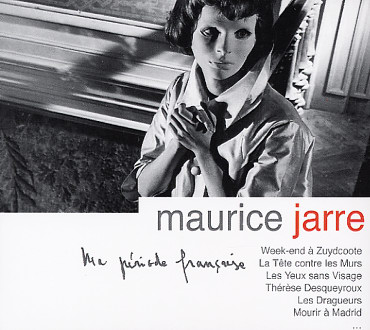 First up is the theme for La Tête contre les Murs (Head Against the Wall), the first feature-length film by the great Georges Franju.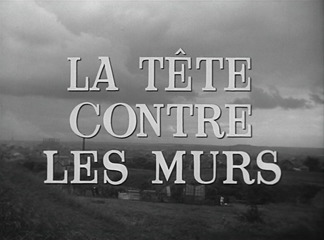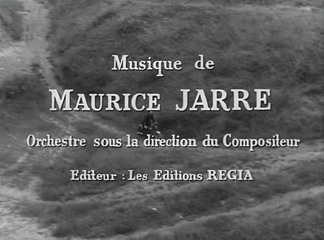 It begins with a tense and aggravated percussion assault, then slides into a swinging jazz mood, combining elements of New Orleans hot jazz, ragtime and boogie woogie. The "Theme de Stephanie" from the same movie is a pretty 6/8 tune for the accordion. "Enterrement a l'aslie" is an ominous number—it sounds like it's in 15/8, which I guess is possible—with Jarre ingeniously combining banjo, prepared piano and percussino in a way that suggests a gamelan orchestra.
Next up is a selection of cues from Les Yeux sans Visage (Eyes Without a Face).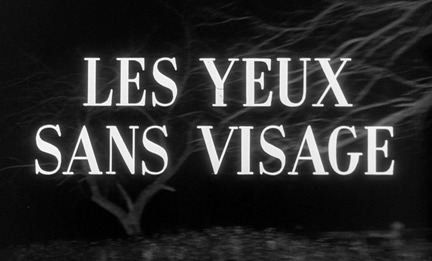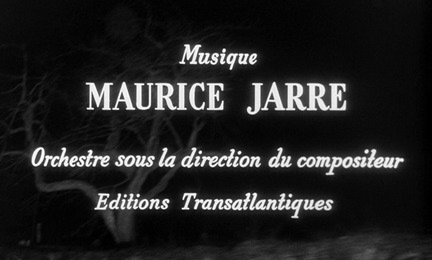 The main title is an unsettling waltz with a carnival of doom sort of feel. (Perfect for the movie!) The "Theme Romantique" is true to its title, another piece in 3/4 with a longing melody played on various instruments (flute, oboe, some kind of keyboard that's not quite a harpsichord). "Des Phares dans le Nuit" is a "tension" piece with angular, staccato figures. "Inquietude" elaborates on the "Theme Romantique" at a slightly brisker pace. "Valse Poursuite" similarly extends the main title music and "Final" returns one more time to the "Theme Romantique".
The main title music for Therese Desqueyroux is a Chopin-like piano piece with beautiful string accompaniment. "Non-Lieu" is a solo piano dance piece that reminded me of some of Satie's airier compositions. "Therese Desqueyroux" displays Jarre's talent for romantic, sweeping yet restrained writing. I think you can hear some foreshadowing of his music for Lawrence of Arabia in this one.
For the movie Les Dragueurs comes "Le Femme Ideale", a 3/4 piece somewhat similr to the "Theme Romantique" from Les Yeux sans Visage. "La Ballade des Dragueurs" sounds like calliope music.
"Surboum Chez Ghislaine" is a swinging piece that suggests that Jarre listened to some Afro-Cuban big band music like Machito & His Afro-Cubans.
The main title from L'Oisea de Paradis likewise suggests (as does some of the music from La Tète contre les Murs) that Jarre was acquainted with Balinese music, both in its instrumentation (heavy percussion) and its hypnotic swing.
The main title from L'Univers d'Utillo is another mostly melancholy, accordion-driven piece in waltz time. Why not? They all sound great. It turns into another Balinese-sounding swing/dirge.
The main title from Le Soleil dans l'Oeil features double bass and some splashy drum playing before presenting a very light jazz shuffle.
The theme from Mort, Ou Est Ta Victoire? is a relative of the Les Yeux sans Visage music. The main title from Recours en Grace sounds like something from Hollywood's Golden Age before becoming a very Jarre-like waltz.
The theme to Les Animaux begins with a pounding percussion ensemble before introducing a melody played first on organ, then on harp, then on strings. The pounding percussion comes in and out, creating an excitingly disorienting effect. "Pavane des Flamands" is wonderfully spooky yet romantic at the same time. Like most of the pieces on this CD, the use of a small group of instruments with wildly different timbres is very successful. "La Fete", also from Les Animaux, is mostly chipper but with definite suggestions of menace. "Surf des Loutres" begins with ethereal electronic keyboard melodies before swinging into a classic '60s "beat" scene.
The main title from Mourir a Madrid is a moving Spanish guitar duet, a longer cue than most on this record, and really nice.
Week-end a Zuydcoote's main theme starts out sending very "normal", but then drums pound in and the undead carnival takes over once more. "Sergent Maillat" from the same movie suggests what that carnival might sound like under martial law. "Final", from the same movie and the last piece on the CD, is a surprisingly straightforward piece of music, mostly martial-sounding but with suggestions of romance and wanderlust.
---