2010 July 21 • Wednesday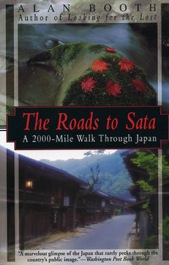 The Roads to Sata: A 2000-Mile Walk Through Japan is Alan Booth's account of walking from Cape Soya to Cape Sata, from the northernmost point to the southernmost point of Japan. And walk he does, recording numerous refusals of rides offered. (In a later book Booth described this as his "Protestant Walk Ethic".)
Despite blisters on his feet, pouring rain, the arrival of a car come just to take him to the inn he booked and, most memorably, a police officer who insists that Booth accepts a ride to be safe from foxes, whose "spirits can bewitch you", Booth travels on foot only, with the exception of a couple of unavoidable ferry trips and one very remarkable visit to a naval base, where he is obliged to tour the facilities by automobile.
At the time of this journey Booth had lived in Japan for a quarter of his life, was married to a Japanese woman, fluent in the language and knowledgable about Japanese history and culture, freely quoting poems and singing folk songs. Of equal or even greater importance is that Booth was a great writer, deft, succinct, witty and perceptive.
On the Shimokita peninsula he observes that "The sea on the morning of my thirty-second day was an eye-murdering blue. The white specks of the fishing boats out in the straits were like blisters popped up in the scorch of the sun".
On the next day, hungover, Booth records that "It was the hottest day since Cape Soya. The air trembled like tightropes over the road, and by half closing my eyes and shading them with both hands, I could just make out the shivering peak of Mount Hakkoda to the southwest, a bump of pale mauve jutting up into the burning blue sky, and the sky was a steam iron threatening to flatten it".
Booth's story is brimming with the kind of details that bring such tales to life. A recording of The Ventures playing "Jinglebell Rock" drowns out children playing a taiko drum; the worst typhoon of the year immediately follows a local's assurance that "it's not going to rain today"; there's a filthy highway tunnel whose "circle of rusty daylight at the end of it looked like the bottom of a stopped-up lavatory bowl".
When encountering children Booth is "jeered at by boys, greeted sensibly by girls" and thus regrets "again and again that not a single one of the election posters I had been passing bore a woman's face".
He tells us that "Some months before, the Mona Lisa had been exhibited at a Tokyo gallery and had attracted such throngs of art lovers that the time each was allowed to spend in front of it had to be carefully rationed. The gallery owners decided eventually that the optimum time for viewing the Mona Lisa was seven seconds, and this was felt by most art lovers to be satisfactory".
The Roads to Sata is amusing, exciting, often profound and ultimately poignant. I highly recommend it and Booth's other book about walking in Japan, Looking for the Lost: Journeys Through a Vanishing Japan.
---