R.I.P., Harvey Pekar, October 8, 1939 – July 12, 2010.
American Splendor didn't seem like an ironic title when I was reading it as a teenager in Belmont, Massachusetts, in the 1980s. It was a portal to an adult world of work, sex, love, aggression, greed, friendship, music (and record collecting), literature, history, introspection, donuts, car repairs, rummage sales, groceries, philosophy, coffee, boxing matches, ice cream cones, politics, jury duty, muggings and any number of similarly exotic things. Splendor seemed like the right word.
One of my favorite stories was "Hypothetical Quandary", written by Pekar and illustrated by Robert Crumb. Pekar walks around the streets of Cleveland on an early Sunday morning and buys a loaf of rye bread. His thoughts are of his ambitions and his doubts. He wonders how important it is to him to be able to support himself as a writer. But it's all hypothetical. Here's how it ends.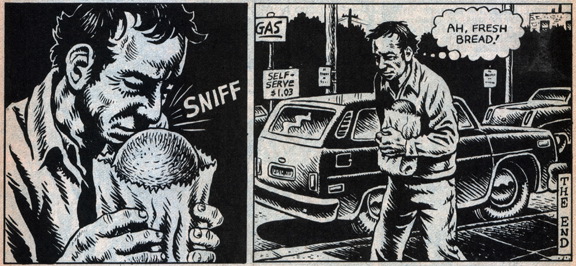 Epiphanies of the unglamorous have been the point of most "serious" American short story writing for the last few decades. "Ah, fresh bread!" is an epiphany and "Hypothetical Quandary" is a short story, but the epiphany and the story are on a higher level. Pekar's writing has not a single unnecessary word and Crumb's artwork here is sublime. I wouldn't trade "Hypothetical Quandary" for the complete works of Raymond Carver.
Harvey and his family went to Tokyo as part of the American Splendor publicity tour. They were on the cover of this magazine.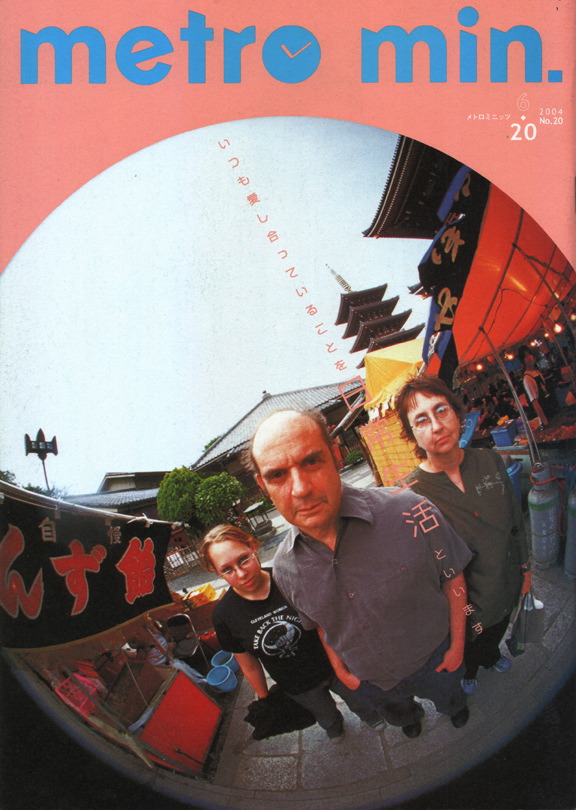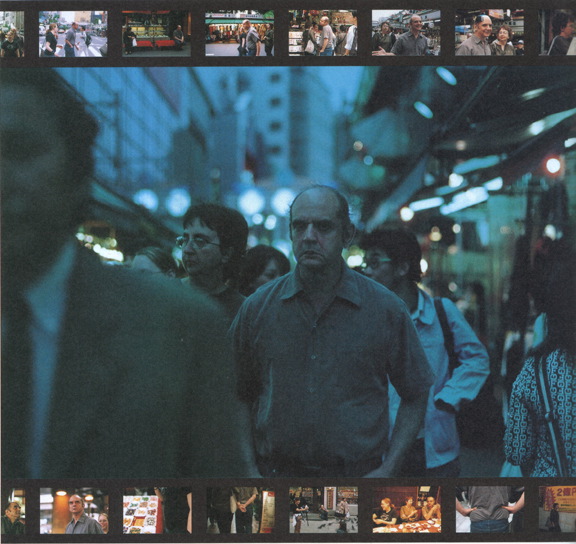 In the magazine is a Japanese Harvey Pekar comic by Daisuke Shibata.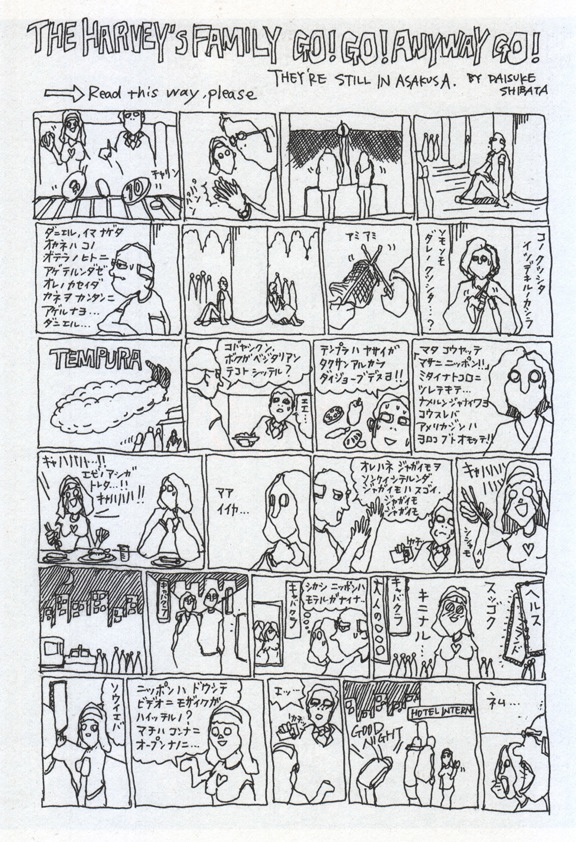 Since Harvey didn't write it, I don't know if it counts as an American Splendor comic. Shibata laid out the panels from left to right, as opposed to Japanese comics, which set them from right to left. Thus the arrow telling his Japanese readers (in English) how to read the comic. Is this the only Harvey Pekar comic that was written in a language other than English?
The first dozen or so issues of American Splendor are among my favorite reading of all time. I've re-read them several times over the years and found them to be just as good, if not better, than they were the last time I checked in with them. The writing is great and Harvey's artist collaborators bring life to the pages and the pages to life.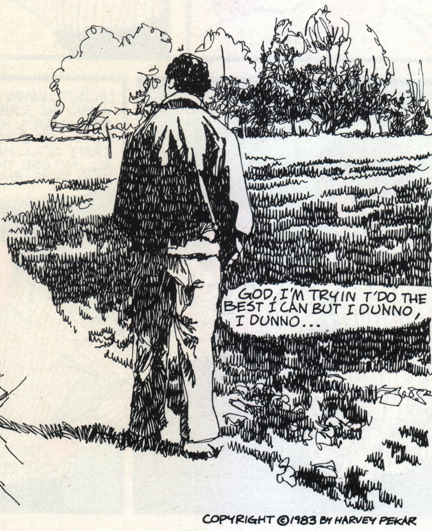 ---
The 121st Soundtrack of the Week is The Prisoner: The Complete Chappell Recorded Music Library Cues a 3-CD set whose sales will benefit Kirkwood Hospice in West Yorkshire.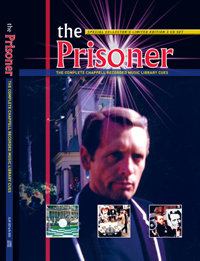 You can read a bit about this set here. The packaging and liner notes are excellent and the set is sure to please "the connoisseur of Prisoner music" for whom it is intended. The 3 CDs are numbered 1, 2 and 6.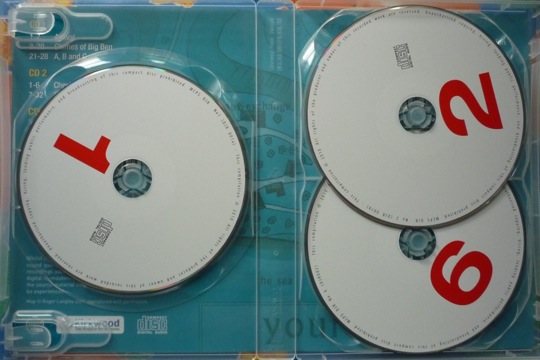 But what about the music? Not to be confused with music composed or adapted especially for the series, these CDs contain library music that was licensed for use in The Prisoner. Some of it has been available before, on this or that compilation, but now you can hear all of it. These are my favorites, episode by episode (keeping in mind that some cues were used in more than one episode).
The first library cue in the first episode, "Arrival", is "Experiments in Space Part 2: Malus" by Robert Farnon. The insanely cheery and syrupy music that drives No. 6 crazy in his new home is Tony Tamburello's "Party Dress".
The tense music for No. 6's escape by boat ("Zero Minus Sixty" by Robert Farnon) in "Chimes of Big Ben" works so well, it's hard to believe it wasn't composed for the show. From the same episode, Clive Richardson's "Radiolocation" is a portrait of suspense for vibes, double-bass, strings and horns. "Chimes of Big Ben" contains my favorite of these cues, "Foret Tropicale/Tropical Forest" by Paul Bonneau, a beautiful surf/exotica cue. I've heard this being played in the background while WFMU DJs talk.
My favorite episode of The Prisoner, "A, B and C", also contains some of my favorite music. Camille Sauvage's "Attente/Waiting" is a swinging tune for jazz combo, a bit West Coast but with an unusual electric guitar sound and some cool organ playing. "Bienvenue Mister Jones/Welcome Mr Jones" by Jack Arel & Pierre Detour is a masterpiece of horn-driven '60s rock, used in the fantastic "This is a dreamy party!" scene.
A highlight from "Checkmate" is Robert Farnon's "Drumdramatics No. 3: Section 2. - Double drumbeat, crescendo", a solo timpani feature. This is followed by the otherworldy "Harp Interludes Part 2: Section 9 - intense dramatic", a beautiful and eerie harp solo also written by Robert Farnon.
"The Girl Who Was Death" also had some wonderful library tracks. I get Johnny Hawkesworth's "Cue for Murder No. 1 - Harpsichord bass bongo - slow" stuck in my head all the time. It's one of the most Prisonerish of the pieces here. Hawkesworth follows this with "Dramatic Harpsichord Links No. 2 Slow ominous", another 30-second masterpiece. Jack Arel & Jean Claude Petit's "Psychedelic Portrait" is a great backbeat-driven tune with heavy piano, horns, bongo and electric guitar. It's for the scene in the record shop and was, I think, on a Jack Arel CD I bought many years ago. There's some "out" horn soloing at the end. (Maybe that's where Iggy got the idea for "L.A. Blues".) Johnny Hawkesworth's woozy "Psychedelia", featuring the sitar and percussion ensemble (including, I think, the inside of a piano), is the perfect accompaniment for "The Girl Who Was Death"'s hallucinatory car chase scene. "Fond Des Mers" by Paul Bonneau is a gorgeous and otherwordly musical setting for the title character's twisted declaration of love. The last piece of music in the episode is Nino Nardani's "Catch That Man", a very strange tune with an up-tempo jazz groove, honking horns and chimes and other percussion run through delays.
"Dance of the Dead" has "Universal Sideral/Sidereal Universe" by Paul Bonneau, a sci-fi sounding cue with strange, sliding electronic pitches, probably some kind of analog synthesizer. Johnny Hawkesworth's "Cue For Murder No. 2 - Harpsichord gathering speed" is a highlight, as is "Harpsichord For Drama No. 1: Section 4 - Very fast, bass, drums" by Hawkesworth & Ron Grainer (composer of the Prisoner theme as well as the theme for Doctor Who).
There's only one cue from "Free For All" but it's a great one: Jack Arel & Jean Claude Petit's "Hemisphere Sud/Southern Hemisphere", a bit of tropical easy listening. "The Schizoid Man" also has only one track, the pensive "Complainte/Lament" by Camille Sauvage. Joe Veneux's breezy, sunny and wistul "Ocean" is likewise the only library track from "Many Happy Returns".
The three cues from "It's Your Funeral" are ersatz Japanese music. Nino Nardini gives us "Osaka" and Edward Charles offers "Kabuki". The other one is Sidney Torch's "Chappell's Changing Scenes No. 3: Section 5 - Death; crash by gong".
"Do Not Forsake Me Oh My Darling" is the worst epsiode of the series, so bad that it damages the program as a whole. Patrick McGoohan was off making Ice Station Zebra and for some reason, an episode was made more or less without him. It's a dismal collection of clichés and I find it practically unwatchable. Some of the music is okay, though, such as the straight West Coast-style "Uptown Jazz" by Malcolm Lockyer. Johnny Hawkesworth's "Hipster" is a nice, groovy dance track and Mel Young's "The Dark Room" is a smoky, bluesy tuen for organ combo.
The only cue from "Once Upon a Time" is the Spanish guitar and castanets number "Almeria" by Paul Bonneau.
From "The General", Robert Farnon's "Drumdramatics No. 2: Section 4 - Dream vibrato, rising and falling" is adequately explained by its title. Eric Peters's "Electronic Mind" and "Electronic Screams", used for the Speed Learn sounds, are both great. Sidney Torch's "Off Beat Moods Part 1: Section 3 - Dramatic Sustained" is 28 seconds of quintessential Prisoner music, perfect for the show.
"Fall Out" begins with a great solo timpani piece, Robert Farnon's "Drumdramatics No. 1: Section 1 - Rolling tympani with beat". Farnon's "Drumnastics No. 3: Section d - Reverse space waves" is also strange and wonderful. "September Ballad" by Gary Bellington is another one that will be in my head my whole life, it seems. It's the stirring accompaniment for No. 6's return to London.
At the end of the final CD come some bonus tracks, cues "often associated in error with The Prisoner". Of these I liked Camille Sauvage's "Attente Trans Europe Express" though I didn't associate it with The Prisoner. While listening to this set I wrote in my notes, "What the hell is this? I don't remember it but it's awesome". Johnny Hawkesworth's melancholy "Harpsichord Links 4" could have fit nicely into a number of episodes.
Two additional bonus tracks are included, Charles Williams's "House of Mystery", which "is featured extensively" in Dennis Potter's The Singing Detective (the original BBC series). Apparently it's a Chappell Library track that had been hard to find but was discovered while preparing this CD of music from The Prisoner. The last is a "bootleg Beatles" recording of "All You Need Is Love", of which the original recording was so memorably featured in "Fall Out".
---
Spotted in Harvard Square a couple of weeks ago, sidewalk book sale with honor system.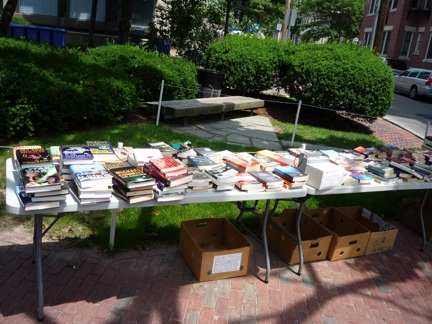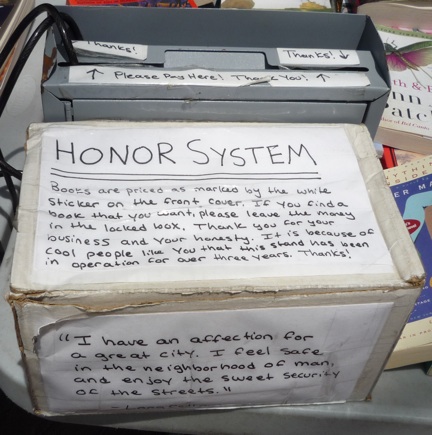 ---
In 1989 I bought a Russian film encyclopedia from a book store in Moscow. It contained information (in Russian) about a large number of movies you weren't likely to read about in any English-language source.
I was most captivated by a still from a Romanian movie called, in Russian, Ukraly Bombu. At the time, I supposed this translated as They Stole the Bomb and used the image for the cover of the very first Gutbrain CD, Game of Death: "Reprisal".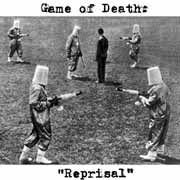 More than twenty years after first seeing that still, I've finally seen the movie. It's an excellent, absurdist film about the desire for and fear of nuclear weapons. It has excellent camerawork and set and costume design. It also has no spoken words, just music, sound effects and occasional utterances and things such as sneezes.
The title, S-a furat o bombă, is translated into several languages on screen, and into English as A Bomb Was Stolen.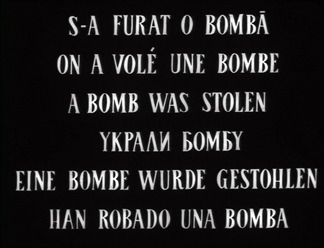 It begins with our hero, a nice young man, picking a flower in a field. All hell breaks loose and he's surrounded by the weirdos that you saw on the Game of Death cover.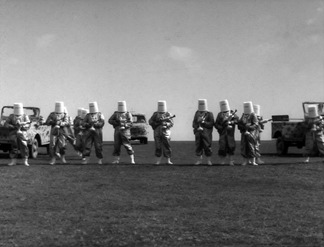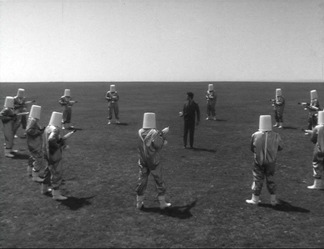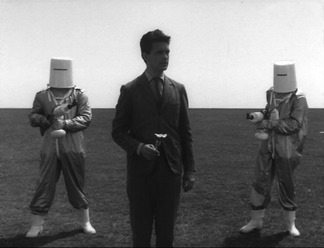 It turns out he's stumbled onto the test site for a new bomb. The test is watched on a television that's watched through binoculars.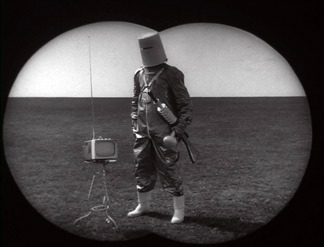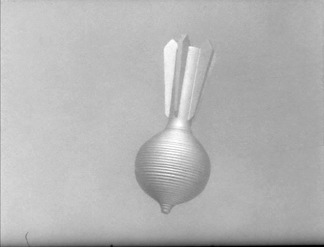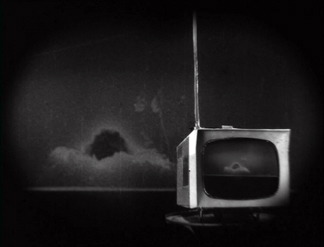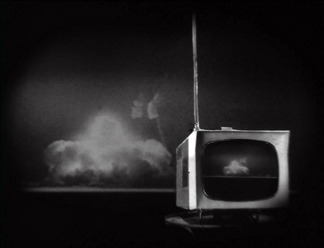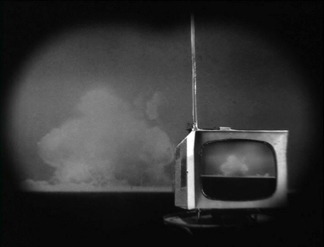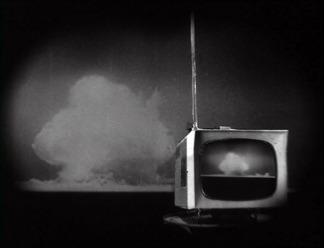 Then gangsters steal the bomb.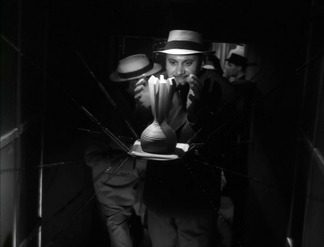 But it ends up with our hero, who unknowingly carries it around in a bag.
There's an interesting scene with a sort of psychiatrist, who has a brain in a bubbling tank that's attached to a typewriter.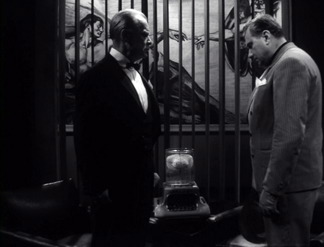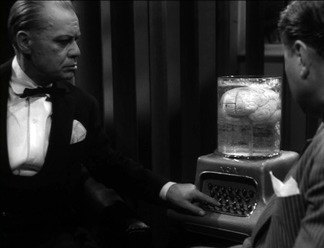 Our hero goes to the cinema, where a monster movie is playing.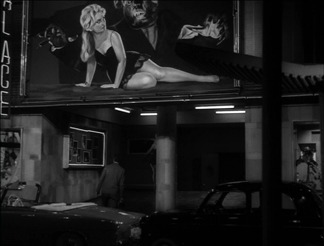 He gets the whole story by looking at the lobby cards.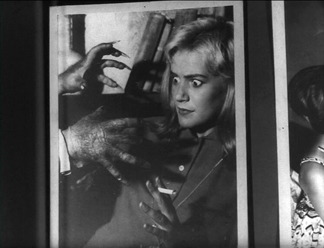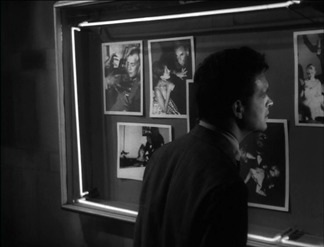 He's in love with a woman who works on the local bus. Whenever he sees her, he imagines that she has angel wings on her back. In this scene, there's a Godzilla poster in the background.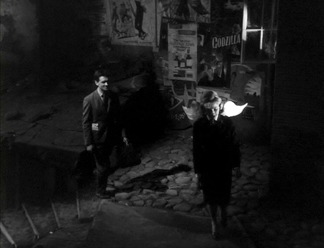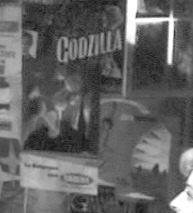 You see the same poster in the background again here.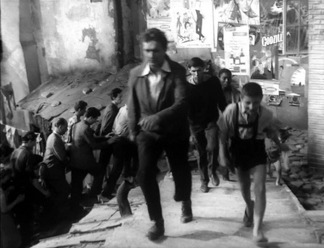 There's some very impressive set design.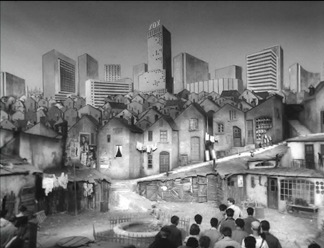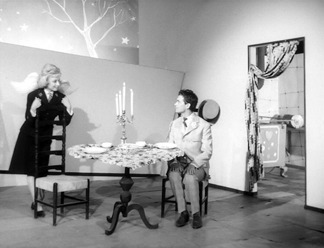 But these guys are my favorite.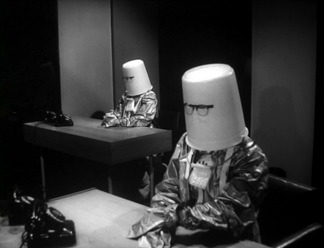 The music, composed by Dumitru Capolanu and conducted by Paul Popescu, is great throughout, at times suggesting what a combination of Toru Takemitsu, Sun Ra and Lee Perry might be like. At other times it's frantic jazz and early rock and roll.
---
You leave the house with your family before dawn. The four of you—mom, dad, teenage son and teenage daughter—pile into the sedan and drive off, pulling a trailer behind you. You're off to the mountains for a fishing and camping vacation.
You're about halfway there when the sky flashes with what seems like lightning. There's no storm, though. You turn around and see mushroom clouds forming above what used to be the city of Los Angeles.
World War 3 just started. Now you're in the jungle. Everybody around you will attack and kill you for food, water, gasoline, tools, anything to survive. If civilization isn't over, it's definitely on hold.
Even worse than the human animals fighting for survival are the marauding gangs of teenage punks, out for kicks. You've got to find a place to hide, somewhere to keep your family safe. It's a nightmare but you're not asleep.
Of course it would sound like jazz.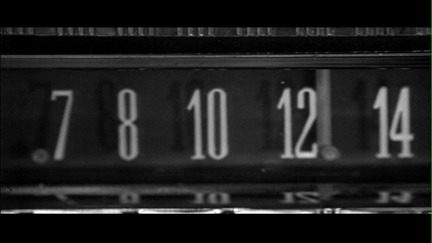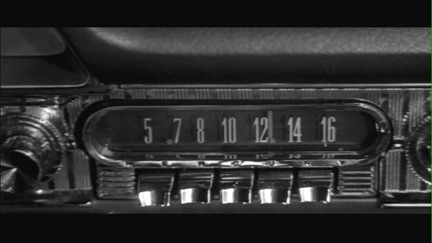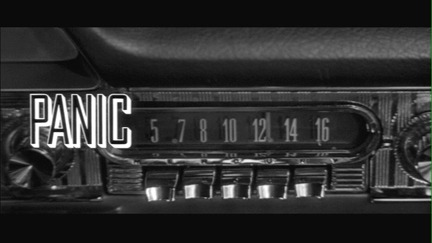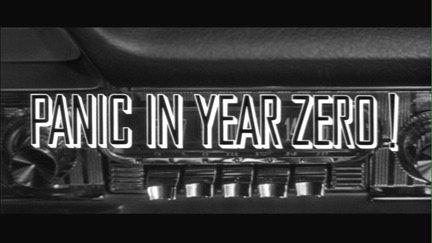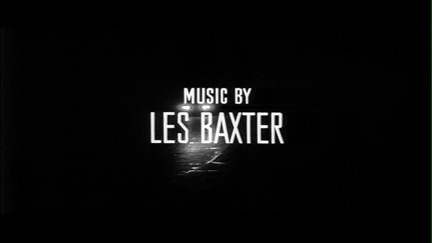 .
Les Baxter's music for Panic in Year Zero!, a movie directed by and starring Ray Milland and also starring Frankie Avalon, is the 120th Soundtrack of the Week.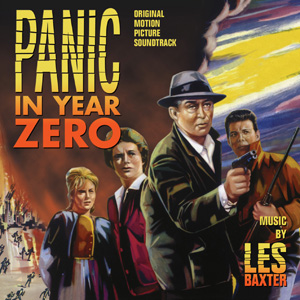 It starts with Baxter's post-bop, hard jazz score playing over a black screen. Then we see the car's radio, the source of the music. It's great, aggressive music, in the vein of Elmer Bernstein's celebrated The Man With the Golden Arm score.
In addition to the driving horns, there are various other moods and textures, stalking bass, melancholy guitar, locomotive snare. The most frequently used motif is a kind of "wheels rolling" driving music. The family spends a lot of the movie driving places and Milland frequently cuts to close-up shots of the car's spinning wheels as they make an unsettling whining noise on the road.
Things like fall out and radiation are discussed but don't appear to affect anything. Panic in Year Zero! is remarkably effective considering its modest budget, which apparently didn't allow much for special effects. It's surprisingly harsh and bleak. Baxter's music is great.
As the family has to fight for their survival against inhuman young punks in what could be considered a nuclear wasteland, I wonder if a young Wes Craven saw this movie and came away from it with the idea for The Hills Have Eyes, another "nuclear" family story.
---
Evidence for the powerful impact of television on film attendance, at least in 1963, came from Pacific's Bart Pirosh, who said the biggest box office weekend he ever had in his three decades in the business was the weekend after the assassination of President John F. Kennedy. "The people came just in droves," he recalled, "because they couldn't see regular television programs." Similarly, a Georgia owner said that the week after the assassination was the biggest he ever had. "They lined up out here for two and three hours. Face it, they were cut off from their crap on the tube. The next big surge was during the moonshots. The moonshots were the best thing that's happened to drive-ins since Elvis."
Kerry Segrave, Drive-In Theaters: A History from Their Inception in 1933, 1992
---