2010 July 12 • Monday
The 121st Soundtrack of the Week is The Prisoner: The Complete Chappell Recorded Music Library Cues a 3-CD set whose sales will benefit Kirkwood Hospice in West Yorkshire.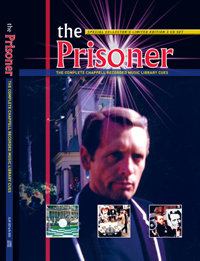 You can read a bit about this set here. The packaging and liner notes are excellent and the set is sure to please "the connoisseur of Prisoner music" for whom it is intended. The 3 CDs are numbered 1, 2 and 6.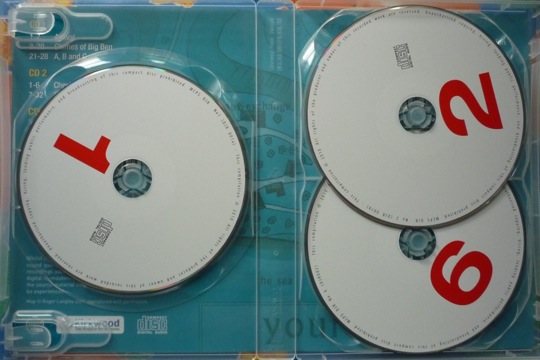 But what about the music? Not to be confused with music composed or adapted especially for the series, these CDs contain library music that was licensed for use in The Prisoner. Some of it has been available before, on this or that compilation, but now you can hear all of it. These are my favorites, episode by episode (keeping in mind that some cues were used in more than one episode).
The first library cue in the first episode, "Arrival", is the eerie "Experiments in Space Part 2: Malus" by Robert Farnon. The insanely cheery and syrupy music that drives No. 6 crazy in his new home is Tony Tamburello's "Party Dress".
The tense music for No. 6's escape by boat ("Zero Minus Sixty" by Robert Farnon) in "Chimes of Big Ben" works so well, it's hard to believe it wasn't composed for the show. From the same episode, Clive Richardson's "Radiolocation" is a portrait of suspense for vibes, double-bass, strings and horns. "Chimes of Big Ben" contains my favorite of these cues, "Foret Tropicale/Tropical Forest" by Paul Bonneau, a beautiful surf/exotica cue. I've heard this being played in the background while WFMU DJs talk.
My favorite episode of The Prisoner, "A, B and C", also contains some of my favorite music. Camille Sauvage's "Attente/Waiting" is a swinging tune for jazz combo, a bit West Coast but with an unusual electric guitar sound and some cool organ playing. "Bienvenue Mister Jones/Welcome Mr Jones" by Jack Arel & Pierre Detour is a masterpiece of horn-driven '60s rock, used in the fantastic "This is a dreamy party!" scene.
A highlight from "Checkmate" is Robert Farnon's "Drumdramatics No. 3: Section 2. - Double drumbeat, crescendo", a solo timpani feature. This is followed by the otherworldy "Harp Interludes Part 2: Section 9 - intense dramatic", a beautiful and eerie harp solo also written by Robert Farnon.
"The Girl Who Was Death" also had some wonderful library tracks. I get Johnny Hawkesworth's "Cue for Murder No. 1 - Harpsichord bass bongo - slow" stuck in my head all the time. It's one of the most Prisonerish of the pieces here. Hawkesworth follows this with "Dramatic Harpsichord Links No. 2 Slow ominous", another 30-second masterpiece. Jack Arel & Jean Claude Petit's "Psychedelic Portrait" is a great backbeat-driven tune with heavy piano, horns, bongo and electric guitar. It's for the scene in the record shop and was, I think, on a Jack Arel CD I bought many years ago. There's some "out" horn soloing at the end. (Maybe that's where Iggy got the idea for "L.A. Blues".) Johnny Hawkesworth's woozy "Psychedelia", featuring the sitar and percussion ensemble (including, I think, the inside of a piano), is the perfect accompaniment for "The Girl Who Was Death"'s hallucinatory car chase scene. "Fond Des Mers" by Paul Bonneau is a gorgeous and otherwordly musical setting for the title character's twisted declaration of love. The last piece of music in the episode is Nino Nardani's "Catch That Man", a very strange tune with an up-tempo jazz groove, honking horns and chimes and other percussion run through delays.
"Dance of the Dead" has "Universal Sideral/Sidereal Universe" by Paul Bonneau, a sci-fi sounding cue with strange, sliding electronic pitches, probably some kind of analog synthesizer. Johnny Hawkesworth's "Cue For Murder No. 2 - Harpsichord gathering speed" is a highlight, as is "Harpsichord For Drama No. 1: Section 4 - Very fast, bass, drums" by Hawkesworth & Ron Grainer (composer of the Prisoner theme as well as the theme for Doctor Who).
There's only one cue from "Free For All" but it's a great one: Jack Arel & Jean Claude Petit's "Hemisphere Sud/Southern Hemisphere", a bit of tropical easy listening. "The Schizoid Man" also has only one track, the pensive "Complainte/Lament" by Camille Sauvage. Joe Veneux's breezy, sunny and wistul "Ocean" is likewise the only library track from "Many Happy Returns".
The three cues from "It's Your Funeral" are ersatz Japanese music. Nino Nardini gives us "Osaka" and Edward Charles offers "Kabuki". The other one is Sidney Torch's "Chappell's Changing Scenes No. 3: Section 5 - Death; crash by gong".
"Do Not Forsake Me Oh My Darling" is the worst epsiode of the series, so bad that it damages the program as a whole. Patrick McGoohan was off making Ice Station Zebra and for some reason, an episode was made more or less without him. It's a dismal collection of clichés and I find it practically unwatchable. Some of the music is okay, though, such as the straight West Coast-style "Uptown Jazz" by Malcolm Lockyer. Johnny Hawkesworth's "Hipster" is a nice, groovy dance track and Mel Young's "The Dark Room" is a smoky, bluesy tuen for organ combo.
The only cue from "Once Upon a Time" is the Spanish guitar and castanets number "Almeria" by Paul Bonneau.
From "The General", Robert Farnon's "Drumdramatics No. 2: Section 4 - Dream vibrato, rising and falling" is adequately explained by its title. Eric Peters's "Electronic Mind" and "Electronic Screams", used for the Speed Learn sounds, are both great. Sidney Torch's "Off Beat Moods Part 1: Section 3 - Dramatic Sustained" is 28 seconds of quintessential Prisoner music, perfect for the show.
"Fall Out" begins with a great solo timpani piece, Robert Farnon's "Drumdramatics No. 1: Section 1 - Rolling tympani with beat". Farnon's "Drumnastics No. 3: Section d - Reverse space waves" is also strange and wonderful. "September Ballad" by Gary Bellington is another one that will be in my head my whole life, it seems. It's the stirring accompaniment for No. 6's return to London.
At the end of the final CD come some bonus tracks, cues "often associated in error with The Prisoner". Of these I liked Camille Sauvage's "Attente Trans Europe Express" though I didn't associate it with The Prisoner. While listening to this set I wrote in my notes, "What the hell is this? I don't remember it but it's awesome". Johnny Hawkesworth's melancholy "Harpsichord Links 4" could have fit nicely into a number of episodes.
Two additional bonus tracks are included, Charles Williams's "House of Mystery", which "is featured extensively" in Dennis Potter's The Singing Detective (the original BBC series). Apparently it's a Chappell Library track that had been hard to find but was discovered while preparing this CD of music from The Prisoner. The last is a "bootleg Beatles" recording of "All You Need Is Love", of which the original recording was so memorably featured in "Fall Out".
---