Rob Price
Gutbrain Records
rob + gutbrain.com = email
---
Patrick Loehr's Bird Parade, a recent release from Centipede Press, is a laconic and delicate coming of age story that touches on themes of the American west, masculinity and guns and a transition from boyhood to manhood.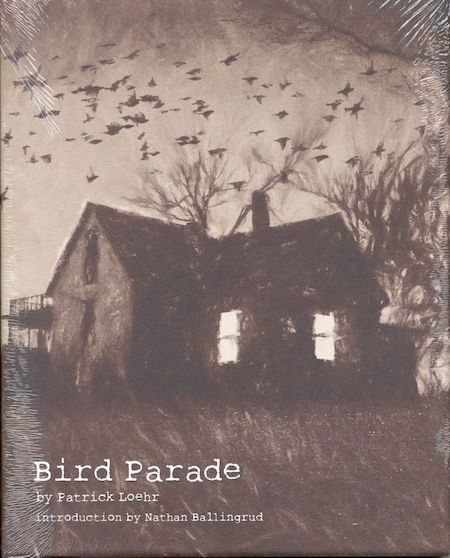 War and trauma and loneliness are part of the environment as well.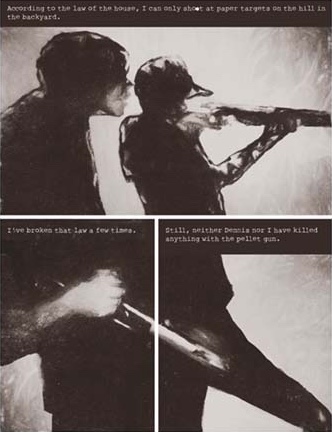 Despite the emotionally shattering nature of the story, it's very quietly told. The artwork is stunning and different, muted and powerful, as is the text.

This is a limited edition, and a first edition as well. Anybody interested in graphic novels that aim for higher literary and artistic targets shoudl get it!
---
2019 July 29 • Monday

For the 580th Soundtrack of the Week we sat down with Francis Lai's score for The Bobo, one of the few Peter Sellers movies I haven't seen.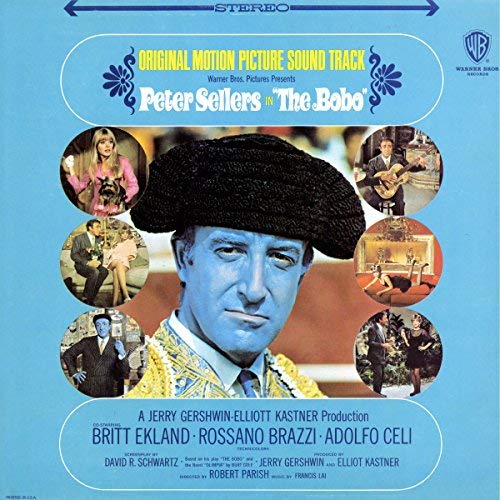 It starts with "The Blue Matador", which combines Spanish guitar and mariachi-ish horns for a lovely slow waltz.

Then there's a bossa nova, "Olimpia's Theme", similar to "Insensatez" and quite nice. There's a reprise of this later with Stan Getz-like saxophone playing and a nice saxophone solo. Urgently driving strings propel "Imagine (Retreat Version)" but it quickly shifts gears into a gently swaying waltz similar to the "Blue Matador" theme. This also alternates with some denser and more dramatic writing. Peter Sellers himself sings "Girl from Barcelona" in a Spanish accent in a clip from the movie. After this comes a vocal version of the title song, very poppy and with that jazz chorus that was very fashionable in the late '60s but which I don't care for. The lyrics are kind of cute and reference "The Girl from Ipanema". Then there's a vocal version of "Imagine", again with the chorus, but I will admit that it's a good way to highlight the strengths of the melody. And then there's another clip from the movie with Peter Sellers singing "The Bulls of Salamanca". "Bobo's Lament" has Spanish trumpet and guitar and wouldn't be out of place in a spaghetti western. The support given by the strings is quite good. Bossa nova abounds and we get an arrangement of the title song now in that style, again with the tenor saxophone featured. The record concludes with our jazz chorus singing a vocal version of "The Blue Matador".
---
2019 July 26 • Friday
And then there was that time that Charles Bronson went to The Food Chakra.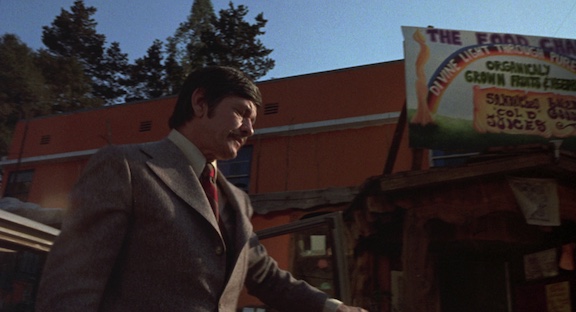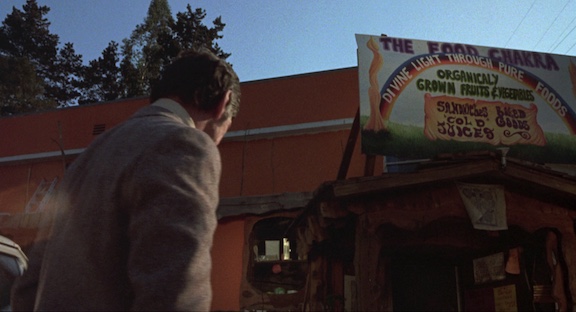 He was actually pretty nice to the people there. He had to lean on them a bit to get whatever cop intel he was after, but he didn't seem to have a problem with food chakras per se.
---
2019 July 24 • Wednesday
While I do have some Godzilla toys and memorabilia, including some rare and valuable items I found in Tokyo fifteen years ago, I realized I would never become a serious collector. There's too much and it's too expensive and what good would it do me to have all these vinyl figures sitting around?
But I love Godzilla and those toys are colorful and lovely.
Which is exactly why I was thrilled to buy a book dedicated to Mark Livolsi's collection of Godzilla toys. It's going up for auction, you see. And I couldn't and wouldn't bid on it. But, wow, it is a fantastic collection and I can afford Peekaboo Gallery's beautiful book dedicated to it: Vinyl Conflict.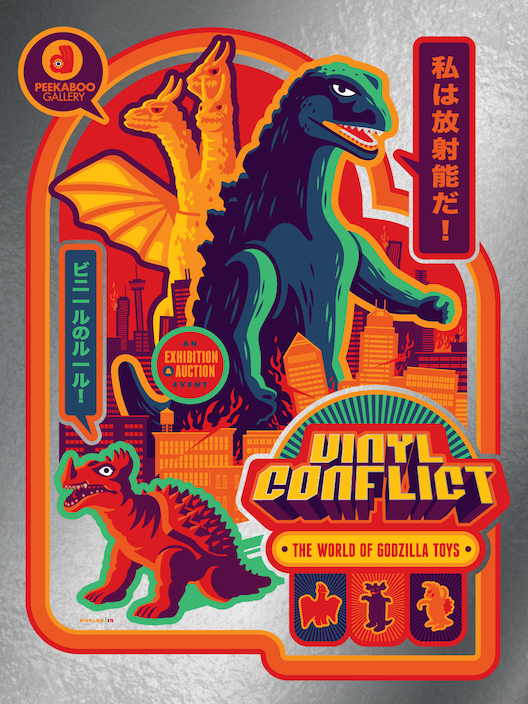 That might actually be an image of the poster for the auction. The book looks the same but says The Mark Livolsi Collection on it.
The pages are color coded for the different eras of Godzilla.

There are some movie posters.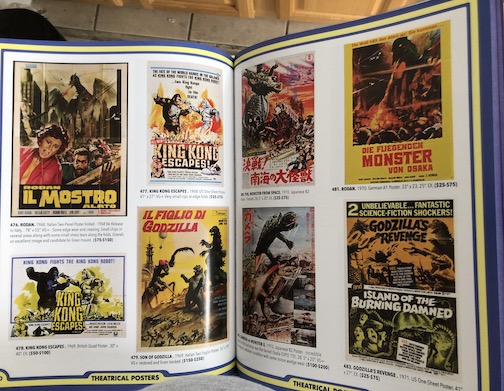 But mostly it's just toys, toys toys!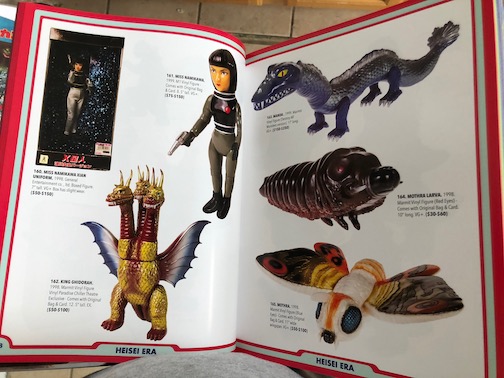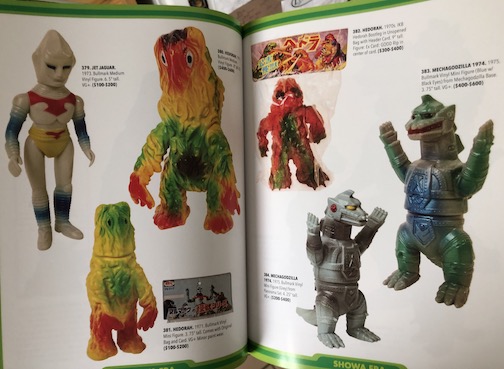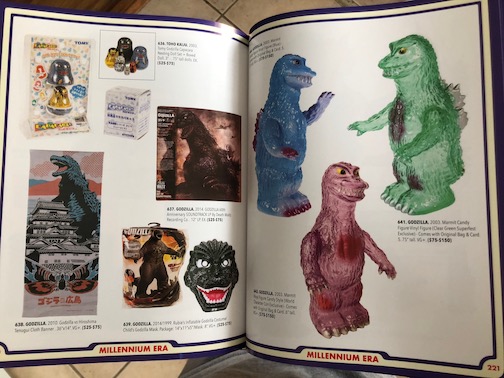 It's really okay just to look at the pictures and not have the actual items. Isn't it?
---
2019 July 22 • Monday
Angelo Francesco Lavagnino's music for Gungala, La Vergine della Giungla is the 579th Soundtrack of the Week.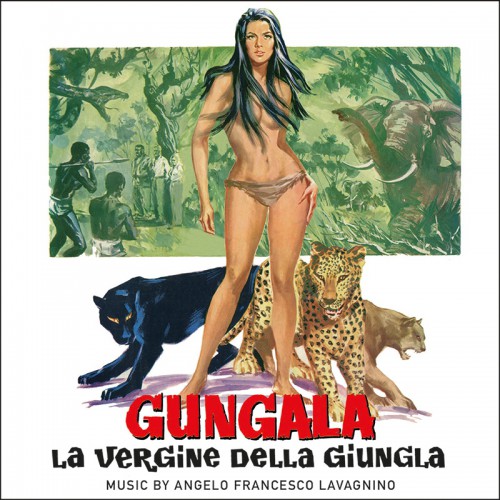 The cues are mostly variations on the first seven sequences.

Seq. 1, presumably the main title, is a rich and lush piece with hand percussion and strings and a choir singing wordlessly, all the elements blending together in a powerful storm of exotica. Half a minute of quiet hand percussion begins Seq. 2, and then a gong brings it to a close to be replaced by voices chanting something in Italian alternating with xylophone or marimba lines. Seq. 3 is a stinging piece that swoops and percolates and sounds like some of Les Baxter's famous exotica but with a more jittery energy to it. After that, Seq. 4 has tribal chanting/singing with percussion. Could fit into pretty much any old movie with a jungle setting, from King Kong to Mothra. Ends with a more atmospheric section. Seq. 5 is a dreamier and more hypnotic piece with a more subdued feel and swelling chords and textures. Seq. 6 picks up where this leaves off but adds an element of menace and mystery while creating more space. Seq. 7 is another cue with lots of spare room in it, allowing a handful of percussion instruments to resonate brilliantly as they make some precise statements. Then the whole orchestra and chorus come back in with the glorious main theme. And that's basically the different flavors you'll hear, although Seq. 14 has a nice section that features the strings and harpsichord or some similar-sounding instrument.
---
Respectfully submitted for your perusal, the March 1954 issue of American Home magazine.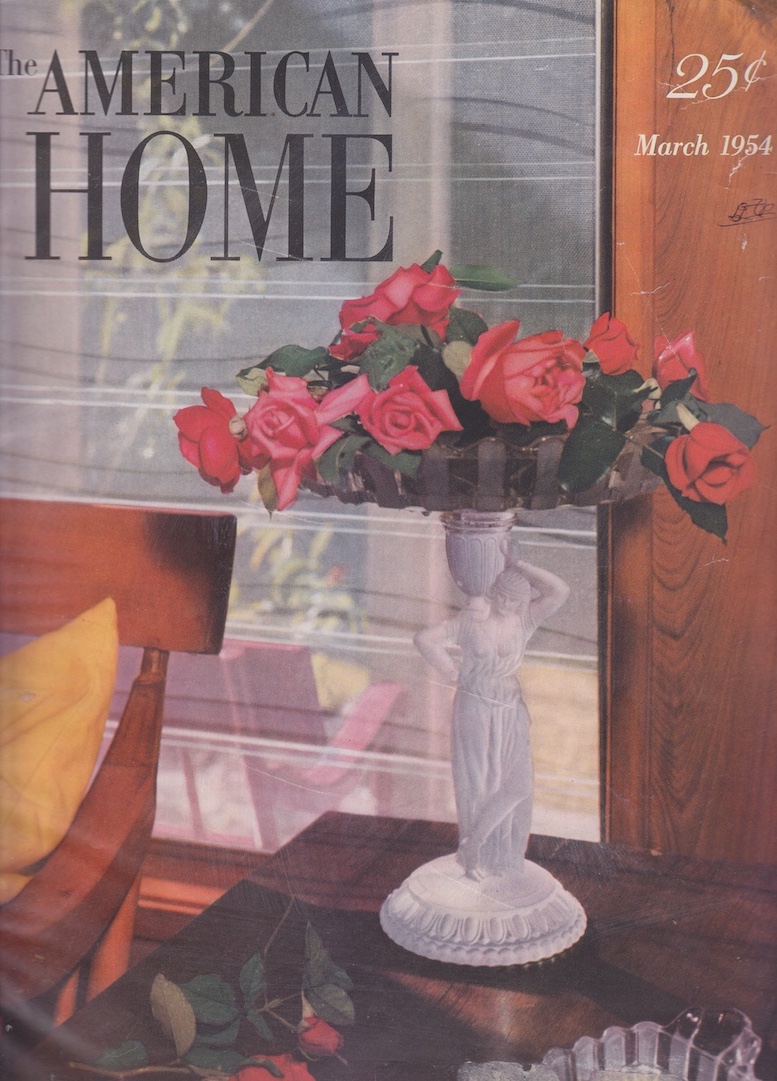 What's the present day equivalent of this? It's a trick question because I don't care! Whatever magazine is covering this turf today, it's not trying to convince you to buy a Hammond organ.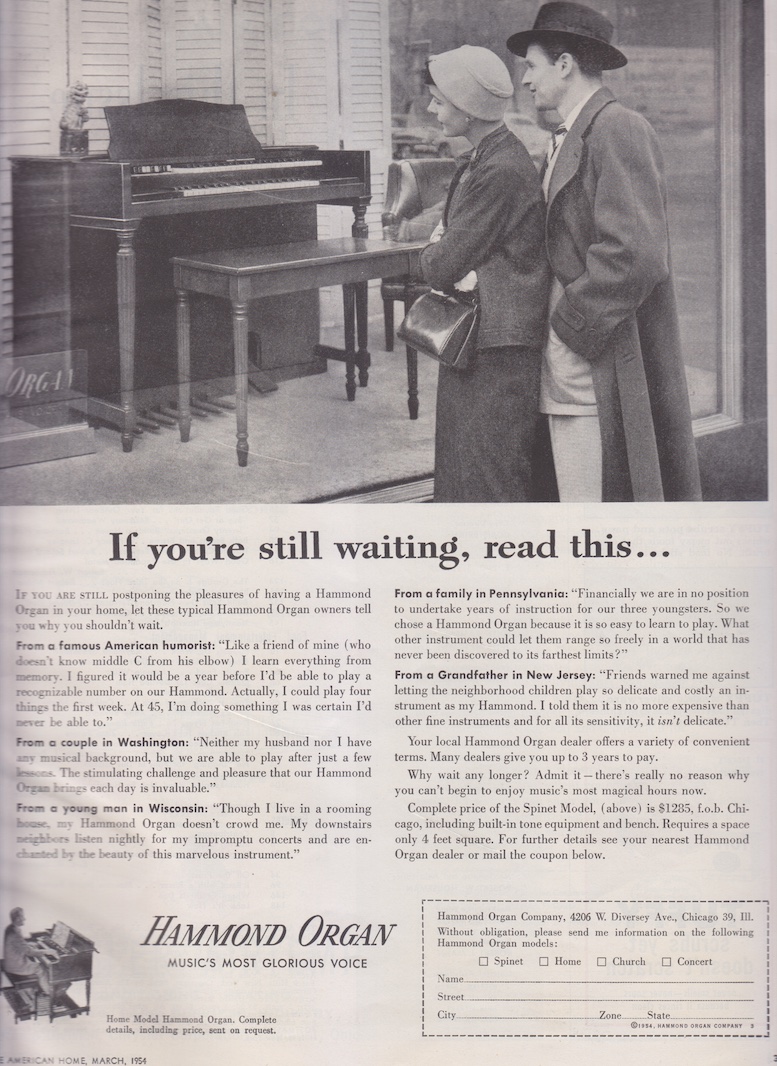 American Standard thinks it's going to get me with their shelf and drawer arrangements but all I need is this boss two-tone counter.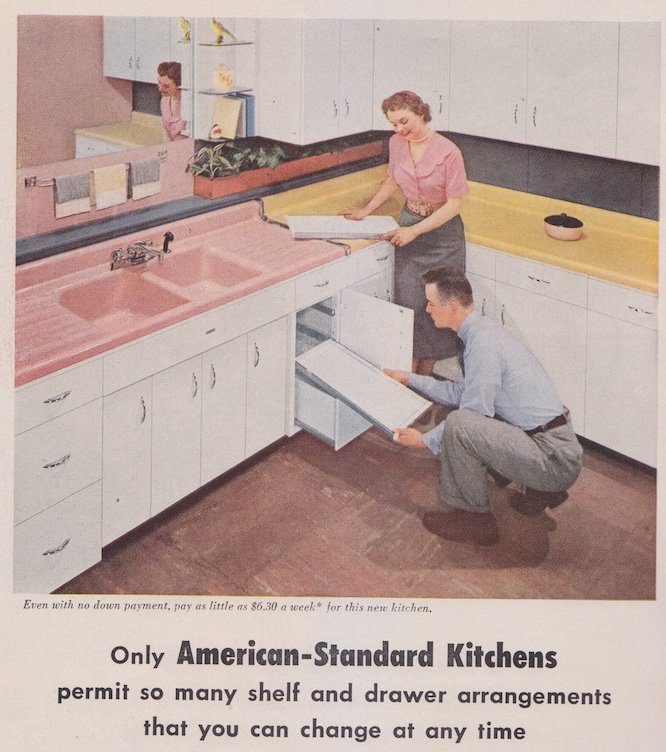 Things can get even more colorful if you've got the nerve.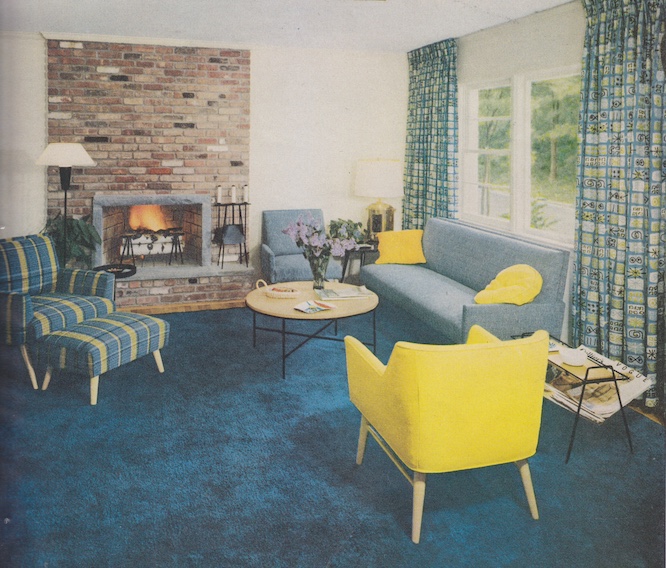 But just in case this seems, I don't know, too pampered or something, they blast you with this challenge to cook a steak in a bucket with only a newspaper for fuel!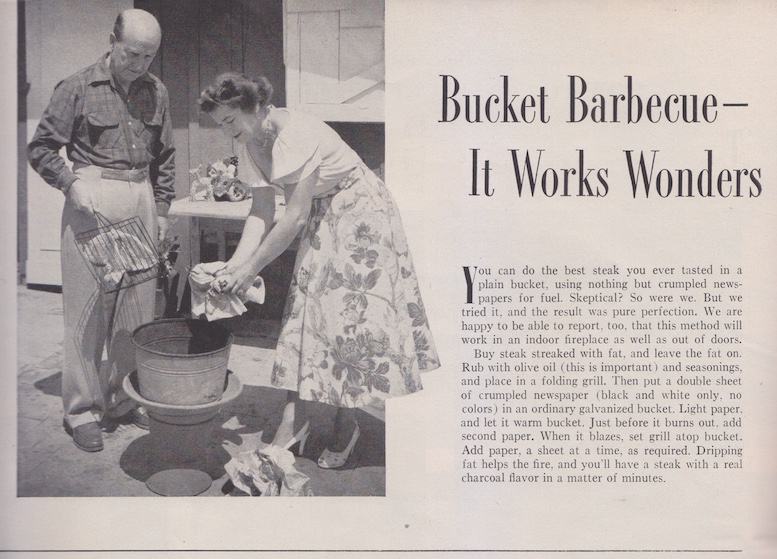 Upon seeing this I immediately sent an email to my parents asking them if they had any recollection of anybody ever doing this. I await their reply.
---
2019 July 17 • Wednesday
Before Hugo Gernsback launched Amazing Stories magazine, which was important enough to science fiction for the genre's biggest award to be given the name The Hugo in acknowledgement, he was editor of some other magazines.
Here's an example of one: The June 1924 Science and Invention.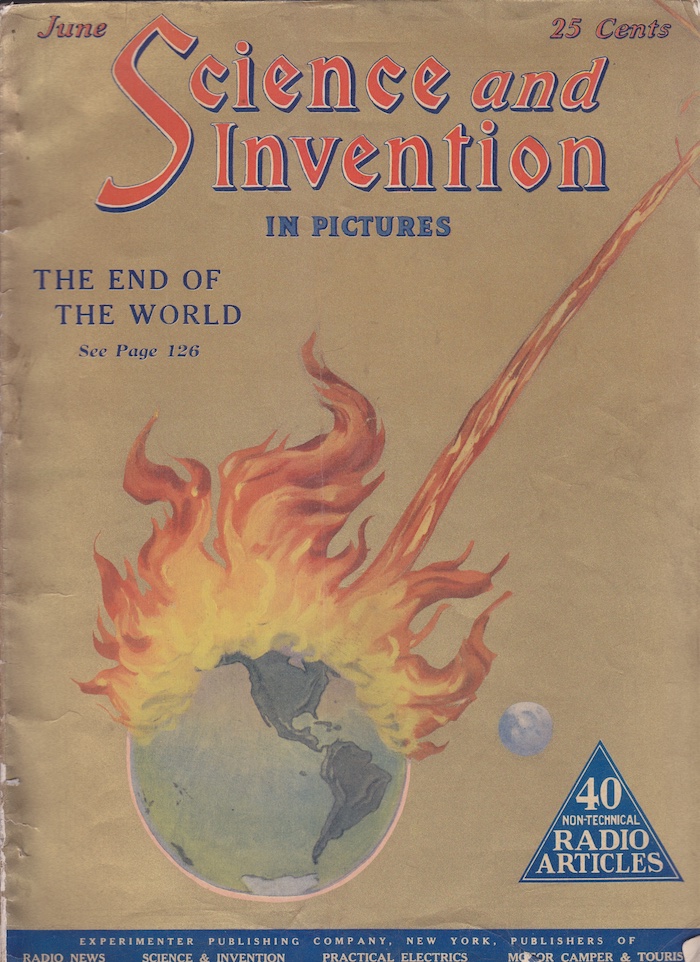 The cover story isn't quite as dramatic as the cover painting. It's just a two-page spread considering mostly undramatic ways the world might end, such as the sun dying etc.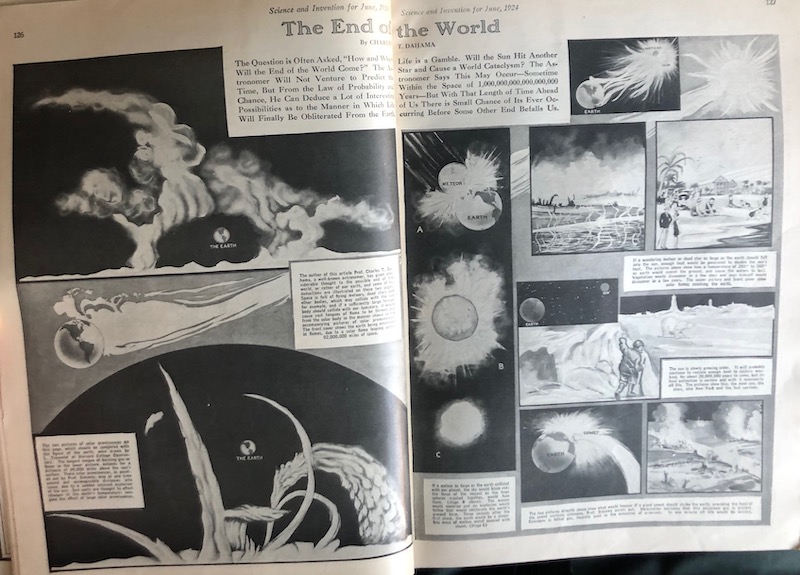 The more quotidian and ephemeral content is more interesting to me. Consider this article on a new advertising method. This seems totally bonkers. Did this actually happen? Was it as crazy as it sounds?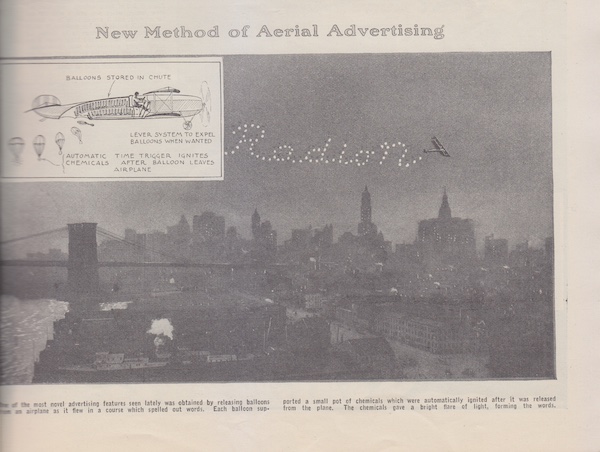 The caption reads: "One of the most novel advertising features seen lately was obtained by releasing balloons from an airplane as it flew in a course which spelled out words. Each balloon supported a small pot of chemicals which were automatically ignited after it was released from the plane. The chemicals gave a bright flare of light, forming the words". Imagine walking down the street only to have chemical-drenched popped balloons falling on you! As always, there are numerous excellent illustrations to admire.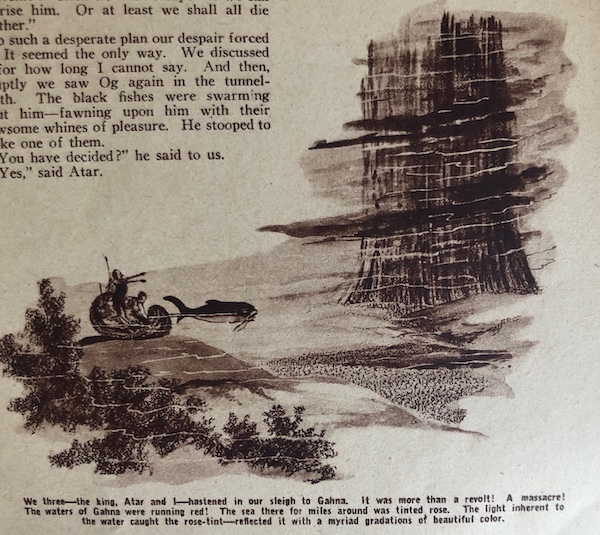 An interesting feature breaks down some fundamental movie-making techniques. This seems like a pretty cutting-edge article to have in 1924!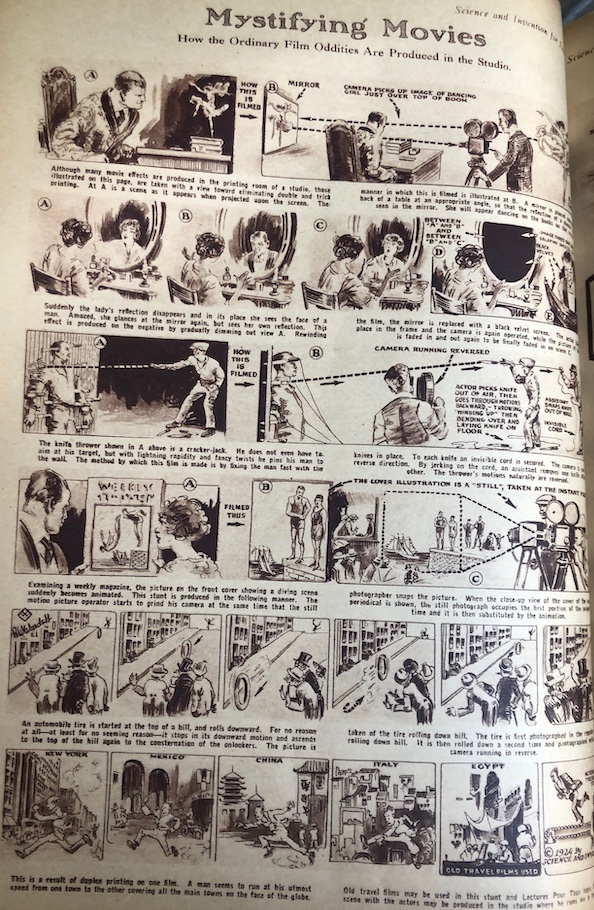 There's also this, about how "Girls Enjoy Astronomy Studies".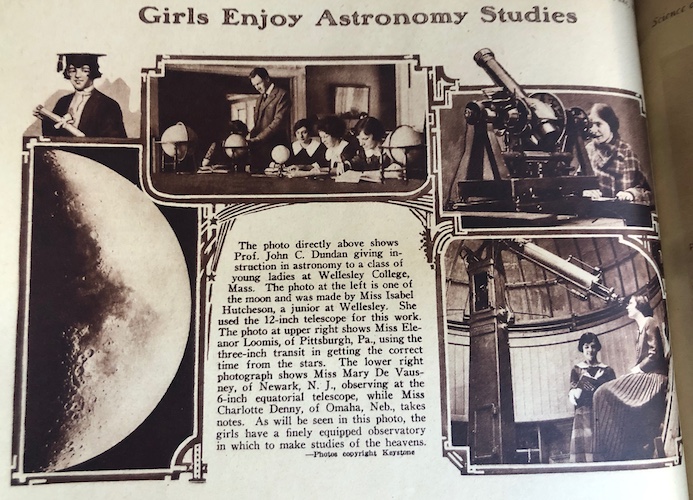 I wonder whatever happened to Isbael Hutcheson, Eleanor Loomis, Mary De Vausney and Charlotte Denny.
And then another educational feature, about how to spot gamblers who cheat! This magazine covered a lot of ground!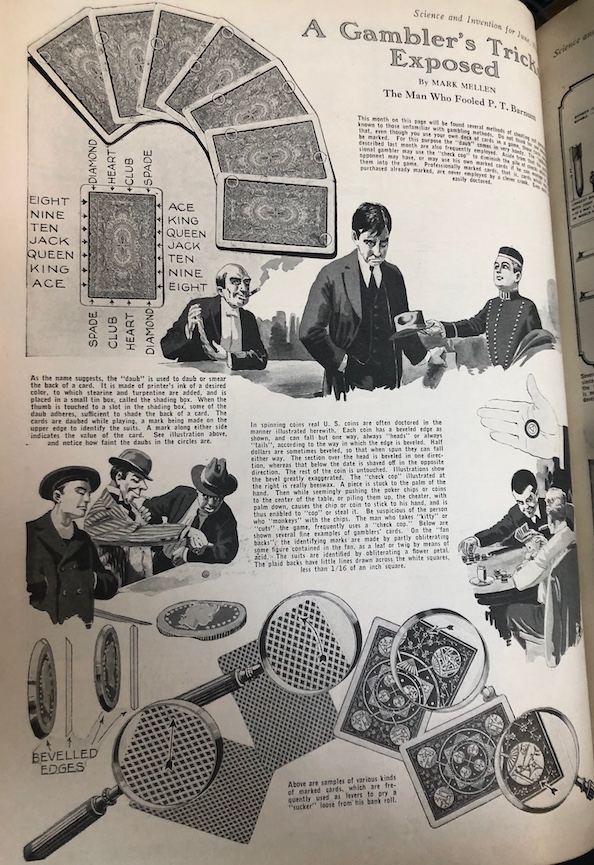 But we saved the best for last. Of these "Two Peculiar Experiments", it's the first that interests us.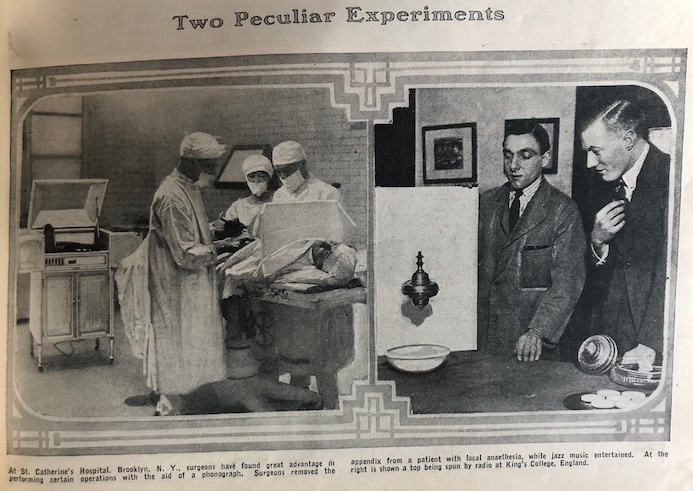 "At St. Catherine's Hospital, Brooklyn, N.Y., surgeons have found great advantage in performing certain operations with the aid of a phonograph. Surgeons removed the appendix from a patient with local anaethesia, while jazz music entertained."
Well of course it would have to be Brooklyn, wouldn't it? Fucking hipsters. (St. Catherine's was even in Williamsburg!!!)
And this is an amusing foreshadowing of Benedict Cumberbatch's Doctor Strange listening to Chuck Mangione's "Feels So Good" in the operating room.
But what jazz record were they listening to in Brooklyn during that 1924 appendectomy? Bix Beiderbecke made his first recording in February of that year. Sidney Bechet's first records were cut the year before.
Should health insurance cover your record shopping? Because I'm almost certainly beyond my deductible.
---
2019 July 15 • Monday
For the 578th Soundtrack of the Week we checked out the music from Pinball Summer by Jay Boivin and Germain Gauthier.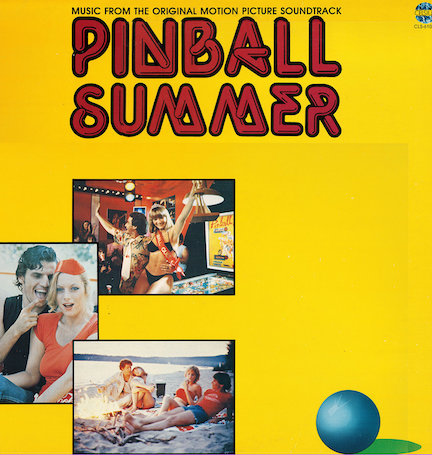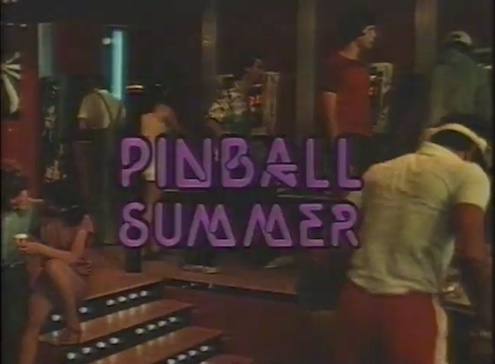 One of the interesting things about this record is that Red Mitchell is apparently playing bass on it! The other musicians are Germain Gauthier on guitar and piano, Jean Lebrun on saxophone, Daniel Barbe on synths and Yannick Létourneau on drums. Presumably Germain Gauthier and Joy Boivin are singing. "Summer Girls" is a schmaltzy sort of pop song with "Summer girls, free and easy" crooned as the chorus. Things pick up with "Summer Magic", which has more energy and more of an edge, as well as more interesting harmonic movement. It sounds agreeably like ELO. Then we get to the title track, a very Beach Boys-type song: "Pinball summer / I'll take you on / Pinball summer / Won't you come along?". It's maybe a bit too long but a very catchy number. "Wheel of Fortune" ends the A side with another song with strong Beach Boys influences but also something else, some saxophone soloing and New Wave flavors. The second side starts with "Sally Joy", a driving power pop song that sounds '80s while also incorporating elements of sixties and country rock. "Voyeur's Motel" is "cash and carry and no one signs the register". It's a groovy and libidinous song that has slinkiness keeping company with more straightforward rock and pop elements. A mixture of '70s and '50s pop ideas is what you'll hear "Can You Catch Me". If more time and money had been available we'd probably hear several other instruments besides saxophone and synthesizer taking solos. Finally there's "Sweet Madness", similar to most of the other songs but with more of a '70s feeling driving it, with pounding piano throughout and an ascending vocal line on the chorus, the word "sweet" hitting at least three different notes just by itself.
---
2019 July 12 • Friday
Here's the October 1962 of Argosy or, to be precise, The New Golden Argosy.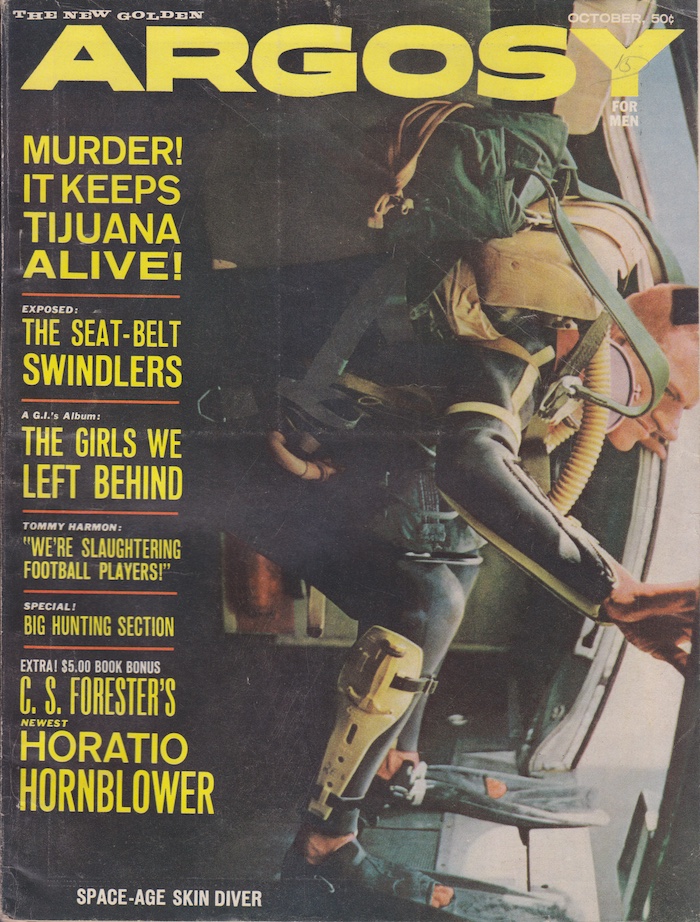 Lately I've been enjoying whiskey, particularly bourbon. Is Seagram's good? Does it still exist? I like this bowling photograph enough to try it.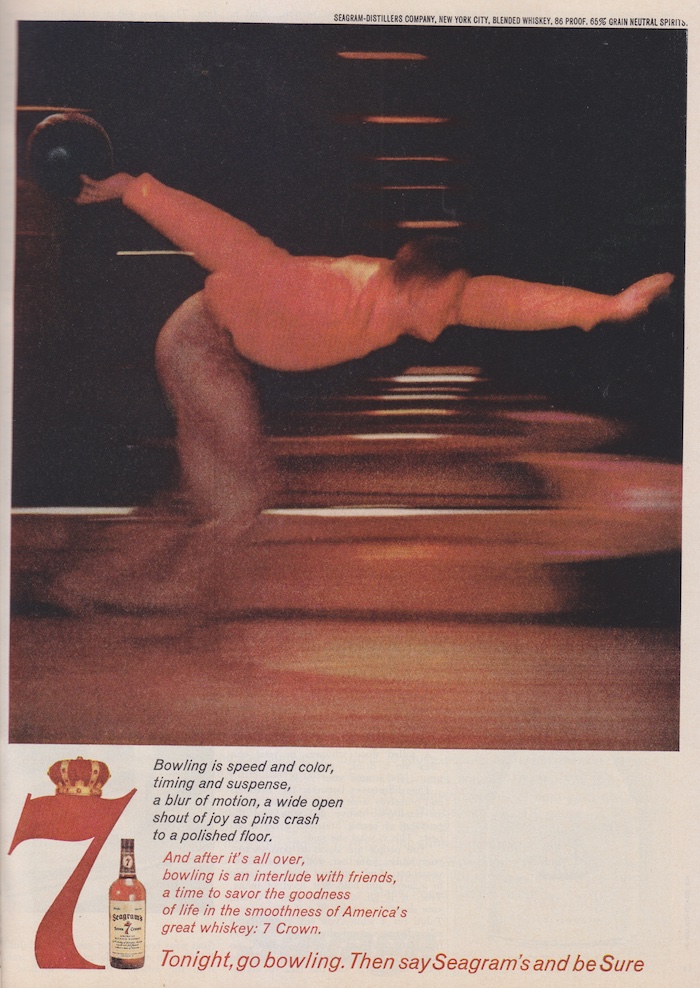 The "'We're Slaughtering Footbal Players!'" article has this startling photograph.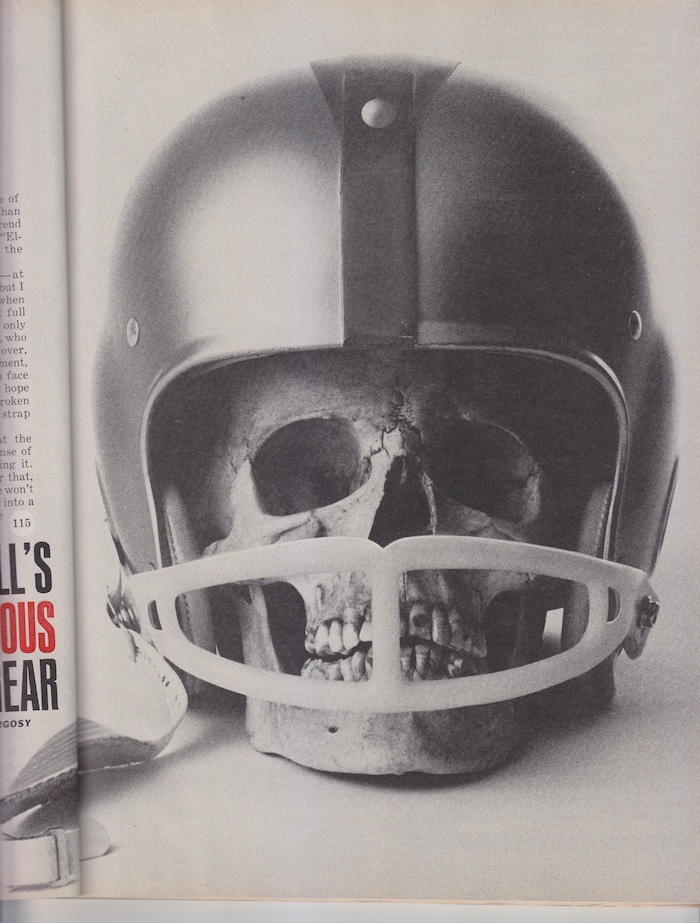 This isn't a very good reproduction, but this two-page photo spread for the defective seat-belt piece is very dynamic.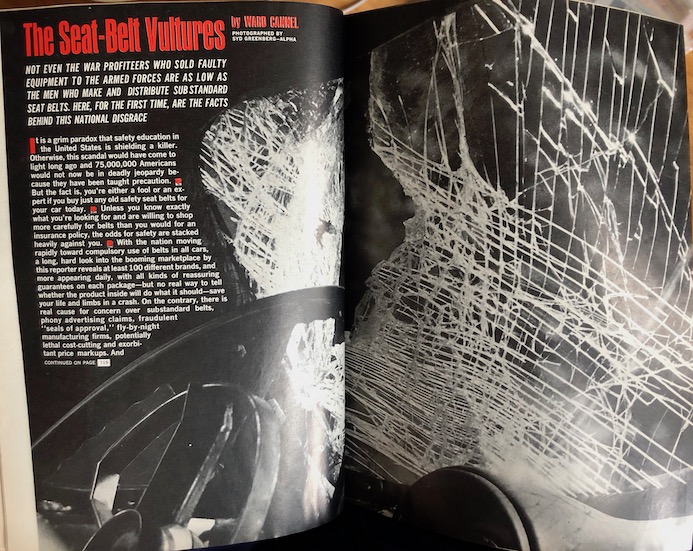 There was still a high standard for illustration, even though photographs are being used much more widely by this point.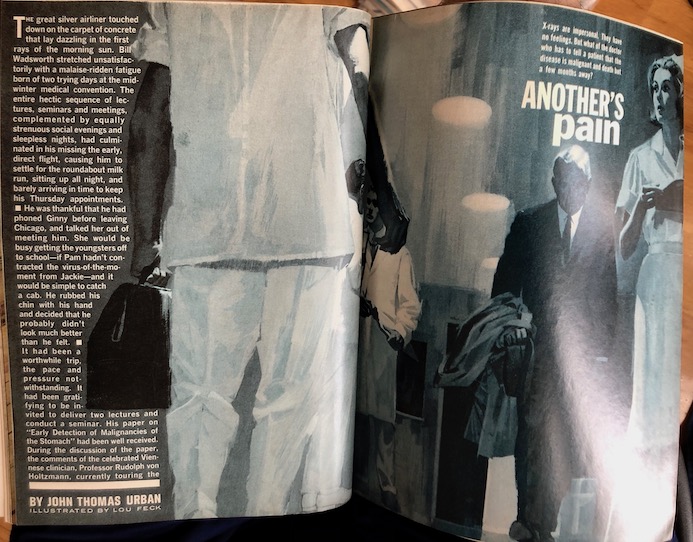 And of course there are always some interesting ads.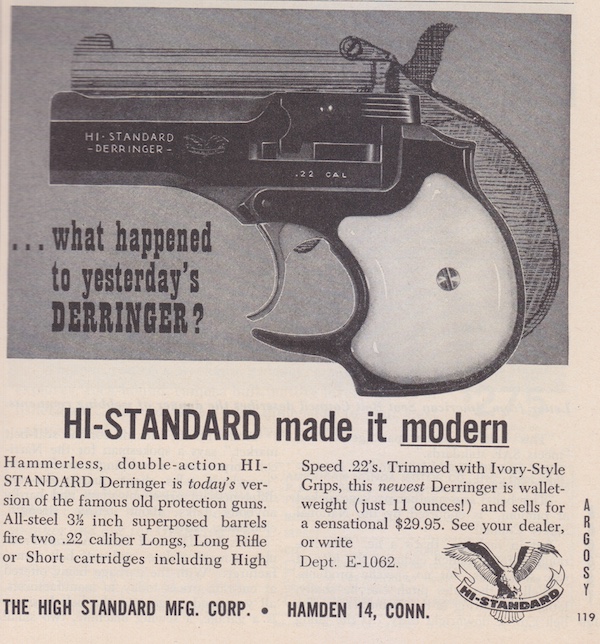 October 1962 puts this at a time before the James Bond franchise existed. The editors knew that it was on its way, though.

---
2019 July 10 • Wednesday
Fans of Hansson & Karlsson, here is another excellent Hammond organ and drums duo! At least that's what you'll find on the A side of the Krzysztof Sadowski record.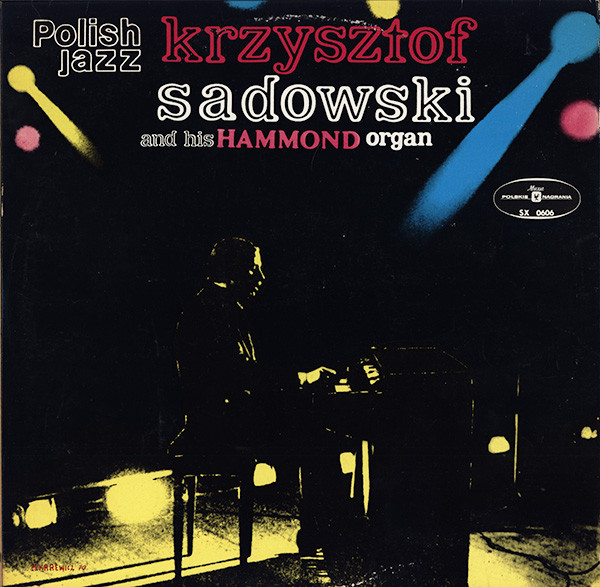 The first four songs are recorded live and feature Andrzej Dabrowski on drums. Three of the songs are Sadowski originals and they swing hard. Jimmy Smith fans should be happy. The fourth track is a medley of three Beatles songs, "With a Little Help from My Friends", "Yesteray" and "A Hard Day's Night", perhaps in a nod to Booker T & The MGs' McLemore Avenue record. It's pretty awesome. The B side is very different, a studio recording with big-band and strings backing for the organ and a different drummer. It's very different from the live duo and perhaps more normal sounding, though the music isn't what you usually hear: the theme from Rosemary's Baby plus three other tunes by Polish composers.

Sadowski plays excellently on these as well though I prefer the spontaneity and less controlled energy of the live organ/drums duo.

Which leaves us only with the task of finding more Krzysztof Sadowski recordings...
---
2019 July 08 • Monday
Our 577th Soundtrack of the Week is the music for a short film about a Turkish mini-cab driver. It's called Abdullah and has music by Antoni Maiovvi & The Karakura Orchestra.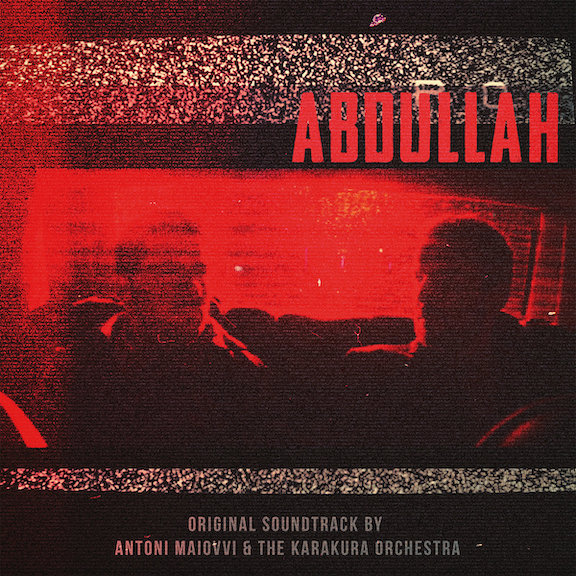 It's on blue vinyl!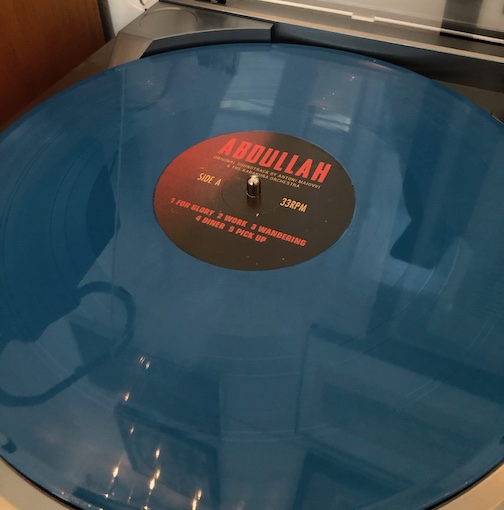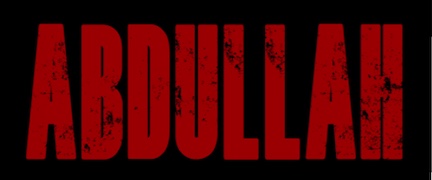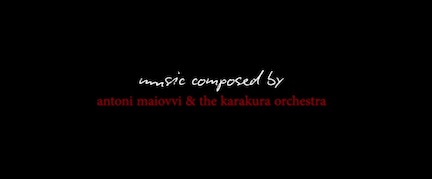 The first track, "For Glory", is representative of this record as a whole. It starts with some electronic noises, and then some voices and acoustic instruments come in, establishing a soundscape that sounds like what little Turkish music I've heard. But then the drums drop hard and we're in a heavy club groove. So it's a blend of electro noise/pop, hip hop and dance and traditional Turkish music.

And it's fantastic!

The second track, "Work", is very short, probably under a minute. It's just a little slice of the kind of thing you heard in "For Glory".

"Wandering" starts with a percussion groove with some electronic loops and other noises and then eventually those pounding house drums. It doesn't have a melody so much as different swirling and dive bombing sonic textures.

After this comes "Diner", which begins with the plaintive sounds of a bowed instrument, soon supplanted by what sounds like a few wooden flutes played simultaneously by people adept at circular breathing.

It's a short cue followed by a sparse and mysterious piece, "Pick Up", which sounds like a cousin of some of the early BBC Radiophonic Workshop music crossed with Jan Hammer or Tangerine Dream.

That's the A Side. The B Side starts with "Your Throat", which almost immediately starts blending an acoustic instrument plucked with a lot of attack with electronic pads. Acoustic percussion comes in, then throbbing bass and electronically processed drums to me. Or at least that's what it sounds like to me! The promisingly titled "Mountains of Delirium" sounds at first like it's looping some acoustic Turkish music. Then it gets into a very thick and pulsating electronic groove with ominous and dramatic tones and textures coming from what I presume to be synthesizers. If you only heard this track you would probably think that Abdullah is a horror movie. Finally there's "Magician's Guilt", a dark and intense track that blends all these ideas: loops, percussion, noise, grooves, acoustic and electric instruments, drama, beats. It's a compelling and extremely satisfying record.
---
2019 July 05 • Friday
Another summer, another trip to Cape Cod and Oceans of Books by the Sea. And once again we've returned with some interesting old magazines and ephemera.
First up is Volume 1, Number 2 of Night Life magazine, from October 1938.
It's all about what to do in Manhattan: shows, concerts, dining, dancing, plus society gossip. Our Town opened on Broadway that year and gets a very high recommendation in the theatre listings.

Night Life even offered to book tickets to restaurants and night clubs for readers. You only had to write to them and ask. In this way it seems to have been designed to function like a primitive app.

And it's very Manhattan-centric. Maybe nothing was happening in the boroughs in 1938. It came with a partial reproduction of a "Midnight Map of Manhattan" you could order.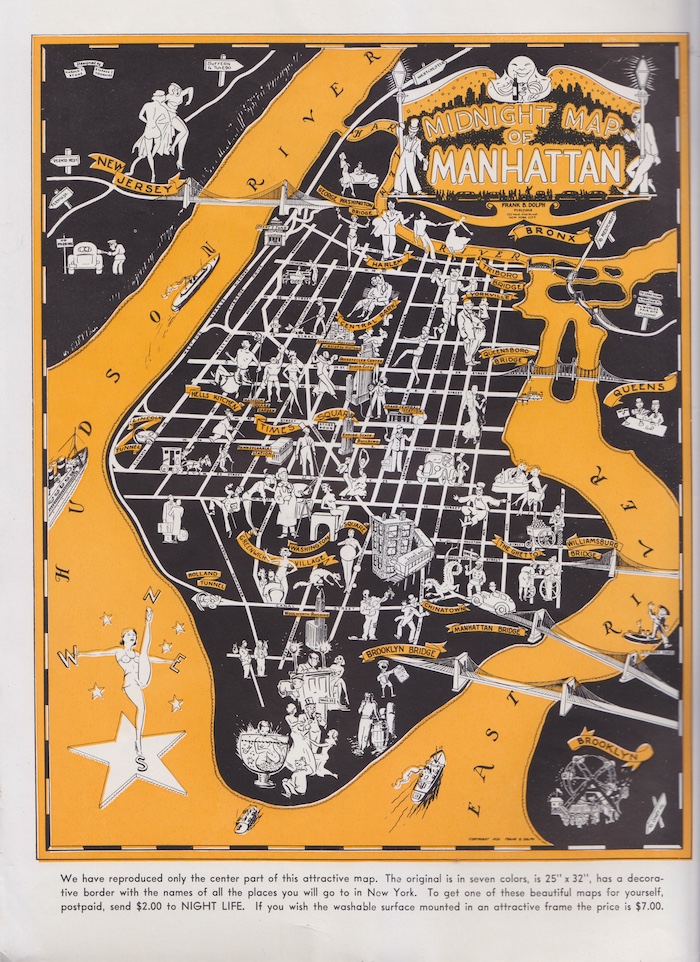 It's pretty neat. You'll see there's no Brooklyn Battery Tunnel. It didn't exist yet.
And what we call the Lower East Side today was, then, simply "The Ghetto", it seems.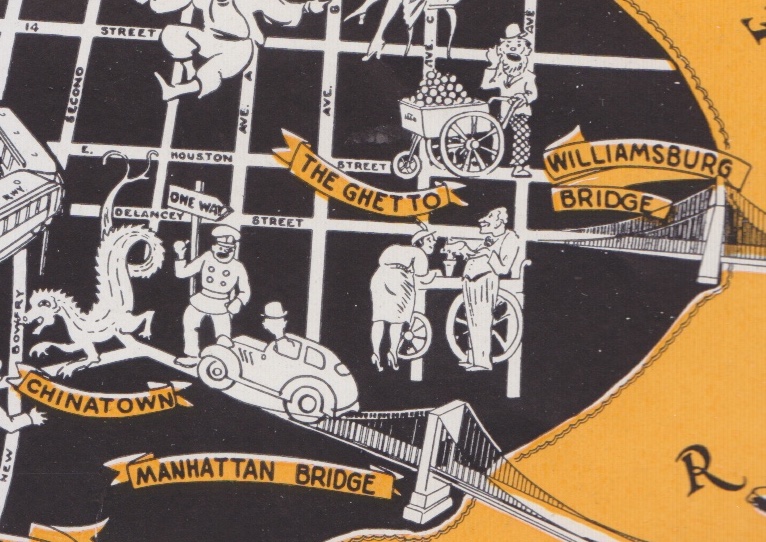 There's an interesting cameo here by one of the major figures of the American newspaper comic strip: George McManus of Bringing Up Father fame.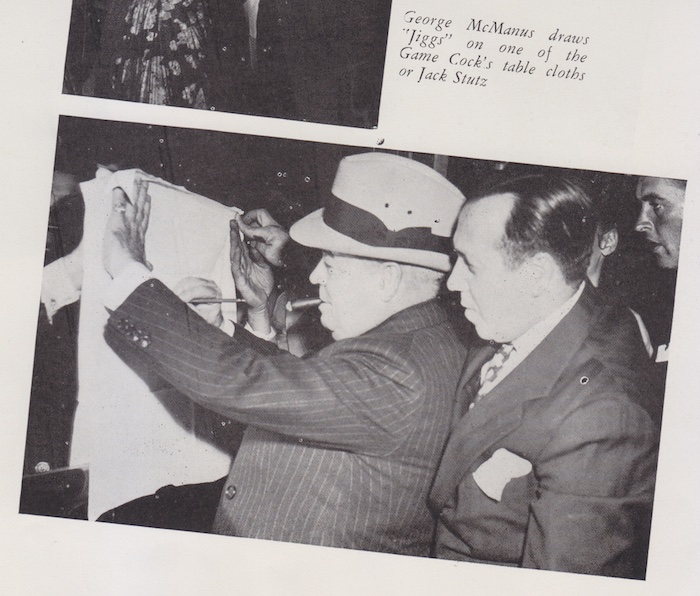 A section about what's happening in Harlem features the one and only Duke Ellington.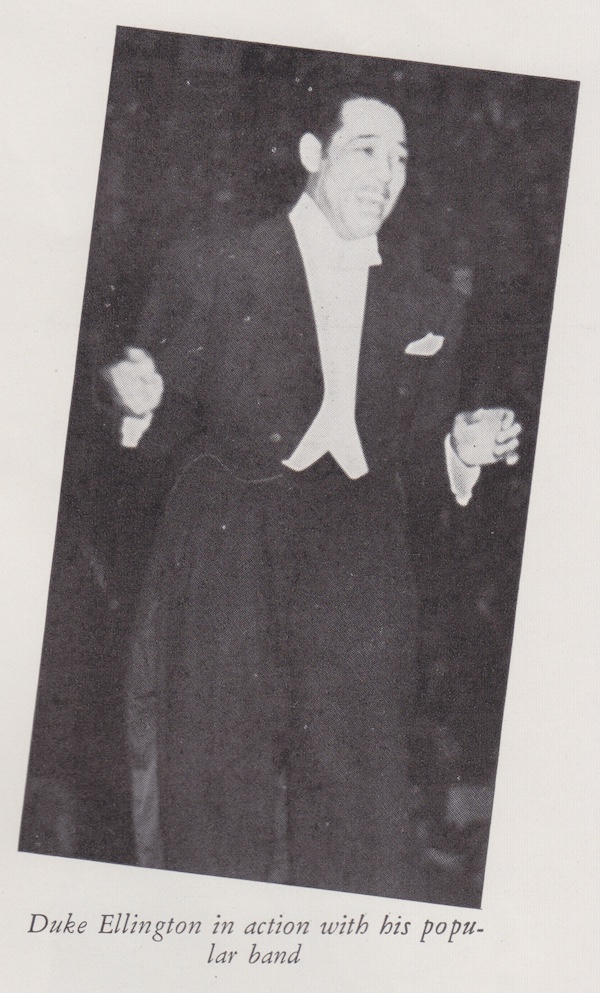 And here's Don Budge, who, I'm told by friends who would know, used to play at Brooklyn's own Knickerbocker Club!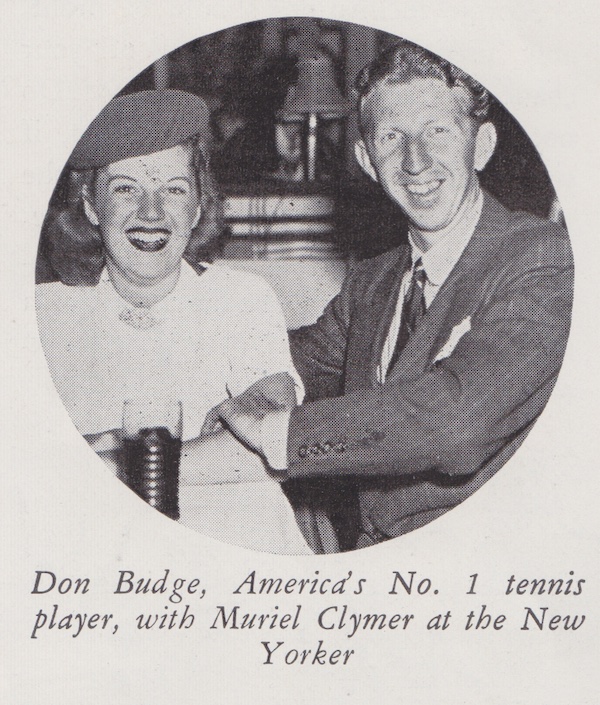 Then there's something about a bourbon whose bottle "won highest honors in the national packaging exhibit". It's made to look like a fiddle in honor of Stephen Foster. Foster apparently wrote "My Kentucky Home" in Bardstown, KY, and this is Bard's Town Kentucky Straight Bourbon Whiskey.

Nightlife says it's "Rather appropriate: the bottle arouses memories and the contents induce harmony".

On the back cover is an American Airlines ad that boasts of their New York to Chicago flight that gets you there in less than five hours!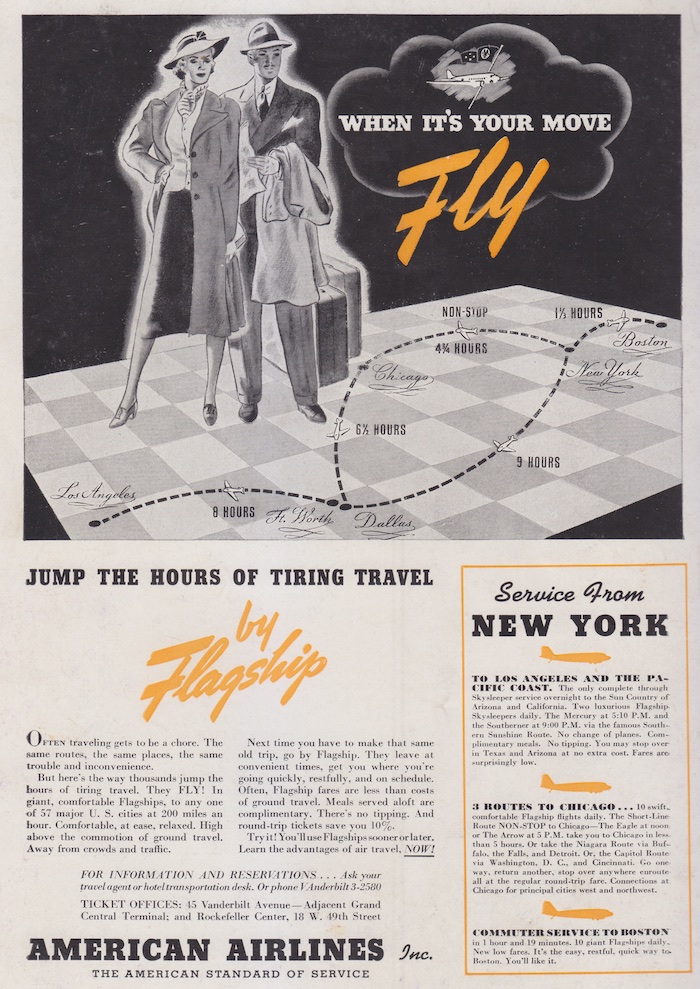 They sure make flying look swell, don't they? And maybe it was, eighty years ago. Slow but sweet. "Luxurious Flagship Skysleepers."

Of course Night Life couldn't predict one major event destined for October 1938. October 30th, to be precise. That's when Earth was going to be invaded by Mars! Or so some people would believe when they switched their radios over mid-program to a dramatization of H. G. Wells's The War of the Worlds presented by Orson Welles and the Mercury Theatre...
---
2019 July 03 • Wednesday
Eric C. Higgs's The Happy Man is a terrific horror novel with impeccable writing and near perfect pacing.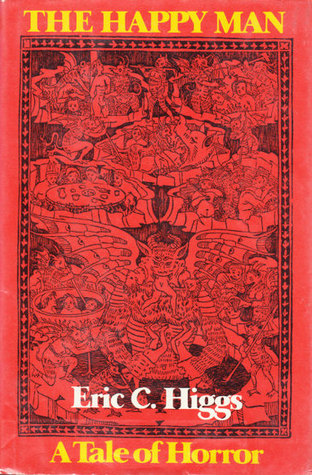 The story is told in the first-person by Charles Ripley, an average enough sort of person, married, regular sort of job that makes use of his knowledge and experiences, house in a San Diego suburb. He has everything he's supposed to want except for a child. That's no longer a possibility after a miscarriage makes it impossible for him and his wife Shelly to conceive again, though they're considering adopting. Things change when the Marshes move next door. Ruskin and Sybil and their son Mark are the perfect of healthy and effortless contentment and fulfillment. And something about them changes their neighbors. Ruskin is pretty casual about drinking and drug use and the Marshes themselves have an intoxicating and narcotic effect on people, an effect which seems to be slightly addictive to both Charles and Shelly.

Soon enough the neighborhood parties are becoming debauched and violent, illegal immigrants are found tortured to death, people start to disappear and Charles Ripley starts to find his sex drive responding only to rougher and rougher activities, even thoughts of murder.

The Happy Man has a brilliant beginning and first chapter, after which Higgs takes the reader back in time to see what led the main character to the place in which we find him at the beginning of the book.

Once caught up, we're brought to the story's conclusion. It's a fast read and not a particularly long book. While it was absolutely and thoroughly enjoyable, a page-turner that gives you an impressive amount of excellent writing to admire, and Higgs should be commended for keeping the story and plot under control and not flying off the rails into anything too implausible or unrealistic, I found myself wishing that there had been more development of both character and setting.

The suburban environment is interesting enough to leave the reader wanting more, and some characters appear in brief roles but are distinct and intriguing enough for me to wonder what happened to them.

Character names are interesting to note, of course. Sybil is one with obvious resonance of course. Ruskin is a famous name and one of Ruskin's first moves is to demonstrate a surprising knowledge of art.

Shelly is perhaps meant to remind us of some famous Shelleys, Percy and Mary, and the legendary (and apocryphal?) kinky activities they used to engage in with Byron.

Charles himself, as he finds his identity flucutating and mutating, seems to have an antecedent in a certain talented Mr. Ripley.

It's well worth reading and I look forward to trying another one by Mr. Higgs.

The first line is "The Marshes rotted in their house two full days before they were discovered by a deliveryman from Sparklett's".
---
2019 July 01 • Monday
Katsuhisa Hattori's swinging jazz score for the 1969 movie Lady With Seven Faces is the 576th Soundtrack of the Week.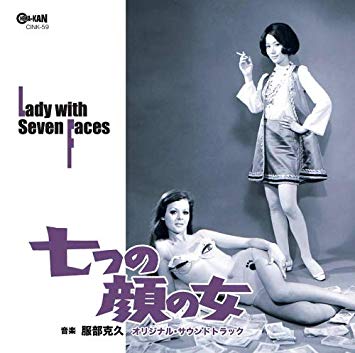 The main theme is giddy female vocalizing in a bubbly and wordless style that was fairly popular in the late '60s. There's very strong guitar and saxophone playing throughout as well as some work for the flute and organ.

"Nude Studio" is a favorite cue, being a bluesy jazz piece.

"Hayama Marina" is a lounge piece that's also fairly typical of the period.

The trumpet and vibes get a feature in "Scholar and Locksmith" and there's some great electric piano work in "Shadowing".

Things get a little more rock with the aptly titled "GoGo".

There's also a single of two songs from the movie, the fuzzed-out acid rock pop of "Koi wa Furimukanai" backed with the melancholy and lovely "A Bottleful of Tears" which has nice accordion and guitar playing on it.
---