Katsuhisa Hattori's swinging jazz score for the 1969 movie Lady With Seven Faces is the 576th Soundtrack of the Week.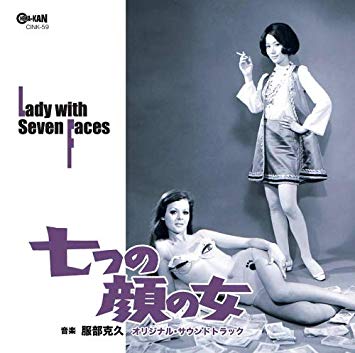 The main theme is giddy female vocalizing in a bubbly and wordless style that was fairly popular in the late '60s. There's very strong guitar and saxophone playing throughout as well as some work for the flute and organ.

"Nude Studio" is a favorite cue, being a bluesy jazz piece.

"Hayama Marina" is a lounge piece that's also fairly typical of the period.

The trumpet and vibes get a feature in "Scholar and Locksmith" and there's some great electric piano work in "Shadowing".

Things get a little more rock with the aptly titled "GoGo".

There's also a single of two songs from the movie, the fuzzed-out acid rock pop of "Koi wa Furimukanai" backed with the melancholy and lovely "A Bottleful of Tears" which has nice accordion and guitar playing on it.
---