Rob Price
Gutbrain Records
rob + gutbrain.com = email
---
This came up on Friendface, I mean Facebook, the other day.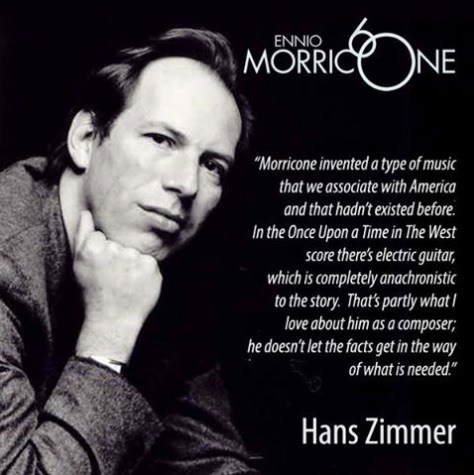 Morricone is a genius and a great composer but his use of "anachronistic" instruments isn't unusual. Hadn't just about every film soundtrack composer before Morricone already done that? Alfred Newman's score for The Robe (1953), for example, employs an army of instruments anachronistic to the story.

Then after that, this one came up.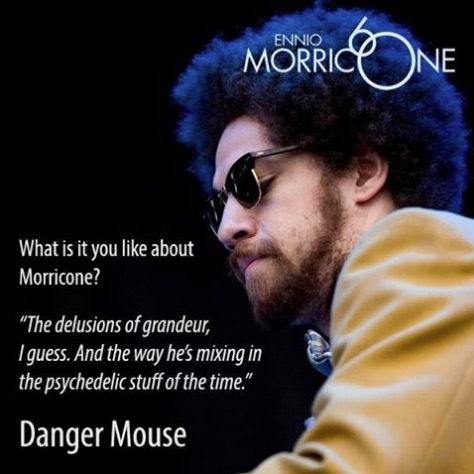 In its vague thoughtlessness ("I guess") and lack of substance, this makes the Zimmer quote look a lot better.
---
2016 September 28 • Wednesday
Searching Google for "'John McEnroe' porn" doesn't come up with much of anything. Not in the first handful of results, anyway. And for that we can be thankful.
Search Google for "female teacher front students mcenroe" and you also won't come up with anything.
But that might be about to change. Right now.
Because I was taking a look at the Japanese sort-of porn movie Female Teacher: In Front of the Students the other day—for research! I swear!—and noticed, first, that tennis was a big part of the movie—you can go search for "tennis porn" if you want; I'm done—and, second, that one of the aforementioned—I don't like the word "eponymous" or "titular"—students is looking at a tennis magazine that features John McEnroe.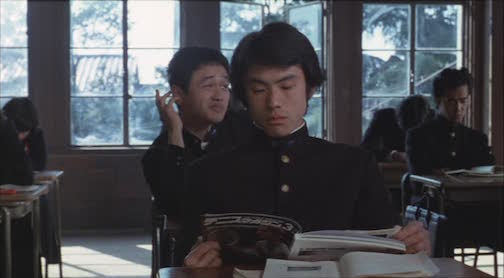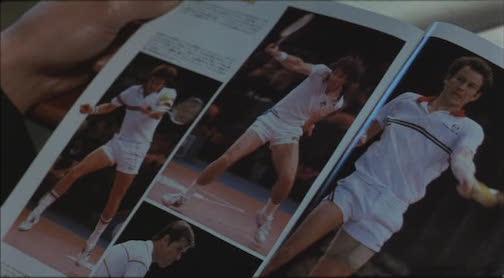 Is that Jimmy Connors also in the spread? That would make sense. But I don't really know much about tennis although I enjoy playing it.
---
2016 September 26 • Monday
Westerns and private eye shows with jazz soundtracks were hugely popular on American television in the late 1950s and early 1960s. It was only a matter of time before somebody launched a private eye western with a jazz soundtrack. Gerald Fried's music for Shotgun Slade is the 432nd Soundtrack of the Week.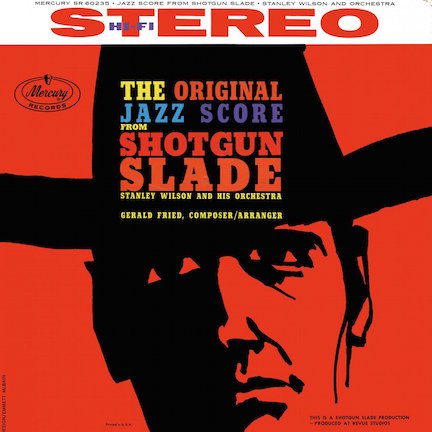 This isn't the original soundtrack recording but an album re-recording.

The music is driving and modern with especially good parts for harpsichord and electric guitar. Often the electric guitars are played by two guitars in unison, which seems to me like an unusual approach. It becomes common enough later for really heavy rock and metal bands but to hear it done with two light, jazzy electric guitars is something else and it works great. There's very little "western" sounding music though occasionally you'll hear a tune like "My Darling Clementine" quoted and some of the pieces, like "Open Skies" and "Saddle Swing" do give an impression of swingin' home on the range.
---
2016 September 19 • Monday
John Hawksworth's music for Goal! The World Cup 1966 is our 431st Soundtrack of the Week.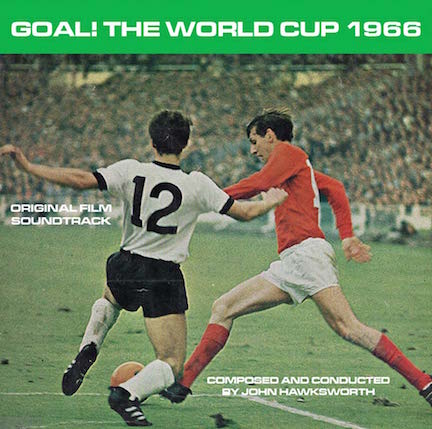 This is, I guess, a documentary about the football tournament. Don't ask me, I don't follow sports at all.

The CD presents Hawksworth's excellent music interwoven with sound from the film, the game, the crowd, the commentator etc. The music for the introduction is a blast of percussion with hits from the ensemble, very cool, especially if you like drums. After that it's a while before much else happens musically. There's some marching type music that might have been part of the live sound. In "Liverpool/Brazil v Bulgaria" there's a good double bass solo that ends too soon. Very effective atmospheric dramatic underscore is a highlight of "Brazil v Portugal (Including Pele's Injury)". The bass and flute are the lead instruments while percussion and brushes on the drums flesh out the piece. "Russia v Hungary" has a kitschy and bizarre piece of music that could be described as psychedelic novelty music. The same could be said of "Germany Prepare". There's some wailing bluesy jazz in "England v Argentina (Including "Rattin's Walk)" with room for several of the instruments to stretch out. The flute, organ and guitar sounds are particularly good. "England v Portugal (Including Eusebio Blue)" has an ethereally psychedelic bluesy jazz rock number in it with nice use of vibes. The rhythm section is impresive on all of these tunes. "Wembley Is Ready" is some light, jazzy easy listening and at last we come to "The World Cup Final: England v West Germany" for which Hawksworth comes up with a propulsive big band number that has the slightest taste of acid to it and some frantic post-bop sax solos.
---
2016 September 14 • Wednesday
Here's this amazing Bear Family release: The Singing Fisherman: The Complete Johnny Horton.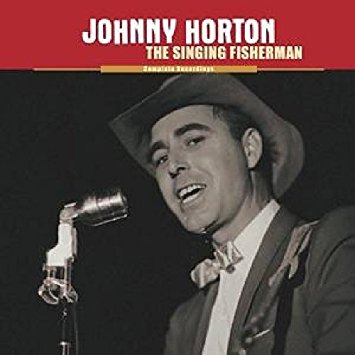 The first thing you'll notice about it is the weight, almost eight pounds.
Then you'll probably want to start listening to it. Nine CDs, 296 tracks, almost twelve hours of music.
Johnny Horton was amazing. What a voice, what songs. And Grady Martin's guitar playing on those rockabilly numbers!
You might want to learn about Johnny. As usual, this Bear Family box comes with a massive hardcover biographical book with discography and hundreds of photos. The text is by Colin Escott, which is another way of saying that the text is probably definitive.
But, wait there's more!
After Horton's tragic early death (aged 35) in a car crash, his mother wrote his biography. She wrote it by hand in a notebook. Not content with merely printing this amazing document, Bear Family have created facsimiles to include in this collection.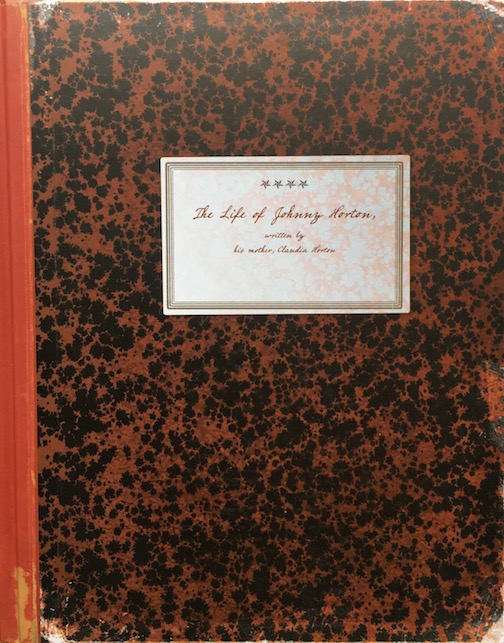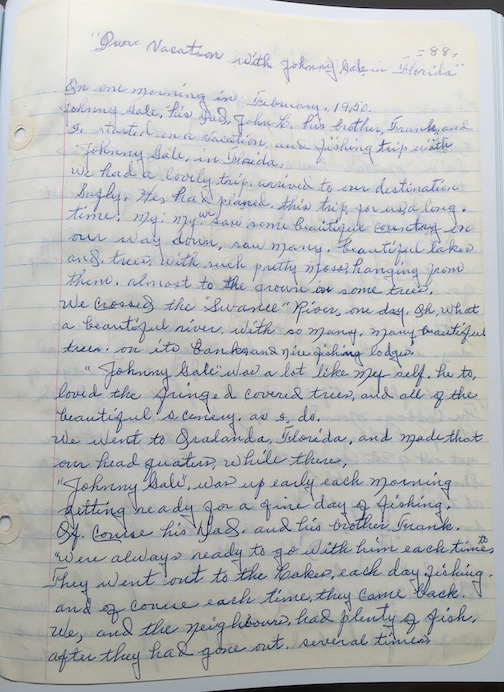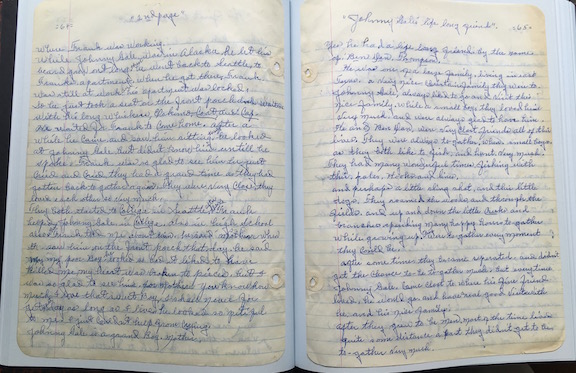 This is truly amazing. And why Bear Family is my favorite record label.
---
2016 September 12 • Monday
The 430th Soundtrack of the Week is this stunning re-recording of Akira Ifukube's landmark score to Gojira (1954, Godzilla).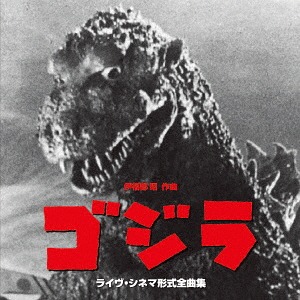 The original sound recording has been available on various releases for a long time but recording technology has come a long way in 60 years. While my first choice is always to hear the recording that was actually used in the film, with the composer conducting, re-recordings have become extremely welcome in recent years as dedicated and hard-working people have thrown themselves into the task of creating the best sounding presentations of important music that should be made preserved.

The conductor here is Kaoru Wada, a composer who apparently studied with Ifukube, and he leads the Japan Century Symphony Orchestra into a brilliant revitalization of one of Ifukube's masterpieces. The re-recording also contains music that hasn't appeared on previous releases of the original soundtrack, I believe. Not much to say about the music itself except that it's amazing and more of its beauty and power can be felt through this thrilling performance and recording. I've listened to this CD several times and words fail me. Years ago, though, I read something about the composer Jón Leifs and his piece "Hekla", which is inspired by a volcano in Iceland. What I read sounded really exciting so I went out and got a CD that had "Hekla" and some other things by Leifs. It's not that I didn't like it. I did. But I couldn't help thinking that it reminded me of Akira Ifukube's music, which was at least as interesting, at least as compelling and at least as innovative.
---
2016 September 09 • Friday
Great fake cigarette ad from the Czech movie Čtyři vraždy stačí, drahoušku (1970, Four Murders Are Enough, Darling).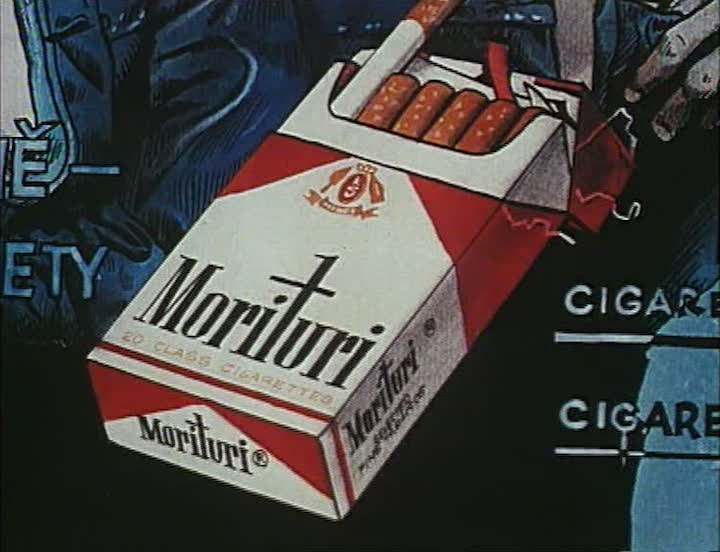 ---
2016 September 07 • Wednesday
A fun thing to do when watching a movie you've already seen twenty times or so is to find something in it that you never noticed before.
Watching North by Northwest the other day, my attention was grabbed by the slick pencil holsters sported by the Glen Cove police force.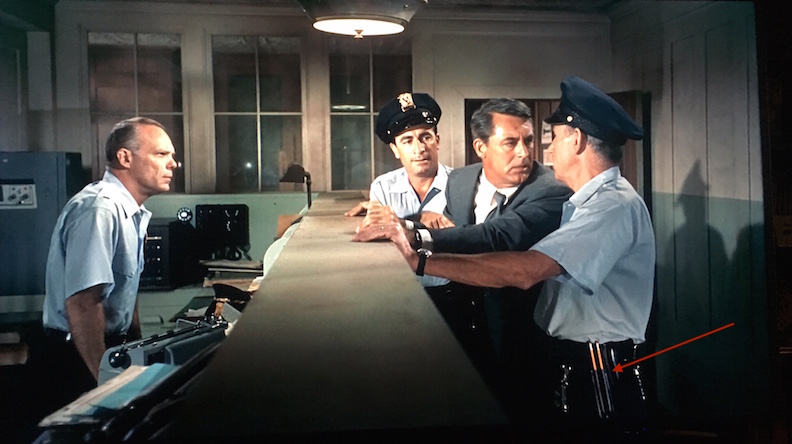 ---
2016 September 05 • Monday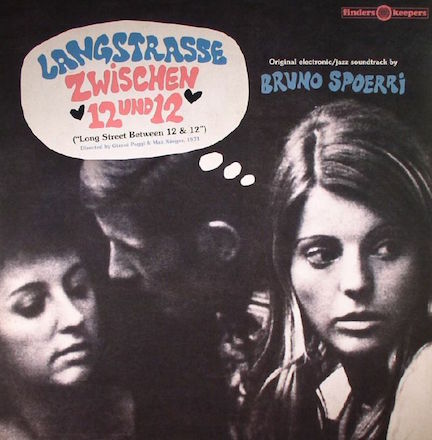 Bruno Spoerri's score for Langstrasse Zwischen 12 und 12 (Long Street Between 12 & 12), a documentary about a Swiss neighborhood in the early 1970s, is pretty groovy, with saxophone and trumpet taking most of the melodic leads. It's never on autopilot. There's always harmonic movement, shifts in mood, abrupt pauses to feature some weird electronic instrument or change genres.

The cues are very short and the record goes from one to the other very quickly and smoothly. The presentation might remind you of long-form composed multi-genre pieces that would come much later, like John Zorn's "Spillane". The music itself suggests various influences, from Henry Mancini to Miles Davis and from Burt Bacharach to The Beach Boys. It's a great album and our 429th Soundtrack of the Week.
---
2016 September 02 • Friday
One of the most interesting releases of 2016 has to be these recordings that Betty Davis made for Columbia almost fifty years ago.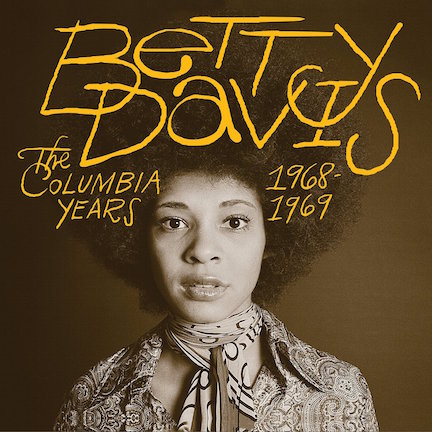 It seems incredible that these were never released until now. The liner notes remind us that these songs were demos, not meant for an album, but they're so great! Why the hell didn't this go further?

Betty Davis was married to Miles Davis at the time and they were both established as musicians with successful careers who inspired and influenced each other. You can hear Miles's famously raspy voice on the tape here as part of some studio chatter.

So what's it like? Funky, soulful, infectiously groovy and upbeat, lots of positive energy and inventiveness. Perhaps all you really need to know is the names of the musicians back in up Ms. Davis here: Harvey Brooks, Billy Cox, Herbie Hancock, John McLaughlin, Mitch Mitchell, Wayne Shorter and Larry Young.

The first six tracks are from Betty Davis's session and are her original songs with the exceptions of one Cream cover and one Creedence Clearwater Revival cover. This is only about 24 minutes of material but there are also an additional three Betty Davis originals recorded for a Hugh Masakela session, bringing the CD's running time up to about half an hour.

Which is short. Which is not necessarily a problem, but it does make the presentation of this CD somewhat comically hyperbolic. The Columbia "years"?

We're talking about roughly 31 minutes of music, the Betty Davis session recorded on two days in May, 1969, and the Masakela session from one day in October, 1968.

Yes, technically, those two months are in different years but it's still one day and two other days not even separated by a year. The hours themselves might not even add up to one day.

The real story here is that these Betty Davis recordings have been sitting unheard in a vault for almost half a century, not that they somehow represent "years" that she spent working for one record label or another.

But marketing decisions are made by people in marketing, I guess.

It's really great, especially the Betty Davis session. The Masakela stuff is less interesting but sitll good. I endorse this CD!
---