2016 September 19 • Monday
John Hawksworth's music for Goal! The World Cup 1966 is our 431st Soundtrack of the Week.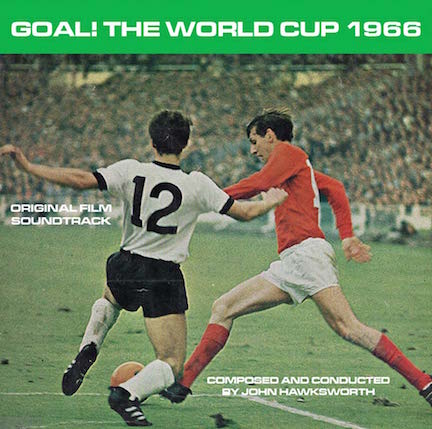 This is, I guess, a documentary about the football tournament. Don't ask me, I don't follow sports at all.

The CD presents Hawksworth's excellent music interwoven with sound from the film, the game, the crowd, the commentator etc. The music for the introduction is a blast of percussion with hits from the ensemble, very cool, especially if you like drums. After that it's a while before much else happens musically. There's some marching type music that might have been part of the live sound. In "Liverpool/Brazil v Bulgaria" there's a good double bass solo that ends too soon. Very effective atmospheric dramatic underscore is a highlight of "Brazil v Portugal (Including Pele's Injury)". The bass and flute are the lead instruments while percussion and brushes on the drums flesh out the piece. "Russia v Hungary" has a kitschy and bizarre piece of music that could be described as psychedelic novelty music. The same could be said of "Germany Prepare". There's some wailing bluesy jazz in "England v Argentina (Including "Rattin's Walk)" with room for several of the instruments to stretch out. The flute, organ and guitar sounds are particularly good. "England v Portugal (Including Eusebio Blue)" has an ethereally psychedelic bluesy jazz rock number in it with nice use of vibes. The rhythm section is impresive on all of these tunes. "Wembley Is Ready" is some light, jazzy easy listening and at last we come to "The World Cup Final: England v West Germany" for which Hawksworth comes up with a propulsive big band number that has the slightest taste of acid to it and some frantic post-bop sax solos.
---