2016 September 02 • Friday
One of the most interesting releases of 2016 has to be these recordings that Betty Davis made for Columbia almost fifty years ago.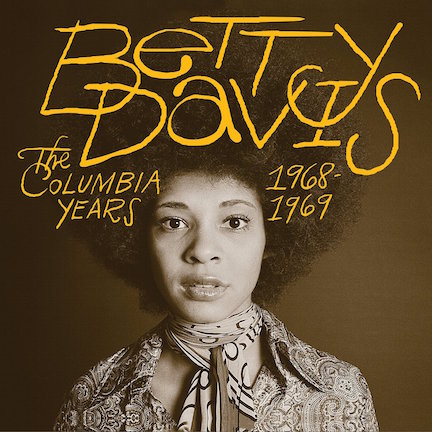 It seems incredible that these were never released until now. The liner notes remind us that these songs were demos, not meant for an album, but they're so great! Why the hell didn't this go further?

Betty Davis was married to Miles Davis at the time and they were both established as musicians with successful careers who inspired and influenced each other. You can hear Miles's famously raspy voice on the tape here as part of some studio chatter.

So what's it like? Funky, soulful, infectiously groovy and upbeat, lots of positive energy and inventiveness. Perhaps all you really need to know is the names of the musicians back in up Ms. Davis here: Harvey Brooks, Billy Cox, Herbie Hancock, John McLaughlin, Mitch Mitchell, Wayne Shorter and Larry Young.

The first six tracks are from Betty Davis's session and are her original songs with the exceptions of one Cream cover and one Creedence Clearwater Revival cover. This is only about 24 minutes of material but there are also an additional three Betty Davis originals recorded for a Hugh Masakela session, bringing the CD's running time up to about half an hour.

Which is short. Which is not necessarily a problem, but it does make the presentation of this CD somewhat comically hyperbolic. The Columbia "years"?

We're talking about roughly 31 minutes of music, the Betty Davis session recorded on two days in May, 1969, and the Masakela session from one day in October, 1968.

Yes, technically, those two months are in different years but it's still one day and two other days not even separated by a year. The hours themselves might not even add up to one day.

The real story here is that these Betty Davis recordings have been sitting unheard in a vault for almost half a century, not that they somehow represent "years" that she spent working for one record label or another.

But marketing decisions are made by people in marketing, I guess.

It's really great, especially the Betty Davis session. The Masakela stuff is less interesting but sitll good. I endorse this CD!
---