Rob Price
Gutbrain Records
rob + gutbrain.com = email
---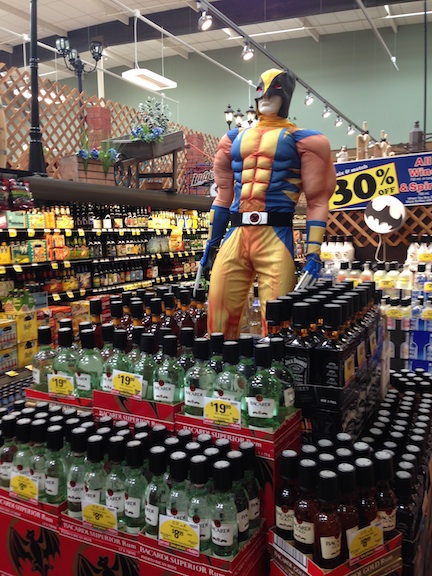 ---
Eddie Sauter and Stan Getz's music for Mickey One is the 329th Soundtrack of the Week.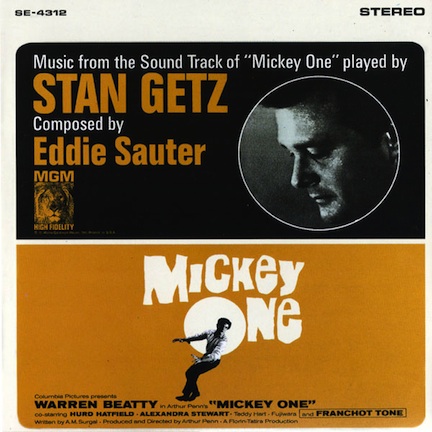 Eddie Sauter and Stan Getz had collaborated on the record Focus, which had Getz improvising with an orchestra. The album made a big splash and Sauter and Getz teamed up again for the score to Mickey One, again sith Getz improvising with an orchestra.
It starts out slinky and exotic, with string grooves and mesmerizing sax lines from Getz. Then the mood changes and becomes pensive, almost subdued. It's impressive how well Getz's blowing works with the orchestra.
Then there's a splash of crazy dance-party-circus music and some "modern" saxophone duels. After this comes some excited and dramatic underscoring. Then there's a relaxed, bluesy and romantic section.
Side two begins with more of that sort of polka swing merry go round party music, then proceeds to alternating Stallingesque orchestral writing with modern classical ideas and injecting some plaintive saxophone playing from Getz.
After that comes a more familiar atmosphere, sounding like something that could be a standard then veering into more pop territory for a bit.
There's some bizarre music, more cartoonish sounds and crazy noises with Getz gamely going along with it and then more bluesy romance and more stirring dramatic score with heartfelt playing by Getz.
It's a cool record. I'd like to see the movie someday.
---
Billy Byrd was a jazz guitarist who joined Ernest Tubb's band in 1949. He added some different flavors and became an integral part of the group's sound.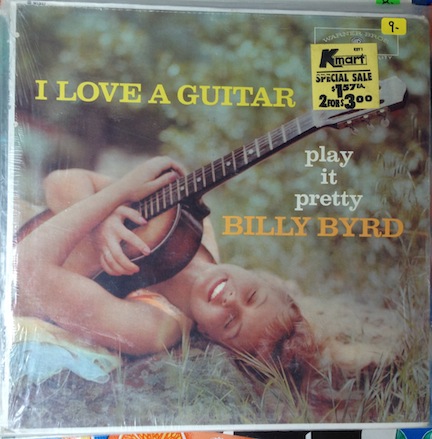 This solo effort—how about that Kmart sticker?—is quite nice, a welcome addition to my miscellaneous mid-century guitar record collection. WFMU Record Fair again.
---
The 328th Soundtrack of the Week is another Eurospy score, Piero Umiliani's music for Agente X1-7: Operazione Oceano.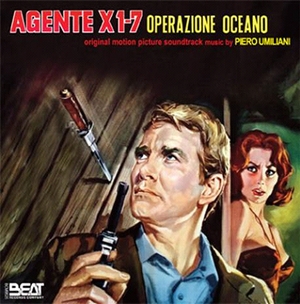 It has the expected cues: a sultry vocal theme, John Barryish instrumentation and nods to the famous James Bond theme, lounge and bossa nova stylings, suspenseful underscore and a killer electric guitar sound.
It's a more interesting listen than many other scores in the genre, with some jazzier sections and more dramatic writing. Perhaps the main theme is featured a bit more than your brain would like, though.
---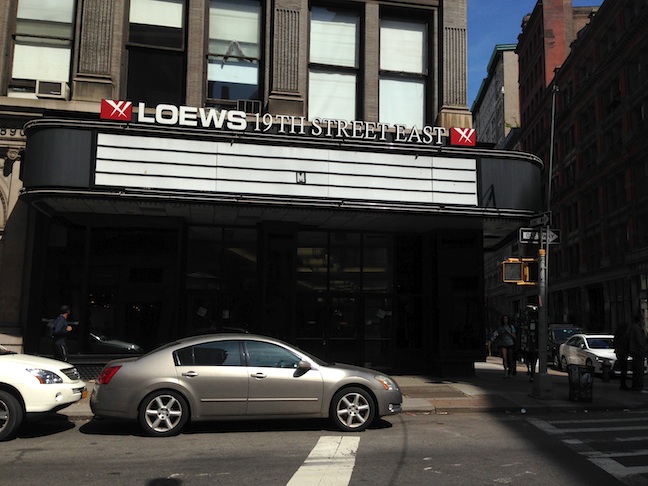 Not the Fritz Lang film.
---
There are three new comics from the brillianted Hoey siblings!
The first is a new issue of their ongoing Coin-Op.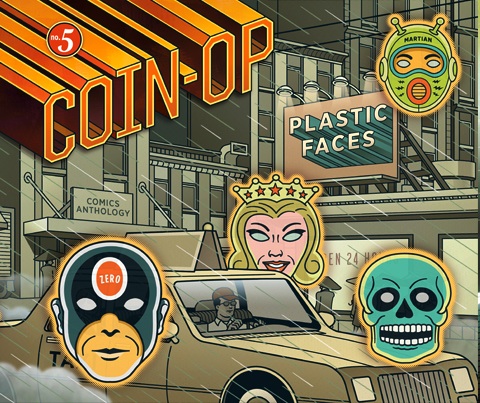 This one was especially satisfying as it touched on jazz and Orson Welles.
Then there are two more of their "singles", comic books sized and shaped like old 45s.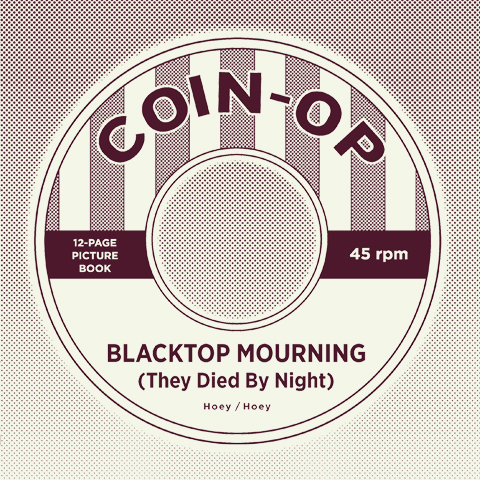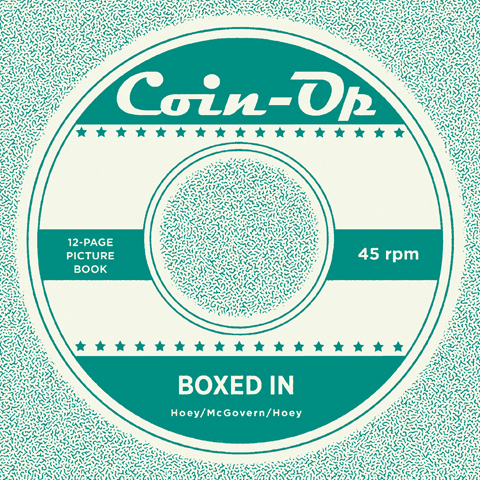 "Blacktop Mourning" is about musicians who have died in car crashed while "Boxed In", written by Adam McGovern and with red-and-white art by the Hoeys, is about the façade of a certain kind of American style.
These are all excellent, as usual. You can find out more about them and order them yourself here.
---
John Barry's Raise the Titanic score is the 327th Soundtrack of the Week.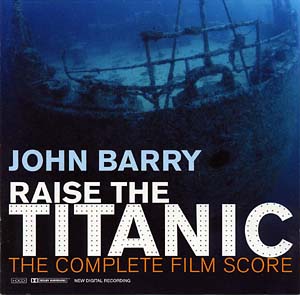 This has been one of my favorite Barry scores for a while, though mostly for its killer "Main Title" theme, a mysterious, ethereal and brooding melody that's gently embellished and expanded before landing on a major-key resolution. It has classic Barry shapes and motions.
Fortunately you hear this theme quite a bit, perhaps most satisfyingly in the "The Titanic Uncovered" cue. The heroic "Prelude" is also repeated and there's a lot great action and suspense writing.
---
Pascal Girard came on my radar only recently but I really enjoyed Bigfoot and Reunion. Now he has a new book out, Petty Theft.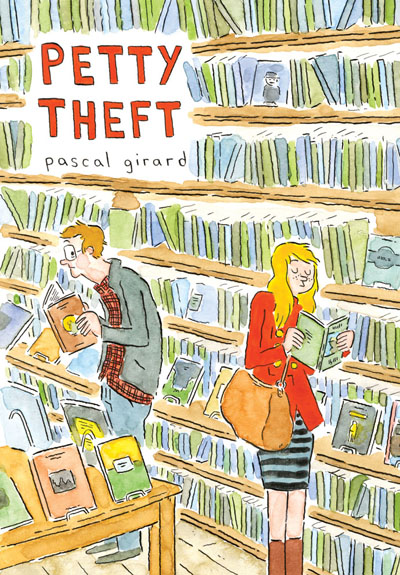 Poor Pascal. An injury keeps him from his daily run, he's broken up with his girlfriend and money troubles force him back into the workforce.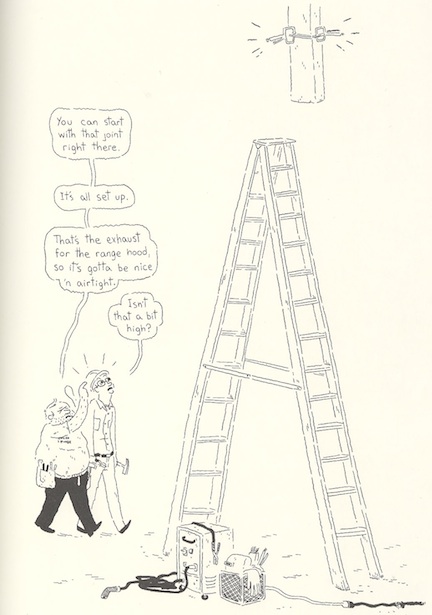 But one day in a local bookstore he says an attractive young woman stealing one of his books! He's intrigued and decides to get to know her….
Girard's writing and art are great, charming and airy without being twee. Reunion might be a slightly stronger book but Petty Theft is quite good.
---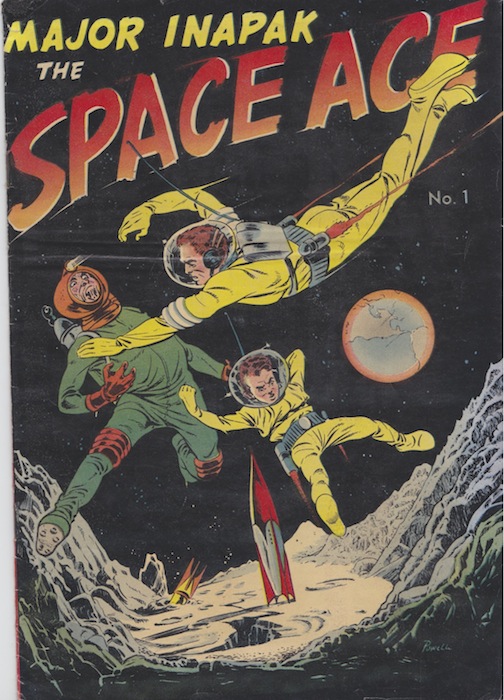 This is an interesting comic, a free promo book meant to advertise an Ovaltine rip-off called Inapak.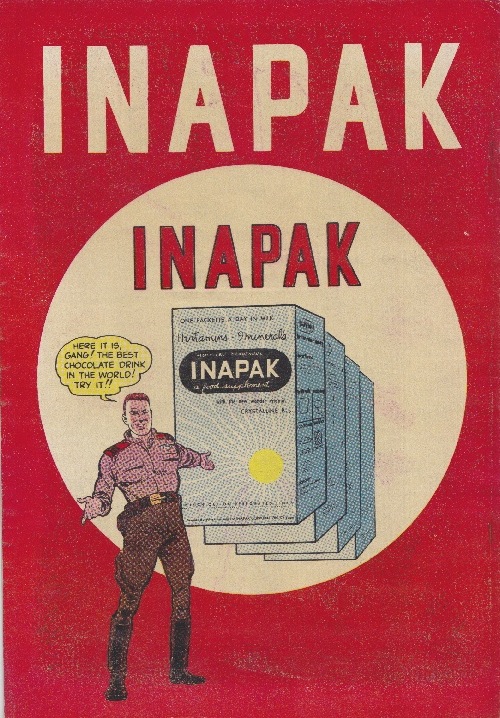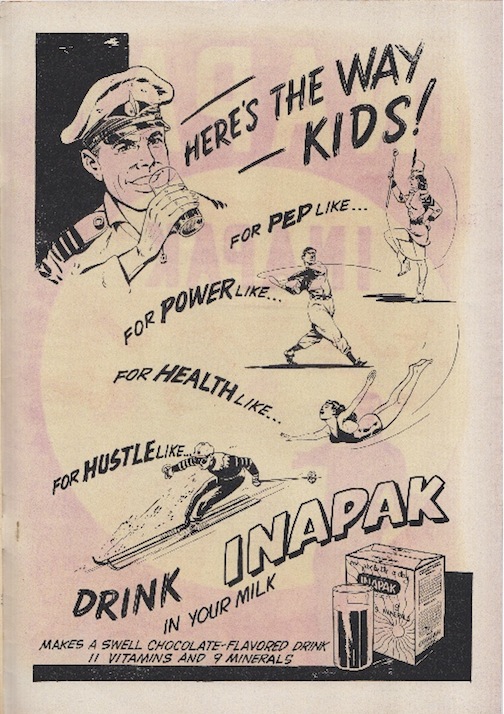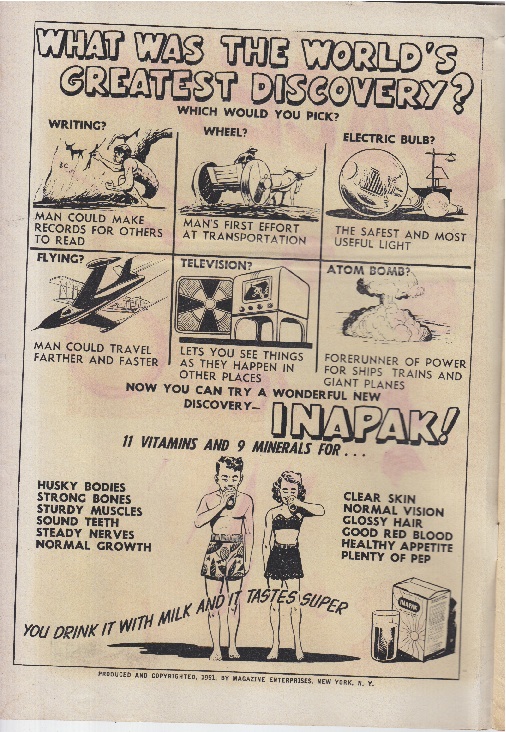 It's from 1951 and the comic itself is a nice example of comics from that time.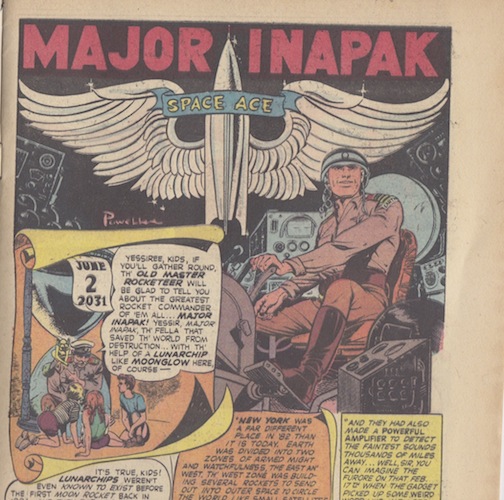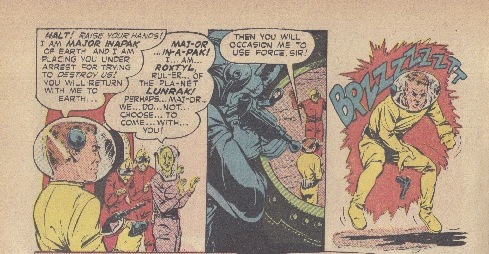 According to about a minute of looking at a google search result—that's what we call research these days—it seems that Inapak never actually existed!
This makes the comic even cooler, of course. I got it at the WFMU Record Fair.
---
Soundtrack of the Week #326 is Takayuki Hattori's music for the Japanese TV show Hero.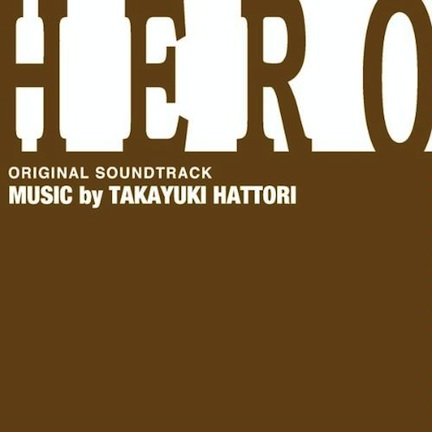 I loved this show! Like two of my other favorites, Bayside Shakedown and Gokusen, it's about a corrupt or ineffective institution that's infiltrated by a noble rebel. The rebel doesn't fit in, tries to reform the system, succeeds and is exiled.
In Bayside Shakedown the hero was a disillusioned white-collar worker who joins the police force out of a desire to help others. He's easy to spot because of his green army jacket. In Gokusen the rebel was an idealistic young woman who realizes her dream of being a teacher only to get handed the worst class in the school, filled with violent delinquents, She's easy to spot because of her red track suit.
Hero is about an idealistic young man who joins a law firm. He sticks out because of his hair and his clothes but wins cases through a combination of intelligence, legal acumen and, of course, hard work, honesty and sincerity. He's easy to spot too.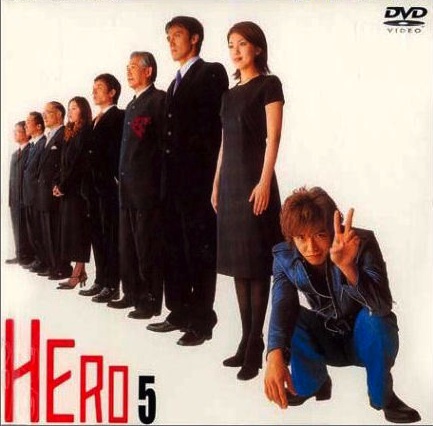 It was a really great drama, well written and expertly photographed. They should be showing this kind of stuff in film schools as an example of what you can do with a low budget, unforgiving lighting and a decent digital camera.
Like other Japanese dramas, each episode has a handful of cues, for certain characters and situations. The theme music is very peppy and cheerful, with a 1980s sort of feel to it. The rest of the music borrows from jazz, classical, dance music, whatever. They're great miniatures. Often pieces of surpisingly intense rhythms, such as the "Emergency" cue. And of course there are many very sweet pieces because it's a very sweet show (though very satisfying).
---
Here's a book I picked up at a flea market.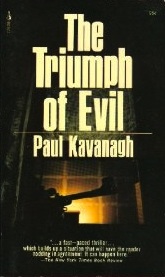 There was a sticker on it that said Paul Kavanagh was a pen name for Robert Bloch but the real author is actually Lawrence Block. I didn't discover this until after I'd read it. I was amused because while I was reading it I was reminded of Lawrence Block, specifically his book Hit Man.
Like Hit Man, The Triumph of Evil is about a freelance assassin. Miles Dorn is retired, however, until he goes back to work for an unnamed movement that wants to manipulate social tensions in early 1970s America with the goal of placing a fascist leader in power. The argument is that the United States at that moment resembles the Weimar Republic. A series of false-flag murders of prominent people will stir the pot in just the right way.
Dorn doesn't want to do any of this but he realizes that he can do it or be killed. He also realizes that he'll be killed after he fulfills his missions. And he might not actually want to live in a fascist USA. (In a touching moment, this realization presses upon him most strongly after he visits the New York Public Library and is impressed by all it offers and represents.)
It's a great thriller. The jobs themselves are like miniature episodes of Mission: Impossible and Kavanagh/Block writes convincingly in the voice of an experienced mercenary killer. Consider Dorn's thoughts as he is first approached by two men from the "movement".
His eyes stayed on Vanders but he concentrated on the smaller man, Brown, studying him out of the corner of his eye, looking for any sign of tension. If they meant to kill him, it would be Brown who did the killing. He did not bother to wonder why they might want to kill him. Too many people had reasons of varying degrees of urgency. Dorn kept his eyes on Vanders and let his mind work out what his body would do if Brown moved or changed expression. Brown was at least ten and probably fifteen years younger than Dorn, presumably armed, and apparently in good condition. If they meant to kill him, Dorn thought, they would very likely succeed.
Some of this reminds me agreeably of Richard Stark, who was really Donald Westlake and a good friend of Block's. Fans of Stark/Westlake and Block are sure to enjoy this one.
The first line is "When the doorbell rang, he was sitting at the kitchen table drinking tea and watching baby birds".
---
Thanks to everybody who was at the first show of my new band, All Region Player, last Sunday!
And special thanks to my old friend Lucio Menegon for sharing the bill with us.
Also a tip of the hat to the very friendly people at Branded Saloon. Everybody working there was really nice. I had a great dinner, drank some good beer, caught the end of a pretty exciting soccer game, then got to enjoy listening to and playing some music in their great-sounding back room!
There are a few photos on the Branded Saloon Instagram page: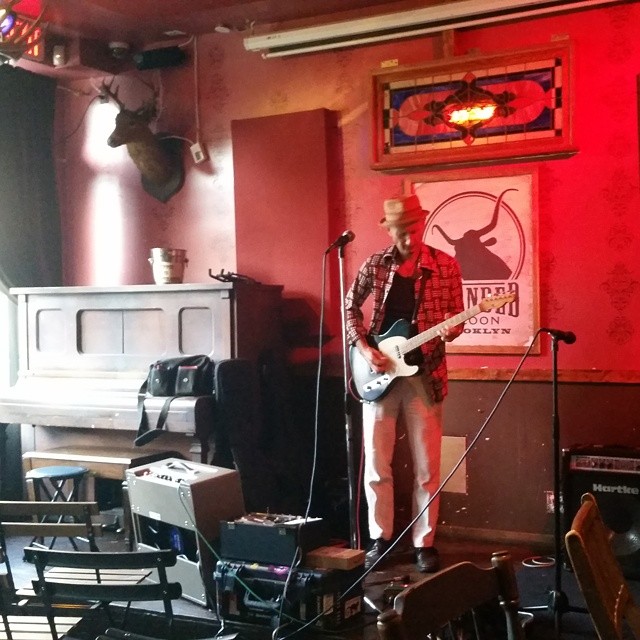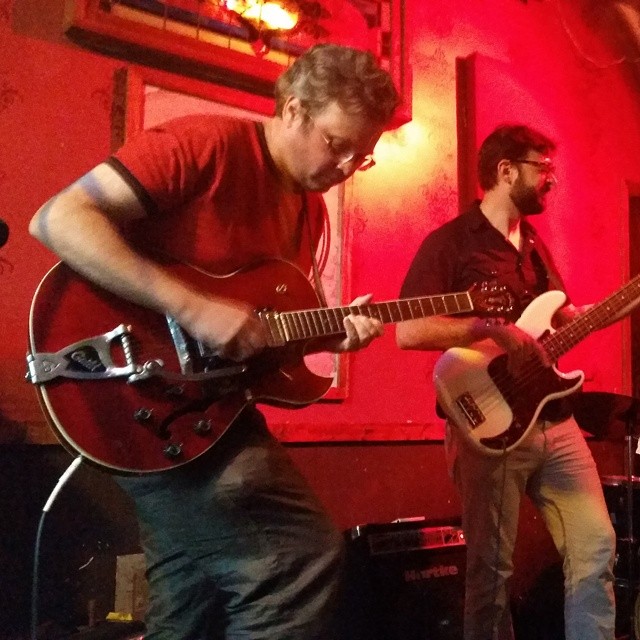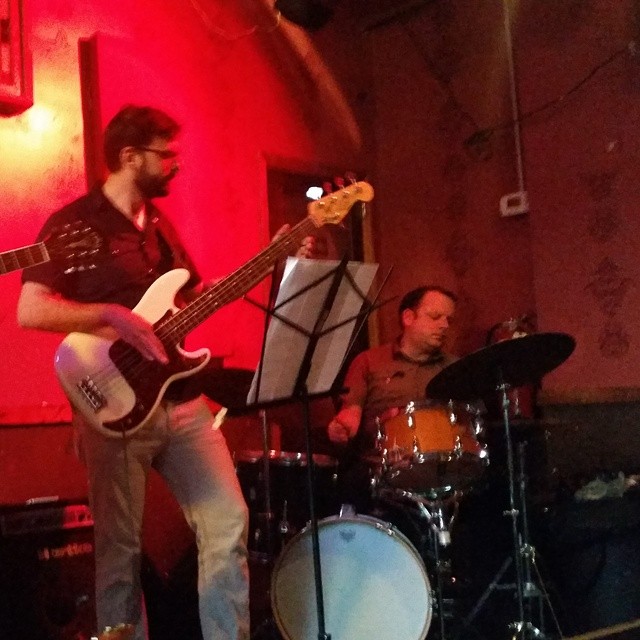 We hope we can play there again soon!
---