2014 July 28 • Monday
Eddie Sauter and Stan Getz's music for Mickey One is the 329th Soundtrack of the Week.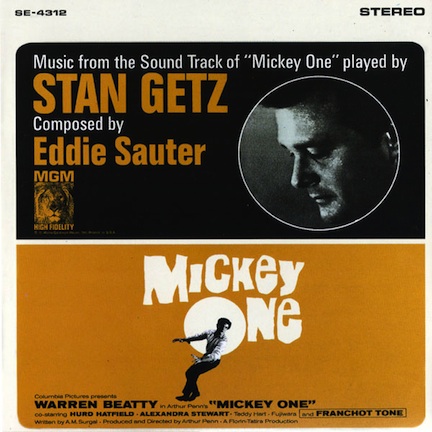 Eddie Sauter and Stan Getz had collaborated on the record Focus, which had Getz improvising with an orchestra. The album made a big splash and Sauter and Getz teamed up again for the score to Mickey One, again sith Getz improvising with an orchestra.
It starts out slinky and exotic, with string grooves and mesmerizing sax lines from Getz. Then the mood changes and becomes pensive, almost subdued. It's impressive how well Getz's blowing works with the orchestra.
Then there's a splash of crazy dance-party-circus music and some "modern" saxophone duels. After this comes some excited and dramatic underscoring. Then there's a relaxed, bluesy and romantic section.
Side two begins with more of that sort of polka swing merry go round party music, then proceeds to alternating Stallingesque orchestral writing with modern classical ideas and injecting some plaintive saxophone playing from Getz.
After that comes a more familiar atmosphere, sounding like something that could be a standard then veering into more pop territory for a bit.
There's some bizarre music, more cartoonish sounds and crazy noises with Getz gamely going along with it and then more bluesy romance and more stirring dramatic score with heartfelt playing by Getz.
It's a cool record. I'd like to see the movie someday.
---