2014 July 21 • Monday
The 328th Soundtrack of the Week is another Eurospy score, Piero Umiliani's music for Agente X1-7: Operazione Oceano.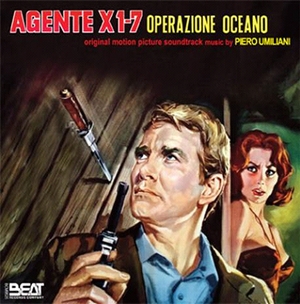 It has the expected cues: a sultry vocal theme, John Barryish instrumentation and nods to the famous James Bond theme, lounge and bossa nova stylings, suspenseful underscore and a killer electric guitar sound.
It's a more interesting listen than many other scores in the genre, with some jazzier sections and more dramatic writing. Perhaps the main theme is featured a bit more than your brain would like, though.
---