Rob Price
Gutbrain Records
rob + gutbrain.com = email
---
Now we come to the last of Fresh Sound's four CD reissues of jazz soundtrack LPs. Franz Waxman's Crime in the Streets and Gerald Fried's Dino are the 312th Soundtrack of the Week.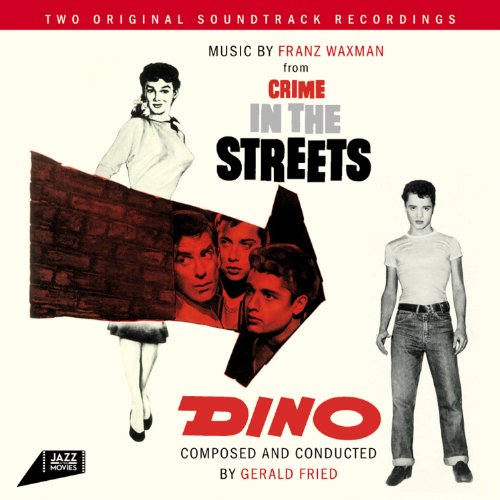 Crime in the Streets is one of many movies to be mislabelled film noir when released on video. It's a socially conscious juvenile-delinquent movie. It's a bit stagey but not bad. John Cassavetes is in it.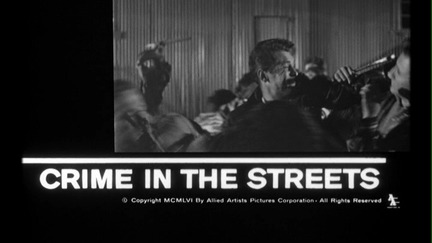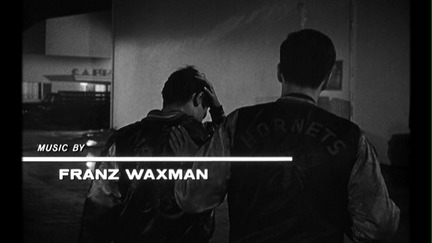 Waxman's music is great; complex, rhythmically intense, shrugging of influences from Elmer Bernstein and Duke Ellington to find its own identity.
There are three tracks, each a suite of themes and cues from the film. They cover a lot of ground. After that are three sketcehes" Nostalgia", "Song" and "Blues". These are apparently based on incidental music from the score. Finally there's a jazz orchestra piece, "Theme, Variations and Fugato".
The Varèse Soundtrack Club released the same program on a CD by itself a while back.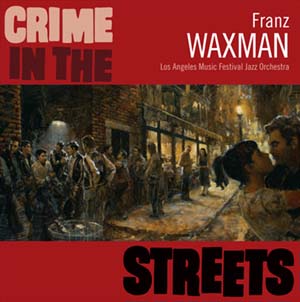 Dino's score starts out in a much different mood, much more menacing and stripped down, all low notes and stabbing brass and percussion. There's a quality to "Death in a Warehouse" which might remind you of some of Akira Ifukube's Godzilla music.
"Reform School" has some Herrmannesque string attacks and intensity. "Homecoming" is incredibly bleak and "Nightmare" offers no comfort at all, sustaining the mood of fear and panic that has dominated so far.
Just when you think you can't take anymore, the score swings into some toe-tapping tunes with "Saturday Night" and "Little Jazz". I'll guess these are for party scenes or something like that.
Things get mean again with "Meditation", then very romantic and seductive with "First Love". The record ends with another tense piece, "Defiance", then th Bernsteinesque "Waiting and Conclusion".
---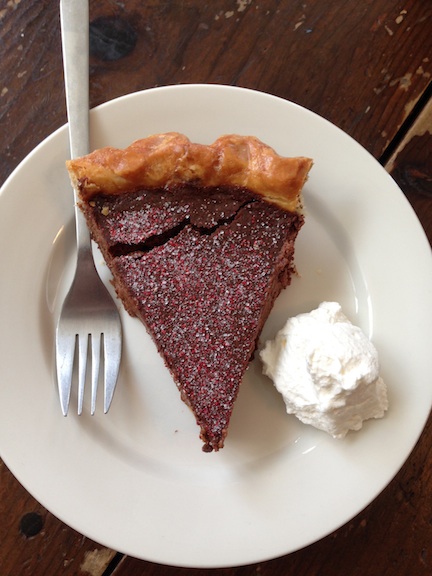 Pink peppercorn chocolate pie at Four & Twenty Blackbirds.
---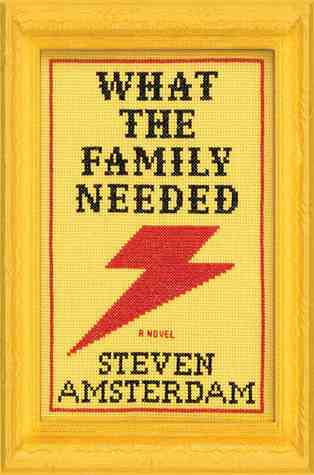 Here's a great new book. It might not sound great, though. It's hard to describe the concept without making it sound goofy.
It's a novel that centers on a family over a period of decades. Each chapter tells a story about one member of the family. The chapters are titled after the name of the character who is the focus.
Here's the part that might sound goofy. Each of these characters, in his or her chapter, basically gets a superpower. Make yourself invisible, learn to fly, read minds, whatever. One ability per character.
One of the brilliant things about the novel is how restrained, understated and realistic it is. The power is definitely real but so subtly used and described that there's an air of ambiguity around it.
Best of all, the book leads to a pretty solid conclusion. It ends with Alek, the most mysterious character. When we first meet him he's a little kid. We're told that "His Superman underpants stuck out from his jeans". This is significant as is, perhaps, that his name is spelled with the same letters as Kal-El. (There's an extra l so it's not an anagram.)
Great book! The first line is "At last, they were arriving in the land of normalcy: streetlamps, parked cars, and hedges".
---
Continuing our inspection of Fresh Sound's reissues of jazz soundtrack LPs, the 311th Soundtrack of the Week is this CD of The Interns by Leith Stevens and Stu Phillips and Stevens's Hell to Eternity.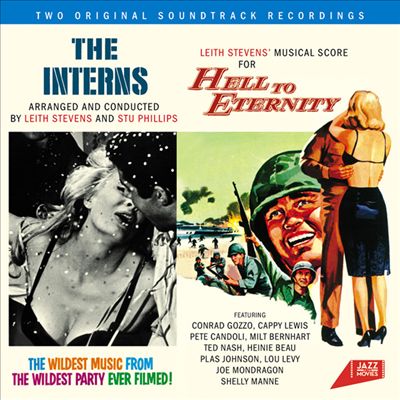 "Plasma, Scotch and?" opens up The Interns soundtrack album. It's an exuberant big band swing number that sounds appropriate for late 1960s-era Sinatra. "Toss Me a Scalpel" is a driving piece with more drama and menace to it.
Shades of Elmer Bernstein, Sinatra-orchestrations and even music for The Avengers suggest themselves at the beginning of "I'm Inhibited", but then the piece settles down into a more straightforward West Coast jazz groove.
Then there's a slow, blue, atmospheric number called "Lovely Lora", very late night and romantic.
"Doctor, Doctor!" is the first of four cues contributed by Stu Phillips, a festive, organ-driven pop piece. The other Phillips pieces are "Wild Party" (another organ-led toe-tapper), "Intern Fever" (somewhere between a dance and a march,again with prominent organ) and "Intern Bash" (mid- to up-tempo straight jazz). Judging by the titles and the sounds, I'm guessing it's source music for a party.
"Sugar Bush Ca Ca" is a cha cha that sounds like it owes some inspiration to "Poinciana" and Duke Ellington (specifically the "Afro Bossa" record but I think Stevens's music came first).
You might expect something boisterous from the title, but "Yah, Yah, Yah" is relatively subdued and groovy with some Afro-Cuban touches and an organ solo.
"Pitcher of Martinis" has that pleasantly tranquilized lounge-music sound and the somewhat frantic jazz of "Happy New Year" closes the record.
Hell to Eternity starts off with more big band stuff. The band has the great Plas Johnson on tenor as well as the killer rhythm section of Joe Mondragon and Shelly Manne.
"Bright Boot" is indeed a bright-sounding number. Again the influence of Ellington and Bernstein can be heard, I think.
It's time for late-night romance again with "Last Leave", which sounds like a "last dance" sort of song. Then things pick up with the "Hey, Honey, Go! Go! Go!" and "Here, Chick Chick Chick", both perky songs that might be for floor show or party scenes.
"Two Down and One To Go" and "Three Quarts" are light, up-tempo numbers, very West Coast jazz.
A "Drum Boogie" mood is introduced in "On the Double" which is followed by a brassy big-band "This Is the Place", which reminds me of Sinatra's backing band on "You Make Me Feel So Young".
A touch of rock and roll and its attendant menace makes "Famika" stand out from the other tunes on the record. Shelly Manne's backbeat is formidable.
"Pete's Theme" brings us back to more familiar jazz band territory, and the record ends with "Little Girl", the only piece that sounds explicitly like dramatic underscore.
---
Strangely enough, two books of transcriptions of tape recorded conversations with Orson Welles came out in 2013. My Lunches with Orson is the more superficial one and the one that got all the attention. People who are interested in seeing what's below the surface should check out Todd Tarbox's Orson Welles and Roger Hill: A Friendship in Three Acts.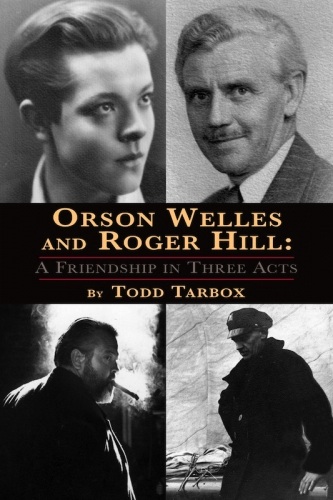 Roger Hill was the headmaster at Orson Welles's school. As such he was a mentor, an inspiration, practically a foster parent and a very close life-long friend. Around the same time that Henry Jaglom was taping his lunch conversations with Orson, Roger Hill was taping their phone conversations, for use in his memoir.
Todd Tarbox, Roger Hill's grandson, has presented these conversations, along with correspondence between the two and other writings, in the form of a play, to give the material some shape. There are also fascinating photographs and ephemera. This is certainly a book Welles admirers and scholars will need.
---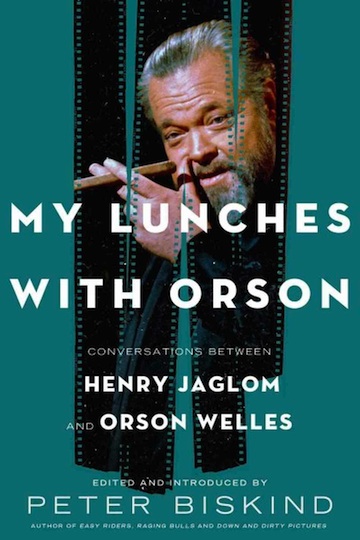 Orson Welles fanatics will want to own this book. For me borrowing it from the library was enough.
The contents are transcriptions of conversations between Welles and Henry Jaglom, tape recorded in the early 1980s as they had lunch at Ma Maison in Los Angeles.
We're not likely to see another like Orson Welles again. It's fascinating to eavesdrop on his banter, gossip, declamations and pontifications. There are cameos by other notable figures who sometimes approach the table. (Jack Lemmon is welcomed, Richard Burton rebuffed.)
Sometimes you might recognize yourself, as I did in this moment:
Waiter: Gentlemen, bon appétit. How is everything?
O.W.: We're talking, thank you. [Waiter leaves.] I wish they wouldn't do that. If I ever own a restaurant, I will never allow the waiters to ask if the diners like their dishes. Particularly when they're talking.
He took the words out of my mouth there. The number of times I've been asked how I'm enjoying everything when I'm in the middle of a goddam sentence... Punch lines of elaborate jokes have been ruined. My stock answer to this question these days is to say that everything is terrible, I hate the food and I'm never coming back. It always gets a laugh and seems to cheer the server. And best of all they never ask me again!
---
The 310th Soundtrack of the Week is another pair of jazz sountrack LPs reissued on CD by Fresh Sound Records. This time it's Dean Elliott's College Confidential and Neal Hefti's Syanon.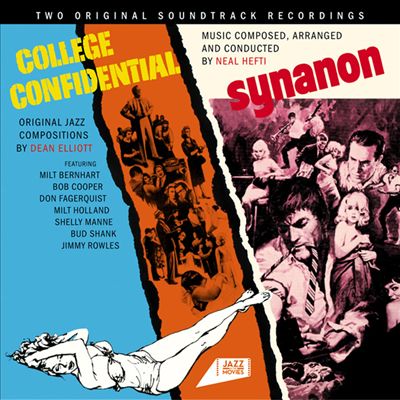 The main title for College Confidential is a confidently swinging number that recalls Elmer Bernstein's The Man with the Golden Arm, big band swing of the previous generation and even, in its use of bongos (played by Milt Holland), Henry Mancini's Touch of Evil.
After that it settles down with a light-hearted cue, "Faux Pas", with prominent flute and some Mancini-esque use of pitched percussive sounds.
"Make the Scene" is jazz combo stuff, probably source music. Things get more intense again with "Breakup" which features oboe and clarinet.
"Blues Train" is sultry big band stuff, with Ellington and Basie influences. Bud Shank and Ben Kanter play alto and they seem to be in a Johnny Hodges frame of mind. Also on the record are Shelly Manne, Jimmy Rowles, among others.
The rest of the record follows in the footsteps of one or another of the previous cues.
Syanon is a fantastic soundtrack, with occasional figures that recall Neal Hefti's famous theme for The Odd Couple. And what a group of featured players! Plas Johnson on tenor, Jimmy Rowles on organ, Howard Roberts on guitar, Red Mitchell on bass and Earl Palmer on drums.
The main title, "Zankie", is a slinky, moody tune, very unhurried and atmospheric while having an insistent and gentle rocking rhythm to it. When the strings come in, it's devastating.
The unmistakable tone of Plas Johnson introduces "The Perfect Beginning", a toe-tapping, swinging tune.
This is followed by a vocal number, "Main Street": "It's fun to be around the gang that's down on Main Street / They mean everything to me". It has a bit of a "Give My Regards to Broadway" thing happening.
"Blues for Hopper" is a pretty upbeat, frantic number, more like a shouter than a blues, with fantastic playing from Palmer and Johnson.
It's hard not to think of The Odd Couple again during the organ-driven "Hope". Shirley Scott also comes to mind.
Guitar introduces "Tonight's the Night", a driving piece with strings and horns takin center stage. Then there's a reprise of "Zankie", followed by boppish organ jazz in "Open House".
"Put Your Little Foot" has some pop/rock guitar and drums stuff going on but feels more like a cross between carousel music and a drinking song.
Then there's "Zankie" again and finally another vocal number, "The Whiffenpoof Song", similar to "Main Street".
---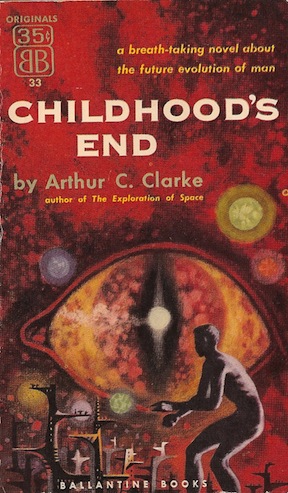 Here's a real classic. I think I read it a very long time ago, when it was probably above my reading level. I didn't remember it at all, though, so when a friend of mine gave it to me recently, it was a new book as far as I was concerned.
There's not much I can say about it without ruining the story for those who don't know it. It concerns the same event that's at the heart of the classic Twilight Zone episode "To Serve Man". An advanced alien race comes to Earth in space ships and starts cleaning up the place.
The strength of this novel is the gradual unfolding of the story, which takes place over a relatively long period of time and is revealed through a few different characters. The aliens themselves are among the most interesting, particularly the "Supervisor" alien.
You may wonder, as I did, if the book was heading to the same conclusion as "To Serve Man". You'll enjoy numerous suspenseful scenes before you find out. I was pleasantly surprised to find out that "Childhood's End" is in sympathy with much of John Wyndham's work.
The first line is "The volcano that had reared Taratua up from the Pacific depths had been sleeping now for half a million years".
---
A company called Big Finish is producing audio versions of the first season of The Avengers. Since almost none of those episodes survives, these recreations, basically radio plays, aren't a bad idea.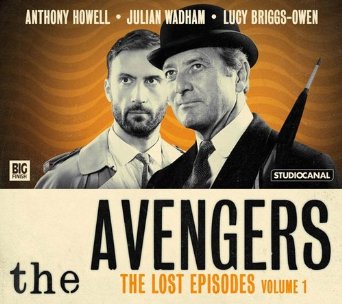 After listening to the first episode I can report that the experiment is a success. They appear to be striving for authenticity, trying to be as faithful to the original as possible. It's a bit like listening to an audio recording of a television show, and it's quite enjoyable!
---
Fresh Sound Records has been reissuing some jazz soundtrack albums on CD. Let's check them out. The 309th Soundtrack of the Week is Alexander Courage's music for Hot Rod Rumble and Frank De Vol and George Weiss's score for Murder Inc., both on one disc.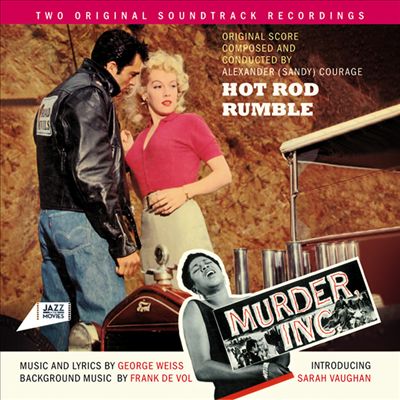 This music for Hot Rod Rumble is awesome. Most of the driving material—"Main Title", "Dented Fender", "Chicken Race", "Night Chase" and "End Title"—has an impressively menacing tone. Overall there's a West Coast Jazz meets Ellington kind of sound, I guess, alternatingly with bluesy stuff and teenage rock and roll type material in the same vein as Mancini's Touch of Evil radio music .
There are some great players on this record: Pete Candoli, Maynard Ferguson, Frank Rosolino, George Roberts, Bud Shank, Barney Kessel and Shelly Manne among others. There's a Gerald Fried on oboe as well, most likely the same Gerald Fried who also composed many a fine score for film and television of the same period.
Murder Inc. kicks off with a main title theme by Frank De Vol that's following the path of Elmer Bernstein's hugely influential The Man with the Golden Arm score. Most of the other Frank De Vol cues are closer to dramatic underscore than jazz, though the main title theme reappears in "Murder Merchants March". "Brownsville Bounce" is a cheerfully swinging tune, most likely source music.
The most interesting feature of this record is the two tracks with Sarah Vaughan singing. George Weiss's "The Awakening" is a lovely song that Vaughan nails. She comes back for "Fan My Brow", a lighthearted ditty that benefits enormously from Vaughan's amazing voice. "The Awakening" is the real keeper here, however. It has depth and emotion beyond the other cuts on this record.
Finally there's one more George Weiss song, the somewhat grating "Hey! Mister", which must have been for a floor show in a night club scene. "Hey! Mister, Hey! Mister / I want to be your baby sister! / Come on, come on, come on / Won't you baby me?" Send in the murderers.
---
The J. G. Ballard project continues. After purchasing the large volume of Ballard's complete stories, whose contents are in chronological order, I thought it might be fun to read the novels in chronological order at the same time, going back and forth between short and long works.
The Ballard reading is interrupted by reading several other books. I'd like to keep my sanity. Once the fiction is out of the way there's also a biography and a new collection of interviews to read.
The Unlimited Dream Company is the latest novel in our sequence.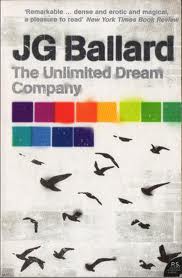 The quality of the writing is extremely high with brilliant metaphors on almost every page. The book itself I found very difficult to get through, repetitive and not very rewarding as a novel.
It has a great first line: "In the first place, why did I steal the aircraft?".
It's hard for me to say what the book is about. The narrator steals an airplane and crashes it into the Thames in Shepperton. He either survives the crash or is resurrected or reborn or something after the crash. Once in Shepperton he becomes something of a god, healing people, absorbing nature's essence, transforming the suburb into a jungle paradise, granting the gift of flight to the inhabitants.
This kind of business goes on and on and is repeated over and over. The effect is like the prose equivalent of a gallery of surrealist paintings all of one period or on one subject. It's the most challenging of Ballard's books for me so far. I can't honestly say that I enjoyed it or understood it though there are things about it I admired.
---
If you spend less than a minute searching the web for a Japanese movie poster for Alfred Hitchcock's The Wrong Man, you'll find this.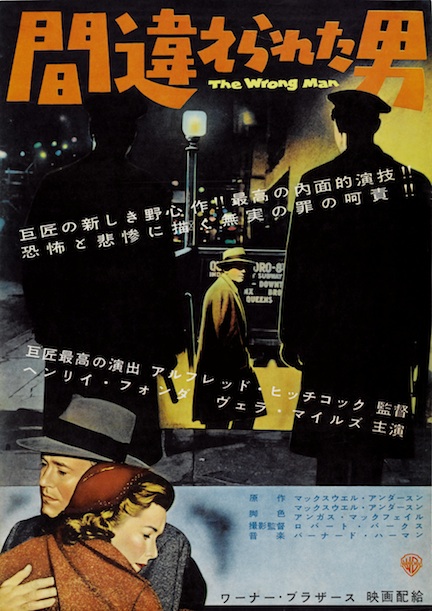 But I noticed this other one in the background of a scene in Yasuzo Masumura's Blue Sky Maiden.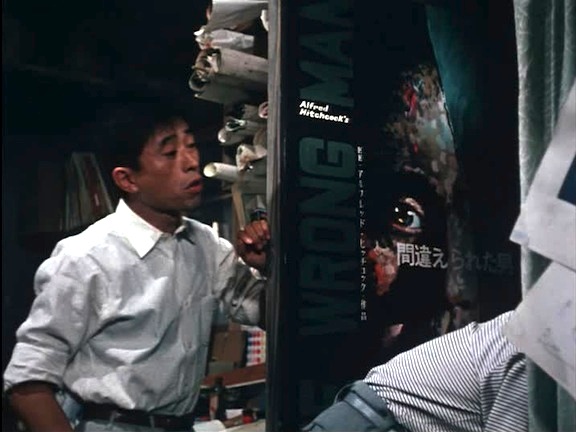 I'd like to see the whole poster. Looks like an interesting design.
---
David Shire's music for The Godchild is the 308th Soundtrack of the Week.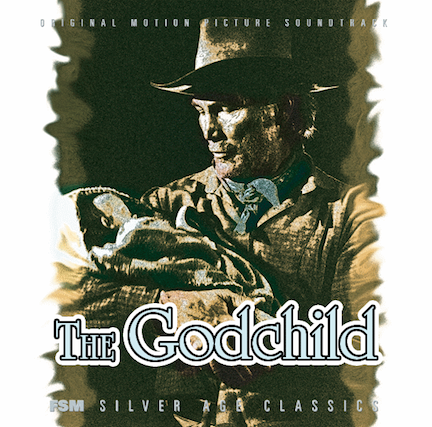 This is part of Film Score Monthly's Northwest Passage: Classic Scores from M-G-M, Vol. 2.
There isn't much music, only about 22 minutes for a 15-piece ensemble. There's a lot of guitar playing on it and a recurring bluesy theme. Some of it reminds me of stuff Bill Frisell would do about twenty years later. It's really great!
---