2014 March 24 • Monday
Continuing our inspection of Fresh Sound's reissues of jazz sountrack LPs, the 311th Soundtrack of the Week is this CD of The Interns by Leith Stevens and Stu Phillips and Stevens's Hell to Eternity.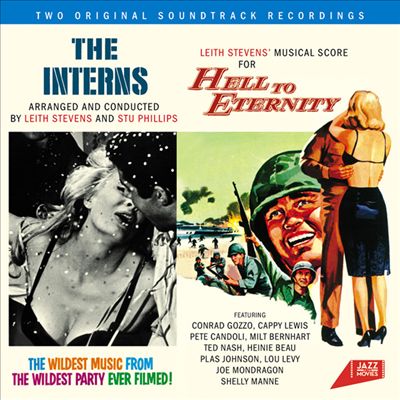 "Plasma, Scotch and?" opens up The Interns soundtrack album. It's an exuberant big band swing number that sounds appropriate for late 1960s-era Sinatra. "Toss Me a Scalpel" is a driving piece with more drama and menace to it.
Shades of Elmer Bernstein, Sinatra-orchestrations and even music for The Avengers suggest themselves at the beginning of "I'm Inhibited", but then the piece settles down into a more straightforward West Coast jazz groove.
Then there's a slow, blue, atmospheric number called "Lovely Lora", very late night and romantic.
"Doctor, Doctor!" is the first of four cues contributed by Stu Phillips, a festive, organ-driven pop piece. The other Phillips pieces are "Wild Party" (another organ-led toe-tapper), "Intern Fever" (somewhere between a dance and a march,again with prominent organ) and "Intern Bash" (mid- to up-tempo straight jazz). Judging by the titles and the sounds, I'm guessing it's source music for a party.
"Sugar Bush Ca Ca" is a cha cha that sounds like it owes some inspiration to "Poinciana" and Duke Ellington (specifically the "Afro Bossa" record but I think Stevens's music came first).
You might expect something boisterous from the title, but "Yah, Yah, Yah" is relatively subdued and groovy with some Afro-Cuban touches and an organ solo.
"Pitcher of Martinis" has that pleasantly tranquilized lounge-music sound and the somewhat frantic jazz of "Happy New Year" closes the record.
Hell to Eternity starts off with more big band stuff. The band has the great Plas Johnson on tenor as well as the killer rhythm section of Joe Mondragon and Shelly Manne.
"Bright Boot" is indeed a bright-sounding number. Again the influence of Ellington and Bernstein can be heard, I think.
It's time for late-night romance again with "Last Leave", which sounds like a "last dance" sort of song. Then things pick up with the "Hey, Honey, Go! Go! Go!" and "Here, Chick Chick Chick", both perky songs that might be for floor show or party scenes.
"Two Down and One To Go" and "Three Quarts" are light, up-tempo numbers, very West Coast jazz.
A "Drum Boogie" mood is introduced in "On the Double" which is followed by a brassy big-band "This Is the Place", which reminds me of Sinatra's backing band on "You Make Me Feel So Young".
A touch of rock and roll and its attendant menace makes "Famika" stand out from the other tunes on the record. Shelly Manne's backbeat is formidable.
"Pete's Theme" brings us back to more familiar jazz band territory, and the record ends with "Little Girl", the only piece that sounds explicitly like dramatic underscore.
---