2014 March 17 • Monday
The 310th Soundtrack of the Week is another pair of jazz sountrack LPs reissued on CD by Fresh Sound Records. This time it's Dean Elliott's College Confidential and Neal Hefti's Syanon.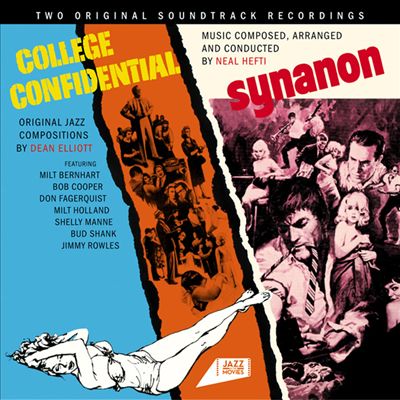 The main title for College Confidential is a confidently swinging number that recalls Elmer Bernstein's The Man with the Golden Arm, big band swing of the previous generation and even, in its use of bongos (played by Milt Holland), Henry Mancini's Touch of Evil.
After that it settles down with a light-hearted cue, "Faux Pas", with prominent flute and some Mancini-esque use of pitched percussive sounds.
"Make the Scene" is jazz combo stuff, probably source music. Things get more intense again with "Breakup" which features oboe and clarinet.
"Blues Train" is sultry big band stuff, with Ellington and Basie influences. Bud Shank and Ben Kanter play alto and they seem to be in a Johnny Hodges frame of mind. Also on the record are Shelly Manne, Jimmy Rowles, among others.
The rest of the record follows in the footsteps of one or another of the previous cues.
Syanon is a fantastic soundtrack, with occasional figures that recall Neal Hefti's famous theme for The Odd Couple. And what a group of featured players! Plas Johnson on tenor, Jimmy Rowles on organ, Howard Roberts on guitar, Red Mitchell on bass and Earl Palmer on drums.
The main title, "Zankie", is a slinky, moody tune, very unhurried and atmospheric while having an insistent and gentle ro