Rob Price
Gutbrain Records
rob + gutbrain.com = email
---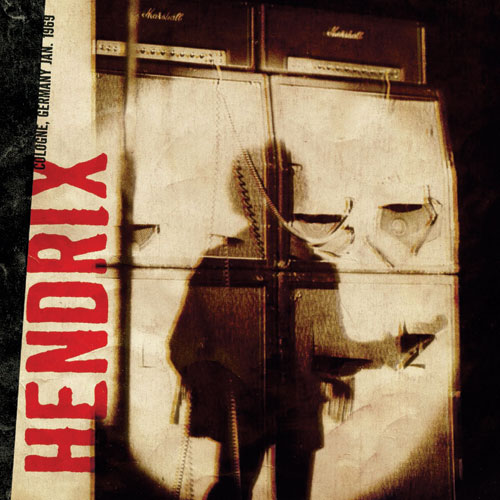 Yet another good new CD. Are record sales really going down? My record buying is definitely going up.
I hadn't listened to a live Experience recording in a while. In concert they played the same handful of tunes in much the same way. Maybe it's because I took a break that I'm enjoying this one as much as I am. It's also an audience recording, on the rough side for audio, and this makes it a bit more interesting to my ears. (There's even a tape flip!) And I also like that they open with Earl King's "Come On".
Jimi's playing is pretty awesome throughout and very present, as the rhythm section is low in the mix.
---
Kazuyoshi Saito's music for Fish Story is the 277th Soundtrack of the Week.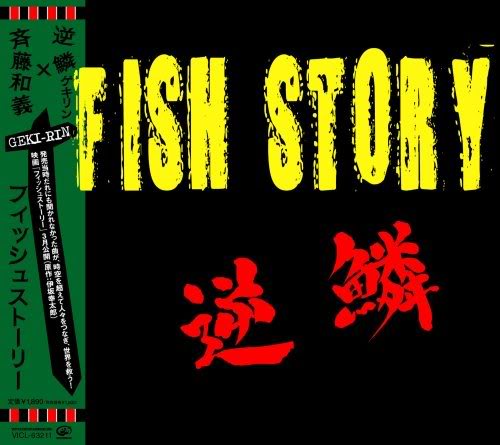 The movie was one of my favorites from 2010. The CD starts out with the title song, a really awesome rocker that also anchors the movie. For the movie to work, the song has to be great. Mission accomplished!
Then you hear it again but this time with about a minute of silence in the middle of it. This is a version required by the story of the movie and it's amusing to find it included here.
Then there's another upbeat rocker whose Japanese title means, I think, "nothing". This is followed by a sunnier type of pop song called "Summer Days".
Then there are several tracks of underscore, mostly gentle and whimsical, as suits much of the film.
Finally there's a love song called "Yumiko", then a "producer arranged version" of "Nothing"—this is done much more slowly (and is thus about a minute longer) and has more of a pop soul lounge feel.
Then there's another take of "Fish Story" as a bonus track. Great song!
---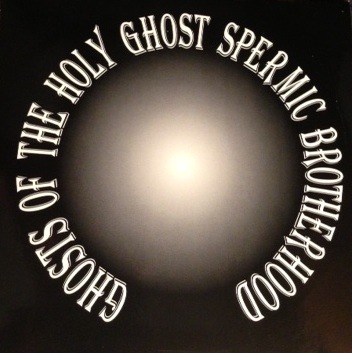 Here's another great new record! This one has my friends David Grollman (on snare drum, balloons and assorted objects) and Andy Haas (saxophone, flute, piri, hojok, electronics) in a trio with Michael Evans (snare, objects, electronics).
The music, focused and textural improvisation, is strange and wonderful. Check it out!
---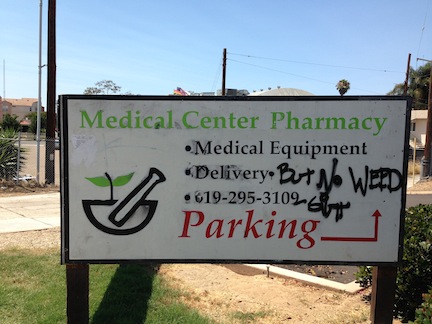 Ah, San Diego. Once again my brother and I found ourselves there for Comic-con, beer and food. My first stop was the Toronado and my first beer Pliny the Elder. This is often my first beer whenever I go to the West Coast. The second beer was Dank Matter, an excellent double IPA and the second anniversary beer from Beachwood Brewing. I was hoping to encounter their System of a Stout, the stand-out beer from last year's San Diego adventure, but no such luck.
After that it was time for lunch at Carnitas' Snack Shack. Excellent place. Stick with the pork. The triple-threat pork sandwich (pork loin cutlet, pulled pork and bacon), carnitas tacos and pork-belly appetizer were amazing.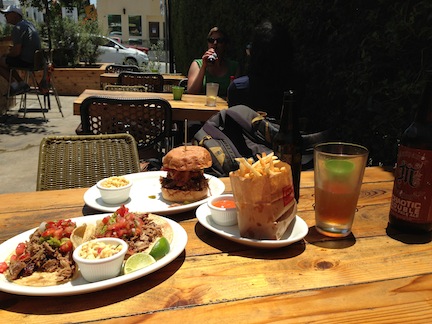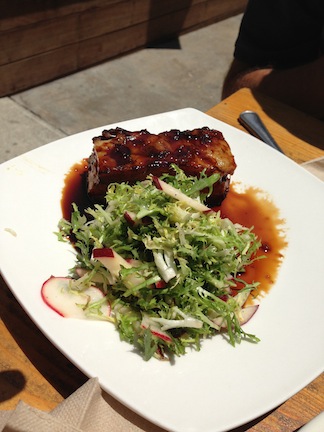 Rabbit flautas sounded like a good idea but didn't do much. The steak sandwich might be good but can't share the stage with those pork dishes.
Then it was con time. As usual it was fun to be in a sea of happily engaged humanity.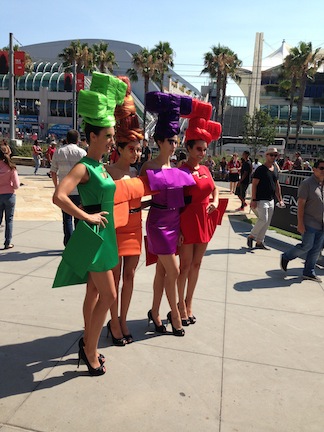 As Tom Spurgeon noted in his blog, one of the best things about the con is how beloved it is by its attendees.
The big disappointment was not being able to get into the Godzilla Encounter, which sounds like it was really great. I tried. I went to the booth, followed the Twitter feed (creating a Twitter account for that sole purpose), did everything they said to do but failed to get in. It was probably a once in a lifetime sort of thing and I'm very sorry to have missed it. (Part of the problem was not finding out about it earlier.)
Bar number two was Hamilton's Tavern, where once again we visited Pliny the Elder. Then it was on to Stone Brewing's Company Store, where we tasted (among other things) their newest collaboration, w00tstout, on tap.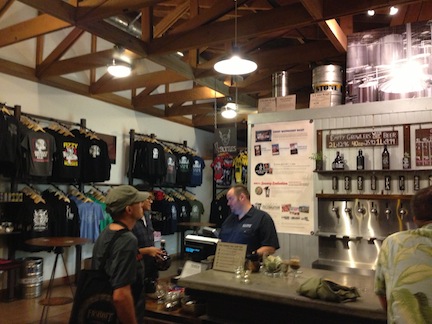 After that it was dinner time at Ritual Tavern, or would have been if a neighboring construction project hadn't shut down their gas line, leaving them unable to cook. They gave us free pizza from a place across the street and of course they had great beers on tap.
On day two I thought I'd see if there was any chance I could get into the World's End panel. Nope. Didn't really expect to and wasn't particlarly disappointed. Wandered around the hall for a bit before getting bored. The few hours I'd spent there on the first day were almost enough.
So it was off to another great beer and food place, Tiger! Tiger!, where the wood-fired shishito peppers and sublime BLT were my favorite meal of the trip.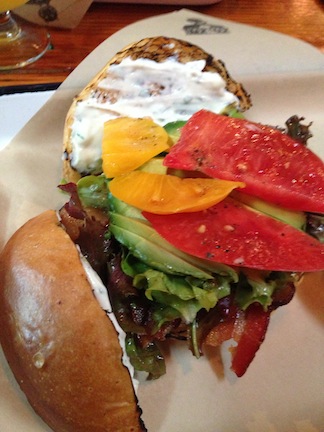 Day three started with a visit to the San Diego Record Show.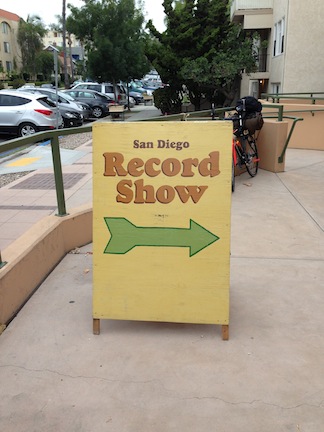 I was expecting something like the WFMU Record Fair but it was much smaller and most vendors didn't make much of an effort to organize their wares. I found a surf record I didn't have, though.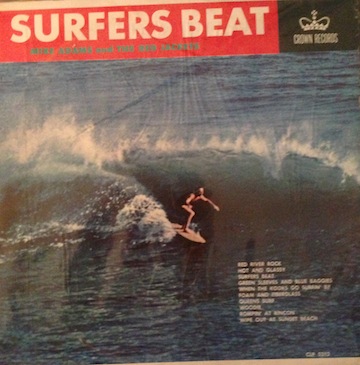 Finally we paid homage again to Stone by going to their new bistro brew pub place, in a former naval training center in Point Loma. It's similar to their Escondido location, though not quite as nice. But it's still amazing! There is nothing like this in New York or anywhere else I've been.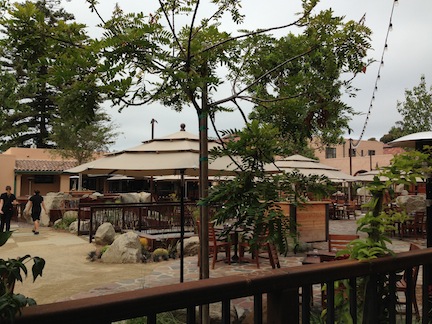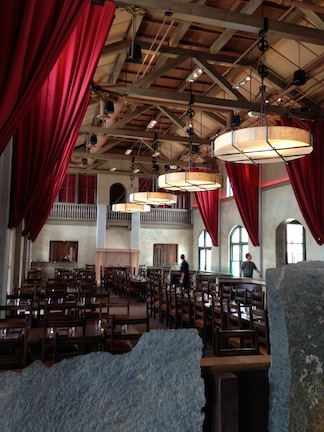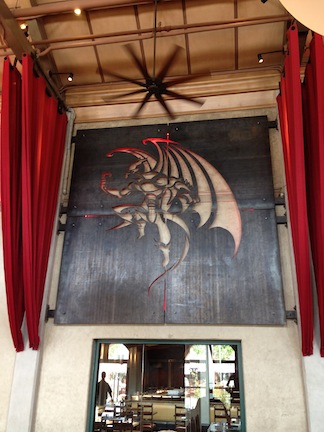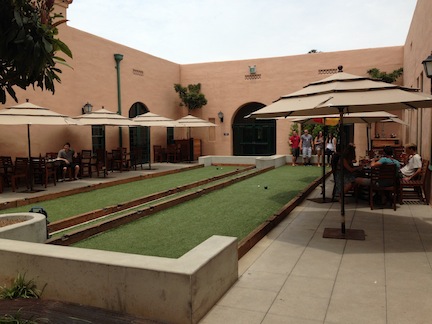 We had several beers that were brewed on the premises, my favorite being Matt's Thrill Rye'd IPA and second favorite their Call It What You Want imperial hefeweizen.
We're already looking forward to returning next year!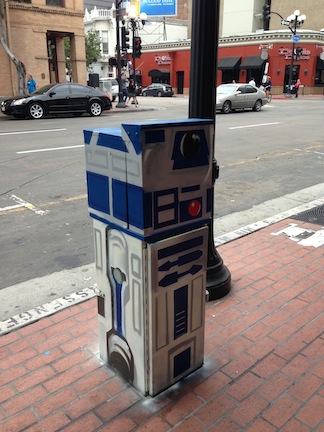 ---
The 276th Soundtrack of the Week is Ombre roventi by Carlo Savina.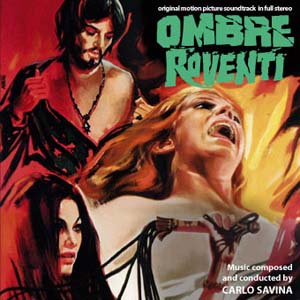 The CD is bookended by "Shadow", a groovy shake with organ, trumpet, electric guitar and a rocking rhythm section.
In between there are many wonderful cues, often using percussion and organ to create moods.
Sequence 1 sounds like some of Laurie Johnson's suspense music for The Avengers. Sequence 2 is similar to Bernard Herrmann's love theme from Taxi Driver.
The third sequence is very eerie, for percussion and organ only. The fourth sequence is a very weird shake with crazy wordless vocals.
Other highlights include the sixth sequence, which begins with solo voice but launches into what the label aptly describes as a hippy choir. Sequence 9 has a nice jazz feel with muted trumpet and bass clarinet playing over a relaxed swing beat.
The eleventh sequence is another great shake, once again driven by organ and drums. Sequence 13 is another organ and percussion masterpiece, this time with the addition of some haunting flute lines.
Sequence 14 features some sensitive piano playing with jazzy drums and trumpet accompaniment and also some odd playing from electric bass and some kind of synthesizer.
Lots of cool stuff on this one!
---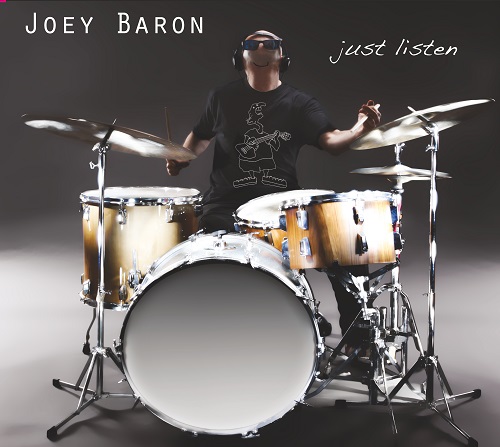 2013 continues to be an amazing year for new releases. This one is something of a dream come true: Joey Baron performing live in a duet with Bill Frisell.
These two are my favorite musicians in the world. They've been playing together for thirty years or so, in a lot of different settings. Bill's been in Joey's band, Joey's been in Bill's band, they've both played together in other people's bands.
Their duets are a special treat, though. They move easily from free improvisation to tunes and have such a deep communication that they practically become one. I've been lucky enough to be in the audience for a few of those gigs and I've heard several live recordings. This one, recorded November 16, 2008, in Germany, is excellent.
But it gets even better. This concert was recorded by a professional camera crew and the first two hundred people who buy Just Listen will receive a DVD of the video!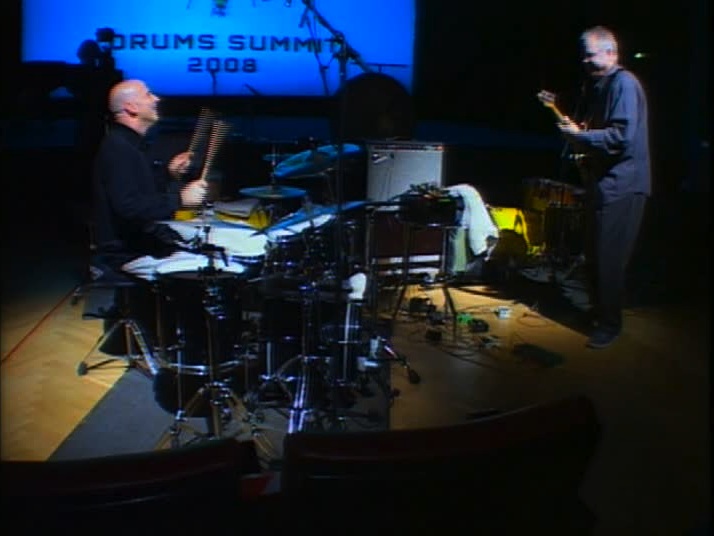 I got mine from the Downtown Music Gallery.
---
Electra Glide in Blue, music by James William Guercio unless noted, is the 275th Soundtrack of the Week.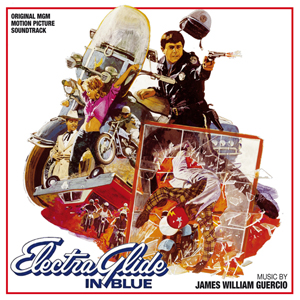 "Morning" mixes orchestra with analog synthesizers (Moogs?) and includes some dialogue from the film at the end. "Zipper, that's the story of your life. Ain't no action, no place and no time."
"Prelude is a laid-back, mellow but funky tune with wah-wah guitar, horn section and some great shaker playing. The strings add nice textures and there's a great trombone solo.
"Meadow Mountain Top" is a country song by Mark Spoelstra. "There's a meadow high on a mountain top / Where the sun shines so brightly / And the blue skies beckon me." Nice steel guitar playing on this one.
"Overture" is a dramatic piece for large ensemble with prominent drums and a thick, rich sound.
Then comes some classic mid-century doo-wop, "Most of All" by The Marcels.
"Jolene's Dance" is a little cheesy but I like it. The wah-wah guitar and percussion add a lot and the horn solos and bass playing are good.
Next is an uptempo soul acid rocker called "Free from the Devils" by Madura. There's some impressive post-Hendrix guitar playing on this.
"Let's go get 'em, Zipper!" This soundbite from the movie kicks off the intense "The Chase", another cue scored for the funk disco soundtrack ensemble we've heard several times before.
Then Mark Spoelstra returns with another nice country song, "Song of the Sad Bottle". "And it seems that everything right went wrong / And all I got left is a sad, sad song."
"Monument Valley" is a pensive-sounding cue for orchestra that mixes a sense of grandeur with bucolic and anxious tones.
The record concludes with the song "Tell Me", a ballad featuring piano. "tell me about the sun / Tell me about the rain / Tell me about tell me the fields / a tell me about the plains / Will they come again?"
---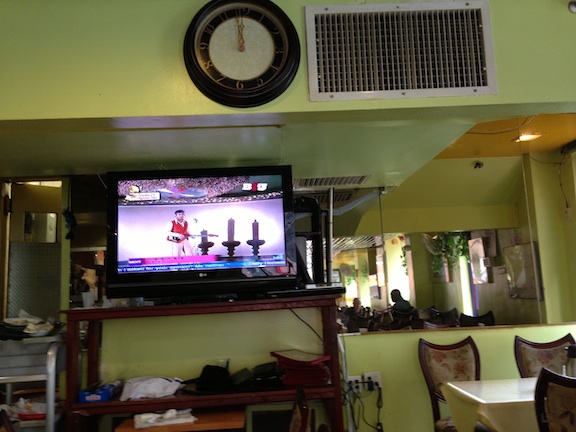 This movie was on TV last time Dexter and I dined at Curry in a Hurry. I was intrigued by the guitar.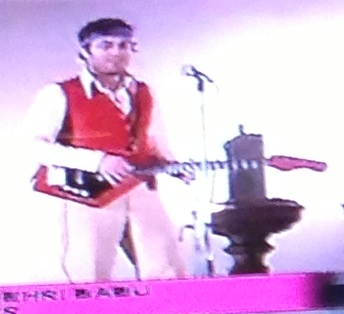 ---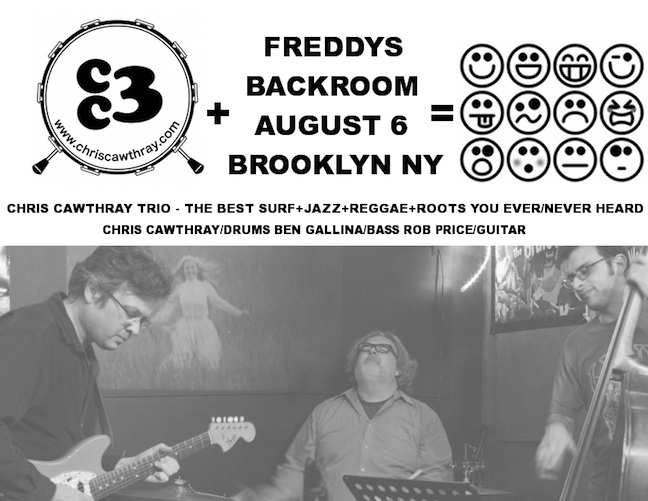 ---
The 274th Soundtrack of the Week is Duel at Diablo, music by Neal Hefti.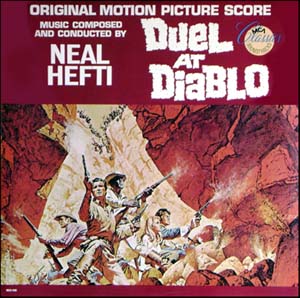 Here's another one that was part of Film Score Monthly's MGM Soundtrack Collection box set.
Neal Hefti will most likely be remembered best for his wonderful music for the movie and TV show of The Odd Couple. But he also arranged music for Frank Sinatra—check out Sinatra and Swingin' Brass, especially the make-over of "Truckin'" into "Twistin'"—and scored several other movies.
One of them, Duel at Diablo, was a western that starred James Garner and Sidney Poitier. The music is amazing, especially the main theme, which you hear several times.
It's swinging and poppy, with almost a Vegas feel, but at the same time with gravitas and a slightly haunted character. "Little Green Bag" might have stolen an idea from it.
The vocal version has lyrics which spell out the gloom more clearly. "Then with fear and hate the land was cursed / Soon the land dried out / Love died of thirst / In the wind / Blowing hate / Raining death."
Other highlights include the atmospheric and eventually propulsive "Earth Runs Red", the irresistibly swinging "Rescue from Ritual" and the tense action piece "Fight at Diablo Pass".
---
It's been a while but I have a new CD coming out, a collaboration with Chris Moore and Lee Feldman. After about a year of improvising together we went into Peter Karl's studio and made a record!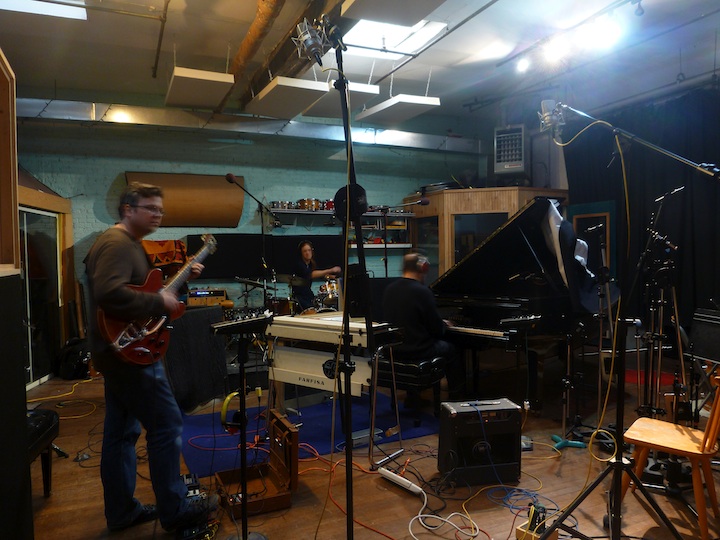 The CD, Neighborhood Changed Fast, will be available in September. I'm very proud of it. Here's a short excerpt to give you an idea. It's an outtake, not something you'll hear on the record.
---
According to something I read on Wikipedia, the series of Saw movies is "the most profitable horror film franchise of all-time". That hyphen in the last word is as good a reminder as any of Wikipedia's vulnerabilities. The factoid itself is not particularly interesting or surprising.
But I saw the first Saw movie and enjoyed it. Not enough to recommend it or anything—and I've mostly forgotten it—but I was heartened to find that even in this day and age there were horror/shlock/exploitation/whatever filmmakers who were using ingenuity and determination to overcome the limitations of low budgets. The spirit of Herschell Gordon Lewis prevails!
The Saw sequels didn't interest me and most other so-called "torture porn" movies failed to draw me in. Hostel was a complete waste of time and I didn't bother to watch most others. It occurred to me that the subgenre might have its roots in grand guignol and the same Wikipedia article mentioned above agrees with me.
The "spectacle of hurt", to quote Eddie Campbell, seems to be the main event promised by a large percentage of English-language filmmaking these days. ("In the movies, meaning will always be secondary to spectacle, and the favourite spectacle of our miserable age is the spectacle of hurt.") Sex and violence have always been the movies' biggest draw, and Gaspar Noé's Irréversible is surely torture porn as much as any other film is.
Once in a while I find myself really enjoying one of these movies, however. Not Saw so much, though I did really like the Korean movie I Saw the Devil. The latter movie ends up making a genuinely persuasive argument against both the escalation of violence and the enjoyment of violent spectable, in much the same way that Peckinpah hoped The Wild Bunch would.
Recently I watched and enjoyed The Collector, more of a straight-up torture porn movie but one with an actual story and an admirable anti-hero.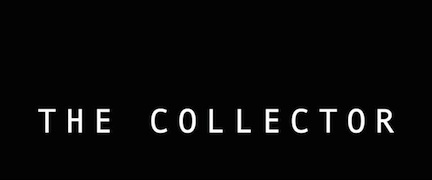 Arkin breaks into a wealthy family's house to rob their safe. His wife needs to pay back a loanshark by midnight that night or horrible things will happen to her—and to the young daughter that she and Arkin have. Arkin has been doing work on the house and knows the layout. But when he shows up that night, he finds that a masked psycho has rigged the house with numerous traps and is enjoying himself torturing the parents.
Arkin is working on the safe when he hears the screams coming from the basement. What to do? The victims have a teenage daughter who isn't home and a younger daughter—the same age as Arkin's—who's hiding somewhere in the house.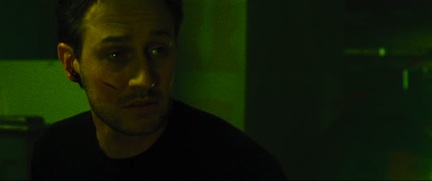 Arkin's not some superman. But he has enough street smarts, skill and experience to cover the first requirement of a thriller, that it should be a fantasy of competence. (That insight came from somebody writing in the TLS sometime in the last year or two.)
In Dario Argento's Suspiria there's a scene in which a young woman trying to escape from a murderer falls into a room filled with barbed wire. She's trapped painfully and, well, that's the end of the line for her. The Collector is an elaboration on that theme and also connects with the popular old, dark house movies of the 1930s, in which masked killers were always creeping around mansions on stormy nights. They had traps, too.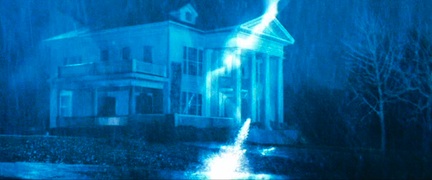 One reason I might have responded so sympathetically to The Collector is that being hunted by a homicidal maniac in my own house was a recurring nightmare I had when I was a kid. The movie takes this nightmare, makes it into a morality tale and layers on the suspense and gore. (It also taps into the popular fear of dentists in one scene.)
The photography is excellent, with unusually fine colors and textures. I thought it was very well made in general, with an intelligent and creative script that keeps you busy enough not to fret over contrivances and the implausibility of the killer's modus operandi.
It's not for everybody. It's not even for most people I know personally. But it is for a select few and I'll be recommending it to them.
---
Kenyon Hopkins was a master of moods, especially those of loneliness and frustration. His score for The Fugitive Kind is the 273rd Soundtrack of the Week.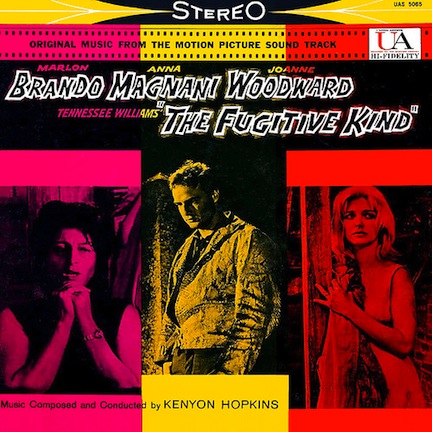 The prologue is called "Alone" and the theme from the film is called "Bird Song". Both pieces are sad and beautiful, suggesting isolation by using quiet and tranquil instruments such as clarinet or flute backed by nylon-string guitar. "Alone" reminds me a little bit of Mingus's "Goodbye Porkpie Hat" as well as an Ennio Morricone cue I can't put my finger on right now.
The music for the movie's opening, a cue called "Town", begins and ends with what sounds like a suggestion of violence, perhaps foreshadowing a tragic ending to the story.
Electric guitar kicks off the killer blues "Let Me Out". The title practically sums up Tennessee Williams's whole body of work, doesn't it? Guitar, voice and very sparse percussion create an atmosphere of exquisite grief. Most of the cues are in one of these veins.
"High Pocket Blues" is a different story. It's an instrumental with sax taking the lead. It's uptempo and rocking, somewhat similar to the rockabilly song "Sugar Sweet".
The same band plays the slower, swinging and rocking instrumental "Let Me Off at the Station", the fast and frivolous "Get Crazy" and the somewhat drunken rocker "Pay Day"
There's a very nice solo acoustic guitar version of "Bird Song" and "Cash Box" starts out with some haunting whistling. Also included are the self-explanatory "Calliope" and "Distorted Calliope".
This fine score is part of Film Score Monthly's MGM Soundtrack Treasury box set. I'm still not used to living in a world without the FSM label.
---