2013 July 15 • Monday
Electra Glide in Blue, music by James William Guercio unless noted, is the 275th Soundtrack of the Week.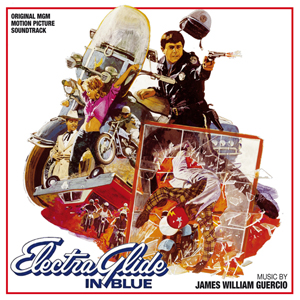 "Morning" mixes orchestra with analog synthesizers (Moogs?) and includes some dialogue from the film at the end. "Zipper, that's the story of your life. Ain't no action, no place and no time."
"Prelude is a laid-back, mellow but funky tune with wah-wah guitar, horn section and some great shaker playing. The strings add nice textures and there's a great trombone solo.
"Meadow Mountain Top" is a country song by Mark Spoelstra. "There's a meadow high on a mountain top / Where the sun shines so brightly / And the blue skies beckon me." Nice steel guitar playing on this one.
"Overture" is a dramatic piece for large ensemble with prominent drums and a thick, rich sound.
Then comes some classic mid-century doo-wop, "Most of All" by The Marcels.
"Jolene's Dance" is a little cheesy but I like it. The wah-wah guitar and percussion add a lot and the horn solos and bass playing are good.
Next is an uptempo soul acid rocker called "Free from the Devils" by Madura. There's some impressive post-Hendrix guitar playing on this.
"Let's go get 'em, Zipper!" This soundbite from the movie kicks off the intense "The Chase", another cue scored for the funk disco soundtrack ensemble we've heard several times before.
Then Mark Spoelstra returns with another nice country song, "Song of the Sad Bottle". "And it seems that everything right went wrong / And all I got left is a sad, sad song."
"Monument Valley" is a pensive-sounding cue for orchestra that mixes a sense of grandeur with bucolic and anxious tones.
The record concludes with the song "Tell Me", a ballad featuring piano. "tell me about the sun / Tell me about the rain / Tell me about tell me the fields / a tell me about the plains / Will they come again?"
---