2013 July 08 • Monday
The 274th Soundtrack of the Week is Duel at Diablo, music by Neal Hefti.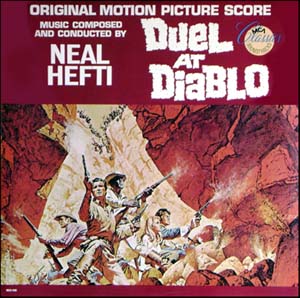 Here's another one that was part of Film Score Monthly's MGM Soundtrack Collection box set.
Neal Hefti will most likely be remembered best for his wonderful music for the movie and TV show of The Odd Couple. But he also arranged music for Frank Sinatra—check out Sinatra and Swingin' Brass, especially the make-over of "Truckin'" into "Twistin'"—and scored several other movies.
One of them, Duel at Diablo, was a western that starred James Garner and Sidney Poitier. The music is amazing, especially the main theme, which you hear several times.
It's swinging and poppy, with almost a Vegas feel, but at the same time with gravitas and a slightly haunted character. "Little Green Bag" might have stolen an idea from it.
The vocal version has lyrics which spell out the gloom more clearly. "Then with fear and hate the land was cursed / Soon the land dried out / Love died of thirst / In the wind / Blowing hate / Raining death."
Other highlights include the atmospheric and eventually propulsive "Earth Runs Red", the irresistibly swinging "Rescue from Ritual" and the tense action piece "Fight at Diablo Pass".
---