2013 July 01 • Monday
Kenyon Hopkins was a master of moods, especially those of loneliness and frustration. His score for The Fugitive Kind is the 273rd Soundtrack of the Week.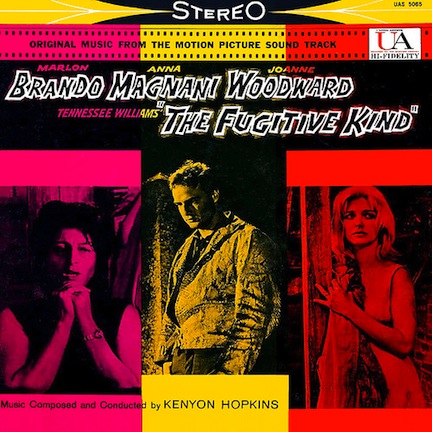 The prologue is called "Alone" and the theme from the film is called "Bird Song". Both pieces are sad and beautiful, suggesting isolation by using quiet and tranquil instruments such as clarinet or flute backed by nylon-string guitar. "Alone" reminds me a little bit of Mingus's "Goodbye Porkpie Hat" as well as an Ennio Morricone cue I can't put my finger on right now.
The music for the movie's opening, a cue called "Town", begins and ends with what sounds like a suggestion of violence, perhaps foreshadowing a tragic ending to the story.
Electric guitar kicks off the killer blues "Let Me Out". The title practically sums up Tennessee Williams's whole body of work, doesn't it? Guitar, voice and very sparse percussion create an atmosphere of exquisite grief. Most of the cues are in one of these veins.
"High Pocket Blues" is a different story. It's an instrumental with sax taking the lead. It's uptempo and rocking, somewhat similar to the rockabilly song "Sugar Sweet".
The same band plays the slower, swinging and rocking instrumental "Let Me Off at the Station", the fast and frivolous "Get Crazy" and the somewhat drunken rocker "Pay Day"
There's a very nice solo acoustic guitar version of "Bird Song" and "Cash Box" starts out with some haunting whistling. Also included are the self-explanatory "Calliope" and "Distorted Calliope".
This fine score is part of Film Score Monthly's MGM Soundtrack Treasury box set. I'm still not used to living in a world without the FSM label.
---