When The Beatles played the Hollywood Bowl in 1965, Elmer Bernstein was there. His son Peter was a teenager, after all, and somebody had to take him. Joining the two Bernsteins was Peter's school friend John Landis.
Years later Landis wanted to get Elmer Bernstein to score Animal House. The studio executives thought Landis was crazy and that Bernstein wouldn't even take a call from the young director. Bernstein took the call and the gig, and came up with a rich symphonic score for the movie. Animal House was a big hit.
After that, you had to get Elmer Bernstein to come up with a dramatic orchestral score for your zany comedy, whether it was Meatballs, Airplane!, Ghostbusters or our 115th Soundtrack of the Week: Stripes.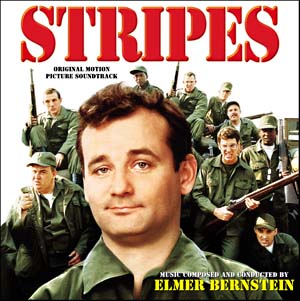 Horror and fear in movies will have a greater impact on an audience if humor has thrown viewers off their guard. Contrast is important. This is why Martin Scorsese insisted that some humor had to be added to Paul Schrader's grim screenplay for Taxi Driver. Enter Albert Brooks.
Comedy usually benefits from similar treatment, the infiltration of a serious note in otherwise silly situations. Buster Keaton and Charlie Chaplin are hilarious because of something fudamentally sad about their characters. Peter Sellers's first performance as Inspector Clouseau is his funniest because of the sadness Sellers brings to the character.
Finding the right amount is tricky business. His Girl Friday, for instance, attempts to carry too much dramatic weight with its death-row subplot. Stripes perhaps also over-extends itself. In an episode of Freaks and Geeks, a die-hard Bill Murray fan complains that the second half is a write-off. This is probably true. I haven't seen Stripes since it came out, but the first half made an impression on me, because of Elmer Bernstein's score as much as any other element of the film.
I didn't know the name Elmer Bernstein when I first saw Stripes, but much of his music for the movie never left my head after I heard it for the first time. The "Stripes March", of course, but more vividly the sadly swinging piano music for the loser heroes. "Push-Ups" begins with an even sadder piano cue, quotes the "Stripes March" with solo trumpet, then eases back into the "Depression" music again before a sort-of Vegas bounce/sleaze number.
Bernstein has a lot of fun with the music without making the music a joke. He nods to old tunes like "London Bridge" and his own previous work on war films like The Great Escape. Some of the pieces have a startlingly modern Americana sound, a reminder, perhaps, that the young Elmer Bernstein was encouraged to study composition by Aaron Copland.
---
Check out Drawn & Quarterly's great blog. I loved this comic by Argentinian cartoonist Pablo Holmberg.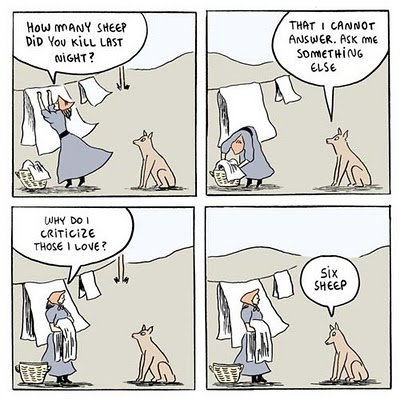 ---
Alice and I watched Predator recently. I hadn't seen it in twenty years or so. The alien's point of view was an impressive special effect at the time, as I recall, but it doesn't look so hot now.
This scene was strangely beautiful, though, when the alien's looking at a dead scorpion in its hand.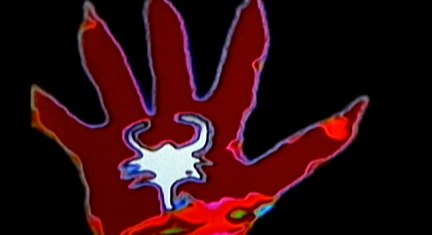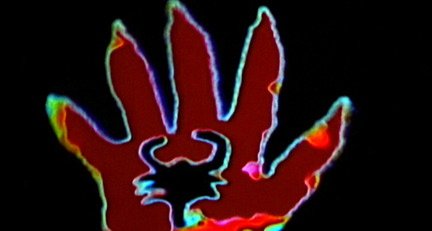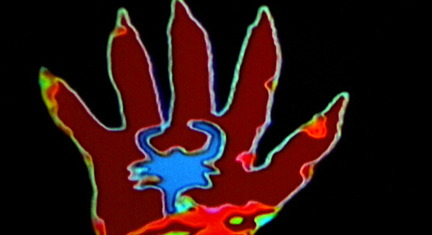 For a brilliant analysis of Predator's homoerotic subtext, read this review by Jonny Lieberman. He also could have mentioned that the commando team listens to Little Richard on their way into the jungle.
---
The 114th Soundtrack of the Week is Orfeu da Conceição, a theatrical production with music by Antonio Carlos Jobim and lyrics by Vinicius de Moraes.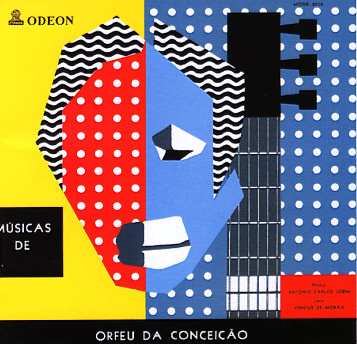 This is the first time a Soundtrack of the Week has been music for the stage. The CD begins with an overture. First you hear an oboe playing a sad figure, then a whole orchestra comes crashing in very dramatically. The solo oboe returns, joined by a romantic but slightly off-kilter piano part. The orchestra comes back in dramatic fashion again after that.
Then comes the part you've been waiting for, beautiful nylon-string guitar playing, apparently courtesy of Luiz Bonfa. (The liner notes aren't in English.) After only a little bit of that, the orchestra comes in for more respectable if not especially distinguished dramatic music. About a minute before the end of the overture, though, a percussion ensemble annonuces its presence and we're swinging away on an irresistible Brazilian groove. A male chorus joins them and then the overture is over.
"Monólogo de Orfeu" features the wonderful guitar playing again, accompanied by flute and a spoken monologue in Portuguese. "Um Nome de Mulher" sonds pretty close to one of Jobim's classic tunes, perfect guitar playing, impeccable light percussion, somebody singing some Portuguese lyrics. The orchestra and the chorus come back in.
"Se Todos Fossem Iguaís a Vocé" adopts a similar strategy but it's a dreamier, lazier tune. Great melody and chords and a stunning rhythmic feel, as you'd expect.
"Mulher, Sempre Mulher" is another sprightly tune in the bossa/samba vein. "Eu e Meu Amor" on the other hand, has a monstrous groove created by several low-pitched drums and other percussion instruments. There's a vocal chant and a solo vocal line to carry the melody.
"Lamento No Morro" begins with the most impressive guitar intro on the record. Most of the tunes have a wonderful solo guitar intro, but none is as exciting as the adriot playing on this tune. The rhythm guitar playing is perfect as always, blending in with percussion and voice for another great samba tune.
People who like to play Jobim and Gilberto material should check it out. This Soundtrack of the Week is dedicated to one such person, our friend Patrick Carayannis.
---
About a year ago, I posted about my Creature Features project. Somebody else has just done something similar: made their own sequel, Creature Features 2.
I like having Lon Chaney from London After Midnight in the middle.
---
Our internet connection went out on Friday. It's back now but it might go out again. In the meantime, here are the regularly scheduled Wednesday and Monday posts.
Is El jinete sin cabeza (1957, The Headless Rider) one of the best movies ever made? No, I guess not, but just look at it!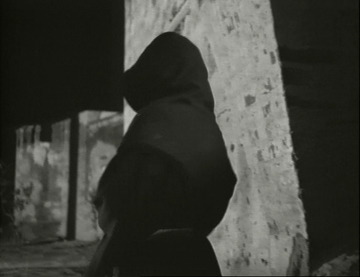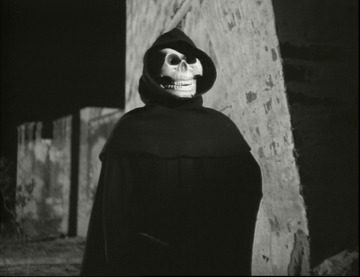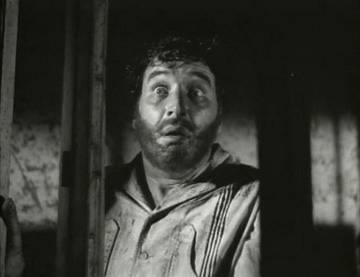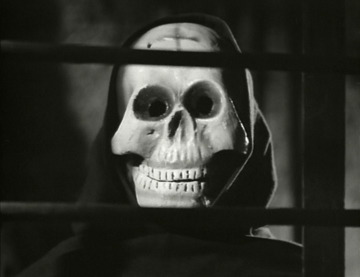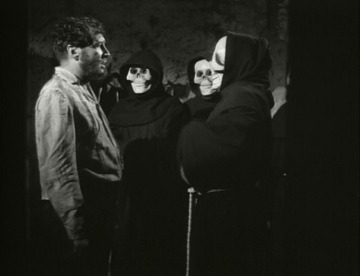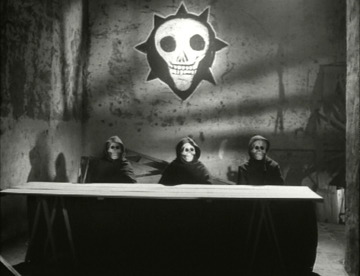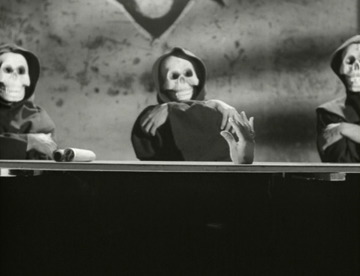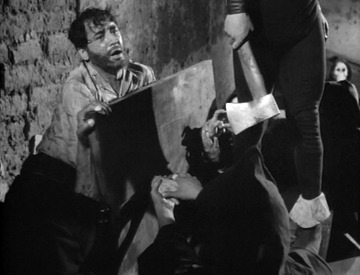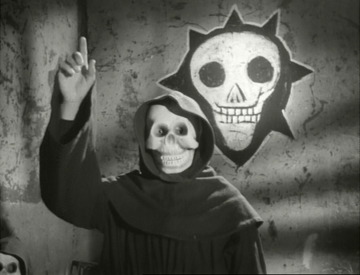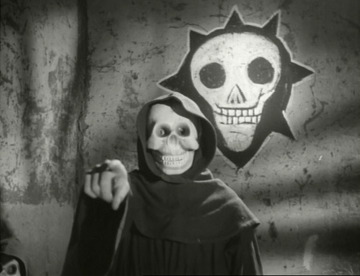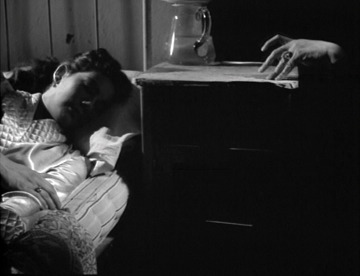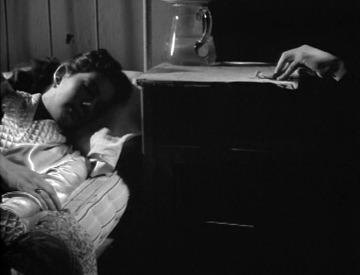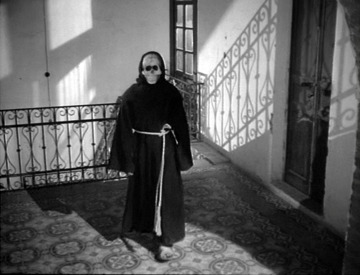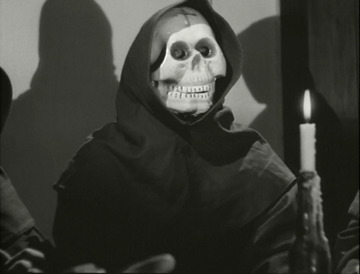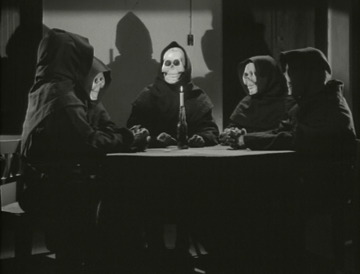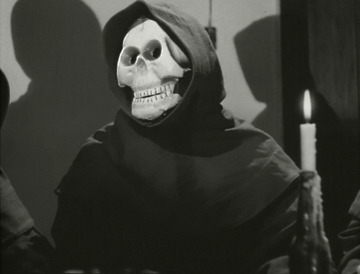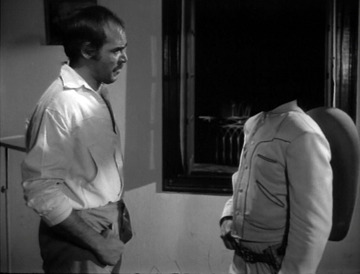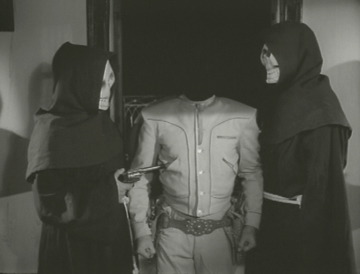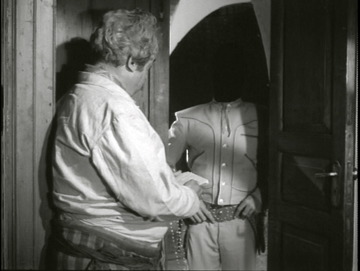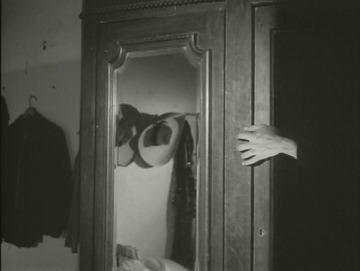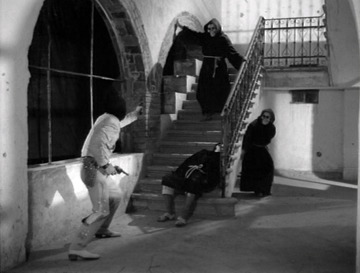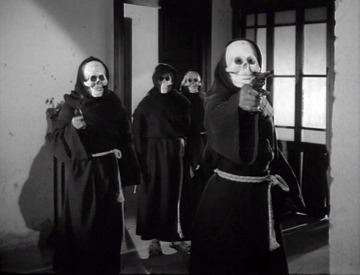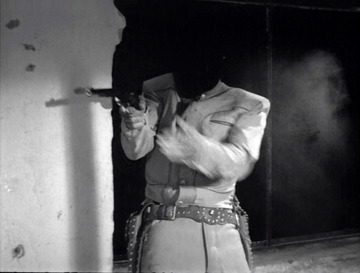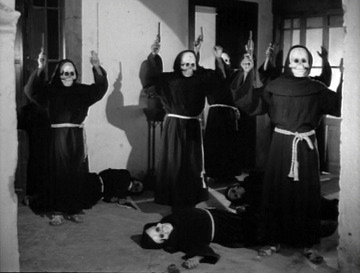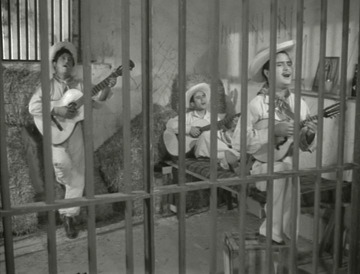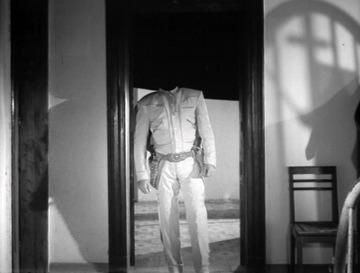 And that's only the first episode!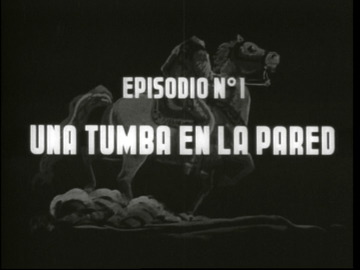 ---
The 113th Soundtrack of the Week is Matango (a.k.a. Attack of the Mushroom People), with music by Sadao Bekku.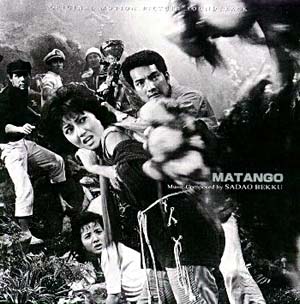 My brother and I have vivid memories of watching this on Creature Double Feature when we were kids. It really scared me, a fact that I attribute mostly to its mood, its alternatingly sombre and surreal scenes and its very effective music.


The composer's name is the middle one in the right-hand column (Bekku Sadao here).
The opening music, just about half a minute, is orchestral dread. This is followed by some jaunty horn music, a bit similar to some of Nino Rota's Fellini music. After this comes ukulele and Hawaiian guitar, accompanying female vocals.
These last two cues are for our characters, who are having a good time on a sailing trip. Track 4 is "Black Clouds", and ominously suggests the approaching disaster. Track 5 continues in this vein while Track 6 creates a Herrmannesque atmosphere of ethereal lyricism.
The seventh track, "Transistor Radio", is a fragment of sultry jazz source music, then it's back to suspenseful string figures. Track 9, "Ukulele", presents 11 seconds of that instrument being played.
Most of the other tracks continue to develop creeping, pensive, apprehensive moods, each one more worrying than the last. No wonder this movie scared me when I was a kid!
An exception is "Omoide no sete" (Track 16), a wonderful song with Japanese lyrics sung by a female vocalist. It's a great, bluesy, jazzy number. The ending title music (track 32) is also for jazz ensemble and the transistor radio music is heard again on track 33.
This Soundtrack of the Week is dedicated to my brother, who got this long out-of-print CD for me on eBay. Don't ask how much it cost.
---
Some movie posters.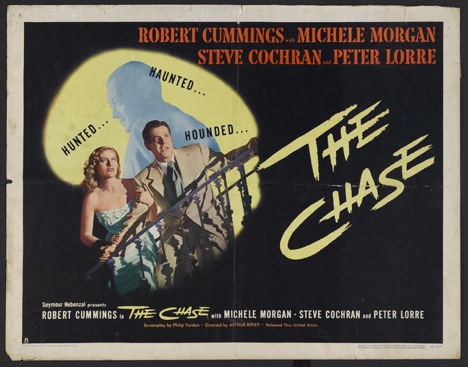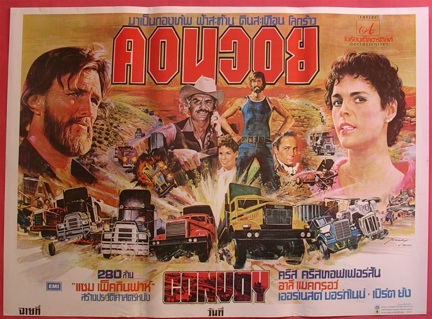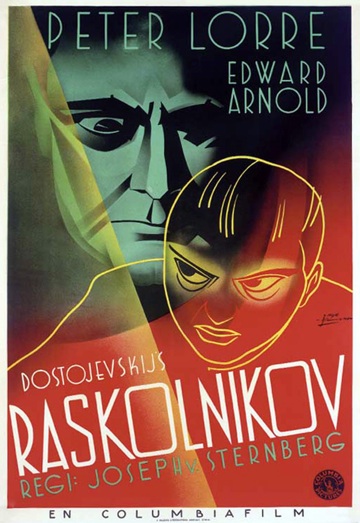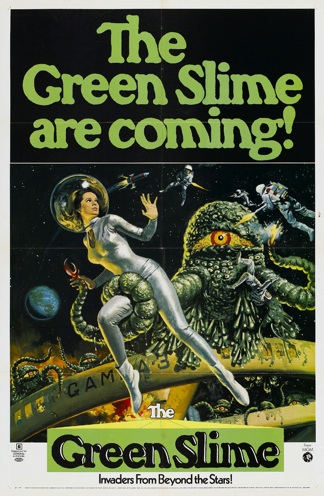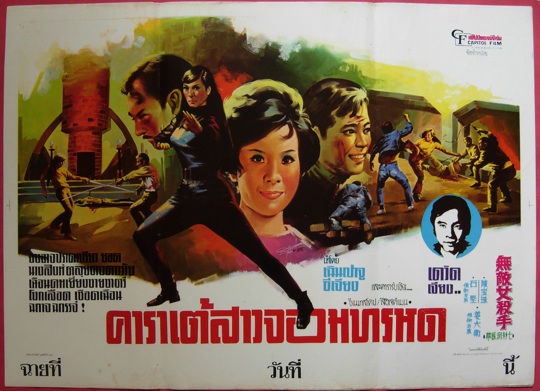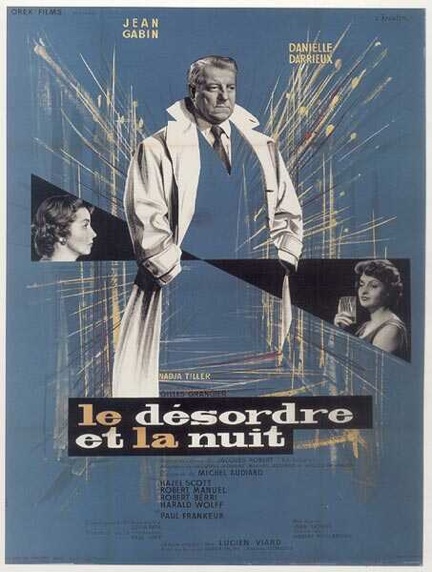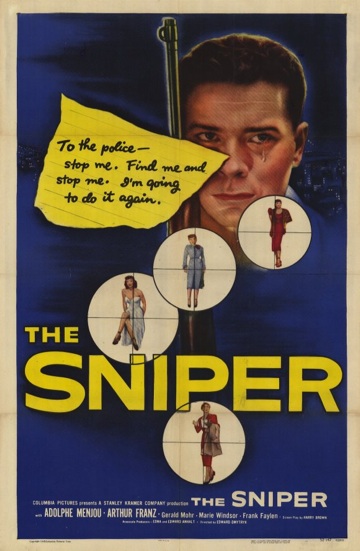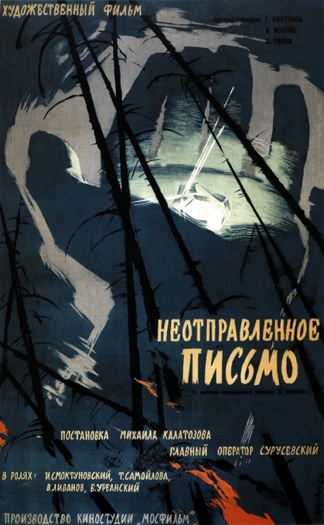 ---
Here's another obscure Shelly Manne record from Dusty Groove America: Rieber Hovde and Associates on the Repeat Records label.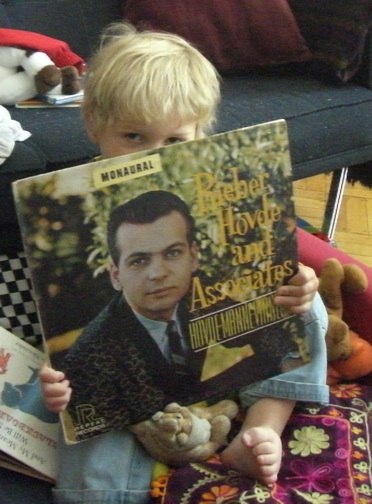 I had never heard of Rieber Hovde before. On this record he plays Hammond B-3 organ with Leroy Vinnegar on bass and Shelly Manne on drums. It's a good session. Hovde has a very light touch and contributed several good original compositions. My favorite is "Snake", which is kind of like an instrumental rock/novelty tune.
Among the covers are a tongue-in-cheek "jazz" version of "Danny Boy" (called "Like Danny" here) and the familiar "Samba de Orpheus".
Perhaps the most interesting thing about the record is this note on the back cover:

Recorded without microphones? There are also comments from the musicians on the back, and Shelly Manne mentions the recording technique.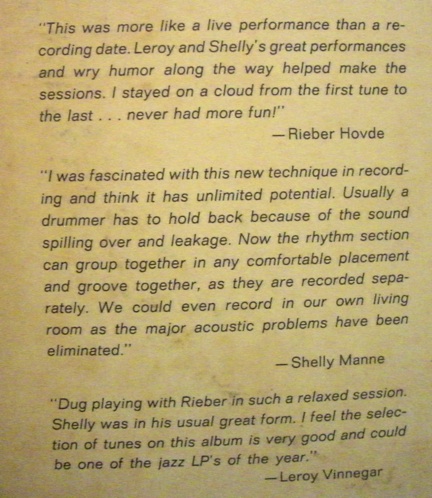 An article in a 1964 issue of Billboard magazine ("No Microphones Used: Repeat Releases First Singles in Move to Broaden Catalog Appeal") goes into some detail.
[Repeat] uses the Barcus-Berry direct recording process which eliminates microphones for a specially designed transducing system. This process converts an instrument's energy into an electrical system which is fed directly through the recording mixer and onto tape. The system has been under development for three years, according to [a&r director John] Berry, and "offers sound which is completely unaffected by acoustical influences." Berry also claims that since the instrument is recorded exactly as it is played, control over dynamic balance is removed from the audio engineer and returned to the musician. He claims stereo separation is also truer with the direct record process and only two channels are required instead of the usual three.
The Billboard article has a photo of a string quartet recording with this technique. John Berry is one of the violinists.
---
Costa-Gavras's Z includes a message to the audience that "Any similarity to actual events or persons living or dead is not coincidental. It is intentional".
It is perhaps not a coincidence, then, that Yves Montand's character, a pacifist/disarmament movement leader referred to as the Deputy, is supposed to have his rally in a movie theatre.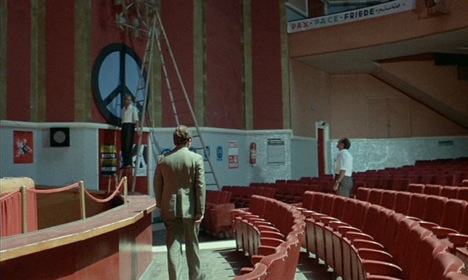 The cinema owner, presumably being used by the military/police who conspire to assassinate the Deputy, reneges on his deal with the Deputy's people.
Are the Americans (CIA) involved? American influence is certainly apparent in the scene where the cinema owner and one of the Deputy's people argue about this.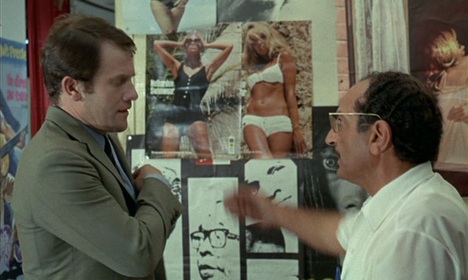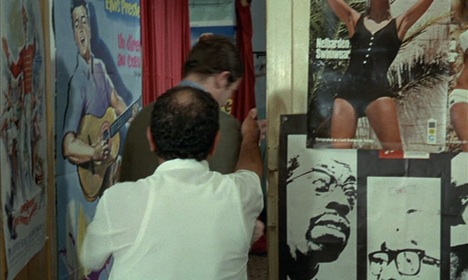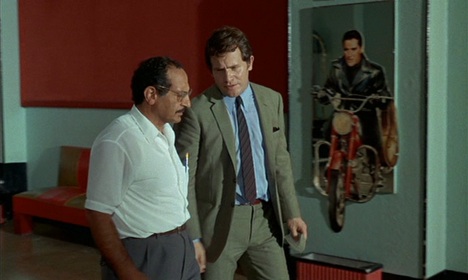 The poster glimpsed in the shot below is, I think, for the movie Hotel.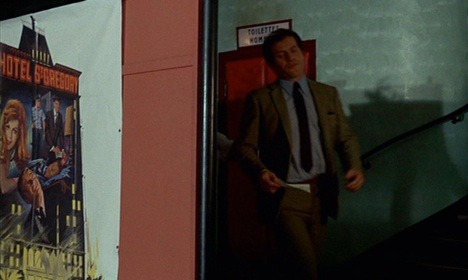 The police in Z try to disguise their murder of the Deputy as a hit-and-run accident. Hotel involves, among other things, a cover-up of a hit and run committed by members of a royal family and a corporate takeover of the hotel.
The plot to kill the Deputy won't work unless the rally is forced to move from the movie theatre. Making sure everything goes according to plan is this mysterious guy with a Look magazine.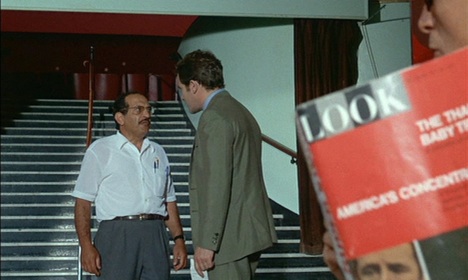 "America's Concentration Camps" is on the front cover. According to Wikipedia, Look enjoyed its highest circulation in 1969, the same year that Z came out.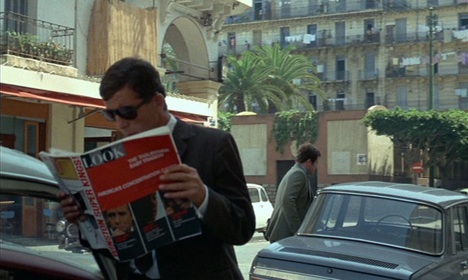 This also might be Costa-Gavras's way of telling the audience to "look" carefully at what's about to happen on the screen—the assassination scene is shown from different points of view—and to look at what's happening around you after the movie is over.
(It might also be meant to remind us of Encounter magazine, whose editor resigned in 1967 because of rumors that the CIA money was bankrolling it. The rumors were true. You can read about this on the CIA's own website.)
Look competed with Life for readers. In the scene where an anonymous informant attempts to warn the Deputy that an attempt on his life will take place, the informant keeps his fist clenched—a familiar protest symbol—while flanked by Elvis and other sexy American images on one side and Life magazine, with the Republic of Biafra on the cover, on the other.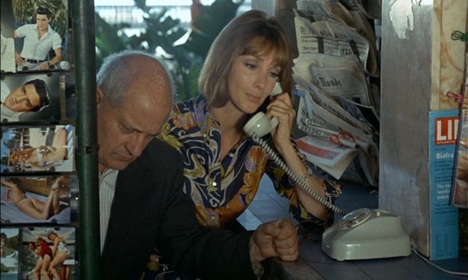 On the other end of the phone, the Deputy's people stand in front of Picasso. Fine art (idealism) contrasting with tawdry commercial "culture" (greed)?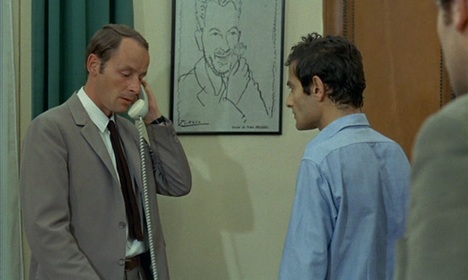 When right wing thugs attack the disarmament demonstrators, they tear away a peace sign to reveal a poster for The Good, the Bad and the Ugly.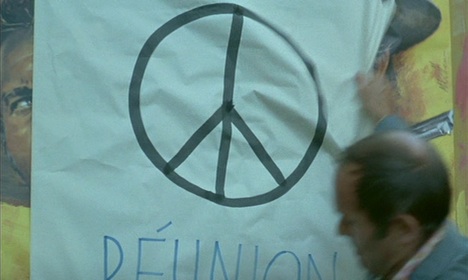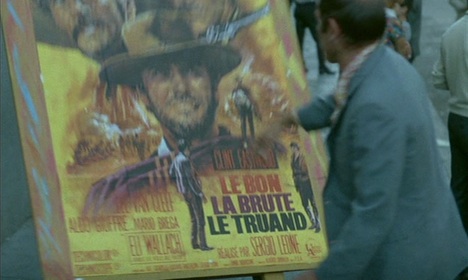 A beaten pacifist ends up on top of it.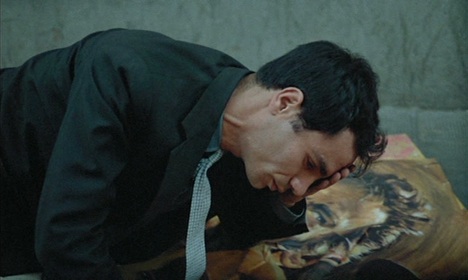 Z has great music by Mikis Theodorakis. It's the 112th Soundtrack of the Week.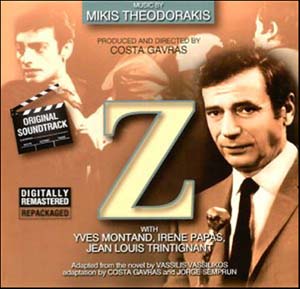 Theodorakis was under house arrest in Greece while Costa-Gavras was making the movie in Algeria and unable even to read a script for the movie. (Read about this and Theodorakis's interesting life here on Wikipedia. Apparently he was tortured and buried alive—twice.) He was therefore unable to compose a score for the movie but gave Costa-Gavras permission to use any of his previously produced music.
It's great music, from the pulsating and driving main title to more traditional-sounding Greek vocal numbers. One piece, "To Yelasto Pedi", gets work outs in several different versions. There's great bouzouki playing on many of the album tracks.
Pounding music for a chase scene is a highlight, and "Cafe Rock", a pschedelic freak out with clanging bells and fuzz guitar (with kind of an awesome train wreck feel) is awesome.
Perhaps my favorite piece is "Batucada", a short, menacing cue for percussion ensemble. Percussion instruments are used especially well throughout. It's great music for a great movie.
---
Early this year a producer-writer who began by goading me with lucrative offers — first to ghostwrite a book for him on "a sensational idea" (which turned out to be a denunciation of Method acting), then to work up a treatment for him on "an exciting new idea" (which turned out to be a spy spoof with a female spy), and then to do a quick (three-week) rewrite on a script he'd had sitting around for a decade — became rather hurt that I didn't rise to the bait. Puzzled at my refusals, he asked, "Don't you want to do something creative?"
—Pauline Kael, Kiss Kiss Bang Bang, "The Creative Business", October, 1966
---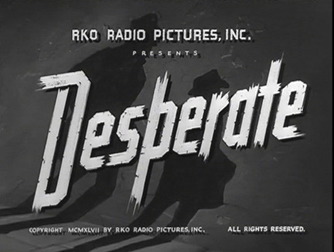 Director Anthony Mann made a lot of great movies, most of them visually impressive. He often worked with the brilliant cinematographer John Alton, who literally wrote the book on motion picture photography.
Desperate (1947) is one of Mann's best, a film noir of fear and paranoia worthy of Cornell Woolrich. It's also one of the best looking of Mann's films and was shot by George Diskant.
And I think that a young Sergio Leone must have seen and admired Desperate.
Steve Brodie plays a trucker who gets hired to transport stolen goods for gangsters. When he finds out that he's being asked to break the law, he tries to escape but Raymond Burr, the leader, won't let him. The trucker manages to get the cops's attention, thus initiating a shoot-out and the arrest of Burr's kid brother, who has shot and killed a police officer.
Back at the gangsters' hide-out, Raymond Burr is very upset about his brother's arrest and likelihood of being sentenced to death. He wants Brodie to take the rap. Brodie refuses and is then beaten by the gang.
Here's how this scene begins: the trucker is in the corner of the frame with hoods on either side and a space in the middle. Burr appears in the space and approaches, gradually filling the entire space. Then everything is abruptly wiped out by Burr's fist, which hits Brodie's face before going straight into the camera—into the audience's faces.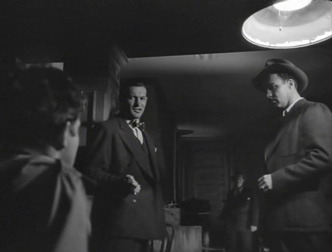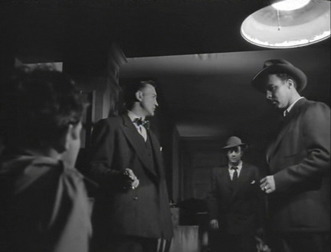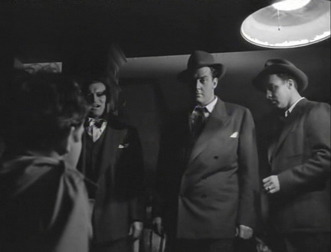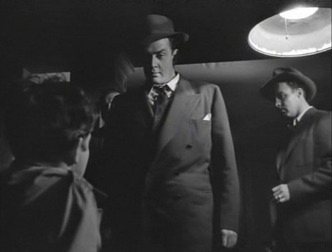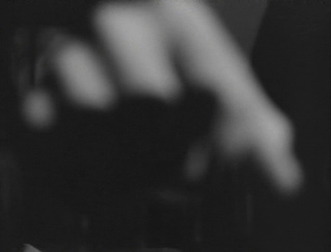 During the beating, the single overhead light is struck and starts swinging back and forth, creating a chiaroscuro riot.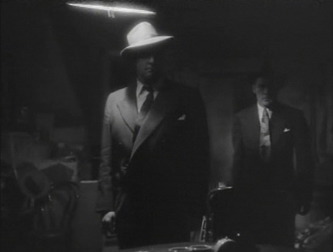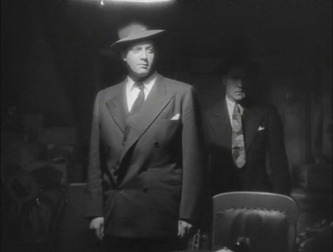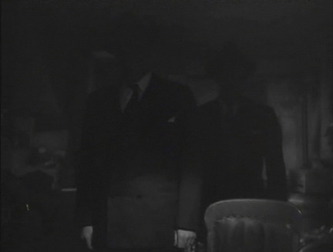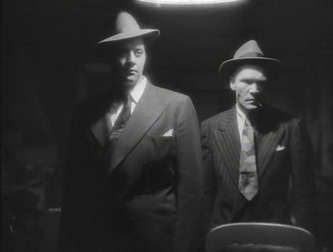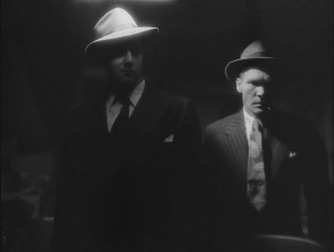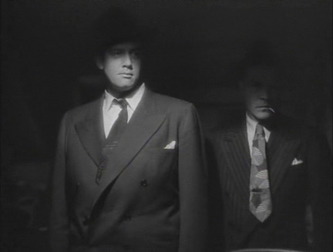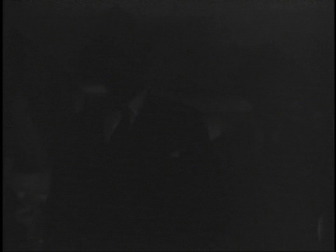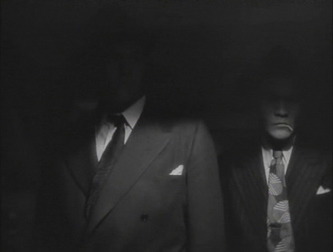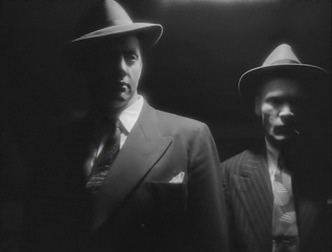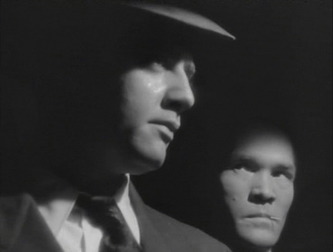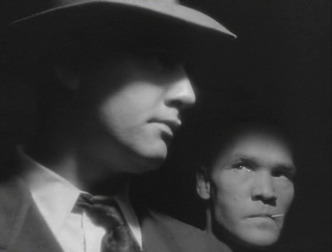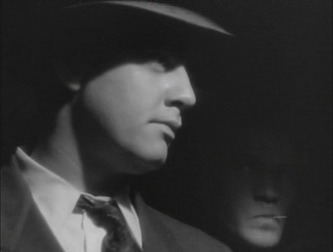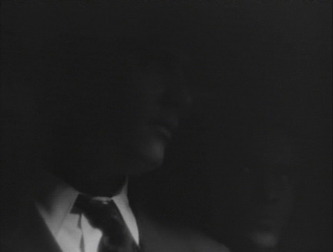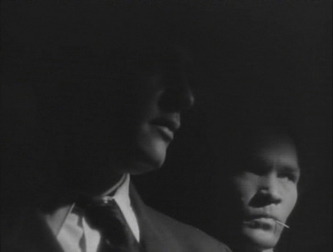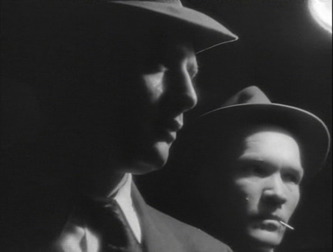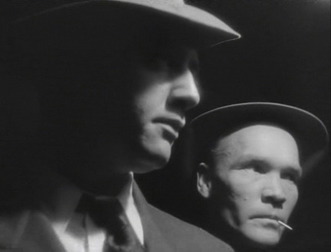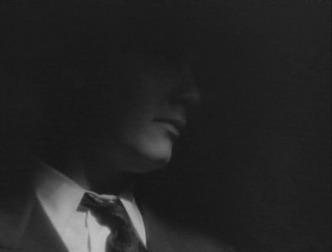 Brodie doesn't give in, so Burr smashes a bottle and shoves the jagged edge right into the camera—assaulting the audience again. He isn't threatening Brodie with this bottle, though; the bottle is for Brodie's pregnant wife, who's home alone.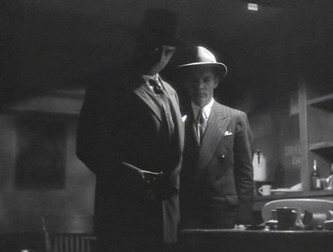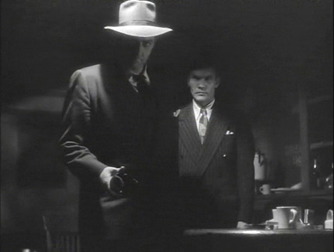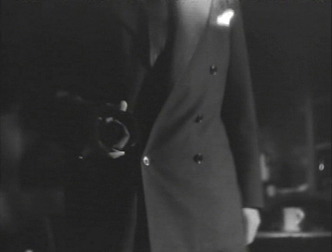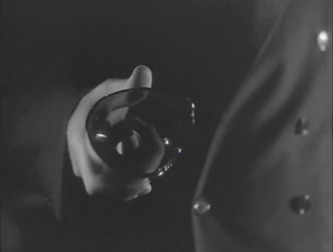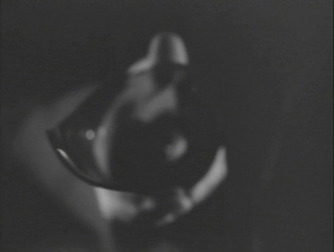 Brodie escapes but Burr and his henchman catch up with him later, which is where we get what might be the prototype for some of Sergio Leone's most famous scenes.
Burr's brother is going to be executed at midnight. Burr plans to kill Brodie at exactly midnight so the two die at the same time. It's about 11:45 in this scene.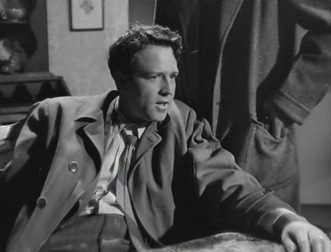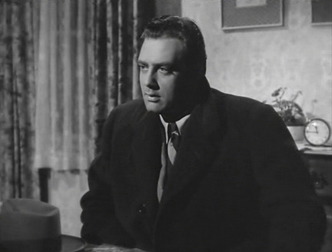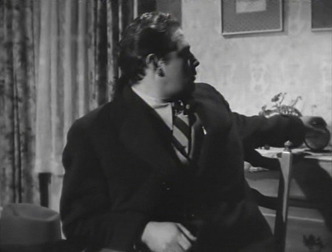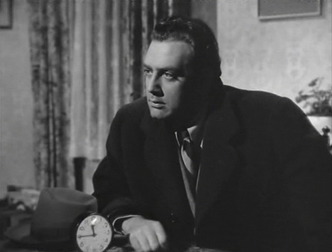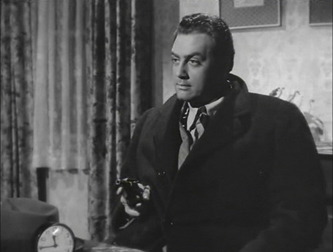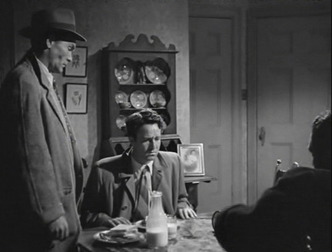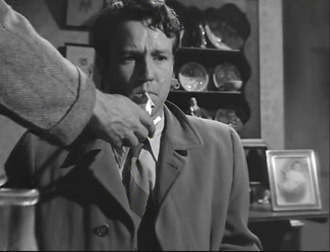 This scene anticipates the final shoot-out in For a Few Dollars More.
A nice touch: Raymond Burr checks his watch and notices that Brodie's clock is a little bit fast. He turns it back a few minutes, giving Brodie more time to sweat.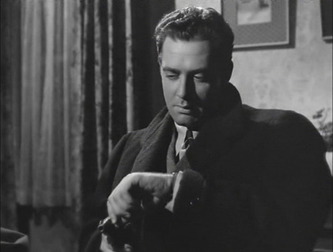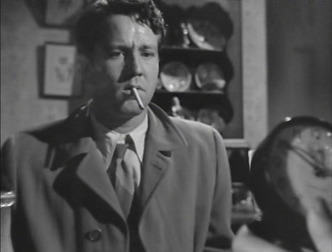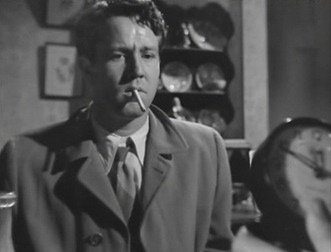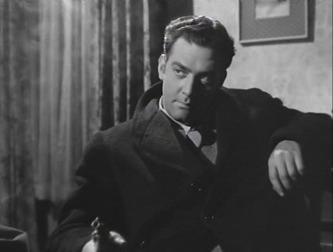 Another anticipation of Leone is how Burr drinks a glass of milk in the middle of this tense scene. This is like Lee Van Cleef's character in The Good, the Bad and the Ugly, whose first appearance has him eating the food of a man he's about to kill.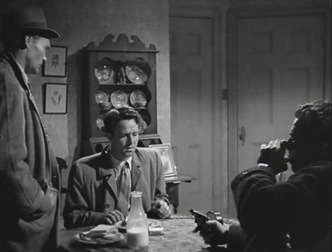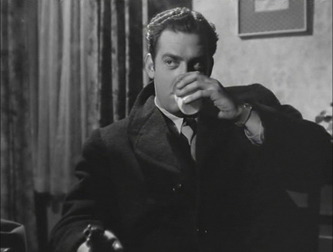 Now it's ten to midnight (like the Charles Bronson movie!) and we get to the most Leone-like scene. Leone is famous for cutting between shots of people's faces, getting closer and closer until we just see their eyes. If you want to do this in a movie now, you say you're doing a Sergio Leone-type thing. But did Leone get the idea from Desperate?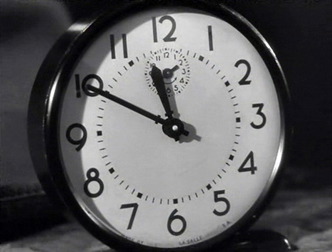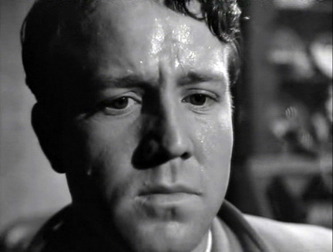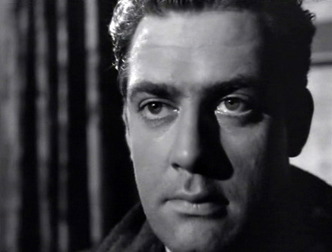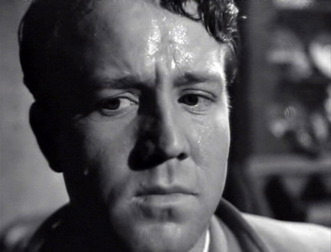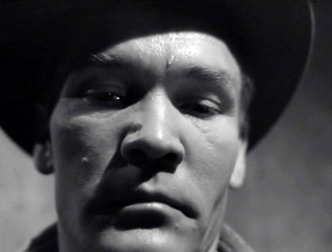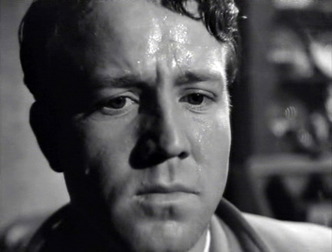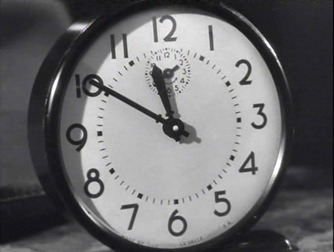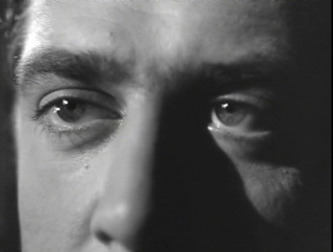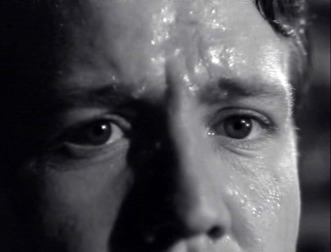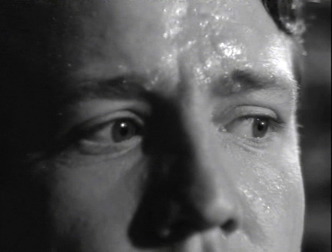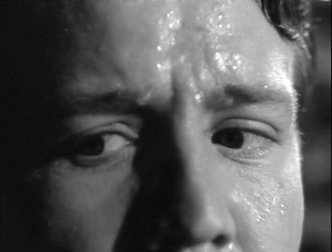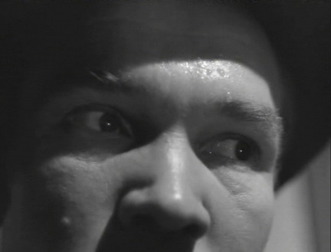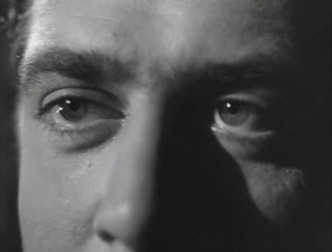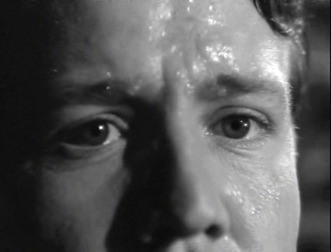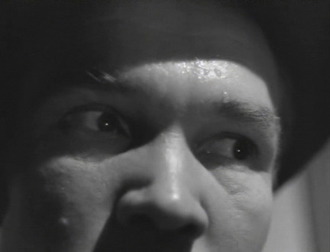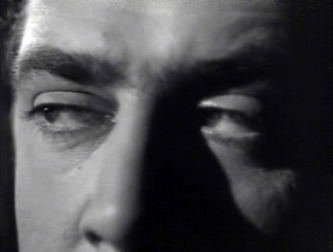 In the end of Sergio Leone's For a Few Dollars More, another group of three men are transfixed by guns and clocks. Gian Maria Volonte plays a bandit who killed Lee Van Cleef's son and daughter-in-law (or daughter and son-in-law; I forget).
The two victims each had a pocket watch that chimed a melancholy tune when opened. Lee Van Cleef has one of these watches and Gian Maria Volonte the other. Clint Eastwood holds one of the watches open so it plays the tune. When the tune stops, the two men will draw their guns and shoot.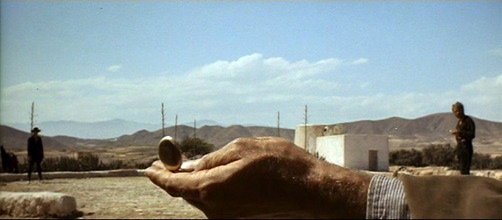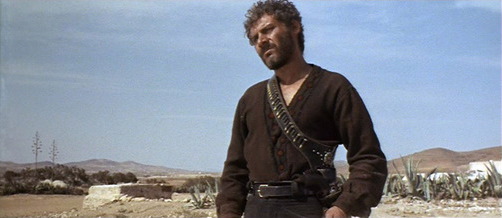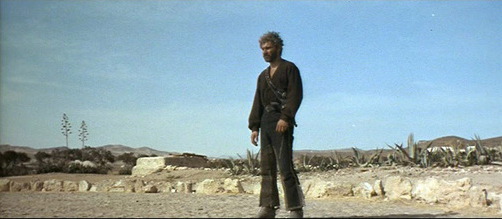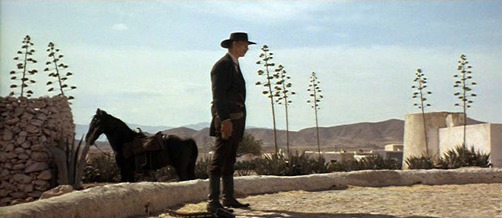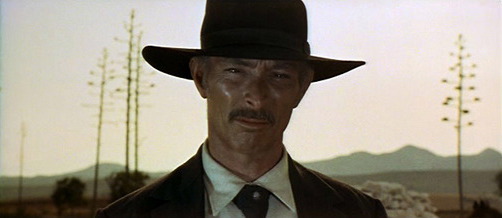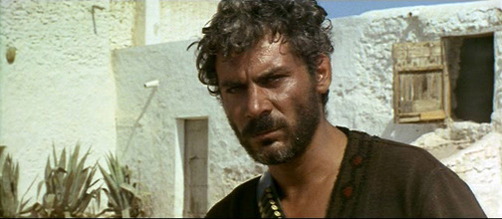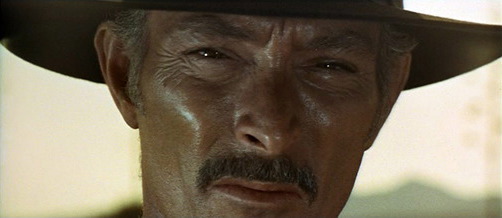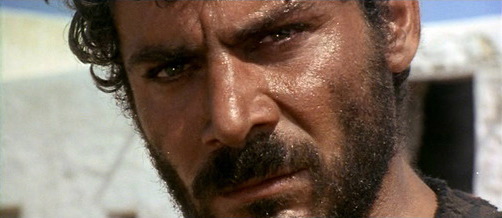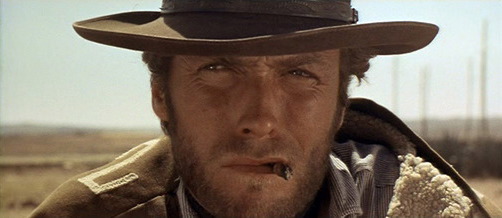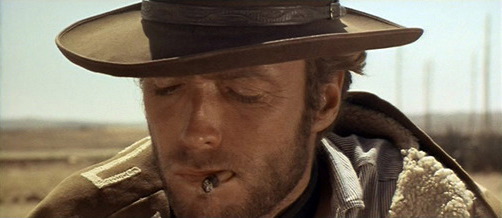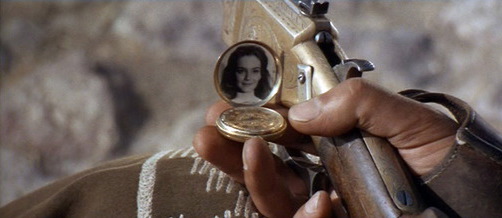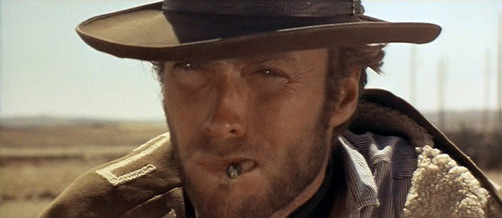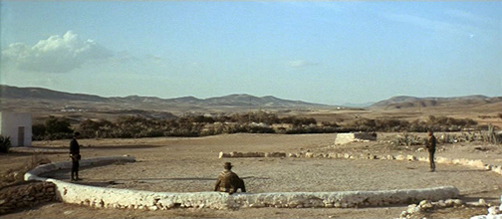 It does seem similar to the climax of Desperate, especially in its use of a clock. While it could be a coincidence, I suspect Leone would have been familiar with Anthony Mann. Mann was probably most famous for westerns, though he made several great crime films as well as some war films and movies like El Cid.
Leone improved on this ending in his next movie, The Good, the Bad and the Ugly, not least by making it a three-way shoot-out. He also included an additional camera position (over the shoulder), close-ups of guns and eyes and made it generally more visually exciting. Putting it in a graveyard is a nice touch. And Ennio Morricone's music for this scene, for the whole movie, is sublime.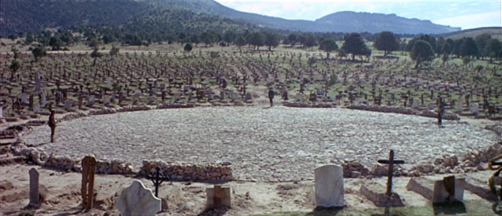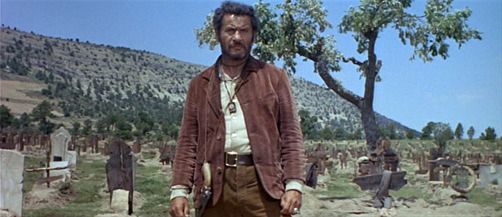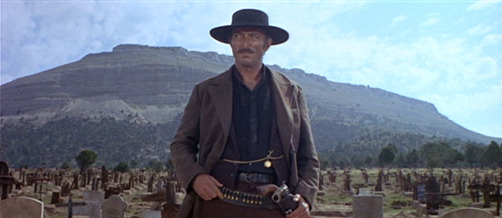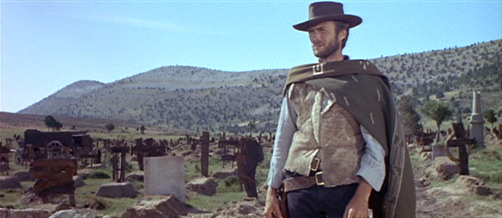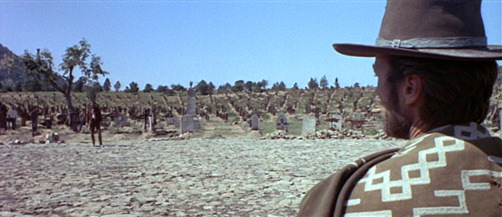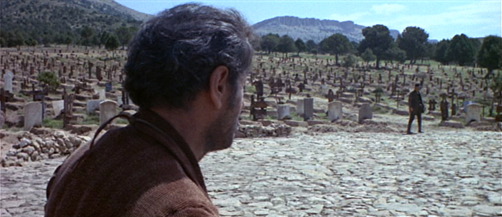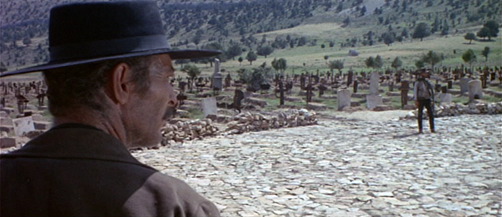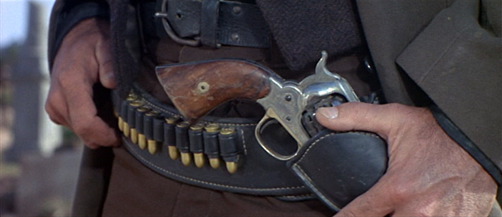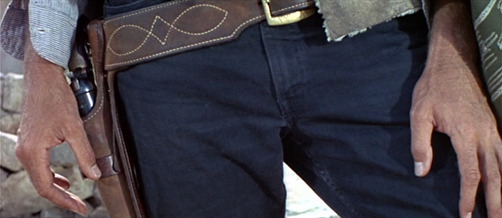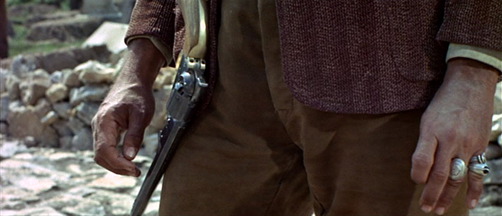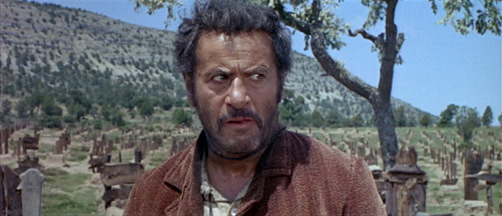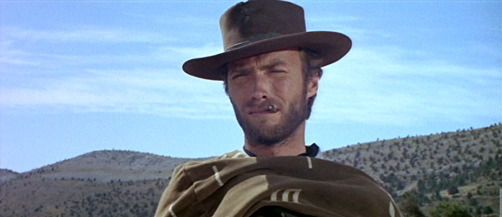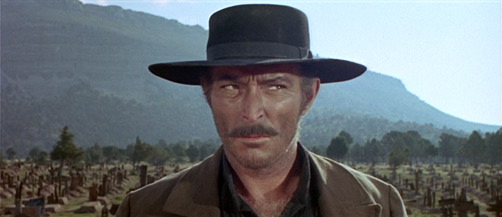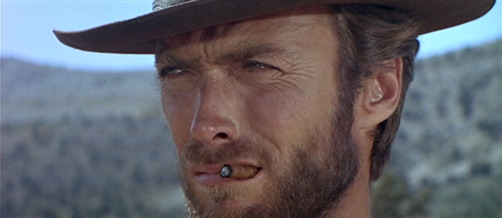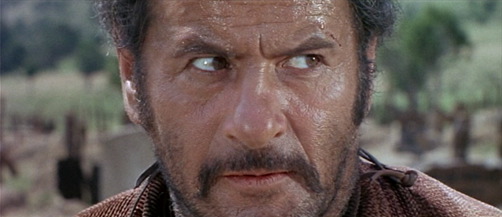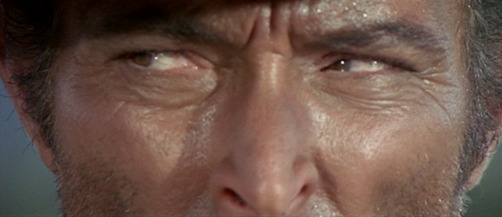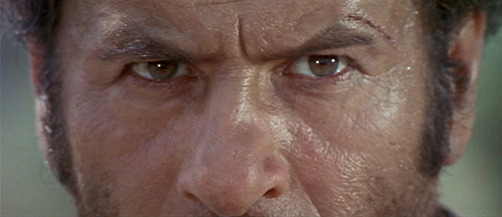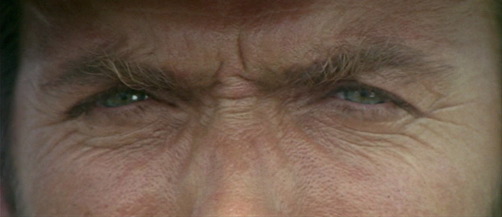 So do these Sergio Leone movies and Anthony Mann's Desperate share some DNA? I think so.
---
For a few years in the 1990s I always carried Jim Hall's discography in my pocket. I visited every record store in New York City several times a month, and would check every record store in every city or town I visited, always looking for those few obscure albums not yet released on CD. (Many of them still aren't, I believe.)
After checking for Jim Hall, I'd look for Shelly Manne records, especially anything soundtrack related. So when Dusty Groove America recently announced that they had an obscure Shelly Manne soundtrack for sale, I felt their use of the word "obscure" was entirely justified. I didn't have it, I had never seen it and I had never heard of it. How much did they want for this rare LP? $4.99. Almost five whole dollars. Sold!
Shelly Manne's soundtrack for Tom Laughlin's film The Proper Time is Soundtrack of the Week #111.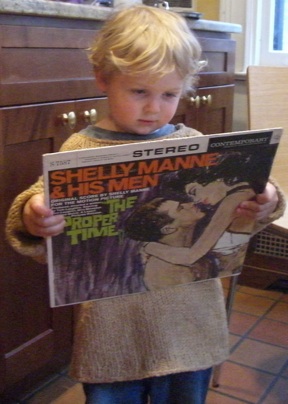 Tom Laughlin, of course, is Billy Jack. Not only did he star as Billy Jack in Born Losers, Billy Jack, The Trial of Billy Jack and Billy Jack Goes to Washington, he directed all of those movies and co-wrote at least two of them.
The first movie he directed, though, was The Proper Time. He also wrote it and starred in it and, according to his liner notes, "made it outside the industry. … I answered to no one, I got my money from no one, and, therefore, the picture was completely an expression of waht I wanted to put on film".
He goes on to discuss how the film resembles Italian neorealism (no make-up, no artificial light, no re-recording of sounds from locations, etc.) and how this demanded something special for the soundtrack music.
A conventional score on this picture was impossible. It seemed to cry for a jazz score, but like other successful innovations, the jazz score had become a formula after several successful television shows and movies. Jazz was "the thing to do"' with certain types of motion pictures. To fall into the trap of having just another jazz score accompany my picture would have been just as disastrous as having the usual Hollywood symphonic scoring procedure. Thus what I needed was some sort of innovation. What I needed was Shelly Manne.
Shelly Manne plays drums and rounds up the usual suspects: Joe Gordon on trumpet, Richie Kamuca on tenor sax, Victor Feldman on vibes, Russ Freeman on piano and the incomparable Monty Budwig on bass. They all watched the film and Shelly wrote specific cues with certain instruments representing certain characters. Saxophone for one of the female leads and vibes for the other, trumpet and drums for Laughlin's character, the protagonist.
The hero of the film stutters, a trait that Shelly Manne reflects in several brief drum solos on the record. The album is a re-recording of the music written for the film, with more solo space given to the players than the original soundtrack allowed. Several of the cues are source music from radios and such.
There are strong blues and bop elements running throughout, as well as some gently swinging pieces. Shelly also has some fun with long melodic lines that are given a close and dissonant harmony. (He did the same thing on Jazz Gunn, his interpretation Henry Mancini's music for the Peter Gunn feature film, our ninety-eighth Soundtrack of the Week.)
It's a beautiful record, one of my favorite Shelly Manne albums. I can't believe I had to wait this long to hear it! Why isn't it on CD?
Contemporary put out this record back in 1961. Whoever's putting Contemporary's stuff out on CD now, I suggest they release this album with the original soundtrack recording, if the tapes still exist. While they're at it, they should release a CD of music from Like Father, Like Son, Tom Laughlin's second film. Once again he wrote, directed and starred in it. Once again, Shelly Manne provided the score.
It would also be great to see these movies on DVD.
---