2010 May 17 • Monday
The 113th Soundtrack of the Week is Matango, titled Attack of the Mushroom People in English, with music by Sadao Bekku.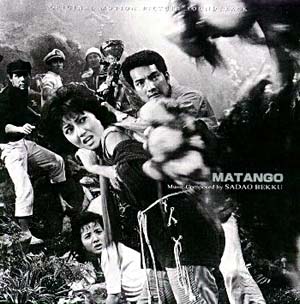 My brother and I have vivid memories of watching this on Creature Double Feature when we were kids. It really scared me, a fact that I attribute mostly to its mood, its alternatingly sombre and surreal scenes and its very effective music.


The composer's name is the middle one in the right-hand column (Bekku Sadao here).
The opening music, just about half a minute, is orchestral dread. This is followed by some jaunty horn music, a bit similar to some of Nino Rota's Fellini music. After this comes ukulele and Hawaiian guitar, accompanying female vocals.
These last two cues are for our characters, who are having a good time on a sailing trip. Track 4 is "Black Clouds", and ominously suggests the approaching disaster. Track 5 continues in this vein while Track 6 creates a Herrmannesque atmosphere of ethereal lyricism.
The seventh track, "Transistor Radio", is a fragment of sultry jazz source music, then it's back to suspenseful string figures. Track 9, "Ukulele", presents 11 seconds of that instrument being played.
Most of the other tracks continue to develop creeping, pensive, apprehensive moods, each one more worrying than the last. No wonder this movie scared me when I was a kid!
An exception is "Omoide no sete" (Track 16), a wonderful song with Japanese lyrics sung by a female vocalist. It's a great, bluesy, jazzy number. The ending title music (track 32) is also for jazz ensemble and the transistor radio music is heard again on track 33.
This Soundtrack of the Week is dedicated to my brother, who got this long out-of-print CD for me on eBay. Don't ask how much it cost.
---