Here's another obscure Shelly Manne record from Dusty Groove America: Rieber Hovde and Associates on the Repeat Records label.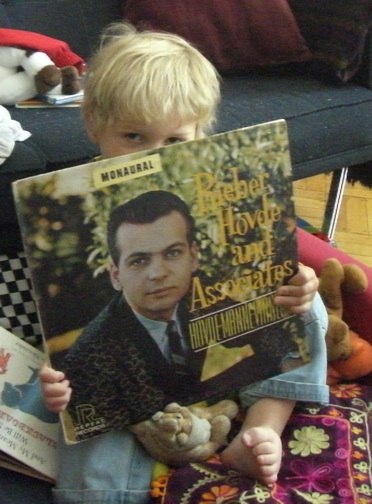 I had never heard of Rieber Hovde before. On this record he plays Hammond B-3 organ with Leroy Vinnegar on bass and Shelly Manne on drums. It's a good session. Hovde has a very light touch and contributed several good original compositions. My favorite is "Snake", which is kind of like an instrumental rock/novelty tune done in a jazz organ-trio style.
Among the covers are a tongue-in-cheek "jazz" version of "Danny Boy" (called "Like Danny" here) and the familiar "Samba de Orpheus".
Perhaps the most interesting thing about the record is this note on the back cover:

Recorded without microphones? There are also comments from the musicians on the back, and Shelly Manne mentions the recording technique.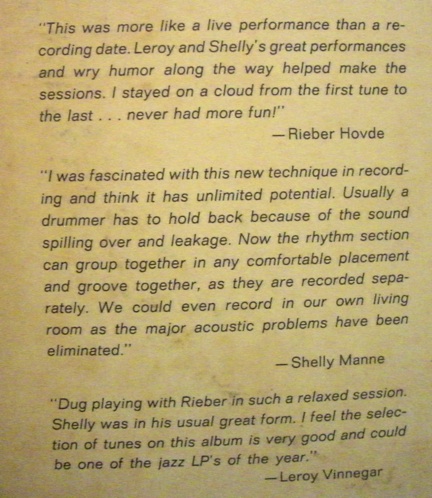 An article in a 1964 issue of Billboard magazine ("No Microphones Used: Repeat Releases First Singles in Move to Broaden Catalog Appeal") goes into some detail.
[Repeat] uses the Barcus-Berry direct recording process which eliminates microphones for a specially designed transducing system. This process converts an instrument's energy into an electrical system which is fed directly through the recording mixer and onto tape. The system has been under development for three years, according to [a&r director John] Berry, and "offers sound which is completely unaffected by acoustical influences." Berry also claims that since the instrument is recorded exactly as it is played, control over dynamic balance is removed from the audio engineer and returned to the musician. He claims stereo separation is also truer with the direct record process and only two channels are required instead of the usual three.
The Billboard article has a photo of a string quartet recording with this technique. John Berry is one of the violinists.
---