For a few years in the 1990s I always carried Jim Hall's discography in my pocket. I visited every record store in New York City several times a month, and would check every record store in every city or town I visited, always looking for those few obscure albums not yet released on CD. (Many of them still aren't, I believe.)
After checking for Jim Hall, I'd look for Shelly Manne records, especially anything soundtrack related. So when Dusty Groove America recently announced that they had an obscure Shelly Manne soundtrack for sale, I felt their use of the word "obscure" was entirely justified. I didn't have it, I had never seen it and I had never heard of it. How much did they want for this rare LP? $4.99. Almost five whole dollars. Sold!
Shelly Manne's soundtrack for Tom Laughlin's film The Proper Time is Soundtrack of the Week #111.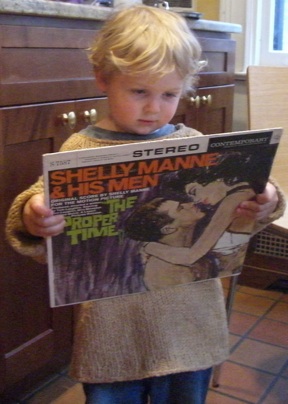 Tom Laughlin, of course, is Billy Jack. Not only did he star as Billy Jack in Born Losers, Billy Jack, The Trial of Billy Jack and Billy Jack Goes to Washington, he directed all of those movies and co-wrote at least two of them.
The first movie he directed, though, was The Proper Time. He also wrote it and starred in it and, according to his liner notes, "made it outside the industry. … I answered to no one, I got my money from no one, and, therefore, the picture was completely an expression of waht I wanted to put on film".
He goes on to discuss how the film resembles Italian neorealism (no make-up, no artificial light, no re-recording of sounds from locations, etc.) and how this demanded something special for the soundtrack music.
A conventional score on this picture was impossible. It seemed to cry for a jazz score, but like other successful innovations, the jazz score had become a formula after several successful television shows and movies. Jazz was "the thing to do"' with certain types of motion pictures. To fall into the trap of having just another jazz score accompany my picture would have been just as disastrous as having the usual Hollywood symphonic scoring procedure. Thus what I needed was some sort of innovation. What I needed was Shelly Manne.
Shelly Manne plays drums and rounds up the usual suspects: Joe Gordon on trumpet, Richie Kamuca on tenor sax, Victor Feldman on vibes, Russ Freeman on piano and the incomparable Monty Budwig on bass. They all watched the film and Shelly wrote specific cues with certain instruments representing certain characters. Saxophone for one of the female leads and vibes for the other, trumpet and drums for Laughlin's character, the protagonist.
The hero of the film stutters, a trait that Shelly Manne reflects in several brief drum solos on the record. The album is a re-recording of the music written for the film, with more solo space given to the players than the original soundtrack allowed. Several of the cues are source music from radios and such.
There are strong blues and bop elements running throughout, as well as some gently swinging pieces. Shelly also has some fun with long melodic lines that are given a close and dissonant harmony. (He did the same thing on Jazz Gunn, his interpretation Henry Mancini's music for the Peter Gunn feature film, our ninety-eighth Soundtrack of the Week.)
It's a beautiful record, one of my favorite Shelly Manne albums. I can't believe I had to wait this long to hear it! Why isn't it on CD?
Contemporary put out this record back in 1961. Whoever's putting Contemporary's stuff out on CD now, I suggest they release this album with the original soundtrack recording, if the tapes still exist. While they're at it, they should release a CD of music from Like Father, Like Son, Tom Laughlin's second film. Once again he wrote, directed and starred in it. Once again, Shelly Manne provided the score.
It would also be great to see these movies on DVD.
---