2010 May 24 • Monday
The 114th Soundtrack of the Week is Orfeu da Conceição, a theatrical production with music by Antonio Carlos Jobim and lyrics by Vinicius de Moraes.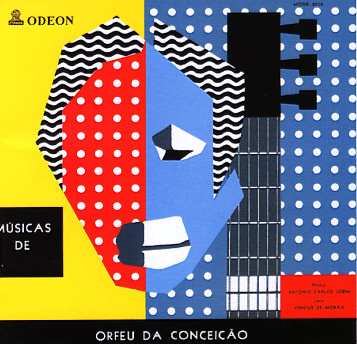 This is the first time a Soundtrack of the Week has been music for the stage. The CD begins with an overture. First you hear an oboe playing a sad figure, then a whole orchestra comes crashing in very dramatically. The solo oboe returns, joined by a romantic but slightly off-kilter piano part. The orchestra comes back in dramatic fashion again after that.
Then comes the part you've been waiting for, beautiful nylon-string guitar playing, apparently courtesy of Luiz Bonfa. (The liner notes aren't in English.) After only a little bit of that, the orchestra comes in for more respectable if not especially distinguished dramatic music. About a minute before the end of the overture, though, a percussion ensemble annonuces its presence and we're swinging away on an irresistible Brazilian groove. A male chorus joins them and then the overture is over.
"Monólogo de Orfeu" features the wonderful guitar playing again, accompanied by flute and a spoken monologue in Portuguese. "Um Nome de Mulher" sonds pretty close to one of Jobim's classic tunes, perfect guitar playing, impeccable light percussion, somebody singing some Portuguese lyrics. The orchestra and the chorus come back in.
"Se Todos Fossem Iguaís a Vocé" adopts a similar strategy but it's a dreamier, lazier tune. Great melody and chords and a stunning rhythmic feel, as you'd expect.
"Mulher, Sempre Mulher" is another sprightly tune in the bossa/samba vein. "Eu e Meu Amor" on the other hand, has a monstrous groove created by several low-pitched drums and other percussion instruments. There's a vocal chant and a solo vocal line to carry the melody.
"Lamento No Morro" begins with the most impressive guitar intro on the record. Most of the tunes have a wonderful solo guitar intro, but none is as exciting as the adriot playing on this tune. The rhythm guitar playing is perfect as always, blending in with percussion and voice for another great samba tune.
People who like to play Jobim and Gilberto material should check it out. This Soundtrack of the Week is dedicated to one such person, our friend Patrick Carayannis.
---