2009 May 01 • Friday
Here's a recent project of mine. My brother thought I should document it here.
When he and I were kids we played this board game, Creature Features: The Game of Horror. At that time we were devoted to Creature Double Feature on TV every Saturday and were thrilled to find many of the movies represented in the game.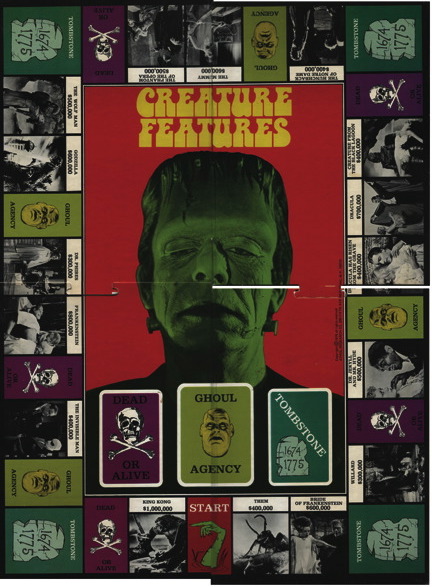 The way the game works is like Monopoly but you're a movie producer instead of a real estate speculator. You roll the dice and move your piece the corresponding number of squares. If you land on a movie and nobody else owns it, you can buy it from the bank. If another player owns it, you have to pay them a certain amount of money.
The amount of money you pay varies from movie to movie and is affected by production status. Each of the 16 movies has two stars. If you own the movie but none of the stars, you're entitled to a certain amount of money from any player who lands on that movie. With one star the fee goes up and with two it goes up again. Winning a major Tombstone Award, which you can only do when you have both stars, adds $150,000 to the fee. (This game has $1,000,000 bills.)
Here's the production card for Them, which makes this clear.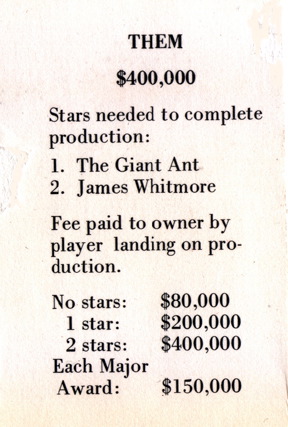 Here are "Ghoul Agency" cards. Each movie has two, one for each star.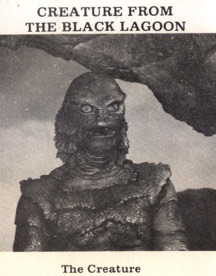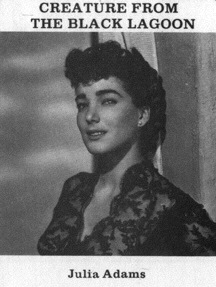 The other side: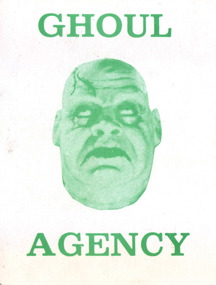 While my brother and I have fond memories of playing this game, we hadn't seen it in decades. A few years ago, though, my mother got one on eBay and gave it to me as a birthday present. We all played it on my actual birthday, after Dexter went to sleep, and my first role landed me on Godzilla. That was a great birthday!
Recently I played it with very good friends from Sweden who visited us. After they left, I decided to copy the game for them so they could play it at home. It's very hard to find and I suspect that the original movies were not licensed in the first place, so I felt okay about making a bootleg version of it.
I scanned the board as best as I could, then scanned all of the cards. Since our Swedish friends are big fans of Godzilla and other Japanese monsters, I thought it would be fun to modify the game a bit, add Gamera and Mothra, for instance.
Of course I had to remove something for anything I wanted to add. The Creature Features game boasts of having the "greatest movie monsters in film history". Now does anybody, anywhere, consider the rats from Willard to be among the greatest movie monsters in film history? That one could go, I decided.
While The Abominable Dr. Phibes is a good movie, and it's nice to have Vincent Price in the game, Phibes also doesn't seem like one of the greatest monsters ever. And the movie is similar to The Phantom of the Opera, on the board already.
The same thinking led me to cut Dracula Has Risen from the Grave. It would have been nice to see a Hammer film here, as well as Peter Cushing and Christopher Lee, but the game already has Lugosi's Dracula and one Dracula should be enough.
For the same reason I considered removing The Bride of Frankenstein, seeing as Frankenstein was already there, but Elsa Lanchester's Bride is the only female monster on the board. (Mothra would become the second.) It remained.
So I made these changes:
Before: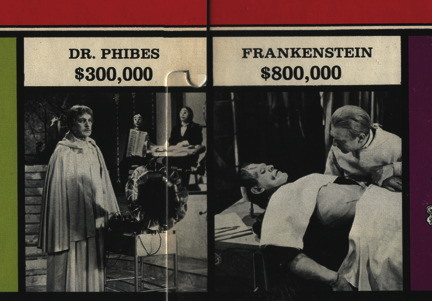 After: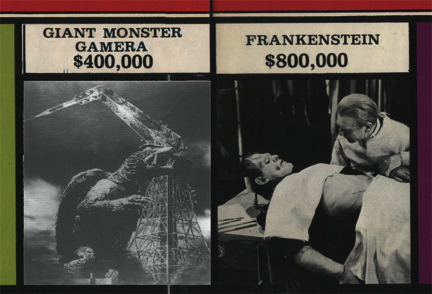 Before: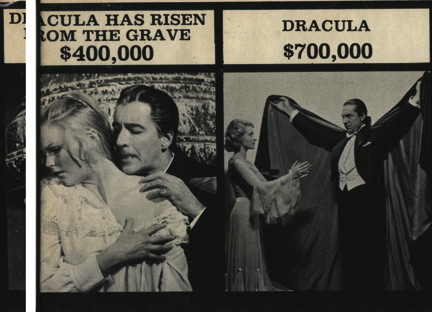 After: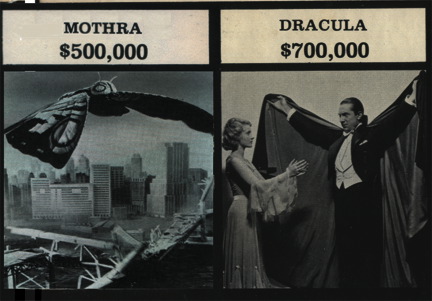 Before: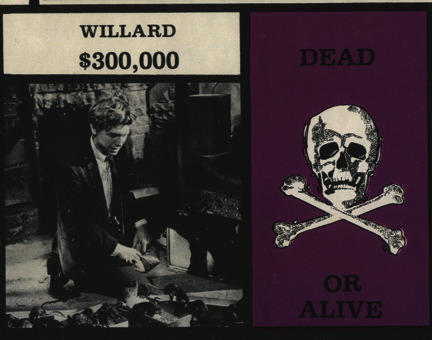 After: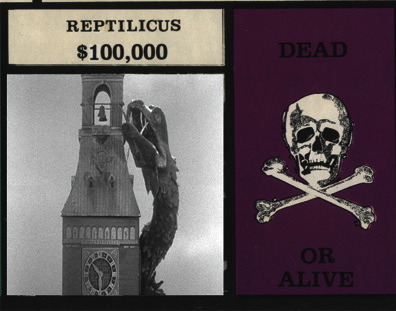 I decided on Reptilicus because I had this idea to make the game more international. I considered adding Terror in the Midnight Sun, The Golem and Nosferatu, among others. It was too much work, though, each title change requiring a new square on the board, a new production card and two new Ghoul Agency cards. Also, I decided it would be nice not to change the original quite that much. (I made Reptilicus extremely cheap because, well, so did the filmmakers.)
Reptilicus snuck in because I remember seeing it on Creature Double Feature. I would also have liked to add The Brain That Wouldn't Die which I vividly remember seeing on Creature Double Feature. It gave me nightmares for a long time. The Beast from 20,000 Fathoms would also have been a good addition, both to honor Ray Harryhausen and also because our Swedish friends enjoyed the Cyclone while they were here.
The Mummy didn't survive the scanning process very well. I repaired it but then decided to replace it. I love The Mummy—it's a classic—but both of the Ghoul Agency stars are Boris Karloff. Karloff is also a star of Frankenstein and The Bride of Frankenstein, so that means that out of 32 stars (and 32 Ghoul Agency cards) in the game, four are Boris Karloff. He's great but that didn't seem fair.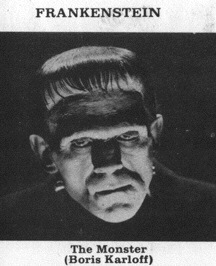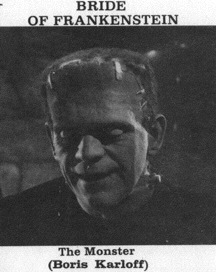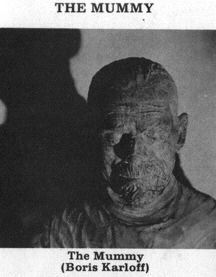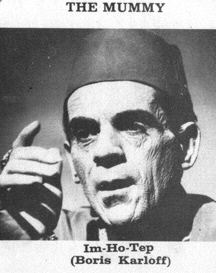 And so this: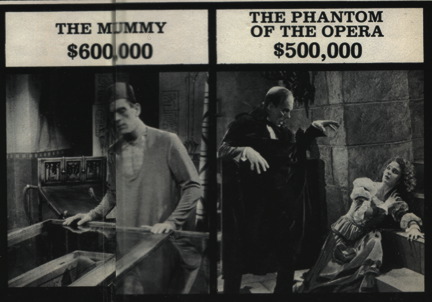 became this: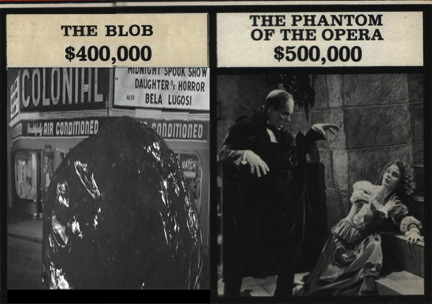 The Blob is certainly one of the greatest movie monsters in film history and here it is outside of a "Midnight Spook Show" featuring Daughter of Horror (a.k.a. Dementia). "And Bela Lugosi" is a nice touch. It doesn't matter what movie it is—Lugosi's in it! Truly this is in the Creature Features spirit.
It also let me make a Ghoul Agency card for Steve McQueen, billed as "Steven McQueen" in The Blob.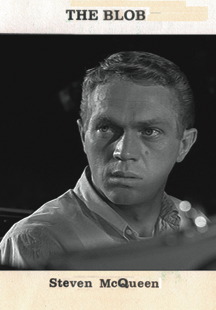 I was very pleased that adding Mothra let me make a Ghoul Agency card for The Peanuts.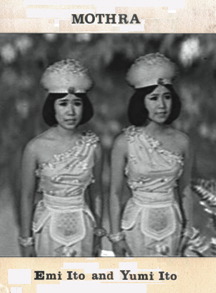 As long as I was messing around like this, I decided to make Godzilla more expensive. At $1,000,000, King Kong is the most expensive property on the board. Godzilla is a bargain at $600,000, the same price as The Mummy and Bride of Frankenstein. Dracula is $700,000 and Frankenstein $800,000. I raised Godzilla's price tag to $900,000.
I also took the liberty of modifying one of the existing Godzilla Ghoul Agency cards, changing this: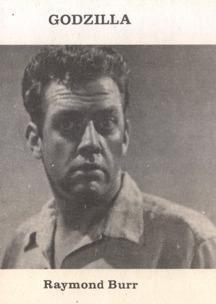 into this: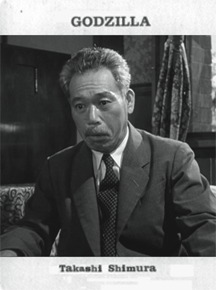 Much better. Want to play?
---