---
Friday, 07 December 2007, 9:23 pm
Dexter Bierhorst Price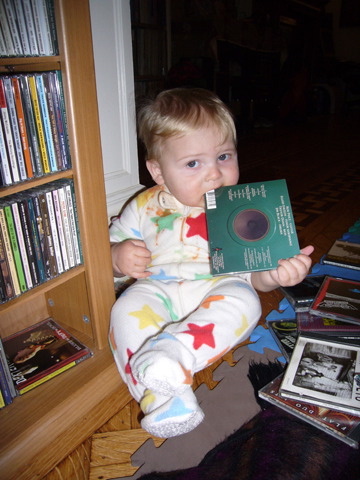 ---
Happy (American) Thanksgiving!
One of the things I'm thankful for this year is this Youtube video that my brother told me about.
---
Wow! Did you see yesterday's Astronomy Picture of the Day? Check it out!
Continuing the appreciation of great first lines from novels and short stories, here's the first line of Abraham Merritt's Seven Footprints to Satan: "The clock was striking eight as I walked out of the doors of the Discoverers' Club and stood for a moment loking down lower Fifth Avenue".
It picks up steam from there and is pretty thrilling except for an unpardonably fortunate coincidence that ends up doing almost all the work for the hero. (When asked if something in one of her husband's books was a coincidence, Vera Nabokov said something along the lines of "My husband would never commit a coincidence".)
Seven Footprints to Satan was originally serialized in Argosy in 1927.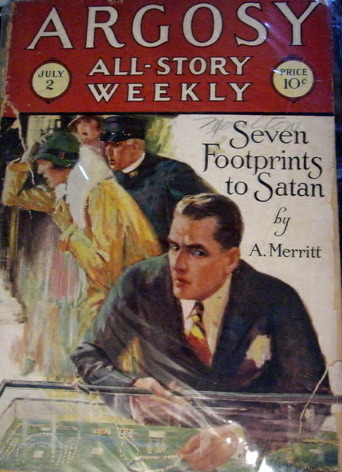 ---
If you look at Xavier Cugat's Wikipedia page — a silly thing to do, I know — you'll see a list of pop culture references to Xavier Cugat (I Love Lucy episodes, the third scene of A Streetcar Named Desire, etc.).
I'm much too lazy to add to this list, but Cugat appears in Leonard Starr's great comic strip Mary Perkins On Stage, sometime between September 18, 1961, and March 9, 1963.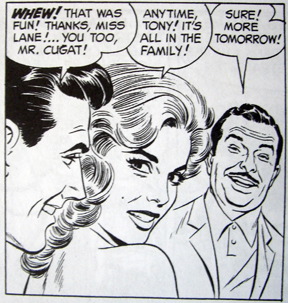 That panel is from one of the weekday strips, but he's in a Sunday strip as well. This is in Mary Perkins Volume 5, recently released by Classic Comics Press. I just finished reading it and I think it's my favorite volume of the series so far.
There certainly seems to be more action in this collection than in others. The return of the mysterious horror-movie star Maximus inspires some beautiful images.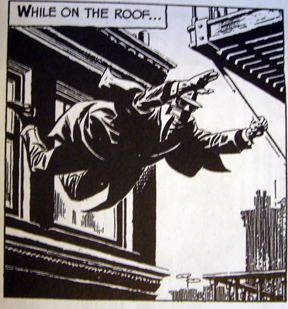 Starr's writing in this volume is better than ever. I think. The storyline about the playwright and the critic is one highlight. The Sunday strip which reveals the true nature of the conflict is a masterpiece, just amazingly well written, drawn and composed. Starr also came up with some great antagonists for Mary and her husband, Pete, as well as for their friends and colleagues.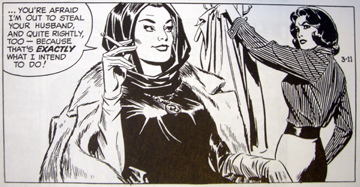 Great stuff. They can't reprint it fast enough for me.
---
The thirty-sixth Soundtrack of the Week is Sholay by Rahul Dev Burman.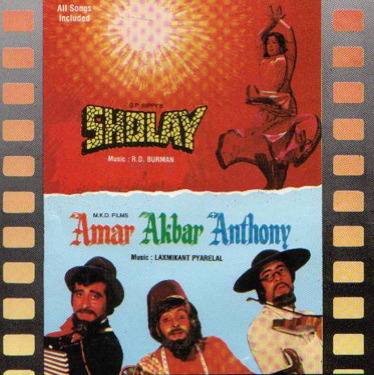 R. D. Burman must be the most famous name in Indian film music, and Sholay is one of the most famous Bollywood films. The story is basically Seven Samurai or The Magnificent Seven, but this time it's just two guys who save a village from evil bandits.
Sholay also has a scene which may be inspired by the famous flashback from Once Upon a Time in the West, in which Charles Bronson's harmonica is explained. The similar scene in Sholay has the heroine being forced to sing and dance under the blazing hot sun — and on broken glass. If she stops, the bandits will kill the hero, her lover, in front of her right then and there. It's pretty intense. (This scene is what you see on the CD cover above.)
Burman's music is great. Among the instruments used are something that sounds like it could be a cymbalom or some kind of hammered dulcimer and something that sounds like it could be a synth-tabla. Like all of the Burman music I've heard, it's propulsive and melodic, infectiously rhythmic and lyrical. The lyrics are by Anand Bakshi.
The CD I have of Sholay pairs it with another soundtrack, Laxmikant Pyarelal's music for a movie called Amar Akbar Anthony. It's decent, listenable music but nothing special, I think.
---
Check out this comic by Geoff Grogan.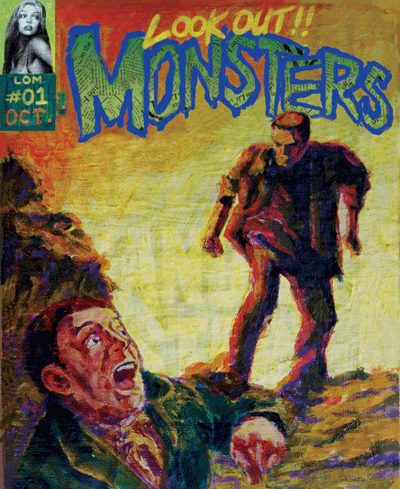 Look Out!! Monsters is a beautiful collage comic inspired by classic monster movies and monster-movie magazines. Newspaper is used both as a canvas and to shape the images. I loved it though I don't think I know what it means. Grogan writes about it a bit here.
---
Here's something to think about, from a recent Times Literary Supplement. This is from Stephen Brown's review of David W. Bernstein's book The San Francisco Tape Music Center:
Another work where a little Dada seeped in was [Ramón] Sender's Tropical Fish Opera, where an aquarium had five lines painted on it and the musicians seated around it played the notes made by the fish as they swam by. At one performance some of the fish refused to move, and the violinist Nathan Rubin dutifully played one unvarying tone, while the clarinettist Larry London, bored, began improvising, "at which Rubin swung around and barked 'What's the matter, London? Can't you read fish?'".
---
The thirty-fifth Soundtrack of the Week is the music from Koji Wakamatsu's United Red Army, scored by Jim O'Rourke.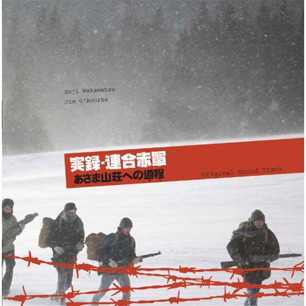 O'Rourke plays a lot of different instruments and also sings on the last track, a song called "Pictures of Adolf Again". Karen Waltuch and Chris Corsano are among the other musicians.
I really loved listening to the whole thing except the last track, the song. I think it's very well done, it's just not my kind of thing.

There are some spooky/bluesy solo guitar pieces, delicate ensemble playing and, in what I assume is meant to evoke the soundtracks for Wakamatsu's infamous political pinku movies from the '60s, some free jazz and psychedelic rock.
If you're interested in the soundtracks to some of those notorious earlier Wakamatsu films, you can check out these three CDs that came out in Japan recently. The music was always my favorite part of any Wakamatsu film I've seen. (I haven't seen United Red Army.)
Harakashionna (A Womb to Let) is by a band called Jacks, who sound like they're Les Rallizes Dénudés making a surf album.
Tenshi no kokotsu (Ecstasy of the Angels) has what sounds like a Cecil Taylor-inspired piano trio (the Yosuke Yamashita Trio) combined with some moody pop songs.
Shinjuku mad (Shinjuku Maniac) is mostly a psychedelic rock assault by a band called Food Brain, though there are some mellower blues and jazz tracks.
---
Here's a beautiful book. Cyanide and Sin: Visualizing Crime in '50s America features covers, pages and spreads from true-crime magazines. It's compiled and introduced by Will Straw.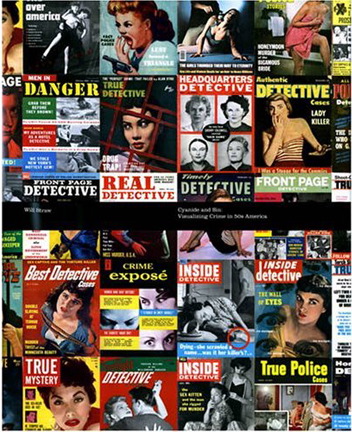 There are several books of this sort but this is the first one I felt I had to own.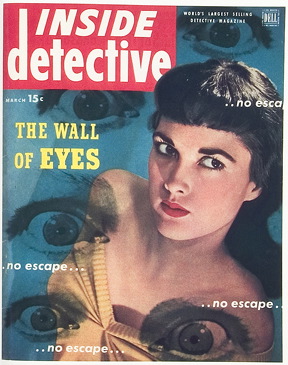 Usually the covers get all the attention, which is understandable. That's what they're supposed to do.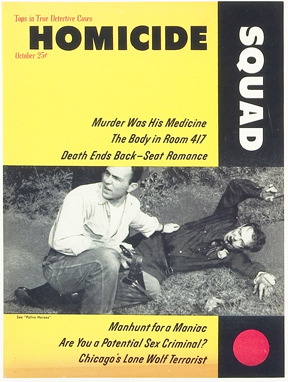 I have that issue of Homicide Squad!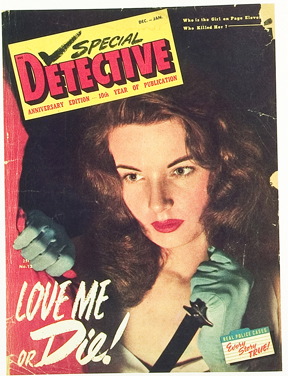 Straw's book also shows us what's inside these magazines, and it turns out to be just as interesting.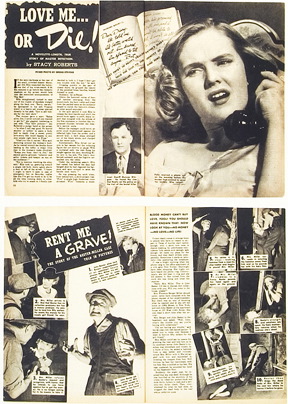 That's what sold me on the book. The Strand had it at half price, which is a great deal!
---
Mitch Mitchell died yesterday. He was a great drummer.
My new favorite website is the Internet Movie Car Database. Want to know how many movies feature a Maserati A6 1500? So do they.
I can't speak or understand Swedish. Neither can Dexter (as far as I can tell). So we sat down to watch an unsubtitled DVD of this Swedish movie Pang i bygget. (I don't know what that means.) This was our favorite part.
---
This recent release from Ace Records is really good. That's Swift: Instrumentals from the Norman Petty Vaults is a compilation of rock and roll and surf and what have you, all recorded at one studio in New Mexico in the '60s.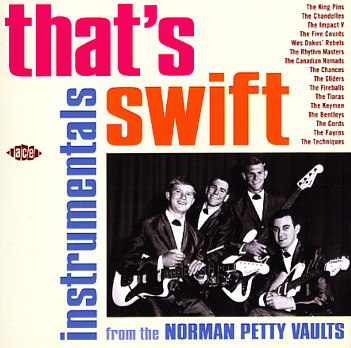 The first track, "Door Banger" a.k.a. "Ninety Four Second Surf" by The King Pins, is a masterpiece of economy and atmosphere. Ninety-four seconds and a basic surf four-piece (two electric guitars, electric bass guitar and drums) can accomplish a lot.
"Exotique" by The Rhythm Masters was a bit like "Apache" and "Las Vegas Scene" by The Canadian Nomads was a bit like "Tequila".
"Black Grass" by The Chances is in 6/8 with acoustic guitar playing the lead. "Termites" by The Cords uses muted electric guitar strings and a slide (or something) to suggest the title creatures. Both of these songs were great and a departure from the norm.
"Bach's Back!" from Canada's Wes Dakus' Rebels has electric 12-string guitar and church organ and has a Strawberry Alarm Clock mood.
---
Yesterday was Ennio Morricone's 80th birthday and last Monday, November 3rd, was John Barry's 75th. I didn't realize it, otherwise the thirty-third Soundtrack of the Week would have been something by Barry.
In other news, I was very pleasantly surprised by Bat-Manga, a collection of Japanese Batman comics from the '60s.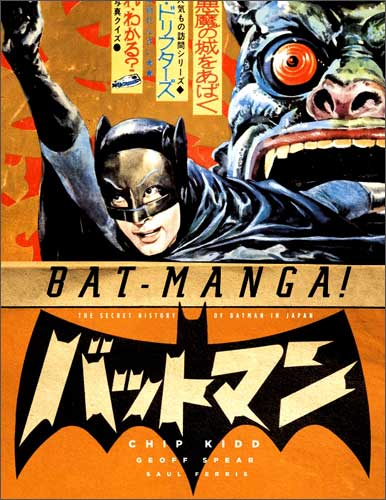 It reminds me more of Kriminal or Diabolik than it does of Batman or other Japanese comics I've seen.
When I flipped open to the following page, I knew I had to buy the book. Batman and Robin are chasing a criminal who can assume any form. His Japanese name translates as Human Clay (or perhaps Clay-Man), but he's called Clay Face in this translation.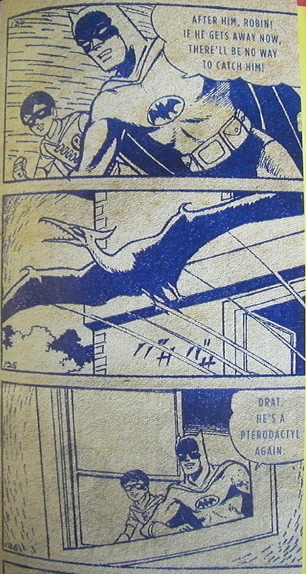 "Drat. He's a pterodactyl again." Now that is great writing.
---
Happy birthday, Ennio Morricone! He turns 80 today! And so, the thirty-fourth Soundtrack of the Week is this Japanese CD of Ennio Morricone's score for the spaghetti Western …e per tetto un cielo di stelle (A Sky Full of Stars for a Roof).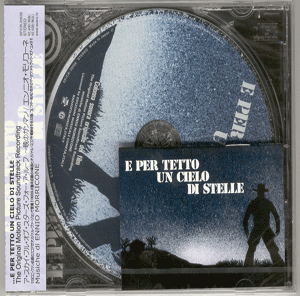 As you can see, the CD booklet is tiny. The CD itself begins by reproducing the 1978 LP release, which was a limited edition of 500 copies. The first 6 tracks are from …e per tetto un cielo di stelle and showcase the familiar Morricone spaghetti western sound: the sharp electric guitar with heavy reverb, aggressive brass and driving rhythms.
After that, the producers of the LP threw on four other Morricone tracks, two from the film Chi l'ha vista morire?, and one each from Magia and Attenti al buffone.
All that adds up to a little over half an hour of music. The CD , however, continues with 22 additional cues from …e per tetto un cielo di stelle, for a total running time of 73:48. Admirers of Morricone and/or spaghetti western music should have this.
---
My friend and colleague Reuben Radding told me about the Passive-Aggressive Notes blog, where you can see photos of some startling and profound missives.
On election night, Alice and I decided to watch Touch of Evil, you know, to get in the mood. I was startled to see a passive-aggressive note prominently displayed in this scene, where Charlton Heston makes a phone call from a blind woman's shop.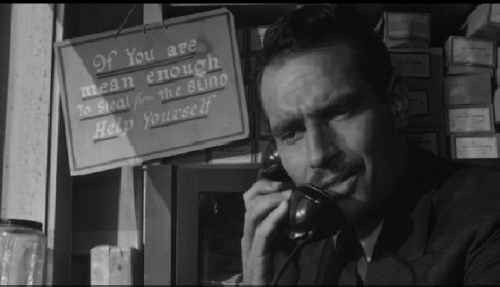 There must be many other passive-aggressive notes in movies. I'm going to look for them!
---
Whew! And as is so often the case, xkcd has an amusing take on it.
Now in stock! Purchasing information coming soon.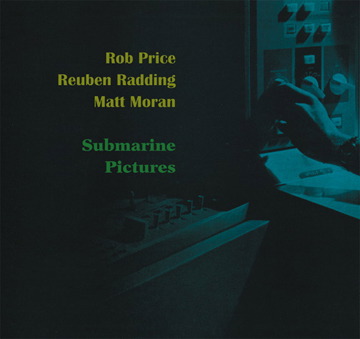 ---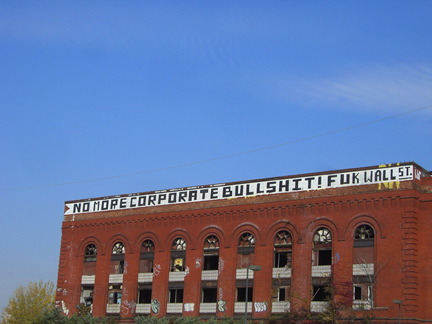 Brooklyn, a block or two from Martin Bisi's place.
In other news, Yma Sumac died on Saturday. She was great. Now playing on our stereo: Yma Sumac's Mambo!.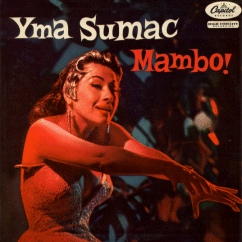 ---
The thirty-third Soundtrack of the Week is Film Score Monthly's re-release of Ron Grainer's score for The Omega Man.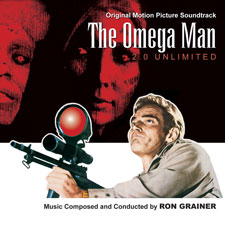 Film Score Monthly released it in 2000, as a limited edition, like most FSM CDs. In 2008, though, they improved the master, negotiated the rights for an unlimited edition and have given us The Omega Man 2.0—Unlimited.
(People had been selling CD-Rs of the 2000 release on eBay, and the actual CD would go for more than a hundred dollars, so this is a great day for those who didn't buy the CD the first time around.)
Ron Grainer is famous as the composer of the theme music for The Prisoner and Doctor Who. There are echoes of his theme for The Prisoner in the Omega Man score but quite a bit of variety as well. Lots of organ, percussion (especially water chime), some rock/pop cues, dramatic and suspenseful cues. Max Steiner's theme for A Summer Place and Monk's 'Round Midnight are also used. It's a wonderful CD!
---