---
Monday, 24 November 2008
The thirty-sixth Soundtrack of the Week is Sholay by Rahul Dev Burman.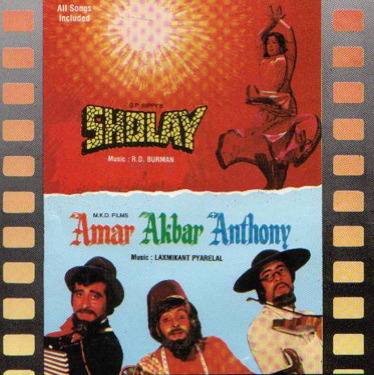 R. D. Burman must be the most famous name in Indian film music, and Sholay is one of the most famous Bollywood films. The story is basically Seven Samurai or The Magnificent Seven, but this time it's just two guys who save a village from evil bandits.
Sholay also has a scene which may be inspired by the famous flashback from Once Upon a Time in the West, in which Charles Bronson's harmonica is explained. The similar scene in Sholay has the heroine being forced to sing and dance under the blazing hot sun — and on broken glass. If she stops, the bandits will kill the hero, her lover, in front of her right then and there. It's pretty intense. (This scene is what you see on the CD cover above.)
Burman's music is great. Among the instruments used are something that sounds like it could be a cymbalom or some kind of hammered dulcimer and something that sounds like it could be a synth-tabla. Like all of the Burman music I've heard, it's propulsive and melodic, infectiously rhythmic and lyrical. The lyrics are by Anand Bakshi.
The CD I have of Sholay pairs it with another soundtrack, Laxmikant Pyarelal's music for a movie called Amar Akbar Anthony. It's decent, listenable music but nothing special, I think.
---