---
Monday, 10 November 2008
Happy birthday, Ennio Morricone! He turns 80 today! And so, the thirty-fourth Soundtrack of the Week is this Japanese CD of Ennio Morricone's score for the spaghetti Western …e per tetto un cielo di stelle (A Sky Full of Stars for a Roof).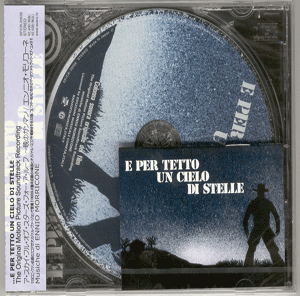 As you can see, the CD booklet is tiny. The CD itself begins by reproducing the 1978 LP release, which was a limited edition of 500 copies. The first 6 tracks are from …e per tetto un cielo di stelle and showcase the familiar Morricone spaghetti western sound: the sharp electric guitar with heavy reverb, aggressive brass and driving rhythms.
After that, the producers of the LP threw on four other Morricone tracks, two from the film Chi l'ha vista morire?, and one each from Magia and Attenti al buffone.
All that adds up to a little over half an hour of music. The CD , however, continues with 22 additional cues from …e per tetto un cielo di stelle, for a total running time of 73:48. Admirers of Morricone and/or spaghetti western music should have this.
---