---
Monday, 03 November 2008
The thirty-third Soundtrack of the Week is Film Score Monthly's re-release of Ron Grainer's score for The Omega Man.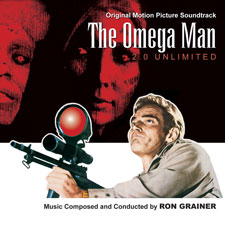 Film Score Monthly released it in 2000, as a limited edition, like most FSM CDs. In 2008, though, they improved the master, negotiated the rights for an unlimited edition and have given us The Omega Man 2.0—Unlimited.
(People had been selling CD-Rs of the 2000 release on eBay, and the actual CD would go for more than a hundred dollars, so this is a great day for those who didn't buy the CD the first time around.)
Ron Grainer is famous as the composer of the theme music for The Prisoner and Doctor Who. There are echoes of his theme for The Prisoner in the Omega Man score but quite a bit of variety as well. Lots of organ, percussion (especially water chime), some rock/pop cues, dramatic and suspenseful cues. Max Steiner's theme for A Summer Place and Monk's 'Round Midnight are also used. It's a wonderful CD!
---